Biggest Reasons Why Both Miami Heat and OKC Thunder Won't Be Dynasties
June 13, 2012

A general sentiment that has swept over NBA fans is that whoever wins the 2012 NBA Finals, whether it's the Miami Heat or the Oklahoma City Thunder, is going to be the start of the newest NBA dynasty.
That's not actually true.
Putting aside the obvious rationale that winning one championship is hard enough, let alone winning enough to be considered a dynasty, there are multiple reasons why neither the Heat nor Thunder are set up in a dynastic way.
In fact, if either team wants to secure a title, the best time is now.
Heat Media Scrutiny
The Miami Heat are put under the microscope by fans, media members and analysts like no other in the NBA. In fact, no team in league history may be analyzed quite as much as this current version of the Heat. 
Ever since "The Decision," every single move made by any of the members of the "Big Three" is highly scrutinized. 
Massive welcoming party? Media firestorm. 
Players bump into Erik Spoelstra? Nothing else gets talked about on SportsCenter. 
LeBron spoke during the postgame press conference? Non-stop coverage. 
LeBron has a new mouthpiece that says "XVI" on it? Headline news.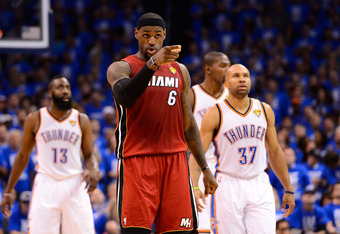 Ronald Martinez/Getty Images
I'm not saying this is a bad thing. In fact, it provides a lot of interesting, compelling angles that wouldn't be covered otherwise. Sometimes, though, it's a bit too much for the Heat themselves to take. 
Each time Miami falls short of a title, the scrutiny is only going to be ratcheted up another notch. Each time Miami wins a title (assuming it ever happens), the bull's eye is only going to grow bigger on the collective back of the defending champs. 
It's a lose-lose situation for Miami in this regard, and the pressure may simply be too much for them to ever form a dynasty. 
Possible Opt-Outs for the Heat
If the media scrutiny becomes too much to handle and even just one of LeBron James, Dwyane Wade or Chris Bosh wishes to take his talents to a new team, he'll have the opportunity to do so in three years.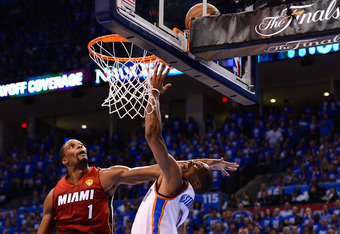 Ronald Martinez/Getty Images
All three stars on the team have opt-out clauses in their contracts that allow them to end their tenures with the Miami Heat on their own accord.
Between this and the chance that the front office could be pressured into breaking up the terrific trio in favor of a new player's chance to wilt under the intense weight of the spotlight, no guarantee exists for the Heat. Not as long as that spotlight is trained on the team day and night with no sign of ever dimming.
Age and Injury for the Heat
Miami's team is also built around three players and relies on a weak supporting cast to pick up the slack. This could all change with a big free-agent signing, but there's no surety in free agency, as the Cleveland Cavaliers and Toronto Raptors learned during the summer of 2010.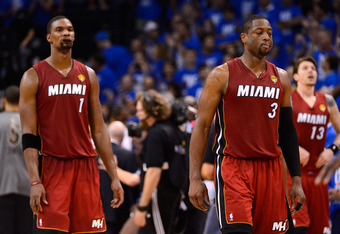 Ronald Martinez/Getty Images
Throughout his career, Dwyane Wade has been prone to nagging injuries, and one big one could completely derail all the progress that this team has made. As great as each member of the Big Three may be, a Big Two with a supporting cast that might be able to hang with the Charlotte Bobcats alone is not going to get the job done. 
Additionally, while James, Wade and Bosh are all relatively young and spry, the rest of the supporting cast is getting up there in the years. Father Time has this nasty habit of causing declines in players without initials like TD, KG and SN. 
Udonis Haslem, Shane Battier and Mike Miller are all contributors to this team, but they won't be around forever. 
Difficulty of the Western Conference
Now it's time to switch gears and focus on the Oklahoma City Thunder.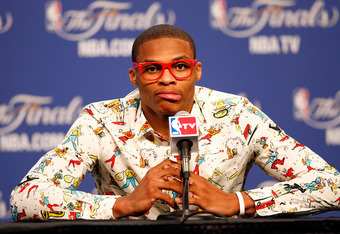 Mike Ehrmann/Getty Images
Sometimes it's hard to remember, but there's a logical progression to forming a dynasty. In order to form a dynasty, you have to win multiple championships. And in order to win multiple championships, you have to advance out of your conference at least as many times.
It's the final part that often gets overlooked, even though it's just as crucial to dynastic formation.
As good as Russell Westbrook, Kevin Durant and the rest of the Thunder may be, the Western Conference is ridiculously tough and deep and may only get tougher.
The San Antonio Spurs and Los Angeles Lakers may be aging, but they aren't done yet. The Los Angeles Clippers, Denver Nuggets and Memphis Grizzlies are already challengers, but they're only growing and could start to pose more formidable challenges in the coming years.
Plus, there's potential up-and-comers like the Portland Trail Blazers, Minnesota Timberwolves, Golden State Warriors, Sacramento Kings and, yes, the New Orleans Hornets. 
Running through the gauntlet that the West has to offer and emerging victorious year after year is no guarantee. 
Thunder's Potential Financial Problems
As tough as the West may be in the coming years, I've saved the biggest reason that the Thunder won't be a dynasty to last. The following figures and arguments do come primarily from Mike Piellucci's article on Slam Online, so make sure to check that out for all the details.
OKC has its two best players locked in for the long haul, as both Kevin Durant and Russell Westbrook have signed extensions that ensure their wearing of Thunder threads for the foreseeable future. However, the same cannot be said for James Harden and Serge Ibaka.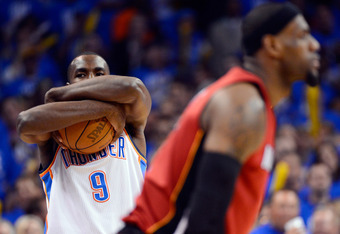 Ronald Martinez/Getty Images
In two years, both the bearded shooting guard and the shot-blocking power forward will be eligible for contract extensions, and they'll be free agents the year after that. 
Can you really imagine either one failing to receive max deals? 
Ibaka is the premier shot-blocking PF in the game, but he's still developing and can already hit the pick-and-pop jumper with consistency. There's no telling how high his ceiling is.
Harden is one of the most likable players in the game, made leaps and bounds this season and is already an elite shooting guard. In a league starving for quality shooting guards, Harden will be highly sought after. 
It's impossible to fit four max-contract players under either the luxury cap or the salary cap, which means that pay cuts are going to be necessary.
Enjoy the 2012 NBA Finals and possibly the next year or two, if you're a Thunder fan, but then start crossing your fingers and hoping that Sam Presti is able to beat the odds and somehow make the math work out.