Tiger Woods, Phil Mickelson & Bubba Watson Offer U.S. Open Fireworks, Not a Win
June 13, 2012

Andrew Redington/Getty Images
"If I was a golf fan, I'd want to see that group because I'm sure you will see some fireworks. It should be a good group to watch." 
That's what defending U.S. Open champion Rory McIlroy told reporters when asked about the featured group of Tiger Woods, Phil Mickelson and Bubba Watson. There certainly will be fireworks, though for the group that tees off at 7:33 a.m. local time in the first round of the 112th U.S. Open at the Olympic Club in San Francisco, fireworks may not be the best thing.
The USGA is notorious for creating fun and memorable pairings, but none in recent memory could be as anticipated as the threesome of Tiger, Phil and Bubba. Woods is coming off a resounding win at Memorial two weeks ago, installing him as one of the favorites—if not the only favorite—heading into this weekend's national championship. 
Mickelson has been on a roller-coaster ride of a season, winning once and finishing in the top 10 five times in 13 starts. Yet as Tiger was winning the Memorial, Phil was resting up, having withdrawn after a first-round 79, citing mental fatigue:
I think mentally I'm a little bit fatigued. I feel like it's the responsibility of a player to see through your commitment and finish the tournament and so forth, and I'm kind of overruling that just a touch because I'm trying to think big picture on what's the best way for me to get ready for the U.S. Open.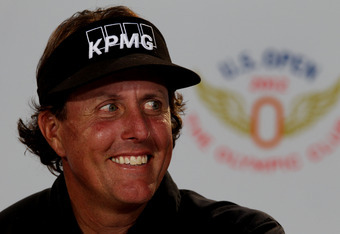 Scott Halleran/Getty Images
Did rest provide the kind of rejuvenation Phil needs to compete at golf's toughest tournament? The five-time U.S. Open runner-up wants to win this tournament more than any other, so the added pressure of being in a feature group with Woods and Watson cannot excite Phil all that much, with every swing magnified and analyzed the entire weekend.
Phil seemed like his normal, confident self in the pre-tournament press conference. How that translates to standing on the tee box staring down Olympic's tight, tree-lined fairways will be anyone's guess. There's as good a chance Mickelson may notch more birdies with his driver—knocking them out of the trees—than sink them with his putter. 
Of the three featured stars, Bubba may saunter to the first tee box (the ninth hole at Olympic on Thursday for this group) with the most confidence. After all, it's Watson who is the reigning Major champion on tour. Talking to the media on Tuesday, though, he sure didn't seem confident, not on this course:
Every hole there is something around the corner. Even the shortest hole is tough to the longest hole is tough. There is something on every hole that can get you. It makes it very difficult.

That's a nice P.C. way I can say it.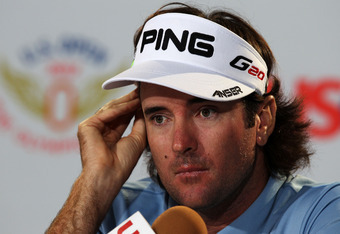 Scott Halleran/Getty Images
The un-politically correct way to put it would be to say the course setup stinks, especially for Watson and Mickelson. Shane Bacon of CBSSports.com suggested the course at Olympic is "anti-lefty" when considering the slope and curve of the fairways, obtrusive bunkering and combination of traditionally thick cut of U.S. Open rough and shaved areas around the green.
Not only will Watson and Mickelson have to shake off weeks of rust—Watson has only played twice since the Masters, most recently missing the cut at the Memorial—they have to face a series of narrow, tree-lined fairways set up to make their second (and third) shots even harder than the rest of the field, as Watson explained:
There's just something on every hole that makes the course very difficult. You can't hit driver—well, you can, I guess—but to be smart, you can't hit driver on some these holes. And you leave yourself with long irons to rock-hard greens, well-guarded greens, small greens.
The first six holes at Olympic are perhaps as hard as any six starting holes in U.S. Open history. Woods told ESPN's Tom Rinaldi the start is "[B]rutal. Simply brutal. It's the hardest six holes ever to start off any championship."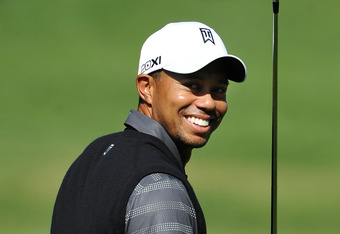 Stuart Franklin/Getty Images
The USGA converted the first hole from a par five in the past to a long par four for this year's Open. Woods called the old setup a "warm-up hole" to boost a player's confidence to start a round. Now, like most U.S. Open holes, it's just another difficult step in the 72-hole grind to the title.
There are some scoring opportunities, though, and teeing off on the back nine on the first day could help the early feature group quite a bit. There are legitimate birdie opportunities on the last three holes of the course with two par fives and a short par four on the way in. That said, Mickelson actually thinks the 670-yard, par-five 16th may be the toughest hole on the entire course:
I believe that you play 15 holes of really tough, tough golf. And you finally get your first par 5 and it's the toughest hole on the course.

I think 16 will play more over par stroke average than any hole on the course. That would be my prediction.
Mickelson does like the risk-reward of 17 and 18, which could yield under-par scores or put players outside the cut line:
It's a hole that provides an eagle opportunity but can easily lead to a bogey or a double, so I think there can be a big swing on 17. And 18, look what happened to Hogan. You think it's a nothing hole, but you hook it in the rough and you make double and you lose the Open, so...it's really a great finish, I believe.
Ever the historian, Mickelson was referencing the 1955 U.S. Open, played at Olympic and won by Jack Fleck, who defeated Ben Hogan in a playoff after Hogan made double bogey on 18.
The demons of greens missed some 57 years ago still linger at Olympic.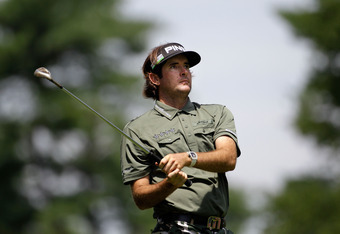 Rob Carr/Getty Images
More than any other tournament in championship golf, the U.S. Open is a severe test of skill, patience and perseverance. It's difficult to pick anyone in the featured group of Woods, Mickelson and Watson to win the tournament, especially with the course setup favoring more accurate drivers. Woods leads the trio in driving accuracy this season, ranking 22nd on tour. Watson is 99th, while Mickelson is 140th.
Having said that, Mickelson is 36th in greens in regulation, with Woods seventh and Watson an inexplicable second, given he is hitting from the rough more than 41 percent of the time.
Fireworks, folks. Fireworks.
The afternoon group of McIlroy, Luke Donald and Lee Westwood may provide a more realistic champion this week. While 79 of the previous 111 U.S. Open Championships have been won by Americans, just four of the last 11 trophies have managed to remain on our soil, two of which were won by Woods.
There are, however, a lot of great American players who are striving for their first U.S. Open title. Rickie Fowler and Dustin Johnson are paired together on Thursday and Friday. So are Matt Kuchar and Steve Stricker, just one group behind Hunter Mahan, who is an early favorite for player of the year.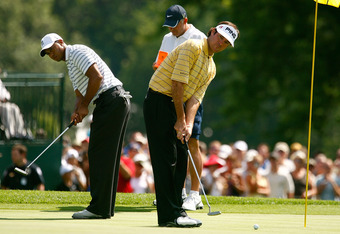 Scott Halleran/Getty Images
Still, most eyes will be on Woods, Mickelson and Watson. The galleries will be five and six people deep along every fairway and green. The "youdaman Tiger" and "get in the hole" chants will be out of control. It's U.S. Open golf at its most exciting.
Fireworks.
When asked about the pairing, Woods told Rinaldi, "[I]t's going to be fun. It's going to be a lot of fun."
That has to be the first time someone looked at this course, for this tournament and said anything about it will be fun. We will see if Tiger—or any of the players—feels the same way Friday afternoon.