Holland vs. Germany Live Stream: Online Viewing Info for Euro 2012 Match
June 13, 2012

Joern Pollex/Getty Images
Netherlands vs. Germany was always going to be one of the most highly anticipated matchups in Euro 2012, but nobody expected it to be a near do-or-die situation for the Dutch.
After a completely disappointing 0-1 loss to Denmark in their opening game, Holland is skating on thin ice against a German team considered to be one of the favorites to win the entire tournament.
Die Mannschaft were far from impressive against Portugal in their 1-0 Group B opening win, but they still found a way to earn all three points (with a little help from the woodwork and an oddly-spinning ball).
Nevertheless, we're here in the second round of Group matches, and a Dutch loss would be catastrophic. They cannot technically be eliminated with a loss (Denmark would have to lose to Portugal and Germany while the Dutch would have to defeat Portugal in the group finale with a better goal differential to advance).
The safe move is to notch some points here, though.
Where: Metalist Stadium, Kharkiv, Ukraine
When: Wednesday, June 13, 2:45 PM ET
Watch: ESPN, ESPN Deportes, International Coverage (via LiveSoccerTV.com)
Live Stream: ESPN3.com, WatchESPN
Most Important Player to Watch: Robin van Persie, F, Netherlands
The Premier League's top goal-scorer this season missed a handful of opportunities to pull his side level in the opener. Netherlands and Denmark each put eight shots on net, but the Dutch attempted 28 shots overall to Denmark's eight.
That is far too many wasted opportunities for a team with the goal-scoring power of Netherlands.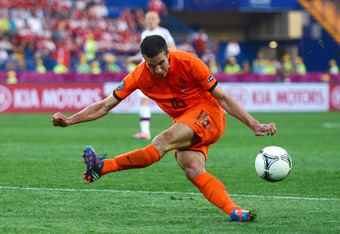 Lars Baron/Getty Images
We shouldn't expect many changes, if any, to the Dutch side, so expect midfield maestro Wesley Sneijder to take this game more into his feet. That should help open things up for RVP.
If the Oranje fail to capitalize on their opportunities, they will pay the price. Germany's Mario Gomez has already netted one, and we could even see the German sniper Miroslav Klose make an appearance as the Germans look to put together a better showing.
Key Matchup: Dutch Defense vs. German Attack
As important as it is for RVP, Sneijder and the rest of the Dutch attack to capitalize on opportunities, the defense will be in a rough ride against the powerful German attack.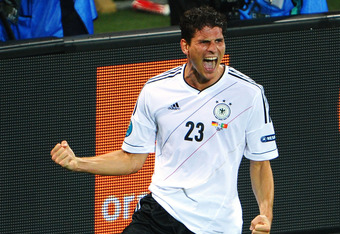 Laurence Griffiths/Getty Images
Led by Gomez and aided by the likes of the dynamic assist machine from Real Madrid, Mesut Ozil, Thomas Müller, Lukas Podolski and even Bastian Schweinsteiger, this team is capable of striking early, often and from anywhere.
Netherlands has to be careful not to allow a run through their back line and must be able to clear out any second-chance opportunities. If they don't make life hell for the Germans, then they'll fall behind rather quickly.
Prediction: Germany 3, Netherlands 1