Wimbledon 2012: Will This Be the Last Season on Tour for Roger Federer?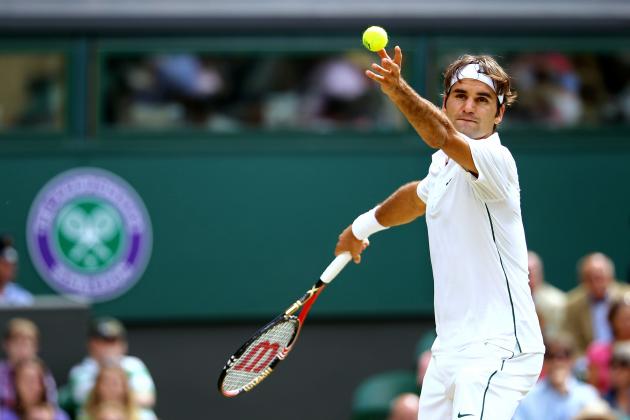 Julian Finney/Getty Images
The Greatest Player of All Time
Roger Federer is considered by most to be the Greatest tennis player Of All-Time (GOAT), but for how much longer will the winner of a record 16 Grand Slams continue gracing us with his tennis presence?
Federer hasn't won a Grand Slam title since the 2010 Australian Open, his best result reaching the 2011 French Open final.
His performance during his semifinal defeat against Novak Djokovic at this year's Roland Garros was decidedly less impressive than his victory over the Serb at the same stage last year.
And Federer then unexpectedly lost in straight sets to wildcard entrant and world No.87 Tommy Haas in the final of the pre-Wimbledon grass court event in Halle - a tournament he'd won five times previously.
Are these results a sign that the GOAT's time is coming to an end, or perhaps that he's simply struggling to improve as much at this stage of his career as his nearest rivals?
Begin Slideshow

»
Clive Brunskill/Getty Images
A changing of the guard - Sampras and Federer shake hands after Wimbledon 2001
The previous GOAT, Pete Sampras, faced a similar situation in the latter stages of his career. Struggling with injury and motivation, Sampras managed somehow to win Wimbledon in 2000, after which he failed to claim another title for more than two years.
The fourth round of Wimbledon 2001 saw the first and only ATP Tour meeting between Sampras and Federer; the Swiss emerging triumphant in five sets.
Approaching the 2002 US Open, then then 31 year old Sampras was considered an outside bet for the title. And it came as a surprise to many when he made his way to the final, where he faced Andre Agassi.
Having triumphed in four sets over his greatest rival and won his then-record 14th Grand Slam, Sampras never played another ATP Tour match; announcing his retirement just before the 2003 US Open.
But will Federer enjoy such a fairy-tale ending to his career?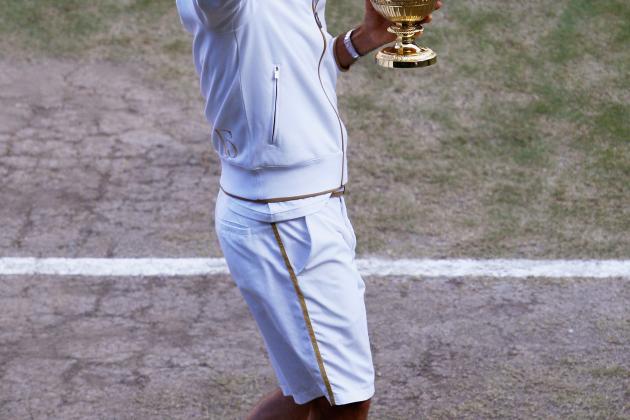 Julian Finney/Getty Images
2009: Federer after winning his sixth Wimbledon title
Federer is seeded No.3 for Wimbledon and if all goes to plan will face defending champion Novak Djokovic in the semifinals.
It remains to be seen if Roger can overcome Nole in best-of-five sets.
The London 2012 Olympics held at Wimbledon provides Roger with his best chance of success this summer.
The best-of-three set format will favor the GOAT, who won the gold medal alongside Stanislas Wawrinka in the doubles at the 2008 Beijing Olympics.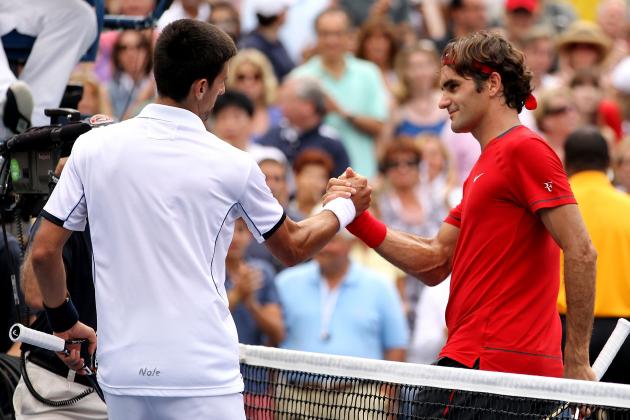 Al Bello/Getty Images
Smiling thru the pain: Federer and Djokovic shake hands after the Serbs incredible comeback at the 2011 US Open
Up 5:3, 40:15 in the fifth set against Novak Djokovic at last year's US Open, Roger served what against many would have been an ace out wide to the Serb's forehand.
Djokovic, though, flung himself sideways and produced what must have been the shot of the year, flashing the return cross court, for an outrageous, outright winner!
Roger never recovered, and some 15 minutes later was leaving the court shaking his head, defeated and wondering where it all went wrong.
Djokovic, Nadal and Andy Murray all stand as formidable obstacles for Federer to overcome if he is to win a sixth title in New York.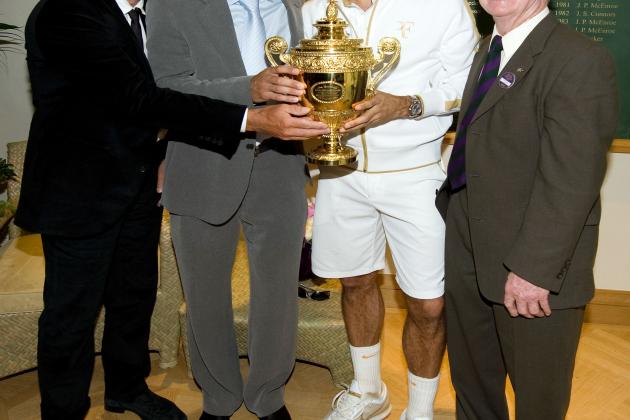 Pool/Getty Images
Four GOATs together: Bjorn Borg, Pete Sampras, Roger Federer and Rod Laver
So is it time for Roger Federer to hang up his racquet?
Personally I hope it's not.
Unlike Sampras, Federer doesn't suffer from any major physical or motivational problems, still believes he's capable of winning major championships and has long held the hope that his children, twin girls now aged almost three, would get to see him play before he retires.
Roger turns 31 years old in August—Andre Agassi didn't retire till age 36!
His best years may lie behind him, but I for one am not quite ready to let him go.