The 25 Luckiest WAGs in Sports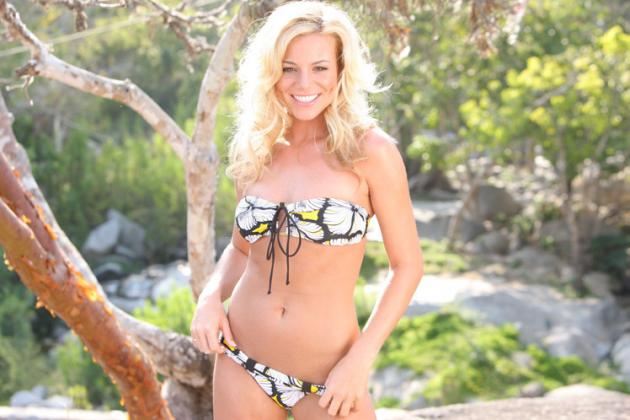 Image via DallasCowboysCheerleaders.com
Many of you are probably wondering exactly constitutes a "lucky" WAG. In fact, I was a little confused by the whole concept when I first received the assignment.
I mean, aren't most all WAGs lucky in some respect? They get the fame, the fortune and all of the other perks and amenities that come along with dating a professional athlete.
But there are a lot of WAGs who aren't just lucky in love. Some are lucky in divorce. Some create their own luck in business. And some are just lucky in life.
Here are 25 of the luckiest WAGs in sports.
Begin Slideshow

»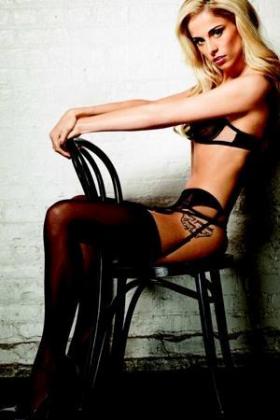 Image via NY Post
Personally the idea of walking down the aisle towards one of the most hated players in the history of the NFL doesn't sound all that appealing to me. But I'm not Traci Lynne Johnson.
She went from a Tiki Barber fan interning at NBC to the home-wrecking jumpoff of a man whose wife of over a decade was at home pregnant with the couple's twins.
But hey, she probably got to ditch that internship and she did get to take her clothes off in Maxim. Probably the extent of her life's dreams.
Personally, I'm just waiting for the divorce.
Image via Barstools
Former Eagles cheerleader Krystle Campbell landed Phillies slugger Ryan Howard at the prime of his career.
And at the prime of his ridiculous contract. Girl sure knows how to pick him. Hope he's got a pre-nup.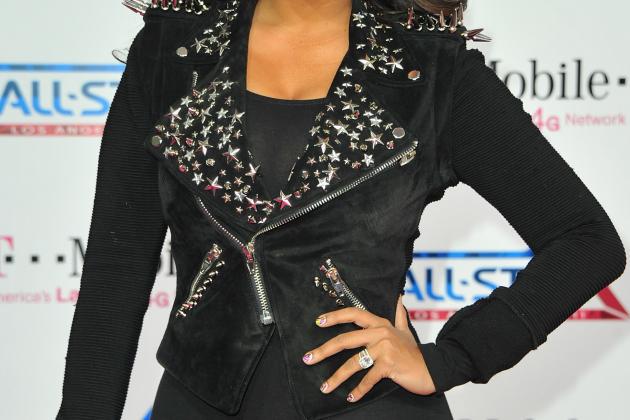 Alberto E. Rodriguez/Getty Images

Surely you're all aware of the never-ending saga of the will he or won't he drama about whether or not the Magic's Dwight Howard plans to stay or go. Howard has made such a debacle of the situation that I've almost completely forgotten about the Carmelo Anthony drama that played out in much the same way just a year before.
The buzz was that Melo wanted to play in New York, having been born in Brooklyn. But the even bigger buzz was that La La was putting the full court press on her husband to get back to The Big Apple—eager to reestablish herself as someone besides Mrs. Anthony.
Well lucky for La La, it all worked out. Melo avoided playing for the lowly Nets and La La got her very own show on VH1, La La's Full Court Life.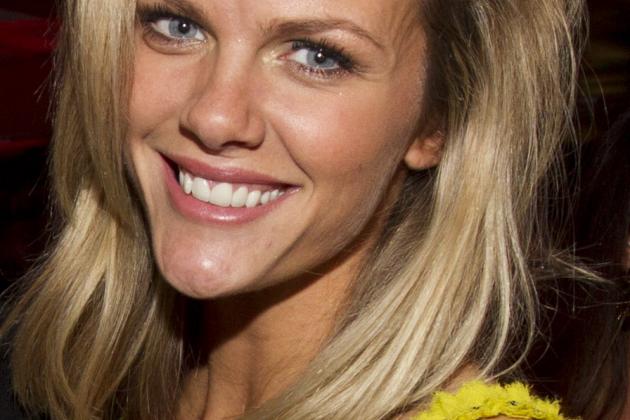 Christopher Polk/Getty Images

Not that tennis pro Andy Roddick is anything gross to look at, but can you believe he's married Brooklyn Decker? It just doesn't seem right, but I suppose some things in this just world can't be explained.
Decker isn't just lucky in love though. She was lucky in scoring the cover of the Sports Illustrated Swimsuit Issue and now she's lucky to be one of the minute few models who successfully transition into legit actress.
Girl's got it all goin' on. She's actually only ranked this low because she was born with substantial gifts—this ain't all luck.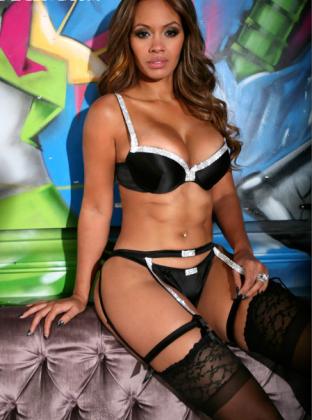 Image via Maxim
Reality startlet Evelyn Lozada has remained vaguely in the public eye for quite some time, based purely on her ability to lure professional athletes into her bed and fund her lavish lifestyle.
Her latest lay is Chad Ochococino. The two are actually engaged to be married and I suspect the vows on her part will go something like this: "Till you're destitute till we part."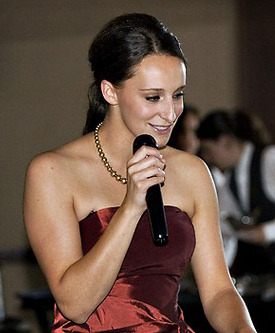 Image via PlayersWives
You could hear the collective hearts of a nation of smitten kittens break when it was announced the Major League cutie Joe Mauer got engaged to his cutie girlfriend Madeline Bisanz. It would be easy to hate on Bisnanz, if it wasn't so impossible to hate on her!
The couple's whole story is beyond adorable. They were actually high school classmates, but never dated back then. They happened to be reunited at some point in 2009 and the rest, as they say, is history.
Mauer was one of the most eligible bachelors in sports at the time and Ms. Bisnanz should feel pretty lucky to have landed Minnesota's finest (besides Prince).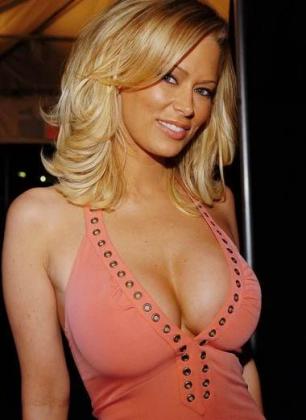 Image via WFIC
You gotta give it to Jenna Jameson, and plenty of people have, but not many porn stars manage to make it mainstream. Jameson obviously has a mind for business, because she's turned an acting career into an empire.
I wouldn't call this all luck, because obviously Jameson has the skills to pay the bills in any field. But she is certainly the exception, not the rule.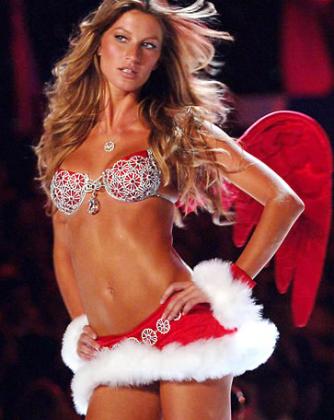 Image via AskMen
Listen, Ms. Gisele was doing just fine for herself before hooking up with Patriots quarterback Tom Brady. Oh, and Tommy Terrific wasn't doing too bad himself.
But when you put these two together, they are absolutely unstoppable. Brady made Gisele a household name in every sports loving home in America and Gisele made Brady a global celebrity and an even hotter commodity than he was before.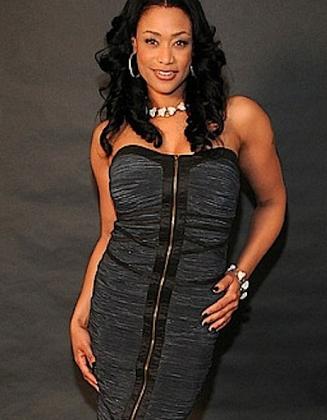 Image via Essence
Much like many of the WAGs on this list, the lovely Tami Roman has made her way in life on the bank accounts of the men in her life. We were first introduced to Tami as a cast member of the second season of MTV's Real World.
But since then, she has been more focused on casting athletes in leading roles of her life. Her romantic past has been…shall we say…messy. But she's parlayed it into a staying gig on one of those vile VH1 reality shows about broads who have bedded athletes.
Lucky she got on that path early. God forbid she get a job or something.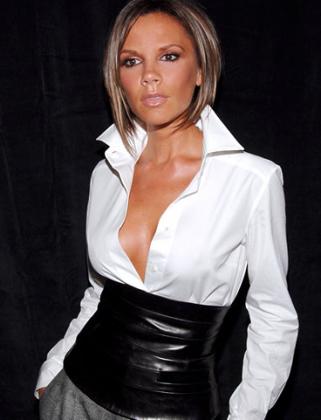 Image via AskMen
You may not believe it, but I'm not actually a "mean girl". Maybe I was kind of a jerk in junior high, but I pride myself on not being a jag to women just for the sport of it.
That being said, Victoria Beckham is incredibly lucky to have held on to her much lusted after husband David Beckham. Not that Victoria isn't attractive in her own right, but the two have dealt with a number of cheating scandals over the years—all on David's part.
Yet somehow Victoria manages to keep him at her side. Call it luck, love or threats of physical harm. Whatever it is, it works.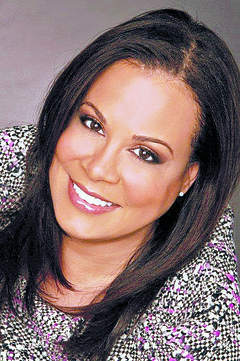 Image via Ballertainment
If you're one of the biggest superstar athletes in the world, you might want to think long and hard before getting divorced. For example, Tiger Woods divorce settlement left him about 100 million dollars lighter in the wallet.
Well that was pocket change compared to what Juanita Jordan banked in her divorce of Michael Jordan in 2007. Take what Elin Woods walked away with, double that, and then add another 60 million dollars on top of it—and that's your figure.
His Airness is known mostly for his skills on the court, but his well-known vices aren't exactly well-kept secrets. Juantia's marriage probably wasn't what she had hoped for, but she walked away from that wreckage in pretty good shape.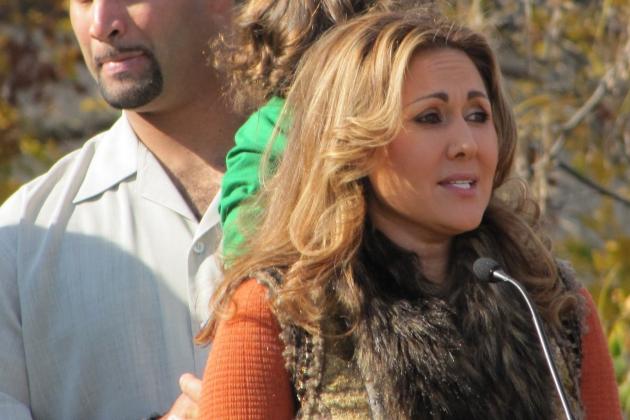 Image via outandaboutstl.blogspot.com
Good for Angels slugger resisting the temptation to trade in his age appropriate wife with a big mouth for a young, more giggly plaything. Deidre Pujols seems like a bit of a handful too, so double props to Albert.
Deidre got lucky landing one of the less superficial athletes out there and even luckier finding one who isn't afraid to play second fiddle to her every time the two are in public.
And just imagine how lucky she'll get if these two ever end up divorced.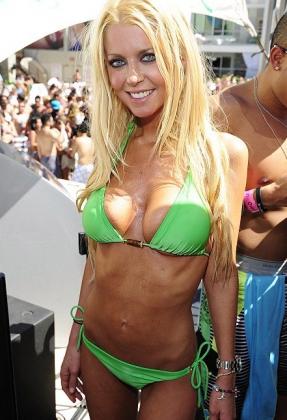 Image via dailymail.co.uk
So I'm not insinuating that Tara Reid is all that lucky in life. Sure she had her moment in the sun, but now she's working for scale in American Pie 19 and it's all her own damn fault.
But before she was one of the world's preeminent train wreck hoe-bags, she actually bedded some of the biggest stars of the frosted tips era. We don't have all day here, so I'll just list her sports conquests: Tom Brady, Jeremy Shockey, Kyle Boller, Cody Leibel an Sergie Federov.
And frankly, those are the only guys I'm sure are in sports…there are dozens of others I'm unwilling to look up.
Remember that I'm not calling those guys lucky, I'm call her lucky. Having to deal with VD is never lucky.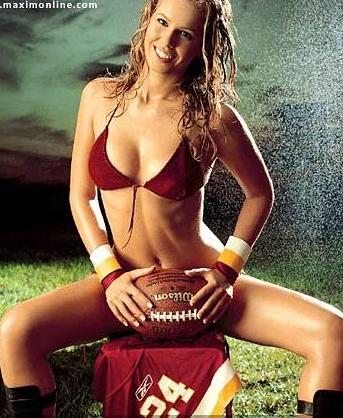 Most, if not all, NFL teams have very strict rules against fraternization between players and cheerleaders. Which, to me, seems like one of the dumbest rules in the entire world. What the hell is the difference?
Anyway. Back when tight end Chris Cooley was just a young hot shot on the Redskins, Christy Oglevee was shaking her stuff on the sidelines as a Skins cheerleader. Obviously Cooley saw something he liked and the two eventually decided to throw caution to the wind and get together.
Today they're married and something tells me Christy doesn't regret the decision.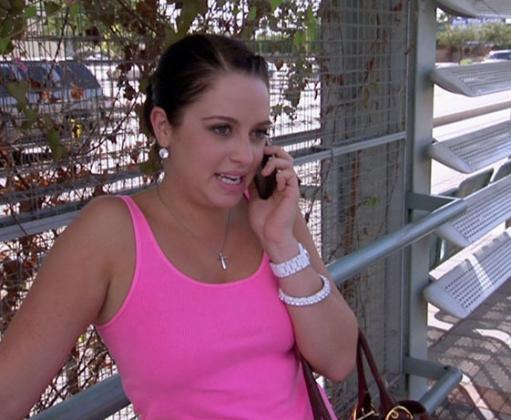 Image via VH1
I debated back and forth for quite a while on whether or not to quantify Baseball Wives' Jordana Lenz as "lucky" or as "the saddest person on earth."
I veered toward "the saddest person on earth" for a very long time, but then I realized that she had no idea that she's the saddest person on earth.
Ms. Lenz scored a role on Baseball Wives initially claiming she was the ex-girlfriend of Brewers wild-child Nyjer Morgan. Well, as we found out on the first episode, the two weren't exactly "serious".
More like, he dumped her and she was stalking the hell out of his ass—and having it all televised for posterity. Nothing luckier than turning a career in stalking into a lucrative paycheck.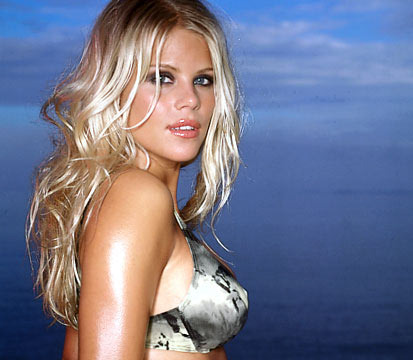 Image via JokersUpdates
On the surface the former Mrs. Tiger Woods probably don't seem all that lucky, but if you dig just below the surface, she is.
Ms. Elin has had to endure her share of public humiliation, but she walked away smelling like a bed of roses. Not to mention half of the money of one of the richest athletes in the world.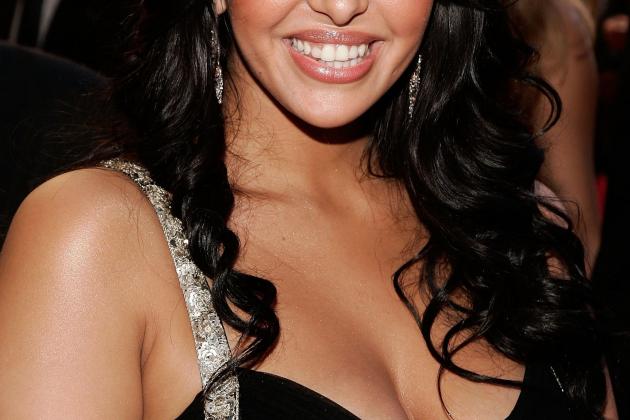 Vince Bucci/Getty Images

Much like Mrs. Tiger Woods, Mrs. Kobe Bryant definitely wasn't lucky when it came to the outcome of her marriage. But to say they came out of each of them richer than God himself is probably pretty accurate.
Vanessa was just a high school nobody when she and Kobe's romance began She had to log 10 years with a definite cheater and an alleged rapist, but she's one of the hottest commodities out there right now.
Networks are tripping over themselves to get a chance at landing Vanessa for her own reality show or tell all book.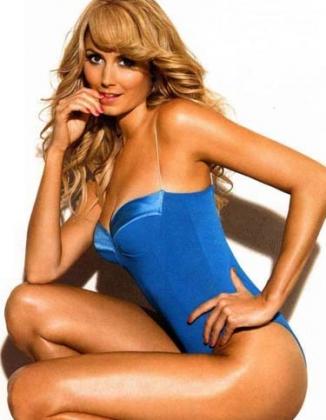 Image via bodyfitnessgain.com
With a body like that and legs that go on for miles, former WWE Diva Stacy Kiebler has been doing pretty well for herself for quite sometime.
But none of her past conquests have compared to landing the world's most eligible bachelor, George Clooney. How lucky is that? Dang girl—officially jealous.
Image via nextmodels
Before the 2012 NFL Draft, Lauren Tannehill was just another blonde wannabe model trying to make a name for herself in a business where skinny blondes like are a dime a dozen.
After the draft, we were all "Ryan Tannehill who? Oh! You mean that quarterback with the hottest wife on the planet!" Homegirl found herself in the right place and the right time with Ryan Tannehill.
Something tells me she'll make quite a name for herself, if she already hasn't.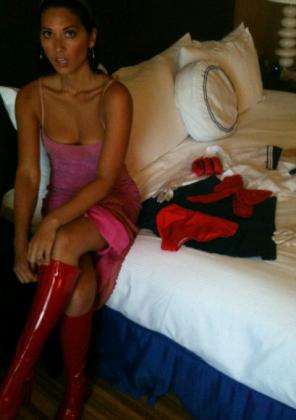 Image via @oliviamunn
The romance between actress Olivia Munn and Brad Richards only lasted a few months, but the Rangers center played some of his best hockey of the season during that time.
In fact, in late December 2011, the Rangers were on a 7-0 winning streak that started right run the time of the relationship. Sure it didn't last, but someone on the Habs or Leafs should look to hook up with Munn stat.
She certainly seem like the ultimate good luck charm and God knows those poor guys need one.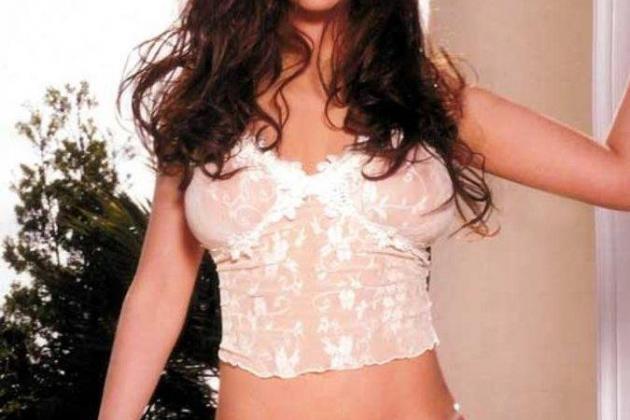 Image via Poptower
We all know the story of retired major leaguer Kris Benson's wife isn't exactly a Cinderella story. Really it's more of a Pretty Woman story.
Anna went from swinging on a pole on an Atlanta night club to the most lusted after WAG in baseball, to the batshit crazy star of her very own reality television spectacle on the plague on humanity you all know as VH1.
Doesn't get much luckier than that, does it?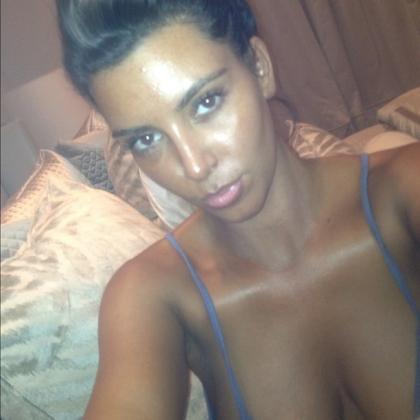 Image via @KimKardashian
We all know that Kim Kardashian is famous for having a big ass and a sex tape and somehow she's parlayed that into a massive fortune that most of us couldn't even dream of.
It's not often that a common prostitute selling sex on the internet turns into a world wide celebrity and a role model for young girls. Kim Kardashian disgusts me and I can't for the life of me understand why she doesn't disgust everyone else.
She's untalented. Unpleasant. Her voice is like an ice pick to my ears. She's basically a human dumpster fire who has rode her GIANT ass into a fortune that will someday (likely) reach a billion dollars.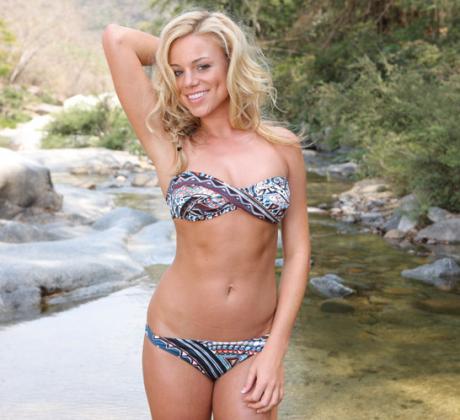 Image via DallasCowboysCheerleaders.com
Oh goodness, what isn't Lucky for former Dallas Cowboys Cheerleader Kelsi Reich? She's, hands down one of the most gorgeous women in sports. She's a talented dancer, she's got an education and she's about as photogenic as humanly possible.
You may also remember her as the recipient of Bills wide receiver David Nelson's touchdown football in late 2011. The incident obviously left the cheerleader a little flushed, but no girl could help but be flattered by such a public declaration of love.
It was just so adorable and she is one lucky lady.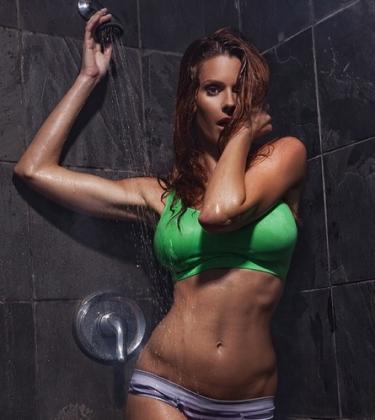 Image via @jaimeedmondson
Jaime Edmondson, one of Playboy's sexiest Playmates is just lucky in life. Obviously the girl is pitch perfect…perfection—absolutely stunning.
Edmondson has also manage to carve out a niche as Playboy's resident sports fanatic, making her one of few bunnies distinguishable from the rest.
And then how about the fact that she landed Rays superstar and superstud Evan Longoria as her boyfriend?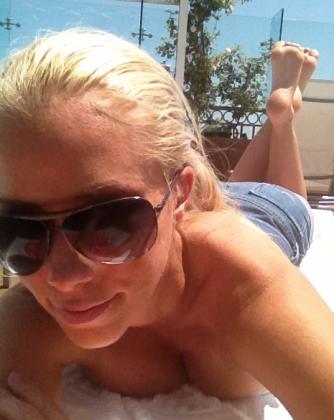 Image via @KendraWilkinson
Oh good Lord, please don't get me started on the very beautiful, but equally vacant, Kendra Wilkinson. This girl is quite literally one of the dumbest people ever on television, yet there she remains, season after season.
I do realize she had to bump uglies with a man so old that the thought of him naked makes my skin crawl. I know I couldn't do it—luckily Kendra could.
Kendra is No. 1 on this because she actually has no tools to function in the real world. If she hadn't lucked into her entire life, she'd probably be dead.