San Francisco Giants: 5 Reasons Team Must Rest Tim Lincecum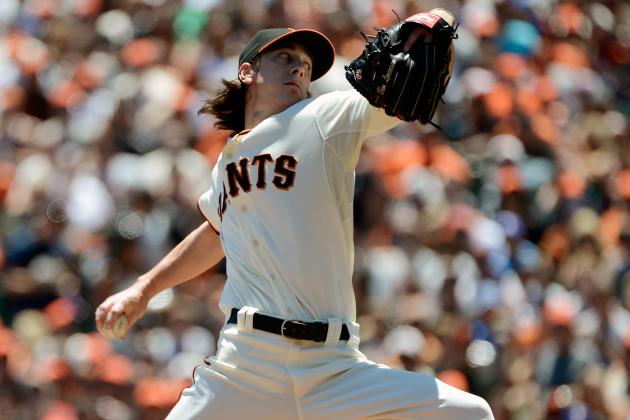 Thearon W. Henderson/Getty Images

The San Francisco Giants' ace pitcher Tim Lincecum may be coming apart at the seams—literally.
It seems that the two-time NL Cy Young Award winner has fallen out of favor with the baseball gods, evidenced by his 6.00 ERA and zero wins in his last eight games.
Although Giants' manager Bruce Bochy has said they don't plan on resting Lincecum by taking him out of the lineup or sending him to the bullpen at this time, keeping Timmy in the rotation might not be the best idea either.
With a 2-7 record this season, it seems like Lincecum is dealing with a little more than just a case of "June Swoon." Timmy looks to be withering away physically, mentally and emotionally, and before he takes to the mound against Seattle on Saturday, it might be time for him to grab some pine meat.
Let's take a look at the most practical reasons why Tim Lincecum needs to take some time away from the game in order to rediscover his pitching mojo.
Begin Slideshow

»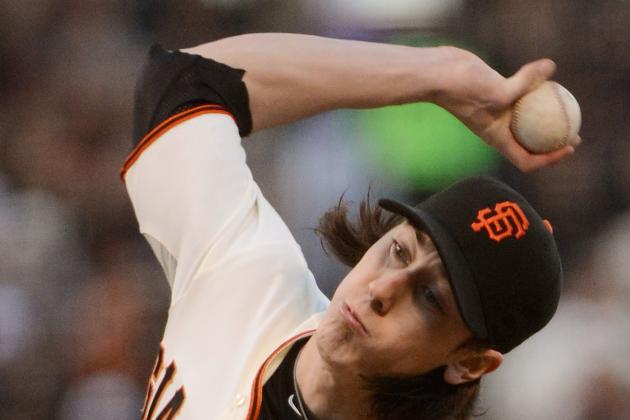 Thearon W. Henderson/Getty Images

In addition to his slight build and shoulder-length hair, Tim Lincecum has earned the moniker of "Freak" because of the pitching success he normally gets out of his small stature when compared to other MLB pitchers.
On the mound, Lincecum twists his torso in a way that would make gymnasts jealous. He takes an enormous lunge forward and, at the same time, whips his shoulders, arm and ball violently toward the plate. It's definitely a distinctive throwing motion, and one that appears to be physically taxing given the lack of body mass that Lincecum has to generate ball speed—approximately 160 lbs.
Because Lincecum's lower body moves faster than his upper body, both his timing and his shoulders need to be perfectly synchronized.
Because Timmy's timing has been off recently—proven by his many wild pitches of late—Giants' pitching coach Dave Righetti needs to significantly refine Tim's pitching mechanics to develop a more consistent pitching delivery motion.
Additionally, Tim's Dad, Chris Lincecum, has long been Tim's best mechanics coach and should be called in for assistance if not already on board.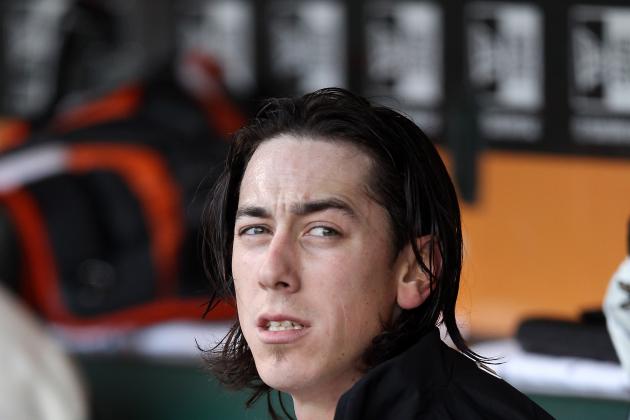 Ezra Shaw/Getty Images

Tim Lincecum is called the "Freak" because it seems impossible for a man who is 5'11'' and 160 lbs. to throw a 93 mph fastball. Thanks to a diet of In-N-Out and McDonald's, Lincecum managed to rack up two NL Cy Young awards and a World Series ring, all while keeping freakishly thin.
During the offseason in 2011, however, Lincecum thought he was getting too big and dropped 22 lbs.
It seems like Timmy should have focused more on gaining weight rather than losing it because Lincecum's stamina has greatly suffered. Timmy averages only five innings per start in 2012, which is two innings less than 2010 and 2011.
I'm not saying Lincecum should rely on a fast-food diet again, but if he wants to improve his stamina, Tiny Tim might want to consider putting a little more weight on and behind his pitches.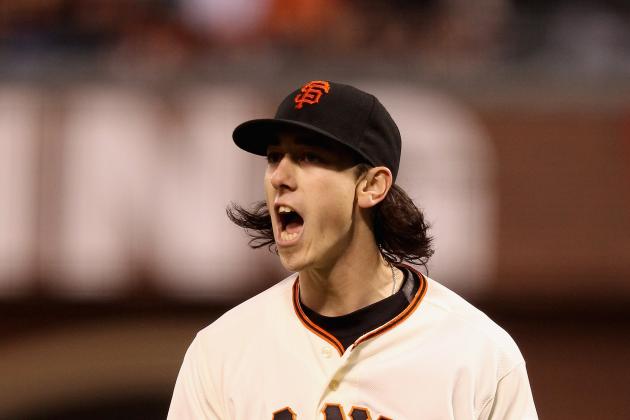 Ezra Shaw/Getty Images

Tim Lincecum has never been one to break a bat, throw a glove or storm off the field in frustration, but maybe the mild-mannered pitcher should erupt with a little fire in the belly from time to time and demonstrate that he's not going to take this anymore.
Lincecum never shows any sort of outward emotion. He may be kicking himself on the inside for losing a game, but as far as we know, he seems to be taking this bad patch in stride.
Maybe if Lincecum was able to get a little more upset with his results, he could motivate himself, show real determination to the fans and put up a few W's.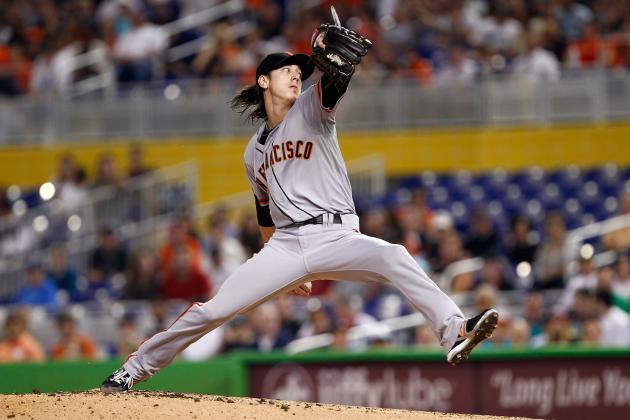 Sarah Glenn/Getty Images

There are pitchers and throwers.
Pitchers take what they have going for them to keep batters off balance and use control and guile to beat hitters. Tim Lincecum may have a wide variety of pitches in his arsenal, but it looks like none of his pitches, including his go to changeup, are going where he wants them to.
Tim needs to rework his pitching options and develop 2-3 confidence pitches to at least eat up innings and keep the Giants close until he rediscovers his Cy Young magic.
This means working with Dave Righetti to either remodel his pitches or get a whole new set.
Either way, Lincecum needs to spend some quality time with Righetti—off the field.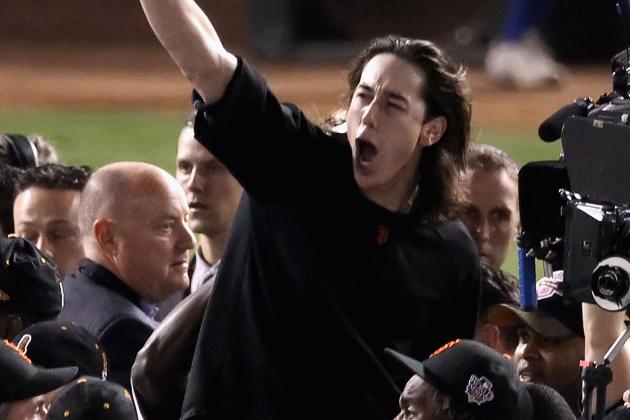 Christian Petersen/Getty Images

Arguably one of the best photos from the Giant's 2010 World Series win was the lasting image of Tim Lincecum on the shoulders of his entire team holding a number one in the air.
That memorable shot had been a great motivator for his playing mates every time he led his team out on the the field—until now. What's so great about this memorable photo is that it showed how much faith and confidence the Giants players had in Timmy.
Now in 2012, Lincecum will get the occasional pat on the back from his teammates, but nothing like after Game 5 against the Texas Rangers in 2010. Team morale is contagious—both good and bad. I'm afraid that until Tim gets right, he has the opposing batters sensing blood in the water and his teammates know this.
Chalk this lack of faith in the Freak from the rest of the Giants up to his results to date—his stats don't lie. Although Lincecum may be the first pitcher in the Giants' rotation, some quality time away from AT&T Park might help Lincecum rediscover his physical and mental edge.
Remember, managers have used the D.L. for years to aid slipping players to regain their confidence.