West Virginia Football: What the Mountaineers Should Fear About Big 12
J. Meric/Getty Images

West Virginia finished the 2011 season strongly. But the days of Big East triumphs and automatic Orange Bowl berths after mediocre campaigns are over.
The heat is on for the Mountaineers as they transition to big boy football in the Big 12. They will meet a highly competitive corps of opponents. TCU's concurrent arrival only heightens the intensity.
Dana Holgorsen's bunch has considerable talent and potential in 2012. But we have yet to see how that talent will fare in a new conference landscape. This is uncharted territory for the boys from Morgantown.
With that in mind, here are five concerns the Mountaineers should have about the Big 12.
Begin Slideshow

»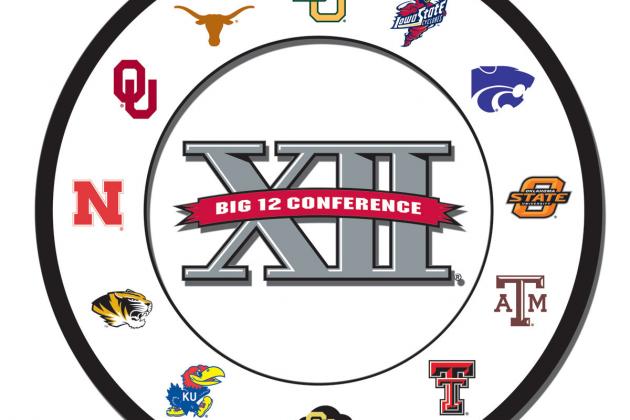 http://kjhk.org/web/wp-content/uploads/2011/09/Big-12-logo.jpg
Let's be honest: The Big East is not the Big 12. Before the Mountaineers switched conferences, they were a big fish in a small pond. Now, they are in a very big pond.
We'll find out how big they are.
Instead of facing teams like Cincinnati, Louisville, Pittsburgh and Rutgers, WVU now gets to play Texas, Oklahoma, TCU and Kansas State. The final BCS standings last season included five Big 12 teams (not counting TCU).
Besides West Virginia, zero Big East teams were ranked.
Sure, the Big 12 has its share of weak teams. But overall it is infinitely more competitive than the Big East. The Mountaineers will struggle with a grueling schedule that includes Kansas State, TCU, Oklahoma State and Oklahoma in the span of six weeks.
WVU does have very high potential and can compete in the Big 12, but we should be very hesitant to assume the transition will be seamless. Especially when we are talking about a squad that lost 49-23 to Syracuse, 38-35 to Louisville and eked out wins over Cincinnati, Pittsburgh and USF last season.
Erich Schlegel/Getty Images
Darrell K Royal-Texas Memorial Stadium
It may sound silly, but simply getting to the games could be exhausting for the Mountaineers. The team will have to travel approximately 4,250 air miles for four conference road games. Last season, they covered roughly 1,900 air miles for conference bouts.
The Mountaineers will also have to deal with several hostile environments with which they are unfamiliar. In October they travel to Austin to take on the Longhorns in a stadium that holds 100,119 fans. Late in the season, WVU faces Oklahoma State at Boone Pickens Stadium, which seats 60,218 but is well-known for its rabid fans.
Luckily, those are the only major road tests for the team in 2011. But future seasons will include trips to Norman to take on the Sooners, who are 77-3 at home under Bob Stoops.
And beating TCU in Fort Worth and Kansas State in Manhattan are never easy.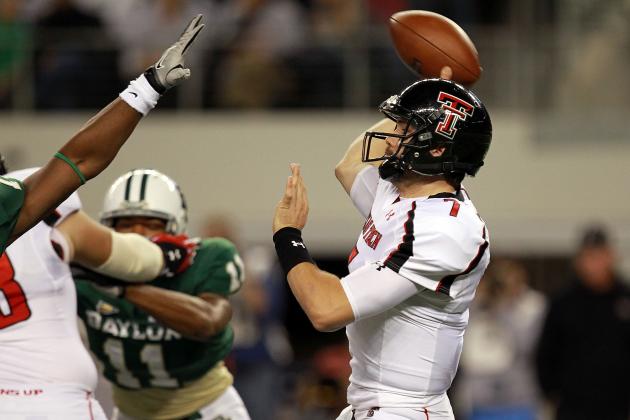 Ronald Martinez/Getty Images

WVU also is unaccustomed to the caliber of offense it will witness routinely out west. The Big 12 had a whopping four teams finish in the top 10 nationally in passing yards last season.
Besides West Virginia, the Big East had zero in the top 50.
Mountaineer quarterback Geno Smith will face worthy adversaries for once. He can say goodbye to fellow passers Ryan Nassib and Tino Sunseri, who combined for 5,301 yards and 32 touchdowns.
Now he will duel with Landry Jones, who finished with 4,463 yards and 29 touchdowns last season. Fellow gunslinger Texas Tech's Seth Doege racked up 4,004 yards and 28 touchdowns his junior year.
Despite its aerial proclivity, the Big 12 also saw six teams (not including TCU) finish in the top 50 in rushing last season, compared to two for the Big East.
Clearly, the WVU defense will be facing an entirely different animal in Big 12 offenses.
Andy Lyons/Getty Images

With the Big 12 recognized as one of the nation's best conferences, the league is expected to churn out high-quality teams year after year. The conference champion is usually very highly ranked and often in the national title hunt.
Relocating from a relatively weak conference, the Mountaineers are going to discover that "success" is an entirely different concept in an elite conference.
WVU can't simply coast into automatic Orange Bowl berths anymore. Now, it will have to master perennial powers and endure a brutal schedule in order to stay nationally relevant.
Succeeding in a top tier conference immediately is a challenge for any team. The Mountaineers have the potential to contend for the Big 12 crown, but failure to do so does not warrant labeling the squad a "pretender" or not worthy of the hype.
Adjusting to its new digs will take patience and rugged determination for WVU.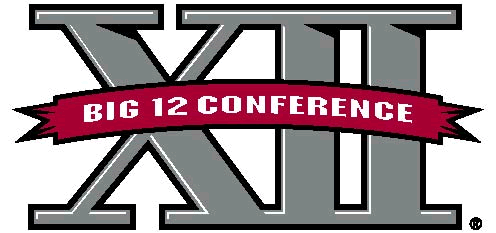 http://bcsknowhow.com/wp-content/uploads/2010/07/big-12-logo.gif
Lastly, look for conference foes to be especially hungry and fired up when they face WVU. They will be eager to give the Mountaineers a warm welcome. They'll also want to show the newcomers that they will have to earn every piece of a Big 12 title in their inaugural season.
Teams hungry to avenge missed opportunities in 2011 like Texas, Oklahoma and Kansas State will do all in their power to avoid being tripped up by a newcomer with conference championship aspirations. They will be similarly determined to avoid falling to a squad that hails 1,000 miles from other conference members.
By the time the Mountaineers face the Cowboys and the Sooners in back-to-back weeks toward the end of the season, they should have a good idea just how determined the Big 12 is to ruin their first year in the new neighborhood.