New York Yankees: What to Do with Nick Swisher After the 2012 Season?
June 13, 2012

Scott Cunningham/Getty Images
When the Yankees made the trade before the 2009 season to land Nick Swisher, who knew he would be such a big part of the offense?
He was originally going to be a platoon player for the Yankees, but he ended up turning into an everyday player for the Bombers over the last four seasons, averaging at least 20 home runs and 80 RBI.
He was a free agent after the 2011 season, but the Yankees picked up the $10.25 million option for Swisher for the 2012 season, and thus far, Swisher has produced results.
Currently, Swisher is batting .250 with 10 home runs and 39 RBI, which is on pace for his normal stats for the Yankees.
His hitting in the postseason hasn't been what the Yankees were hoping for, but aside from that, Swisher has given the Yankees four solid seasons in the outfield and in the lineup.
And that brings me to my point.
Swisher will be a free agent with no team or player options after the 2012 season and could be in line for a multi-year deal from a team on the open market.
What do the Yankees do about Swisher after the season?
There are plenty of teams who might benefit from Swisher's services, which makes him a very attractive free agent this coming November.
What also makes him an even more attractive free agent is the biggest option on the market for a right fielder just came off on Tuesday when the Dodgers locked up Andre Ethier to a five-year extension.
Ichiro Suzuki will be a free agent, but he's going to be 39 years old and isn't the best option because of his age, and Torii Hunter will be 37 and will be too old as well.
The Yankees could have considered Ethier, but the Dodgers wanted to keep him, and so they did.
They could look into Josh Hamilton, which would be very expensive, but doable. However, if Hal Steinbrenner keeps to his word that he wants to get under the $189 million payroll by 2014, Hamilton may not fit into the Yankees plans.
The Yankees also could explore inexpensive outfield options like Melky Cabrera or Cody Ross, but those seem unlikely right now.
Which leaves us with Swisher, who right now may be the best option for the Yankees in right field going forward.
I say that because as of right now, the Yankees do not have a right fielder in the minor leagues that could play every day in the majors.
Swisher will be 32 by the time November hits, but I still think he has quite a few productive seasons left in him that the Yankees could take advantage of.
He loves playing in New York, he's a positive influence in the Yankees locker room and dugout and he's one of the most popular Yankees to come through in the last five years.
He may never win a Gold Glove playing in right field, but he still goes out every day and busts his rear-end for the team.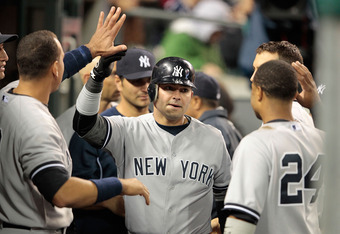 Leon Halip/Getty Images
Swisher knows he might be able to get a little bit more money and maybe a longer deal if he were to walk away from the Yankees, but with the Yankees, Swisher has a chance to compete for a championship every season he's in pinstripes.
Swisher has always been a favorite of current Yankees GM Brian Cashman, who likes his style of play and his fun-loving attitude both on and off the field.
I could see Cashman offering Swisher a three-year, $33 million deal with a team option for a fourth year to stay with the Yankees.
I say that number because it increases Swisher's pay per season, and it would give him extra years to continue playing in New York.
If Cashman really wants to hold onto Swisher for a few more years, I can see that offer being a fair one.
When the 2012 season ends, Swisher will be one of the Yankees' top priorities that Cashman will have to figure out.
Stay tuned, Yankees Universe.