2012 NBA Finals: Tell-All Numbers from Game 1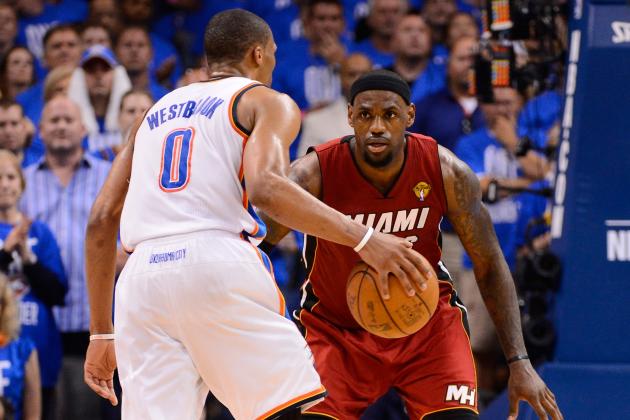 Ronald Martinez/Getty Images

And we're off.
The highly-anticipated NBA Finals have begun with a sharply-contested Game 1 being won by Oklahoma City Thunder. At one point, Kevin Durant and company trailed Miami by 13, but with sound second-half defense and historic efforts from Durant and Russell Westbrook, the Thunder won by a 105-94 mark.
The sporting world is largely fueled by statistics, and sports media often drives content on numbers alone.
Let's take a look at a few important stats from game one.
Begin Slideshow

»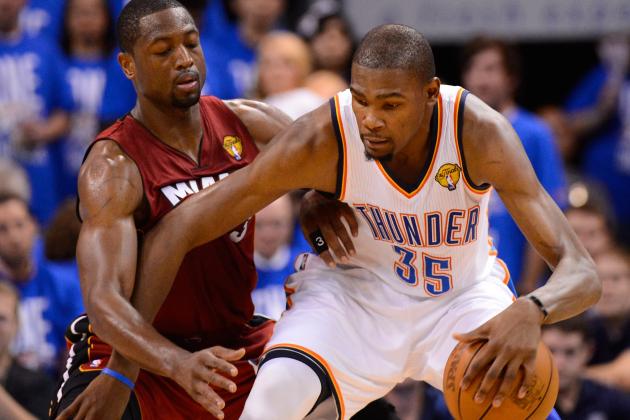 Ronald Martinez/Getty Images

Kevin Durant's fourth quarter shooting percentage. The fifth-year pro was other-worldly come crunch time, finishing with a whopping 36 points.
What stood out most in Durant's late-game efforts was his perimeter shooting and his steely defense. K.D.'s three-pointer with 6:29 remaining created momentous separation that the Heat would never recover from.
Moreover, Miami's interior offense was practically nonexistent in the game's final minutes, thanks in part to Durant.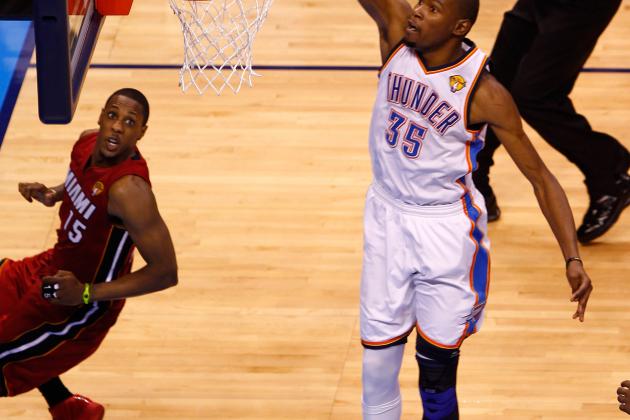 Mike Ehrmann/Getty Images

Shots made and taken by Durant.
36 points on 20 shots beams efficiency.
Despite being his team's unquestioned leader, Durant took four fewer shots than one-guard Russell Westbrook. He was four of eight from downtown and eight of nine from the charity stripe.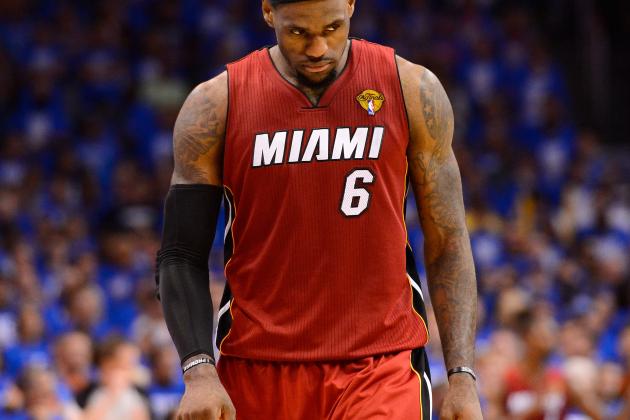 Ronald Martinez/Getty Images

LeBron James' total efficiency rating.
The league's MVP wound up with 30 points on 11-24 shooting, adding nine rebounds and four steals.
However, James also finished with four turnovers, and his unadorned fourth quarter performance immediately drew the eye of the professional basketball world.
The Prince of Polemics; the King of Controversy, LeBron will need a more authoritative effort in game 2.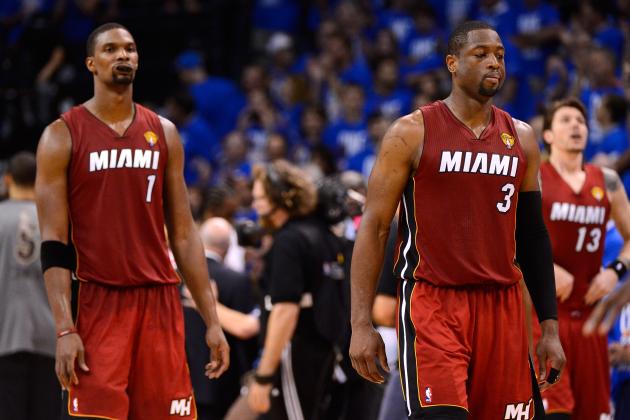 Ronald Martinez/Getty Images

Members of Miami's starting five with a positive efficiency rating.
The Heat's premier players missed 34 shots from the floor and turned the ball over nine times.
It was a lackluster performance from several key Miami players, most notably Chris Bosh, who finished with a -16 mark.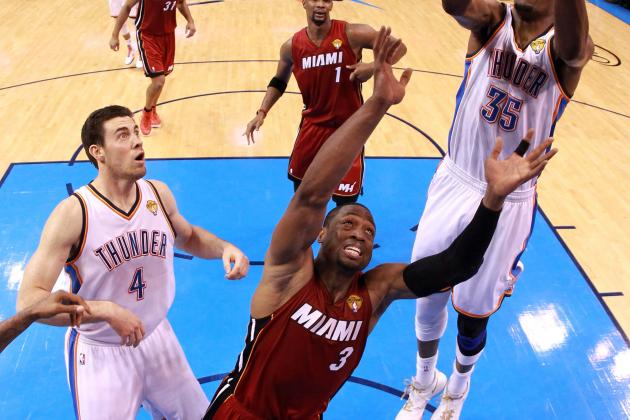 Ronald Martinez/Getty Images

Oklahoma City's rebounding differential over Miami, including a +3 on offensive rebounds.
The Heat are widely praised for their defensive physicality and efficiency on the boards, but on Tuesday night the Thunder dominated the glass.
Durant and Westbrook each churned out eight rebounds, while center Kendrick Perkins added seven and Nick Collison lead the team with ten in just over 21 minutes of floor time.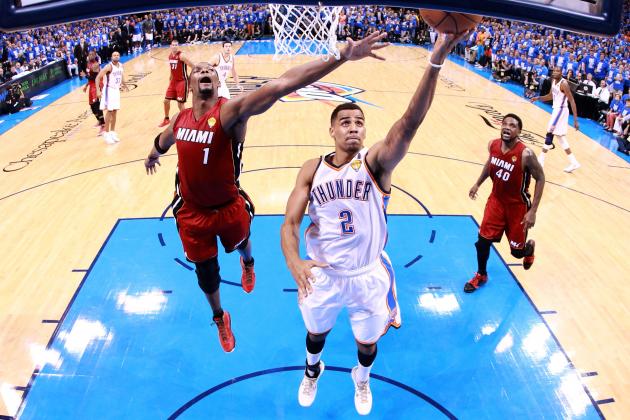 Ronald Martinez/Getty Images

Oklahoma City's fast-break differential over Miami.
The Heat mustered a mere four points off the break, while the Thunder shined with 24.
Much of the Heat's game is built around transition and generating points from steals, yet the Thunder were the ones flashing their speed on Tuesday. Such a stranglehold on the fast-break allowed Oklahoma City to set a definitive tempo that the seemingly-fatigued Miami could not keep up with.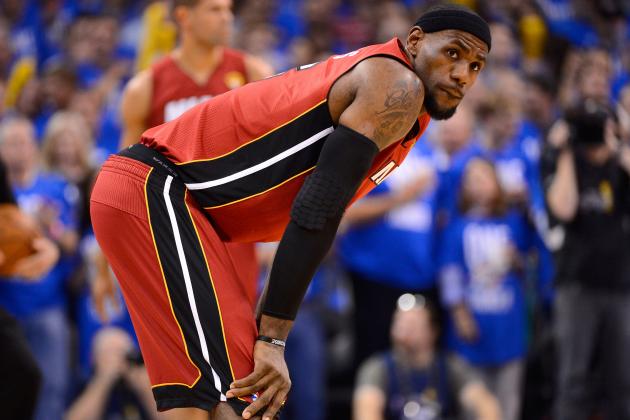 Ronald Martinez/Getty Images

Points scored by the Heat in the third quarter.
After a fantastic first half, Miami faded quickly.
The Thunder were dominant in the third quarters of the Western Conference Finals as well, and seemed to breathe new life into the game after a sluggish start. Durant's drives to the lane were frequent, and Dwyane Wade's impact was nowhere to be seen.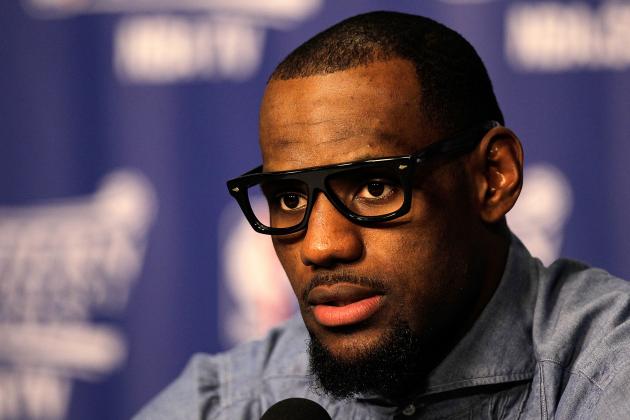 Mike Ehrmann/Getty Images

Teams that have won the NBA Finals after dropping Game 1.
It's certainly a rarity, but after watching Dallas pull it off last year, there's obviously no reason for skepticism in the Miami camp just yet.
In fact, the Heat were one of these five teams, toppling the Mavericks in 2006 after losing their first two contests. Media fervor is understandable, but not too much can be made from this loss. Miami and Oklahoma City are in for a good one.