Predicting Two-Deep Jacksonville Jaguars Depth Chart, Pre-Training Camp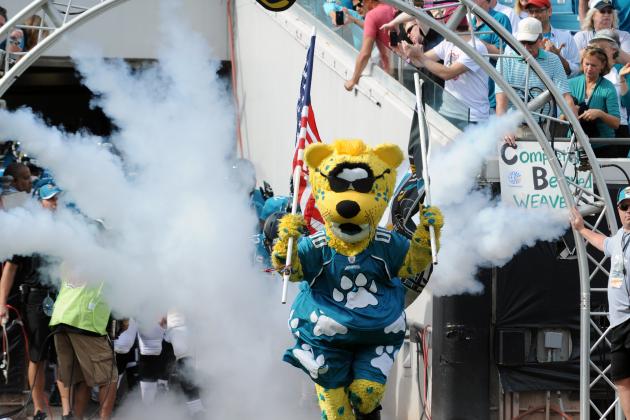 Al Messerschmidt/Getty Images

Who will make up the 2012 Jacksonville Jaguars?
New head coach Mike Mularkey will have the final say, but we're here to look inside of the crystal ball a little bit and predict the top two guys at each position for the team heading into training camp.
The Jaguars will have a lot of questions hovering over the team heading into this year's training camp: Is Blaine Gabbert the quarterback of the future? How long will Maurice Jones-Drew's holdout last? Is Justin Blackmon mature enough to play in the NFL?
We're going to attempt to answer at least one question: Who will be getting the bulk of the reps come the start of training camp later this summer.
Begin Slideshow

»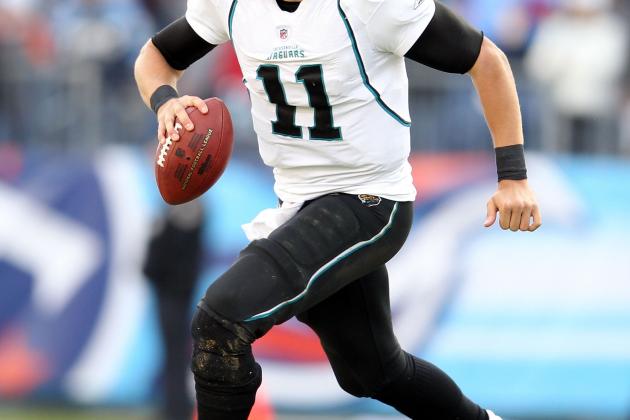 Andy Lyons/Getty Images

Blaine Gabbert, Chad Henne
This is an obvious choice at this point of the offseason and heading into training camp. Gabbert was a first-round draft pick last season and Henne is coming off a rocky tenure in Miami, which ended in him sitting out most of his last season due to injury.
This may flip flop at some point in 2012, however, depending on the progression of Gabbert.
If Gabbert does not progress, Mularkey may make the move to Henne fairly quickly.
But for right now, Gabbert gets the No. 1 spot.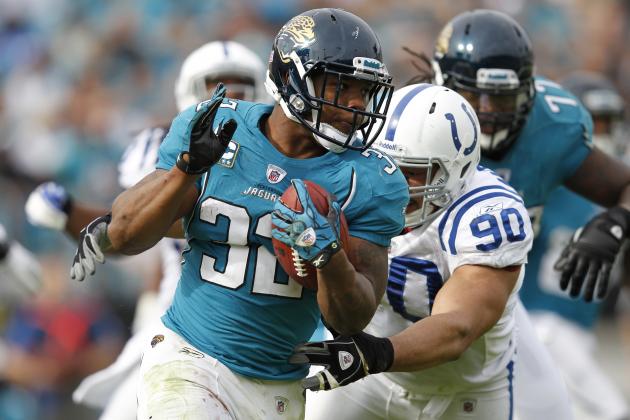 Joe Robbins/Getty Images

Maurice Jones-Drew, Rashad Jennings
Maurice Jones-Drew could holdout all the way until the first week of the season and still be inserted as the starter.
His starting spot will not be in any jeopardy unless Rashad Jennings has a training camp for the ages.
However, in the event Jones-Drew does come back at some point, expect to see Jennings receive a little more carries than last season.
Jones-Drew carried the ball in excess of 340 times last season and the Jaguars will limit his carries through both the passing game and getting Jennings more carries. Not a whole lot, but just enough to take some of the load of Jones-Drew.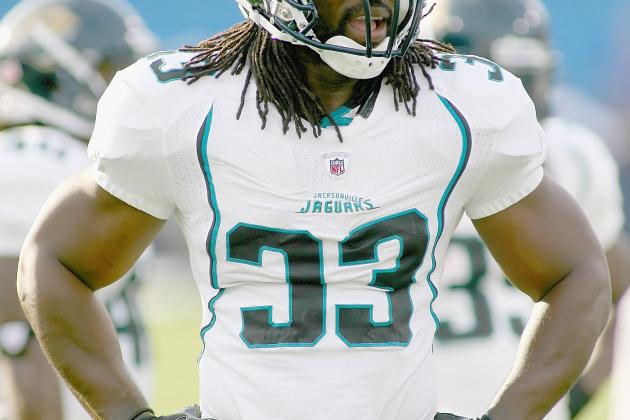 Rick Stewart/Getty Images

Greg Jones, Brock Bolen
The Jaguars currently have three fullbacks on the roster, but we're going to go with the two guys who have a history with the team and have played fairly well recently.
Jones is an aging veteran entering his ninth season and has had a history of injuries, so Bolen could overtake him for the starting spot. Bolen played in 13 games last season for the Jaguars.
The third man involved and the guy who will turn this into a training camp battle to look out for is Naufahu Tahi.
Tahi is a very experienced fullback coming to Jacksonville from the Minnesota Vikings, where he blocked for Adrian Peterson, but was out of football all together in 2011.
Fullback may not be the glamour position it used to be, but if you're a Jags fan, it may be a position to watch during training camp.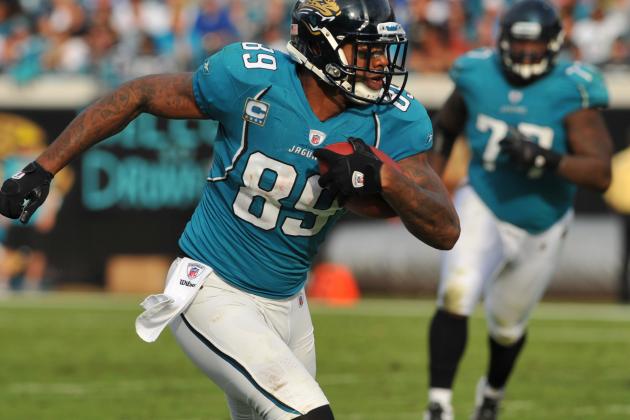 Al Messerschmidt/Getty Images

Marcedes Lewis, Zach Miller
From a depth chart standpoint, the Jaguars are pretty set at tight end. They have former Pro Bowler Marcedes Lewis as the starter and a capable backup in the returning Zach Miller behind him.
Lewis's production took a step back from his Pro Bowl year of 2010, but not enough for him to lose his starting spot.
Miller is coming back from finishing 2011 on injured reserve. If the Jaguars become more of a passing offense in 2012, look for the tight ends to be safety valves for Gabbert.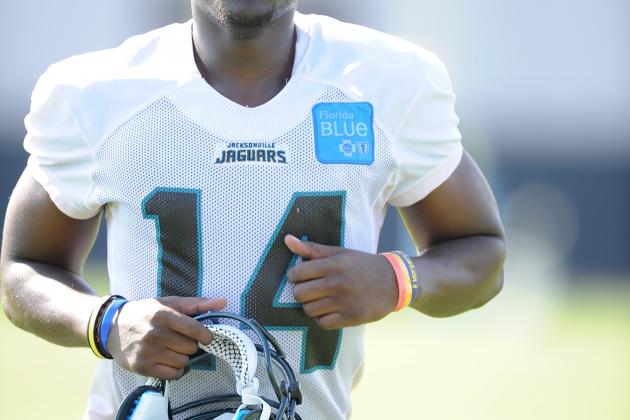 Rick Dole/Getty Images

Starters: Laurent Robinson, Justin Blackmon
Reserves: Lee Evans, Mike Thomas, Brian Robiskie
The Jaguars boast a new-look receiving corps. this season and it was greatly needed.
The front-runner to be the No. 1 guy heading into camp seems to be Laurent Robinson. He's the only receiver that has shown he can produce at a high level recently. Lee Evans produced once upon a time, but that was a long time ago.
Everyone else has yet to do so. Rookie Justin Blackmon is among those that has yet to show that he can produce at a high level, but will get the nod over Evans as the No. 2 guy.
If Evans, is healthy, he is better served as a slot receiver as Blackmon does not possess the speed to stretch the field that is usually asked of slot receivers. He seems better served on the outside opposite of Robinson.
Despite his recent run-ins with the law, it should not adversely effect his spot on the depth chart.
Not to mention the Jaguars moved up two spots in the draft to grab him so it only makes sense to start him.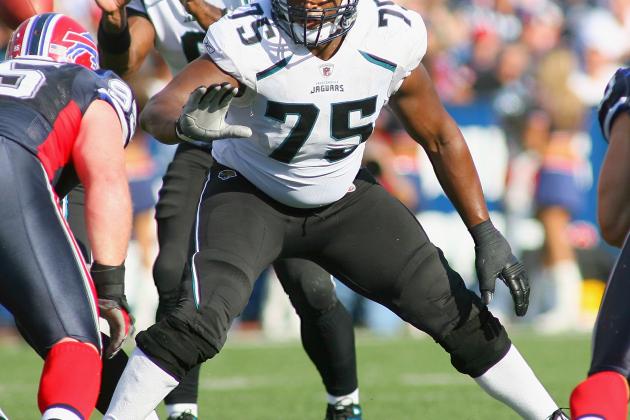 Rick Stewart/Getty Images

Starters: LT - Eugene Monroe, LG - Will Rackley, C - Brad Meester, RG - Uche Nwarneri, RT - Eben Britton
Reserves - Guy Whimper, Jason Spitz, Cameron Bradfield, John Estes
Because of injuries, the Jaguars have a lot of guys on the roster with a good amount of playing experience.
That has all of a sudden given the Jaguars a good amount of depth at the offensive line positions.
If the starters on the offensive line can stay healthy and on the field together for 16 games, they have enough talent to turn into one of the better units in the NFL.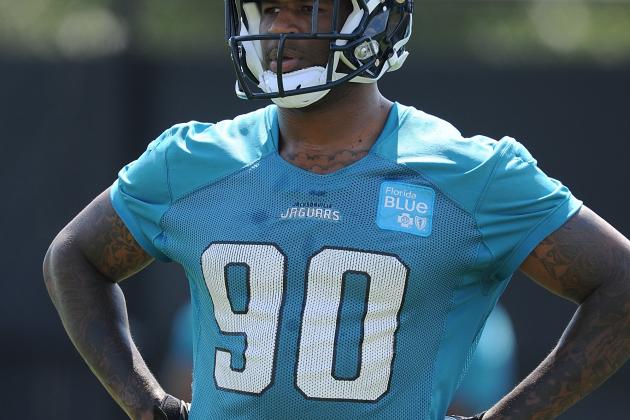 Rick Dole/Getty Images

Starters: DE - Andre Branch, DT - Terrance Knighton, DT - Tyson Alualu, DE - Austen Lane
Reserves - C.J. Mosley, Corvey Irvin, George Selvie
Three of the four defensive line spots seem to be set in stone going into training camp. Second-round pick Andre Branch will more than likely start at one defensive end spot and Tyson Alualu and Terrance Knighton should hold on to their spots at defensive tackle.
The one big question is who going to be opposite of Branch at the other defensive end spot. With the release of Aaron Kampman, the spot is wide open. Austen Lane seems to be the front-runner, but George Selvie, who started at one point for the Jags last season, could crack the starting lineup again in 2012.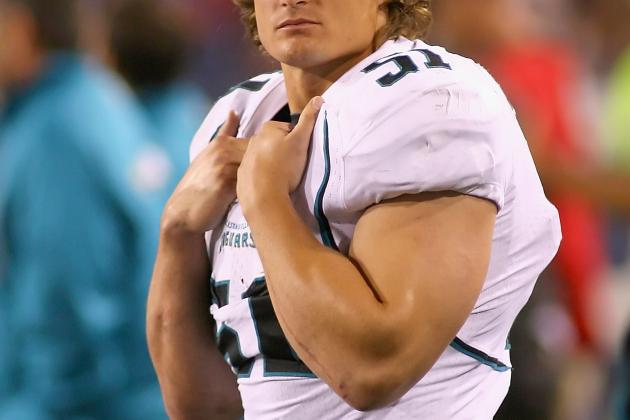 Rick Stewart/Getty Images

Starters: Paul Posluszny, Daryl Smith, Russell Allen
Reserves: Clint Session
The linebacker corps. were one of the more stable parts of the Jaguars last season. It should be more of the same heading into 2012.
The group is led by Paul Posluszny who led the team in combined tackles last season with 119 as he seemed back at home in a 4-3 defense. Daryl Smith was second on the team in combined tackles with 107.
If defensive tackles Tyson Alualu and Terrance Knighton can take up blockers, expect these two to make more plays in 2012.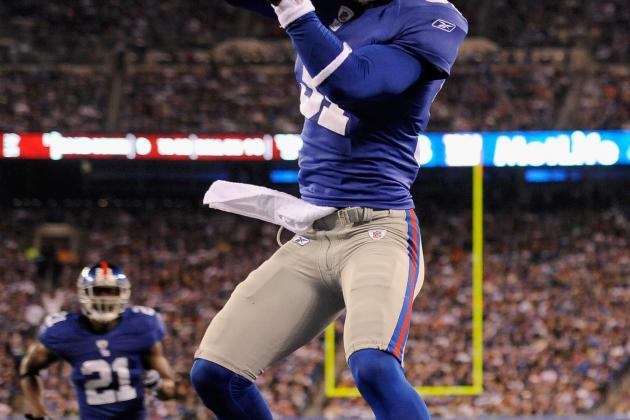 Patrick McDermott/Getty Images

Starters: Aaron Ross, Rashean Mathis
Reserves: Mike Harris, Ashton Youboty Kevin Rutland
The Jaguars attempted to upgrade the cornerback position by bringing in Aaron Ross from the defending Super Bowl champions, the New York Giants.
Opposite of Ross will be Rashean Mathis who, if healthy, could still be productive corner in the NFL.
The tandem of Ross and Mathis has the potential of posing problems for opposing quarterbacks.
The Jags also drafted Mike Harris out of Florida State late in the draft, picked Ashton Youboty and kept Kevin Rutland, who started a couple of games in 2011 due to multiple injuries in the secondary.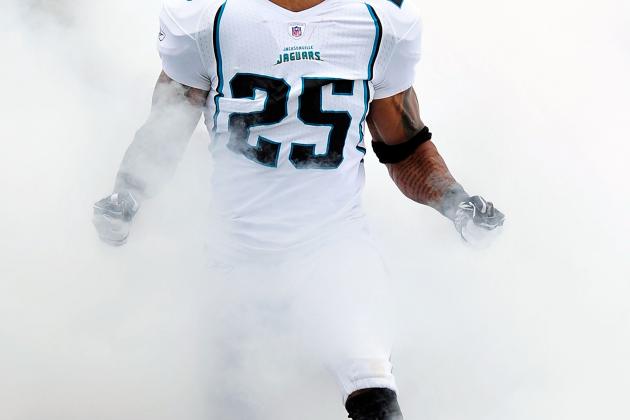 Grant Halverson/Getty Images

Starters: Dwight Lowery, Dawan Landry
Reserves: ???
The Jaguars seem pretty set with their starting safeties in Dwight Lowery and Dawan Landry, but when it comes to who's backing them up, it is wide open.
They have a lot of new faces at the safety spots and those new faces will be battling for reserve spots come training camp.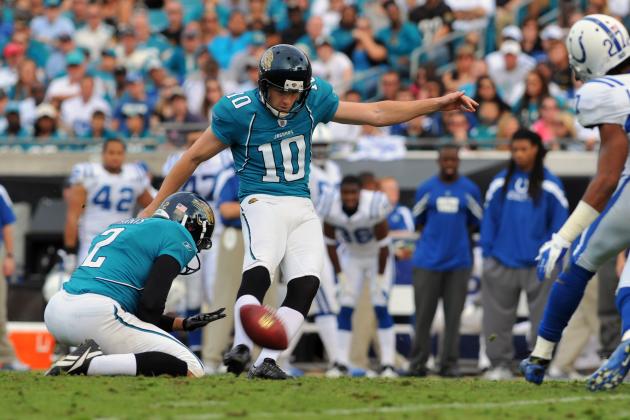 Al Messerschmidt/Getty Images

Kicker: Josh Scobee
Punter: Bryan Anger
Returners: Montell Owens, DuJuan Harris
Josh Scobey is one of the better and more consistent kickers in the league and the Jaguars better start Bryan Anger after essentially wasting a third-round pick on him during the draft.
Montell Owens and DuJuan Harris will have to improve the Jaguars' return game, which ranked 25th in kick return average and 31st in punt return average.
If they do not, expect someone else to step in and take their place.