2012 NBA Finals: No Matter Who Wins It, We All Lose
June 13, 2012

Ronald Martinez/Getty Images
The first game of the NBA Finals is in the books, with the blahblah defeating the blahblah by the score of yadyada.
Clearly you can see my excitement.
I mean, I like seeing the one-on-one matchups, who doesn't? But at the end of the day, somebody has to win.
That is what stinks.
You see, depending on the way you look at it, you could say it's the two best teams with two of the best players going head-to-head. You could say it's a competitive matchup that will change the NBA for next season.
That is, depending on your point of view.
What I, and many others see, is a matchup of two teams who snubbed fans and left fan bases aching.
The Supersonics, as many of you have already pointed out, were robbed from Seattle in a fashion that all sports fans could ache for. Clay Bennett and Howard Schultz became hated names, as they undermined years of tradition and success in favor of money.
With the aftermath came the Thunder, who both Seattle fans and many others can't find themselves to root for. It is perfectly understandable, and I agree with them. 
The Heat on the other hand, are hated because of the work of one man—the infamous "King James" as some put it.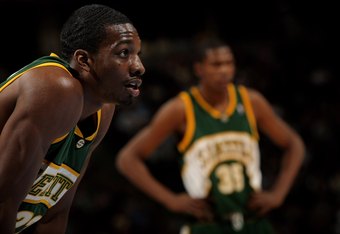 Doug Pensinger/Getty Images
Lebron James, Mr. "I have a goal...to bring a Championship to Cleveland and won't stop till I get it." Sounds like a pretty big promise to me. Especially considering that he left the Cavaliers for so-called "greener pastures in Miami."
But have no fear—his hubris didn't stop there. He boldly declared that he would bring "Not one, not two, not three, not four, not five, not six, not seven" but seemingly eight championships to Miami. Seems like he has hard enough time getting one.
With The King's departure, the tortured sports city of Cleveland once more felt the pain of a letdown. Cleveland fans once more saw a beacon of hope...only to also see it go.
While many of us may not be able to relate to these two fan bases who had their favorite teams taken from them, we can all at least partially feel the pain they experienced and can see how either the Heat or Thunder winning affects them.
At the end of this series, I can't tell you who the winner is. I can't tell you who will win the MVP. I can't tell you who will have the best stats or any of that.
But I can tell you that whoever wins shall bring a pain upon their respective former teams. When loyalty is gone and dedicated fans are betrayed, we all lose. 
And with every win from either team (to take a note from Virgil's Aeneid), fans "lift terrible shouts up to the stars."