2012 NFL Fantasy Football Quarterback Rankings
June 13, 2012
Jonathan Daniel/Getty Images
Here's an updated look at the LestersLegends 2012 fantasy football quarterback rankings.
1. Aaron Rodgers, Green Bay Packers: I had him ranked No. 1 last year. 4,643 passing yards, 257 rushing yards, 48 total TDs (45 passing), six INTs later I haven't changed my opinion.
2. Drew Brees, New Orleans Saints: The team is in a crap storm right now, and he will miss Sean Payton, but Brees shattered the passing yardage record last year with 5,476 yards and 46 TDs.
3. Tom Brady, New England Patriots: I foolishly thought that because he had some monster games along with some stinkers, he wasn't a top five fantasy QB last year. I won't make that mistake again. Adding Brandon Lloyd to an offense that already includes Rob Gronkowski, Wes Welker and Aaron Hernandez makes him even more dangerous.
4. Cam Newton, Carolina Panthers: They added Mike Tolbert, which could cut into the 14 TDs he ran for last year. Still, with 4,051 passing yards, 21 passing scores, and 706 rushing yards, it's hard not to imagine another monster fantasy year from Newton.
5. Matthew Stafford, Detroit Lions: Am I giving him too much credit? Hard to say that when the Lions have the game's most dominating receiver. Not to mention Stafford is coming off a 5,038-yard, 41-TD season.
6. Tony Romo, Dallas Cowboys: Romo threw for 4,184 yards, 31 TDs and just ten INTs. He has as many weapons as anybody.
7. Eli Manning, New York Giants: With more passing yards last year (4,933) than Peyton Manning has ever thrown, along with 29 TDs and two Super Bowl rings, it's safe to say he's out of his brother's shadow. Call me crazy, but I think he's a safer fantasy play, too.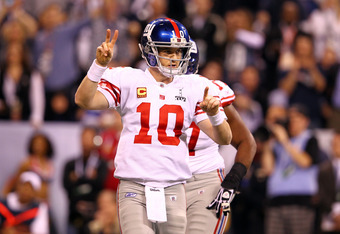 Al Bello/Getty Images
8. Philip Rivers, San Diego Chargers: 4,624 yards and 27 TDs is considered a bad year (20 INTs) for Rivers. I'll take that to the bank.
9. Peyton Manning, Denver Broncos: He's Peyton, so I suppose I have to give him the benefit of a top-ten ranking. But he is in a new place where weather could play a factor, and the Broncos have potentially worse weapons than Manning is used to. I have to put Peyton in an unfamiliar spot (out of the top five).
10. Matt Ryan, Atlanta Falcons: There aren't many QBs with a better 1-2 punch at WR than Roddy White and Julio Jones.
11. Michael Vick, Philadelphia Eagles: Last year was a disaster for Vick, though he threw for a career-high 3,303 yards. I expect more rushing TDs and some explosive games, but he is going to have injury issues.
12. Ben Roethlisberger, Pittsburgh Steelers: The Steelers are committed to becoming a more pass-happy team. With his weapons, Big Ben should deliver.
13.  Jay Cutler, Chicago Bears: Reuniting with Brandon Marshall and adding Alshon Jeffrey in the draft gives Cutler the best weapons he has had since his days in Denver.
14.  Matt Schaub, Houston Texans: If he and Andre Johnson can stay healthy, Schaub will be a fringe QB1.
15.  Alex Smith, San Francisco 49ers: Randy Moss is said to be looking good. With Mario Manningham, Michael Crabtree and Vernon Davis, Smith has plenty of options.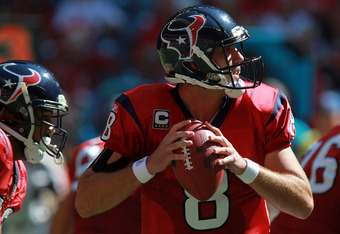 Ronald Martinez/Getty Images
16.  Joe Flacco, Baltimore Ravens: I expect more from Torrey Smith this year, which will help Flacco's numbers.
17.  Ryan Fitzpatrick, Buffalo Bills: He's thrown 23 and 24 TDs the past two years. If he can bounce back from his second-half slide, he should be a decent QB2.
18.  Robert Griffin III, Washington Redskins: RG3 seems to have what it takes to deliver right away, but you never quite know with rookies.
19.  Andy Dalton, Cincinnati Bengals: Had a solid rookie year and should continue to progress with A.J. Green.
20.  Andrew Luck, Indianapolis Colts: He'll have bumps along the way, but he also brings a lot of anticipation. Having Reggie Wayne to lean on helps.

Also check out:
Click here to enter the 2012 LestersLegends fantasy football team name contest!!