NBA Finals 2012: Power Ranking Biggest X-Factors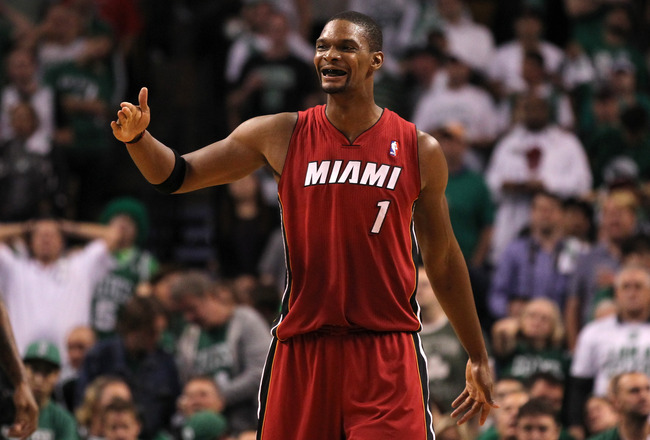 Jim Rogash/Getty Images
The 2012 NBA Finals are laden with more than just flamboyant superstars.
Kevin Durant, LeBron James, Dwyane Wade and Russell Westbrook will continue to dominate this series, yet it's Miami's and Oklahoma City's x-factors that have the opportunity to sway momentum, and ultimately, the final outcome.
But while we acknowledge it's the biggest X-factors that will make the most difference, whose the greatest X-factor of all?
Let's find out.
7. Mike Miller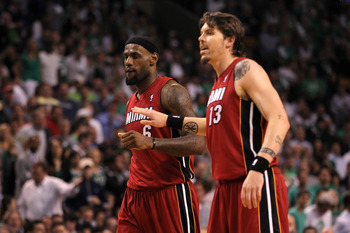 Jim Rogash/Getty Images
The Heat are at their best when Mike Miller is hitting the plethora of open looks he receives.
And that's why Miami is so fortunate to find itself in the Finals—not because the team hasn't played well, but because Miller hasn't.
In addition to essentially hobbling up and down the court, Miller is converting on just 37.5 percent of his three-point attempts during the playoffs and shooting just 37.3 percent from the field overall.
In a series where role players and complimentary stars will make all the difference, Miller's career-long prowess from deep can set the tone for a Heat victory.
As of right now, though, his shortcomings on the offensive end render him a liability.
6. Derek Fisher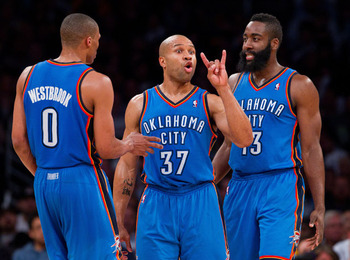 Photo via thesportsseer.com.
Derek Fisher is making his eighth NBA Finals appearance and the experience he brings to the table is invaluable to the Thunder.
The 37-year-old did not play especially well during the regular season, but can be found fighting over screens, attacking the rim and even knocking down big jump shots when the stakes are this high.
While it's a stretch to call Oklahoma City inexperienced, it is incredibly young, and despite a Game 1 victory, the nervousness and anxiety associated with playing on the league's biggest stage is enough to rattle even Kevin Durant.
Fisher can help keep the Thunder grounded and focused on the end goal—a championship. And that is not to be discounted.
5. Mario Chalmers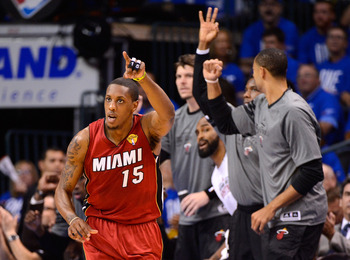 Ronald Martinez/Getty Images
On a team that lives and dies by the performances of LeBron James and Dwyane Wade, Mario Chalmers is an essential X-factor.
The point guard is one of the best three-point shooters in the league and isn't afraid to take the big shot. His toughness on defense and willingness to sacrifice his body is also a valued commodity.
Chalmers isn't the type of player to blow up the stat lines, but he gives both James and Wade a reliable scoring option to defer to on the perimeter and provides a calming on-court presence despite being so young.
The Heat would not be here without him and won't find a way to win in Game 2, or beyond, without him firing on all cylinders either.
4. Serge Ibaka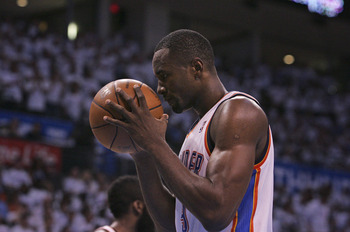 Brett Deering/Getty Images
Serge Ibaka is a monster on the defensive end, but he receives little credit for the two-way impact he actually has.
There's not a penetrator in the league, including LeBron James, whose shot Ibaka cannot block or alter. He forces offenses to settle for jump shots, and when those aren't falling, it's reflected in the end result.
Ibaka has the ability to change the course of the game on offense as well. With the opposition primarily focusing on Durant and Westbrook, he receives a wealth of open mid-range jump shots.
And when those are falling, the Thunder are near unbeatable.
3. Shane Battier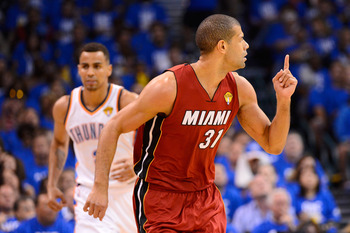 Ronald Martinez/Getty Images
Everything Shane Battier does is calculated.
Battier is still one of the best perimeter defenders in the NBA, and the Heat depend on him to keep opposing offenses in check, which he does consistently.
Miami also depends on him to hit the three-ball, as it takes a boatload of pressure off both LeBron James and Dwyane Wade. Battier has struggled to do just that all postseason, and it's no coincidence the Heat were rolling in Game 1 when he was knocking down open looks.
Without Battier's understated offense as a threat, the Heat would find themselves on the wrong side of a victory far more often than they already do.
2. James Harden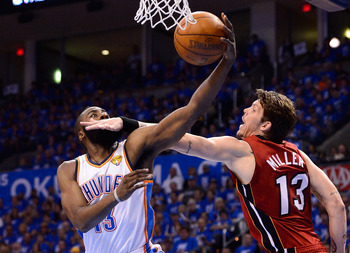 Ronald Martinez/Getty Images
The Thunder took Game 1 without a significant contribution from Harden, but that's no reason to overlook how important his performance is to this team.
Harden is considered a superstar in most circles, but it's not solely his flashy offense that helps Oklahoma City snag victories. His familiarity with his teammates, toughness on defense and versatility in general allow the Thunder to play on a whole other level.
And his energy is often the driving force behind those second half Oklahoma City comebacks we all enjoy so much.
So, while the Thunder prevailed over Miami without a prolific display from Harden, their chances of closing out the series and obtaining a championship ring are far less when you take his production and intangibles out of the equation.
1. Chris Bosh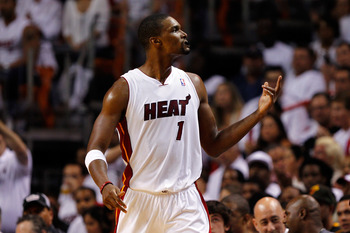 Mike Ehrmann/Getty Images
It's no surprise the Heat blew a 13-point lead en route to an 11-point loss after a lackluster performance from Chris Bosh.
Big Two jokes aside, Bosh is an integral part of the Heat's success, more than most people care to acknowledge. When playing up to par, he provides size and rebounding to a team sorely in need of both, and stretches opposing defenses with his ability to his the outside shot.
Bosh scored just 10 points on 4-of-11 shooting from the field and grabbed just five rebounds in Game 1 though, a performance Miami cannot afford for him to repeat.
The power forward is as dedicated a teammate as there is, but the Heat need him to execute. When he puts points on the board and rebounds in his pocket, Miami is a more complete and formidable team—one that can withstand the extended offensive spurts of Oklahoma City.
And at the end of the day, when the Heat's ultimate goal is to win a championship, that means everything.
Keep Reading