5 Things Each AL East Team Needs to Win the Title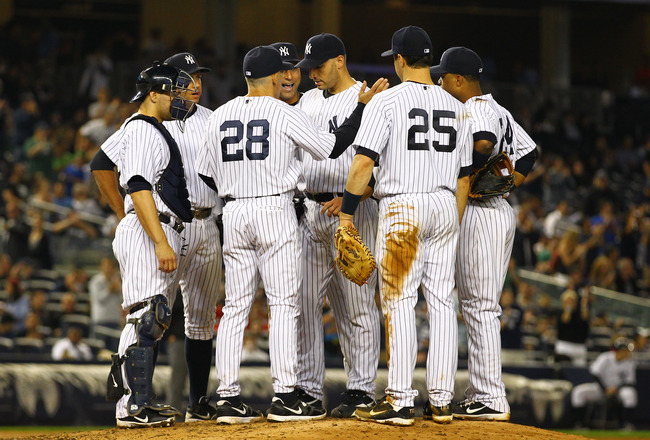 Al Bello/Getty Images
At this point in the season, every team in the stacked American League East has a chance to win the division. Of course, some teams have a longer path and longer odds than others, but there is talent aplenty for any one of them.
In the two-plus months the season has been underway, the AL East has had more surprises and let downs than any April-May-June in recent memory. Baltimore presented fans with a feel-good story about the 90-loss team that could. Four of the five teams have a different closer than they had on opening day, and Jim Johnson, not Mariano Rivera, is the lone leftover.
The coming slides will outline how each team can win the division, and for the readers who live and die off of projections, the teams are listed not by their current standings, but how I predict they wind up at the end, worst to first.
Fifth Place: Baltimore Orioles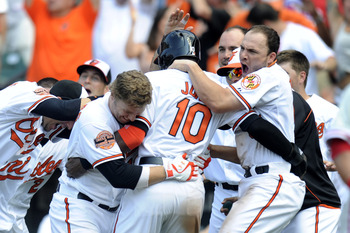 Mitchell Layton/Getty Images
Currently 35-26, third place, 1.0 game out
1. Adam Jones needs to continue his MVP production. He is coming off a year in which he posted career bests of 25 HR, 83 RBI and 12 SB, but he currently sports a .300 average and a .913 OPS, which is 142 points higher than his career mark. He has 17 HR and 9 SB through 60 games and will need to finish close to 30 and 20 as the anchor of the lineup for Baltimore to contend.
2. Mark Reynolds has to play Robin to Jones' Batman. Reynolds led Baltimore in both home runs and RBI in 2011. He has 32-plus HR, 85-plus RBI and 79-plus runs scored for three straight seasons, but has managed just three bombs all of 2012. The Orioles will need Reynolds to produce if they are to score enough to keep pace in the division.
3. Starters have to do enough to get to the vaunted bullpen. Baltimore has four relievers with ERA under 2.00 and 25-plus games this season. But Jake Arrieta, Brian Matusz and Tommy Hunter all have ERA over 4.80. The starters have give the offense and the bullpen and chance to win games.
4. Win divisional games. The Orioles are 17-15 against AL East opponents, compared to 28-54 against them in 2011. They will have to gain games when they get the chance, especially against the front-runners.
5. Keep getting lucky. Baltimore is 9-2 in extra inning games and 11-5 in one-run games. Yes, that can be somewhat credited to the deep bullpen, but many of those types of games come down to bounces going for or against you, or the calls being made in your favor. Those kind of breaks, in a division as tight as the AL East, can make or break a season.
Fourth Place: Boston Red Sox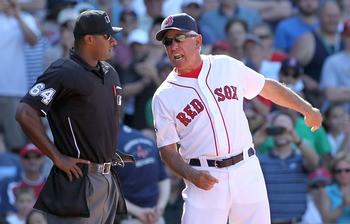 Jim Rogash/Getty Images
Currently 30-32, 5th place, 6.5 games out
1. Get healthy, stay healthy. It is a sign the 2012 season for Boston that Carl Crawford and Jacoby Ellsbury, both former MVP candidates, are on the 60-day disabled list at the moment. Cody Ross is also on the DL. Daisuke Matsuzaka and Kevin Youkilis were just activated. Andrew Bailey, the club's new closer, hasn't pitched since Spring Training. They will need Crawford, Ellsbury, and Bailey especially if they are to make any kind of run at contention.
2. Adrian Gonzalez must hit. Gonzo has hit .275-plus, with 27 or more homers, 99 or more RBI and 87 or more runs scored five straight seasons. He is currently batting .263 with five home runs and his .729 OPS is 100 points below his career number. They need Gonzalez in the middle of the lineup mashing, even more so with Ellsbury out and Youkilis still searching for his stride.
3. The rotation must figure it out. Jon Lester has an ERA of 4.57 and his K/9 of 6.9 is 1.4 below his career average. Josh Beckett's ERA is 4.14, Clay Buchholz 5.77, Felix Doubront 4.34, and Daniel Bard is at 5.24. Beckett is the only one of the group with an ERA+ over 100 or WHIP under 1.36. This group has to get it together for Boston to catch the pack.
4. Win at Fenway. Boston is 14-19 at home, compared to 45-36 in 2011. The unique dimensions of the park make it one of the most home-team friendly places to play, and Boston has to take advantage when they have the chance.
5. Win the winnable games. The Red Sox are 3-6 against Baltimore and 2-4 against Kansas City and Oakland combined. Boston will take enough of a beating from their AL East comrades. The division will be won by the team who most commonly wins the games they should win.
Third Place: Toronto Blue Jays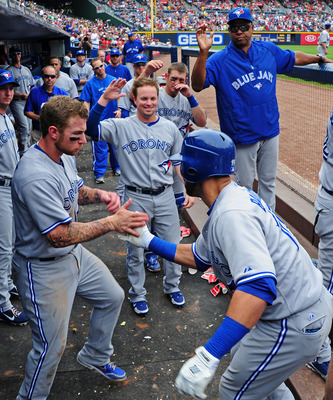 Scott Cunningham/Getty Images
Currently 31-31, fourth place, 5.5 games out
1. Replace Brandon Morrow. The most immediate concern is the 3.01 ERA, 1.004 WHIP of Brandon Morrow is going on the disabled list after he left his Monday start in the first inning. He was the only Toronto starter with an ERA under 3.75. They will need someone to step up and fill the void in the coming weeks or Toronto could find themselves buried before he returns, likely around the All Star Break at the earliest.
2. Get on base. Edwin Encarnacion and Brett Lawrie are the only everyday players for Toronto currently batting over .250 for the season. Considering Encarnacion is a career .263 hitter who hasn't played over 140 games since 2008, the Blue Jays will need consistent production from others, including Jose Bautista who is tied for the team lead in HR and RBI but batting just .228.
3. Perform in the clutch. Toronto is 3-11 in one-run games. The loss of closer Sergio Santos has hurt the depth of the bullpen, but the team needs hitters to step up under pressure and produce when it counts.
4. Figure out the Rays. Toronto is 2-6 against Tampa Bay so far this season, and 9-8 against the rest of the division. A team that can go .500 in the AL East has a chance to win the division if they can beat the lesser teams consistently, but a drastic win/loss against one of the contenders puts Toronto as a steep disadvantage.
5. Keep heads above water. The Blue Jays have yet to play a single day under .500 this season, but stand now at that mark. It is crucial from a mental standpoint that they stay above that number and keep the leaders in their sights. The way this division looks, a short winning streak can bump a third place team into the lead in a week's time.
Second Place: Tampa Bay Rays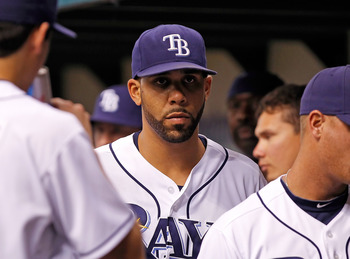 J. Meric/Getty Images
Currently 35-26, second place, 1.0 game out
1. Get Longoria back. Tampa Bay must be thrilled to be only a half game back when their best hitter has been out since April 30. When one considers Carlos Pena is batting .198 and Ben Zobrist is at .223, one can tell how dominant the pitching must be to keep them close, but at some point an AL East contender needs to score and Longo is the thumper in the middle of the lineup capable of mashing with the best in the division. They will need him.
2. Matt Moore, get with the program. The phenom Moore was ranked ahead of both Bryce Harper and Mike Trout in some people's minds as the prospect to watch going into 2012. While Harper and Trout have excelled, Moore has struggled. When one considers David Price has a 2.40 ERA, and Jeremy Hellickson is at 2.65, and James Shields was third in 2011 Cy Young voting, it becomes clear why the Rays are still in the thick of things with the offense sputtering along. However, Moore may have the most upside of any of them and if he were to get on track, this team could rival the best rotations ever assembled.
3. Fernando Rodney must keep doing whatever it is he is doing different. Kyle Farnsworth was projected to be the Rays closer but injuries have kept him sidelined while Rodney has exploded for a career year, with a 0.94 ERA, 0.767 WHIP and 18 saves. Meanwhile, Joel Peralta and JP Howell have ERA over four. Jake McGee has been excellent, but the Rays are not "deep" in the pen. The return of Farnsworth will help, but ultimately, the Rays will need Rodney in the ninth as long as the offense is scoring just barely enough to win.
4. Alex Cobb needs to be good enough. Jeff Niemann had a 3.38 ERA over seven starts before going on the disabled list. Cobb is 2-2 over four starts, with a 4.18 ERA and 1.292 WHIP. The Rays don't need him to be dominant, but engaged in a division race that will likely be neck-and-neck to the end, they cannot afford to have their fifth start perform like a typical fifth starter.
5. Keep doing what they are doing. The Rays have good marks everywhere they should. They are 19-11 at home, 18-14 in the division and 12-7 in one-run games. They have only been swept once and went 10-3 in their trip through the weaker AL West. Continued strong pitching, and the return of Longoria seems to leave the Rays in the thick of it all the way.
First Place: New York Yankees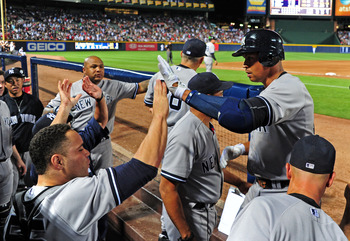 Scott Cunningham/Getty Images
Currently 36-25, first place
(For the record, and because no team is as fiercely defended on this and other websites more than the Tampa Bay Rays, I flip-flopped them three times before giving the edge to New York, but it could go either way.)
1. Production from the corners. The New York Yankees are as good up the middle as any team in baseball with Derek Jeter, Robinson Cano and Curtis Granderson. But the production of Mark Teixeira and Alex Rodriguez is crucial to the overall performance of the team. They have a combined 23 years of 30-plus HR and 100-plus RBI between them. Last year, Rodriguez battled injuries to a disappointing year while Teixeira had 39 HR, 111 RBI and 90 runs scored. Both will need to produce for the Yankees to hold onto the division lead.
2. The rotation behind CC has to be good enough. Hiroki Kuroda is the only Yankees starter with a K/9 under 8.0. Ivan Nova (8.0), Phil Hughes (8.3) and Andy Pettitte (8.6) are topping his 5.7 mark. However, Kuroda's 3.46 ERA is behind only Pettitte. The point is, these four need to be good enough to win the four days of the week CC Sabathia can't pitch.
3. Rafael Soriano has to do his best Mariano Rivera impression. Baseball fans tore apart Brian Cashman for signing Soriano to a 3-year, $35 million contract with Rivera still in town, a crazy salary for a clear setup man. They laughed when Soriano was relegated to the seventh inning in 2011, behind David Robertson. But Cashman gets the last laugh as both Rivera and Robertson land on the DL and Soriano will be asked to repeat his 2010 performance, when he led the league with 45 saves with a 0.802 WHIP for the Tampa Bay Rays. He has a 2.11 ERA and nine saves so far, but the 1.547 WHIP is a concern.
4. Production from role playing veterans. The Yankees have given over 90 plate appearances each to Eric Chavez, Raul Ibanez and Andruw Jones. Ibanez is batting .256 with 10 HR and 31 RBI playing almost everyday. The others have played sparingly, splitting time as pinch-hitters and designated hitters, but the Yankees will need to get something from all of them to keep the aging regulars fresh.
5. Enjoy the talent, aging as it may be. Having Teixeira, Cano, Jeter, Rodriguez, Granderson, Ibanez, Granderson, and Russell Martin in the daily lineup gives the Yankees eight former All-Stars. Add Jones, Soriano, Hughes, Pettitte, and the injured David Robertson and you're up to 13. This team is aging but stacked, and Joe Girardi doesn't have to over-manage to reap the rewards of a $200-million payroll. They are good enough to win the division right now.
Keep Reading