NBA Finals 2012: Which Team Has a Better Chance at Repeating Next Season?
June 13, 2012

Ronald Martinez/Getty Images
The Miami Heat and the Oklahoma City Thunder are both well-equipped to be back in the NBA Finals next year. However, one team is better built to withstand all the unknowns that the future holds.
There are a lot of different ways to break this down, but let's look at the key sustainability factors and track records for both teams.
The Thunder had the league's third-best winning percentage at .712 this season. Since their young core came together four seasons ago, they've increased their winning percentages by 33, six and four points during the three previous years.  
The Miami Heat have been regarded as regular season "kings of the East," despite not winning their regular season conference title in either year of the "Big 3" era. Strangely enough, their .707 winning percentage actually decreased by four percent in 2012.
Though the sample sizes are small, past track records imply that the young Thunder can still modestly improve their regular season results based on natural maturing alone. On the other hand, the Heat would need substantive improvements to move forward.
How can this "growth versus plateau" idea be reinforced? Look at the rosters.
Neither team is considered ancient, yet that's actually a deceiving notion. The Thunder were the seventh-youngest team in the NBA this year. Their 25.8 year per player average is substantially less than Miami's sixth oldest mark of 28.63.
Oklahoma City's future is actually far more youthful than their average. Derek Fisher (37), Nazr Mohammed (34), Nick Collison (31) and Royal Ivey (30) are the "ancients" on this team. All but Collison are free agents this offseason.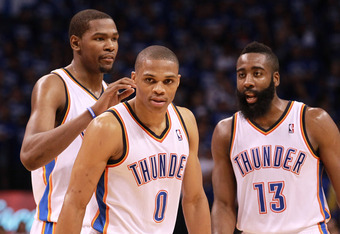 Ronald Martinez/Getty Images
The Thunder's core is what matters. Russell Westbrook (23), Kevin Durant (23), James Harden (22), and Serge Ibaka (22) all haven't even hit their prime years yet. It's realistic to EXPECT noticeable production growth from each.
"Old men" like Kendrick Perkins and Thabo Sefolosha are actually only 27 and 28 years old, respectively. There's a good chance they both slightly improve or at least stay consistent. 
Scarier yet, the Thunder's peripheral players have plenty of room to increase their roles and contributions. Youngsters like Daequan Cook (25), Eric Maynor (25) and Cole Aldrich (23) will all have a legitimate shot at improvement.
Every single one of the aforementioned players will be under contract next season. Even if they don't all pan out, there's enough quantity of youth to ensure a helpful growth of quality.
Keep in mind that the Heat's average has certainly been skewed by plus-30 veterans like Shane Battier, James Jones, Mike Miller and Udonis Haslem. Having 39-year-old Juwan Howard further raises that number.
Yet, while Mario Chalmers (26), Norris Cole (23) and Dexter Pittman (24) have some tangible upside, Ronny Turiaf (29) and Joel Anthony (29) probably are what they are at this point.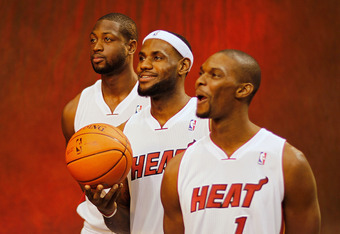 Mike Ehrmann/Getty Images
Thankfully for Miami, the "Big 3" are the motor that drives the car. LeBron James (27), Chris Bosh (28) and Dwyane Wade (30) are all firmly entrenched in their primes.
Barring unforeseen catastrophic injury, there is no reason to think that trio will regress. Yet, how much further growth and upside do they have left? Think reasonable steps, rather than great leaps forward at this point.
Looking at the rosters, the Heat have more old parts to potentially refresh through replacement. However, they were nearly $20 million over the salary cap this season, with a scant $3.3 million potentially coming off the books.
Though they will have the mid-level exception and a few other small options at their disposal, the best they can hope for are basically lateral restocking moves through low draft picks and modest signings.
On the other hand, the Thunder were basically at the $58 million cap limit this year, but they could have nearly $9 million in "open" money by this offseason. Though OKC's undoubtedly saving that for extending the contracts of both Harden and Ibaka before 2013, they have the greater ability to freshen their roster.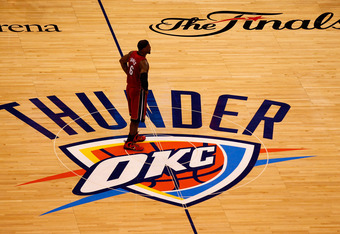 Mike Ehrmann/Getty Images
The Miami Heat's basic rotation will have to do for the next few years. So far, that's been good enough to get them through the Eastern Conference playoffs in back-to-back seasons. Yet, they've failed for finish with the East's best record in both cases.
They've accomplished this as part of a field that has averaged a .606 regular season wins percentage during that span. They've gone 26-14 so far during the last two playoff campaigns, good for a .650 winning percentage.
During that same stretch, the Oklahoma City Thunder have competed against a more robust Western Conference where the playoff teams have won .631 percent of their regular games. Yet, the Thunder have gone 22-11, good for a .667 win percentage, versus the stronger postseason field.
Based on the loads of data in front of us, the Oklahoma City Thunder have already been better regular-season improvers, while also actually winning a greater percentage of their playoff games, than the Miami Heat did during the past two years.
That Miami has reached the finals two years in a row certainly proves they're heavy favorites to do so again. However, Oklahoma City's much greater youth and upside means they probably haven't even hit their stride yet.
They have the greater chance of not only returning to the 2013 NBA Finals, but winning it.