L.A. Lakers: 10 Most Intriguing Free Agents to Sign for the Mid-Level Exception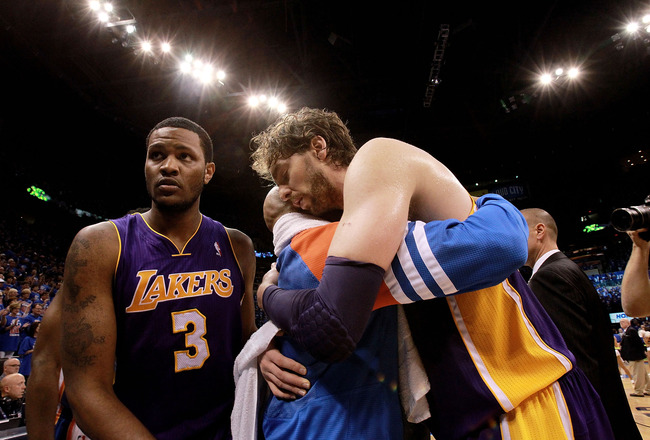 Ronald Martinez/Getty Images
The Los Angeles Lakers are in a precarious position going into the 2012 offseason. Without getting into the deep debate of whether or not to trade Andrew Bynum or Pau Gasol or even both, they sit as victims of the NBA's new collective bargaining agreement.
You see, the Lakers biggest tool to sign free agents, even though they are over the salary cap has been sliced down to size by the new collective bargaining agreement as they are well over the luxury tax level for 2013. Their mid-level exception, which would be just over $5 million per year for four years, has been cut to a mini mid-level exception, which is just over $3 million per year for four years.
Now, we've all heard the shouting that the Lakers should amnesthize Metta World Peace, thereby cutting $7 million in salary off their payroll for the next two seasons. However, they are in for $80 million in payroll for 2013, which means cutting him would bring it down to $73 million.
That number would give them the full mid-level exception, but only if they were to re-sign none of their free agents (and it seems that at the very least Jordan Hill, Devin Ebanks, Matt Barnes and Andrew Goudelock are important to this team).
So, that will leave them with just the mini mid-level exception to offer to free agents. The question that remains is who out there will be willing to sign a contract at that price.
No. 10. Ray Allen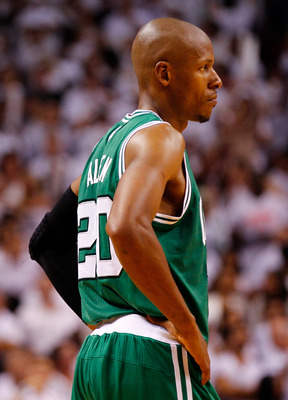 Mike Ehrmann/Getty Images
I'm calling this one a stretch at best, which is why he's been relegated to the No. 10 spot on this list. Sure, Ray Allen is turning 37 in about a month, but he still had a good season by the standards of an average NBA player.
Allen's 14 points per game and 45 percent shooting from downtown is at least worth the full mid-level exception, if not more.
The only way Allen ends up wearing purple and gold is if he takes a pretty substantial pay cut to go for a ring on the west coast.
If we're all but ruling Allen out, let's go ahead and determine that Kevin Garnett is definitely not an option. Let's be real, folks.
No. 9. C.J. Miles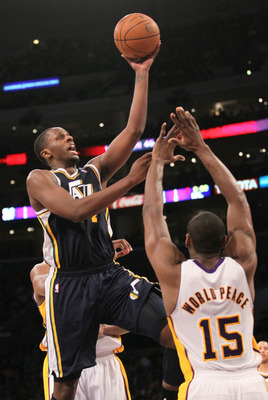 Stephen Dunn/Getty Images
Sure, C.J. Miles isn't a sexy name to bring to the Lakers, but he does bring depth and offensive production off the bench.
Miles is a streak shooter who, when hot, can make any shot he takes. Beyond that, he's good at creating for himself, getting to the rim and frustrating a defense with his speed, which is incredible for his size.
He's not going to turn this team into a championship contender, but he's definitely a guy who can excel given the right teammates and influences.
Kobe Bryant might just be that influence Miles needs.
No. 8. DeShawn Stevenson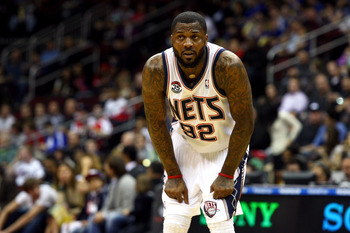 Chris Chambers/Getty Images
DeShawn Stevenson was undervalued even after winning an NBA Championship with the Dallas Mavericks in 2011. Signing with the Nets for a meager $2.5 million, and then playing on a depressingly bad Nets team means the Lakers could probably get him for less than the mini mid-level exception.
Stevenson didn't have an impressive season last year because he wasn't properly used. Stevenson is never someone who's going to create his own shot or even score efficiently, but he is going to defend the hell out of his man no matter how much bigger he is.
Stevenson can be a key cog to a very good team.
No. 7. Raymond Felton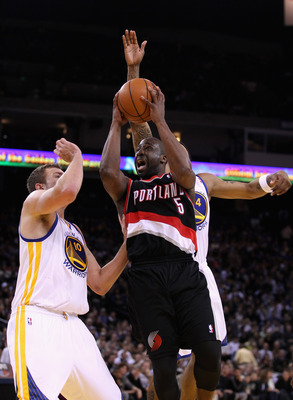 Ezra Shaw/Getty Images
The Portland Trail Blazers had huge expectations before the season started with youth injected into their lineup via Raymond Felton.
Then Brandon Roy retired.
The Trail Blazers replaced him with Jamal Crawford, which worked on paper, but in everyone's mind, it was a doomed signing.
Then Greg Oden lost another season.
The offense fell apart, and Felton looked nothing like the Felton that ran the fast-paced Knicks and Nuggets offenses just one season prior.
Because of that, Felton's value has plummeted, but he's not as bad as people believe after his terrible season in Portland.
At the very worst, you're getting a guard who can shoot the ball, create his own shot and create a bit for his teammates. Basically, he's a great backup point guard.
No. 6. Jason Kidd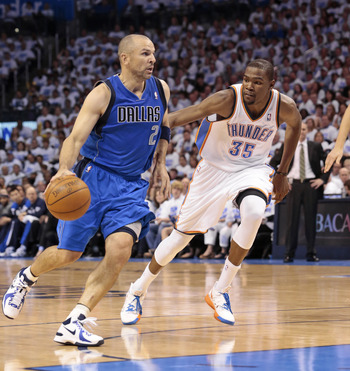 Brett Deering/Getty Images
An aging, slowly declining Jason Kidd is definitely a guy who could be had for a discount should the right team give him an offer.
There are people out there who want to talk about Steve Nash and Kevin Garnett taking discounts to play for the mini mid-level, but that's just not level-headed thoughts.
Kidd, on the other hand, is going on 40 and has had an obvious decline in offensive production.
However, on a team like the Lakers where his role is to run an offense for 22 minutes per game, be a veteran leader and shoot some wide open threes, he would excel.
The only question is if he can still play around 70 games out of 82.
No. 5. Marcus Camby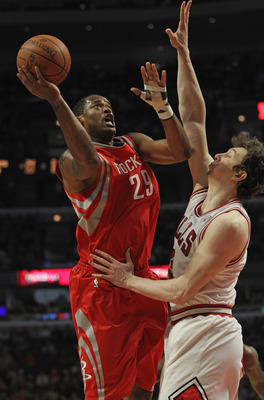 Jonathan Daniel/Getty Images
If the Lakers end up trading one of their big men, they're going to need some deeper big man pools.
Heck, they could use an extra big man now, what team would turn one down?
Marcus Camby is a guy who has never relied on things like speed, size or athleticism to be a good defender, so age is just a number to him at this point.
He's an old fogey, but the guy can still tip in a shot or two, rebound and defend.
No. 4. Alonzo Gee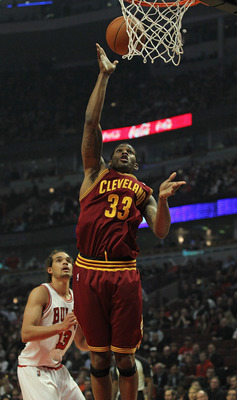 Jonathan Daniel/Getty Images
Alonzo Gee, once the prince of the 10-day contract and the king of the D-League call-up is suddenly a hot commodity after his breakout year with the Cleveland Cavaliers.
Last year, Gee worked his way into Cleveland's starting lineup, averaging 10 points and five rebounds in the process.
Given the playing time, Gee showed why he can be a good player in the NBA. He can score with his athleticism and then hit his long-range shots when given a bit of a cushion.
The only problem is that Gee may have become too good, too fast, leading to an estimated exponential value increase.
The Lakers could offer the whole $9.4 million, three-year deal to Gee, but it seems like a deal the Cavs would be inclined to match, as Gee is a restricted free agent.
No. 3. Goran Dragic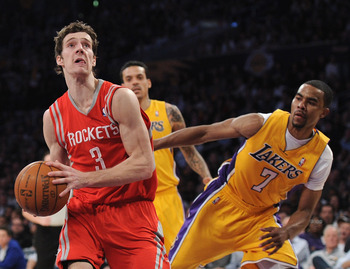 Harry How/Getty Images
Goran Dragic is another player who has taken off recently after many years of getting buried on a bench while excelling when he gets playing time.
Dragic would give the Lakers much-needed depth at guard and someone to compete with Ramon Sessions (should they re-sign him) for the starting point-guard role.
He may be worth just a tad more than what the Lakers could offer him, but if he gets starry-eyed with the Lakers offering him a contract, it might not matter.
No. 2. Antawn Jamison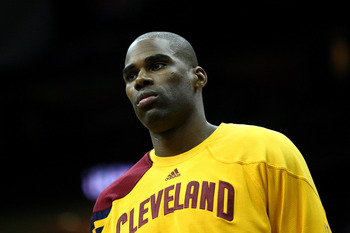 Chris Chambers/Getty Images
Early on in the season, Cavaliers forward Antawn Jamison expressed interest in relegating himself into basketball purgatory, expressing interest in joining his hometown Charlotte Bobcats.
However, it seems that Jamison is underestimating how much he can really help a good team.
If he sees the opportunity to chase a ring that never materialized after he watched two championship-caliber teams (Gilbert's gun and James's decision) evaporate before his eyes, he may still have the desire to win in his gut.
If that's true, and it seems very possible, then he can be had for cheap, and he'll bring some fine offensive prowess to whatever team signs him.
No. 1. Kenyon Martin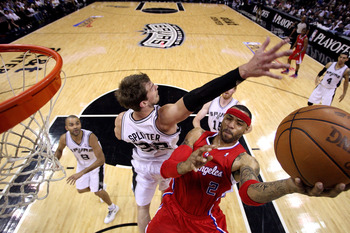 Ronald Martinez/Getty Images
Kenyon Martin isn't the athlete that he was when he was dunking on the world in New Jersey and Denver, but he's as mean as he ever was, which is a skill in itself.
Every good basketball team needs a guy who can defend any big man that an opponent throws at him and get into the face of anyone who starts to get rough with his teammates while, at the same time, realizing (sometimes) when to cool off and just play defense.
Martin could easily be had for the mini mid-level by a team like the Lakers who have a decent chance at a title, and he could bring more than what stats can express to a good team.
If you are one of those twitterers, you can follow me JDorsey33.
Keep Reading

Los Angeles Lakers: Like this team?