8 Former Fantasy Football Studs Looking to Get Back on Top in 2012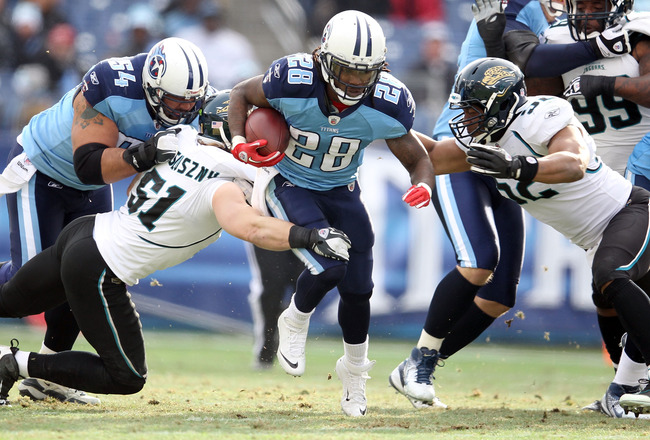 Andy Lyons/Getty Images
The fantasy football world is all about what a player can do for you now; there's little room for loyalty to top performers of the past who, for whatever reason, have failed to live up to expectations or replicate previous successes.
But there are very few sure things in fantasy football (especially this year), so some former fantasy studs who are looking to bounce back will still be drafted in the first few rounds. Here's eight former studs (top five at their position at one point), along with their chances of returning to top fantasy form in 2012.
Jamaal Charles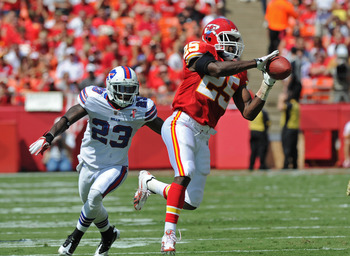 Peter Aiken/Getty Images
In 2010, Charles rushed for 1,467 yards on a very impressive 6.4 yards per carry. He also added 468 yards receiving with eight total TDs. He was (on average) the third player selected in fantasy drafts in 2011 based on that monster season.
But Charles played in just two games in 2011 before tearing his ACL.
A huge rebound season seems less likely with the Chiefs adding free agent RB Peyton Hillis. Also, the signing of Hillis could be seen as a sign that the Chiefs will look to protect Charles more in 2012, perhaps taking away goal-line carries from Charles and giving them to the bulldozer Hillis.
Still, Charles' premier season came while sharing carries with Thomas Jones in 2010, as Jones had nearly 900 yards and six TDs.
Charles is the real-deal when healthy and his ACL injury occurred way back in Week 2 of 2011. While the injury and the addition of Hillis hurt his chances at a return to the top five of fantasy RBs, it wouldn't be surprising for him to finish in the top 10.
Coming off the injury as a speed-back, I wouldn't expect a huge season, but 1,000 yards and eight-plus TDs is certainly a possibility.
Philip Rivers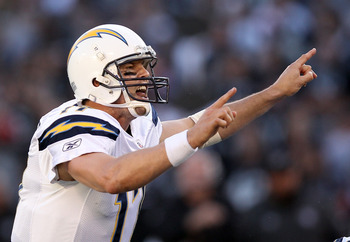 Ezra Shaw/Getty Images
Rivers' season was marred by a rough start—he had seven TDs with 11 INTs through seven games.
However, he picked up his game a bit in November, and finished with 4,624 yards and 27 TDs on the season. But he had a career-worst TD-INT ratio of 1.35. His INT total of 20 was also a career high, as were his seven fumbles.
Now he will be without his top WR of the last few years, as Vincent Jackson has signed with Tampa Bay.
The Chargers added Robert Meachem and Eddie Royal in free agency to go along with holdovers Malcolm Floyd and Vincent Brown to create a solid, if not exciting, receiving corps. Of course, Rivers will still throw to one of the league's best TEs in Antonio Gates.
Rivers is a good candidate to rebound in 2012, but it doesn't seem likely that he will get back to being a top-five fantasy QB as he was in 2010 (No. 4). Some combination of Rodgers, Brees, Brady, Newton, Stafford, Vick, Romo or the Mannings will likely fill those spots.
Chris Johnson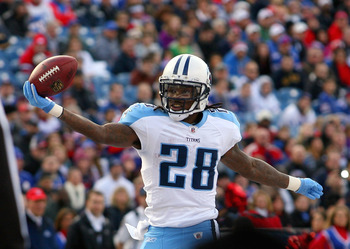 Rick Stewart/Getty Images
Johnson turned in an underwhelming statistical year just two seasons removed from being the No. 1 overall fantasy scorer. He started slow but picked up his production in the second half, finishing with 1,047 rushing yards, although he totaled just four TDs.
The overall decline since 2009 has been most directly tied to a drop in yards per carry. Johnson's yards per carry has fallen from a career-high 5.6 in 2009 to a career-low 4.0 in 2011. But over the last six games of 2011, he averaged 5.3 yards per carry, a huge improvement after his slow start.
Johnson also had double-digit TDs in each of his first three seasons before last season's total of four. The lack of offense around Johnson certainly didn't help, but the Titans offense should be better this year with a healthy Kenny Britt, Nate Washington, rookie Kendall Wright and emerging TE Jared Cook creating a solid stable of receivers for Matt Hasselbeck and/or Jake Locker.
So, Johnson seems to be trending back up, but a return to 2,000 yards is very unlikely. Still, Johnson could be a top-five scoring RB this year, as he should surpass 1,300 yards rushing and eight TDs.
Peyton Manning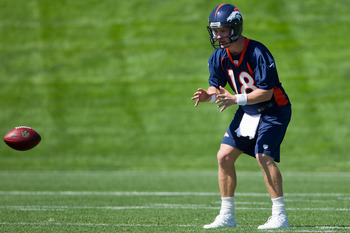 Justin Edmonds/Getty Images
Manning has been one of the most consistent fantasy players at any position since his second season in 1999. And even in his last five complete seasons ('06-10), Manning never finished lower than sixth as a fantasy QB. But not having played at all last season due to a neck injury, Manning's fantasy value is, for the first time, in question.
Demaryius Thomas (24) and Eric Decker (25) are the young receivers who will become Manning's top targets. Thomas impressed in the playoffs, catching several long passes while racking up 10 receptions for 297 yards in the Broncos' two playoff games.
Decker was the Broncos' leading receiver in the regular season with 612 yards. Willis McGahee will hope to replicate the success that fellow U. of Miami alum Edgerrin James had while playing alongside Manning.
The offense for the Broncos will be balanced, so expecting a top-five fantasy performance from Manning would be a bit much. The Broncos and Manning are thinking Super Bowl, and they would be smart to protect him late in games and late in the season as well.
Manning will have fantasy-starter caliber numbers in 2012 (4,000 yards, 25-plus TDs) but won't challenge Rodgers and Co. for the top spot.
Adrian Peterson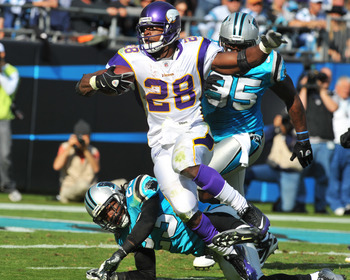 Al Messerschmidt/Getty Images
The good news is that Peterson continued to tote the rock with authority and averaged an impressive 4.7 yards per carry in 2011. He also put up his fifth straight season of double-digit TDs.
But a combination of injuries (that limited him to 12 games) and a decrease in receiving numbers dropped Peterson out of the Top 5 fantasy RBs for the first time in his career.
And on another sour note, Peterson had just 18 receptions for 139 yards in 2011. Of the Top 10 scoring fantasy RBs in 2011, only Atlanta's Michael Turner had fewer reception, while most had at least three times the receiving production of Peterson.
Peterson underwent reconstructive knee surgery on December 30, 2011, and has begun rehabbing the reconstructed ACL and repaired MCL in his left knee. Should he be ready by Week 1, Peterson has a great opportunity to get back to the top of fantasy RBs if his knee has little or no lingering effect on his play.
Considering Peterson had 13 TDs in 12 games last year and has scored 67 in 73 career games (.92 TDs per game), Peterson is a lock for double-digit TDs in 2012, which would be pretty impressive for a back you can select in Round 2 or later.
Andre Johnson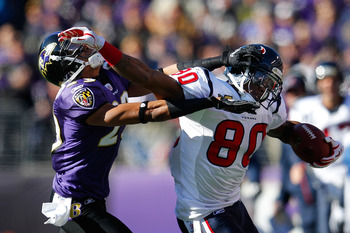 Rob Carr/Getty Images
Johnson, the No. 1 fantasy receiver in 2008 and 2009, will look to return to top form in 2012 after battling a hamstring injury and missing nine regular season games in 2011.
He did return for Houston's final three games and put up good numbers in the playoffs (13 catches, 201 yards, TD in two games).
Johnson is 30, but is still one of the top WR talents in the league. Also, QB Matt Schaub likes to air it out while Arian Foster and Ben Tate keep defenses honest with their running and receiving out of the backfield. Schaub will be returning from a foot injury in 2012 and will be a key to Johnson's success.
The one concern with Johnson is that he has played nine seasons and has yet to record a double-digit TD campaign. Meanwhile, last year's fantasy No. 1 Calvin Johnson has three such seasons in his five-year career. Andre should crack that barrier for the first time this year, with 10 TDs and 1,200 yards receiving.
Michael Vick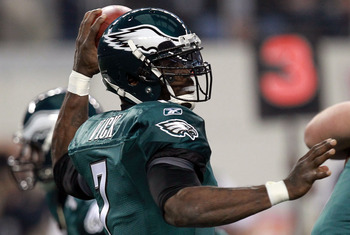 Ronald Martinez/Getty Images
Vick was a first-round pick in many fantasy drafts last year but ended up as just the No. 11 scoring fantasy QB.
Even though he finished the fantasy season pretty strong (21, 20 and 21 fantasy points the last three weeks, respectively, in standard scoring), the lack of consistency the rest of the year and time missed have put his return to the top of the fantasy game in question after his promising 2010.
In 2010, he won the job with an injured Kevin Kolb on the bench and put up over 29 fantasy points per game in standard scoring. However, he missed four games with a rib injury while finishing as the No. 5 QB.
In the 2002 and the 2006 seasons with the Falcons, Vick was at his best as the No. 4 QB overall. But in between those seasons he was the 39th (played only five games, broken leg), 12th and 10th best fantasy QB.
He's shown better accuracy as a passer with the Eagles, though, and should he stay healthy he could easily crack the top five QBs with 3,000-plus passing yards and 20-plus TD passes while gaining 600-plus rush yards with five rushing TDs.
Brandon Lloyd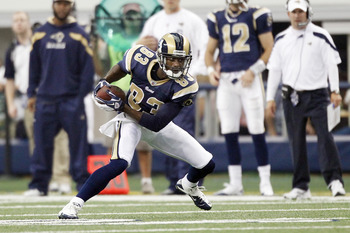 Layne Murdoch/Getty Images
Lloyd had a forgettable year with the Broncos and Rams after being the No. 1 fantasy receiver in 2010. But things are in line for a turnaround as Lloyd will be joining a Patriots passing offense that was ranked second in the NFL in 2011.
It's an interesting situation for Lloyd, who will not be the team's go-to WR and may not even be the second option, as Wes Welker and Rob Gronkowski filled those spots last year. But Lloyd will still have the opportunity to put up big numbers in the Patriots' pass-heavy attack as he provides a new element as a deep threat on the outside.
Despite switching teams midseason, Lloyd had 70 receptions for 966 yards and five TDs in 2011 after his huge season in 2010 with the Broncos, when he tallied 11 TDs and 1,448 receiving yards (which led all WRs).
Lloyd's output for 2012 should fall somewhere between those last two seasons.
Keep Reading