Golden State Warriors: Ranking the Best Options for No. 7 Overall Pick
Streeter Lecka/Getty Images
The Golden State Warriors should consider themselves winners of the 2012 NBA draft regardless of the outcome.
Faced with losing their pick to the Utah Jazz if it fell outside the top seven, the Warriors were fortunate enough to have the ping pong balls fall their way.
This is huge for a rebuilding franchise that's going through a major overhaul.
Trading Monta Ellis for Andrew Bogut last season was a move based solely on potential, the potential that Bogut can actually stay on the court.
With Bogut and David Lee, Golden State now boats a very formidable front court. Stephen Curry and last year's first-round pick Klay Thompson make for a strong, young backcourt as well.
The Warriors' main need is at the small forward position, where a good amount of talent can be found in the first 10-15 picks.
Here are the top five players the Warriors should be pursuing with their seventh overall pick.
5. Terrence Ross, SG/SF, Washington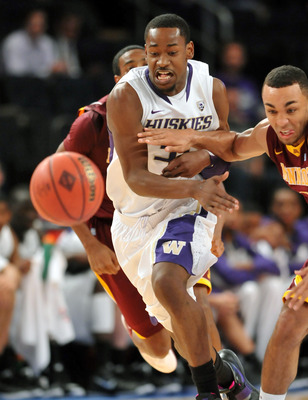 Jason Szenes/Getty Images
2011-12 Stats Per Game: 15.3 points, 6.5 rebounds, 1.4 assists
Year: Sophomore
Height/Weight: 6'6", 195 pounds
An excellent shooter coming off screens, Ross has great range and is a capable rebounder as well.
Ross had an excellent combine in Chicago recently, displaying a great shooting touch that has him climbing up draft boards. He could start at small forward for Golden State or help back up Klay Thompson to begin the season.
Despite being a tweener on the wing—a bit slow by shooting guard standards and slightly undersized for a small forward—Ross should become a solid contributor over the long haul.
4. Terrence Jones, SF/PF, Kentucky
Streeter Lecka/Getty Images
2011-12 Stats Per Game: 12.5 points, 7.0 rebounds, 1.3 assists
Year: Sophomore
Height/Weight: 6'9", 252 pounds
An athletic combo forward, Jones could start right away or contribute off the bench in Golden State playing either forward position.
He's an elite talent, but also has the potential to fall into tweener-ville, never finding his true position. If the Warriors draft Jones, they should make him drop about 20 pounds and pencil him in as their small forward of the future.
With the right coaching and development, Jones could become a Lamar Odom-like talent with his versatile scoring and rebounding.
3. Perry Jones III, SF/PF, Baylor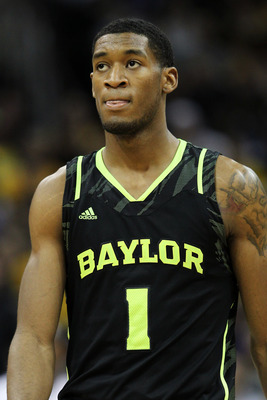 Jamie Squire/Getty Images
2011-12 Stats Per Game: 14.0 points, 7.7 rebounds, 1.3 assists
Year: Sophomore
Height/Weight: 6'11", 235 pounds
Jones would no doubt have been a top-five pick in last year's draft had he declared, but he made no significant improvements in his sophomore year and this is a deeper class.
At the combine, Jones addressed the fact that he didn't always play at the highest level while at Baylor and that his motor will be greatly improved. I applaud this notion to face his criticism head on, but facing it doesn't necessarily mean conquering it.
A terrific athlete, Jones could easily be one of the best players in the entire draft class if put in the right situation. With Golden State, Jones wouldn't have to be a star right away and could develop into the kind of player the Warriors need him to be.
2. Harrison Barnes, SF, North Carolina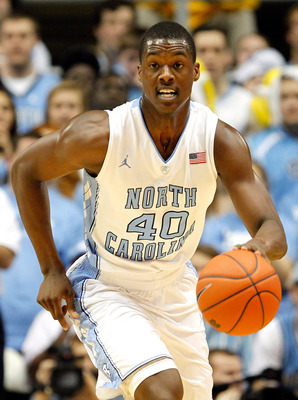 Streeter Lecka/Getty Images
2011-12 Stats Per Game: 17.4 points, 5.2 rebounds, 1.0 assist
Year: Sophomore
Height/Weight: 6'8", 215 pounds
Barnes didn't have the remarkable two seasons at UNC that many expected he would, but still did enough to warrant being a top 10 pick in the draft.
A good catch-and-shoot player with an NBA frame and solid defensive ability, Barnes might never be a superstar, but should be a solid wing scorer for years to come.
Barnes could space the floor for the other playmakers and also translate into an excellent NBA shooter.
Trade No. 7 to Houston for No. 14 and No. 16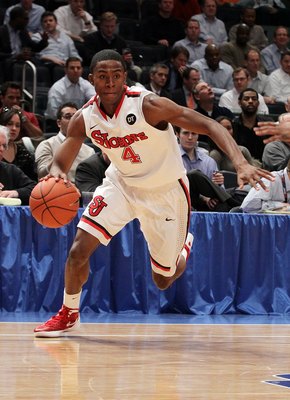 Jim McIsaac/Getty Images
If Golden State has their heart set on a player who has already been taken, they would be wise to trade down.
A possible trade partner would be Houston, owners of two first-round picks. If Houston falls in love with a player like Jeremy Lamb and knows he won't fall to No. 14, they could have interest in trading up.
With this trade, the Warriors could still get a nice haul of talent, possibly Moe Harkless, the 18-year-old freshman out of St. Johns, and Austin Rivers, the combo guard out of Duke.
Harkless would fill their need at small forward, as he already has a nice feel for the game and averaged 15.3 points and 8.6 rebounds per game last season.
Rivers could fill in at either guard position, and would provide nice insurance for the suddenly fragile Stephen Curry.
While all the other players on this list would be very nice pickups for the Warriors, it may be the best decision of all to trade with Houston for depth.
Keep Reading

Golden State Warriors: Like this team?