32 NFL Rookies Currently Battling for 53-Man Roster Spots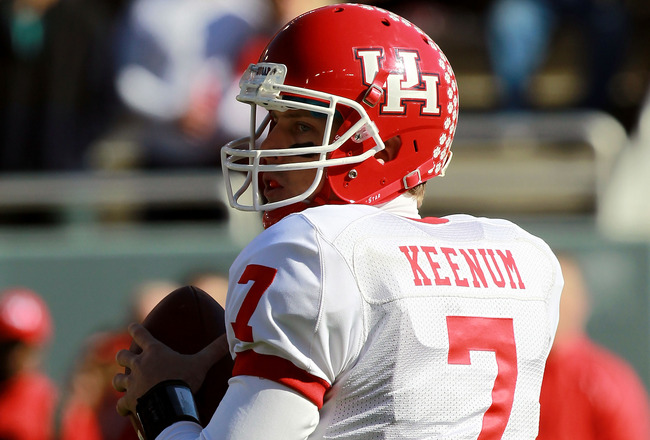 Ronald Martinez/Getty Images
Most of our attention to the incoming class of NFL rookies will be paid to the first-round draft picks, and the players who are expected to earn immediate starting spots and make an impact for their teams right away.

However, some of the best and most important rookies of every class come from players who start out as more unheralded talents. Late-round selections and undrafted free agent signings are not guaranteed roster spots, but those who win the fight and earn roster spots often carry that fighting spirit into on-field productivity.

As we remain nearly three months away from the beginning of the 2012 NFL season, it is still too early to know which rookies will find their way onto rosters, and which ones could end up on practice squads or out of the league altogether. That said, I have highlighted one rookie currently on each NFL roster who has the potential to contribute, but will have to impress throughout OTAs, training camp and the preseason to secure a spot on the team's final 53-man roster.
Indianapolis Colts: Chandler Harnish, QB (Northern Illinois)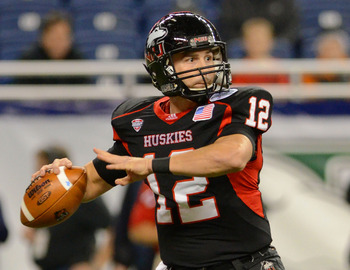 Mark A. Cunningham/Getty Images
The Colts not only selected Stanford quarterback Andrew Luck with the first overall pick in the 2012 NFL draft, they used the final pick in the draft to make Northern Illinois quarterback Chander Harnish this year's Mr. Irrelevant.

Having drafted their franchise quarterback in Luck, drafting Harnish may seem like an "irrelevant" selection. That said, Harnish has a chance to make the Colts' roster as the second- or third-string quarterback.

The Colts traded down from the sixth to the seventh round for veteran Drew Stanton, who should have the inside track on the No. 2 quarterback spot. That leaves Harnish to compete with Trevor Vittatoe for the third quarterback spot. Considering that Vittatoe failed to earn a spot on an NFL roster in his rookie season, I like Harnish's chances to win that battle and earn a spot on the Colts' final 53.
St. Louis Rams: Sammy Brown, OLB (Houston)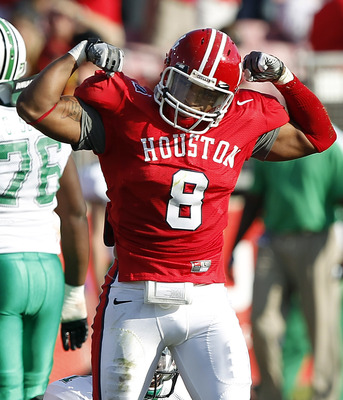 Bob Levey/Getty Images
The St. Louis Rams are very thin at linebacker, and did not draft any linebackers in the first six rounds. That gives Sammy Brown, an athletic difference-making outside linebacker who led the NCAA in tackles for loss last season, a big opportunity to make the Rams' roster and battle for immediate playing time.

That said, Brown faces competition from three other rookies to make the roster. Hawaii outside linebacker Aaron Brown was selected in Round 7, while Washington State outside linebacker Alex Hoffman-Ellis and Ohio middle linebacker Noah Keller were also signed as undrafted free agents.

The Rams have room to keep two or three of these players, but if it comes down to selecting one of them, Sammy Brown is the most talented and most likely to make a long-term impact.
Minnesota Vikings: Tyler Nielsen, OLB (Iowa)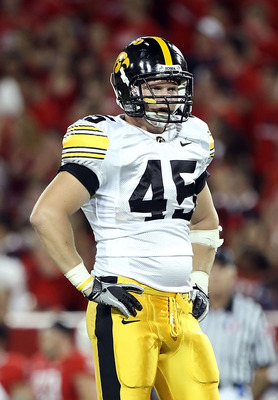 Christian Petersen/Getty Images
Even with the selection of North Carolina State's Audie Cole as a backup middle linebacker in Round 7, the Vikings remain thin across the linebacker corps. With very little depth behind Erin Henderson and Chad Greenway at outside linebacker, there is a big window of opportunity for undrafted free agent Tyler Nielsen to earn a spot on the roster.

Nielsen was a solid Big Ten linebacker with a good combination of size and athleticism, leading many draft analysts to believe he would be a Day 3 selection. Nothing stands out about his game and he has trouble with injuries, and those factors led to him going undrafted. That said, if he can prove himself on special teams, he has a great chance to make the Vikings' roster at a position of need.
Cleveland Browns: Josh Cooper, WR (Oklahoma State)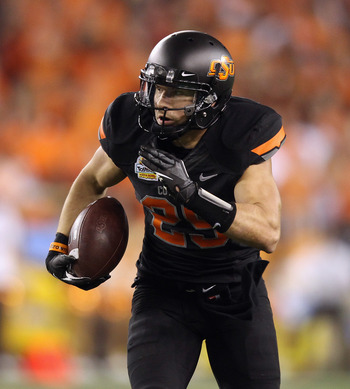 Christian Petersen/Getty Images
By signing with the Cleveland Browns as an undrafted free agent, Josh Cooper chose a good situation for himself. Cooper joins a team in need of more talent at wide receiver, and he could quickly emerge as a reliable target for Browns quarterback Brandon Weeden, their first-round pick who played with Cooper at Oklahoma State and is likely to start as a rookie.

That said, Cooper is very much on the roster bubble. With Greg Little, Mohamed Massaquoi, Josh Cribbs and fourth-round pick Travis Benjamin all being virtual locks to make the final roster, Cooper is competing with Carlton Mitchell and Jordan Norwood for one or two roster spots.

According to Terry Pluto of the Cleveland Plain Dealer, he could very well win that battle. Pluto says that Cooper "has been more impressive than Carlton Mitchell," and that the Browns are impressed with his hands.

Given his familiarity with Weeden paired with his reliable hands and route-running, I like Cooper's chances to make the Browns as their fifth receiver and a special teams contributor.
Tampa Bay Buccaneers: Tramain Thomas, FS (Arkansas)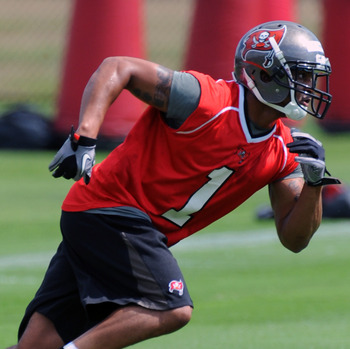 Al Messerschmidt/Getty Images
The Buccaneers are going to have a new pair of starting safeties in the 2012 season. They drafted Alabama strong safety Mark Barron with the No. 7 overall pick, while longtime veteran cornerback Ronde Barber is moving to free safety. Even with their two new safeties, however, there is room for another rookie safety to earn a spot on the roster.

Cody Grimm should have a sure roster spot as the Buccaneers' third safety and a special teams contributor, but after that, competition should be very open. Thomas is an instinctive playmaker who is solid in pass coverage and tackles well, and could end up as the Buccaneers' fourth safety.

Thomas will have to battle Ahmad Black, Larry Asante and Devin Holland to earn a roster spot for the Buccaneers. Although Black did not play much as a rookie, he was a talented player coming out of Florida who probably has the inside track of this entire group. That said, I would not be surprised if Thomas ends up making the final cut.
Washington Redskins: Chase Minnifield, CB (Virginia)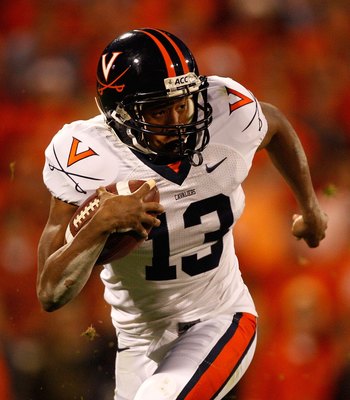 Streeter Lecka/Getty Images
Chase Minnifield is a well-rounded, talented cornerback who rated as my No. 44 overall prospect in the 2012 NFL draft, but he ended up going completely undrafted as he came off of microfracture knee surgery.

Minnifield dropped out of the draft due to injury concerns, but they have not affected him yet. Surprisingly, Minnifield has been an on-field participant in Redskins' OTAs, and according to Rich Campbell of the Washington Times, he has not only participated but has performed well.

If Minnifield continues to stay healthy and impress onlookers this offseason, he may not have to battle much longer for his roster spot. He has the talent to potentially develop into a starting NFL cornerback, and as the Redskins could use more talent at the position, he should be able to earn a spot on the final roster barring setbacks.
Jacksonville Jaguars: Mike Brewster, C/G (Ohio State)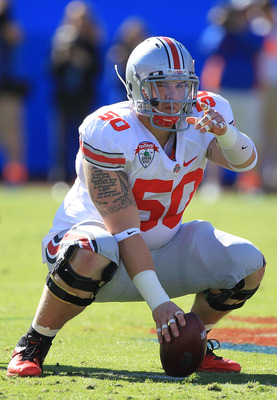 Scott Halleran/Getty Images
Brewster's stock really fell off in a rough senior season at Ohio State, but it still came as a surprise that he went completely undrafted. Fortunately for Brewster, the Jaguars could use depth on the interior line, giving him a good chance to make the team's final 53.

Brewster will have to beat out John Estes for the backup center position, but the key for him could be how well he can kick out to guard, as the Jaguars need depth at both positions. In an interview with The Lantern in May, Jaguars offensive line coach Andy Heck told me that the team will "give him a lot of work at center," but that "he'll also cross-train as a guard."

Brewster needs to develop as a pass blocker and become a more sound snapper, but he is a solid run blocker with considerable collegiate experience, and that could help him win the battle with Estes and earn a roster spot.
Miami Dolphins: Jeff Fuller, WR (Texas A&M)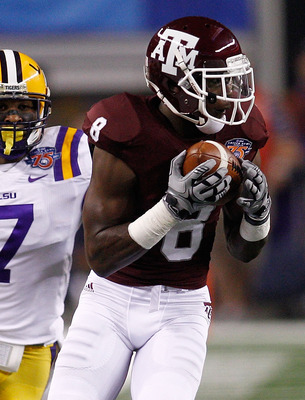 Chris Graythen/Getty Images
Joining the Dolphins was the right move for Fuller, as he came into a very similar situation as an undrafted free agent as Cooper entered with the Browns. Fuller joined a team that needed to improve at wide receiver, and is reunited with first-round selection and rookie quarterback Ryan Tannehill, his quarterback at Texas A&M.

Trading away Brandon Marshall left the Dolphins with a jumbled group of wide receivers devoid of stars. Davone Bess, Legedu Naanee and Brian Hartline should all hold down roster spots, but the door is wide open after that.

The Dolphins interestingly added to the competition this week with the signing of Chad Ochocinco, but he is no guarantee to make the Dolphins' final roster. In order to make the Dolphins' roster, Fuller will be battling with Ochocinco, Clyde Gates and rookie draft selections B.J. Cunningham and Rishard Matthews for somewhere between one and three roster spots.

The odds may be against Fuller, but given his familiarity with his collegiate quarterback, Tannehill, along with familiarity with his former collegiate head coach and Dolphins offensive coordinator Mike Sherman, I like his chances to earn a roster spot if he performs well in training camp.
Carolina Panthers: Brad Nortman, P (Wisconsin)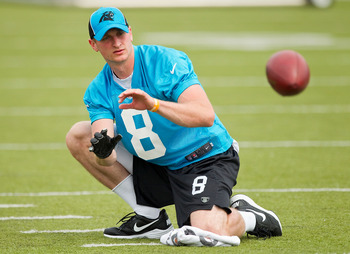 Brian A. Westerholt/Getty Images
The Panthers released Jason Baker, their punter of the last seven seasons, in March. The Panthers have now brought in two punters, veteran Nick Harris and sixth-round draft pick Brad Nortman, to compete for the starting punting job.

Nortman should be the favorite to win the competition, but he will have a battle. Harris is a 12-year veteran punter who could win the job on his history of experience, but he was not much better last season than Baker was. Having been selected in the draft, which took place before Harris was signed, the job will be Nortman's to lose and should be his if he has a strong training camp and preseason.
Buffalo Bills: Delano Howell, SS (Stanford)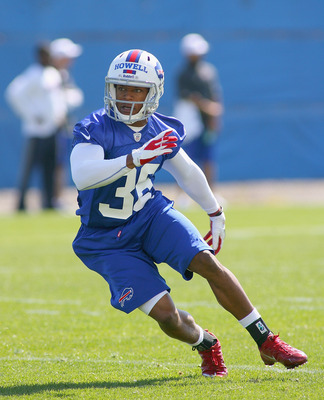 Rick Stewart/Getty Images
The Buffalo Bills need depth at the safety position, and did not draft any safeties this year. This leaves the door open for Delano Howell, who would have been a worthy draft selection, to potentially make the Bills' roster as a fourth safety and special teams player.

A lack of speed may restrict Howell to playing only special teams, but he is an instinctive player and good tackler who could excel in that area. He will be battling for a roster spot with former Georgia Tech quarterback and converted safety Josh Nesbitt, along with fellow undrafted free agent rookies Nick Saenz and Nick Sukay. The battle will most likely be won by which players is most prepared to step in on special teams as a rookie, and I think Howell can win that battle.
Kansas City Chiefs: Dexter Heyman, ILB (Louisville)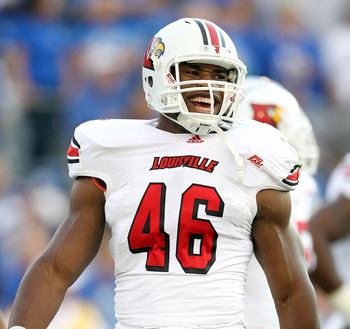 Andy Lyons/Getty Images
Dexter Heyman does not have anything special in his game as it translates to the NFL, but he was a solid, productive linebacker for Louisville who has potential on special teams. Joining the Chiefs, who lack depth at inside linebacker, could be a perfect opportunity for Heyman.

Although the Chiefs needed linebacker help, they did not draft any linebackers in the 2012 draft. The Chiefs have very little depth behind starters Derrick Johnson and Jovan Belcher, leaving the window open for Heyman to make the Chiefs' depth chart as a backup inside linebacker, as long as he can prove his ability to make an impact on special teams.
Seattle Seahawks: Jeremy Lane, CB (Northwestern State)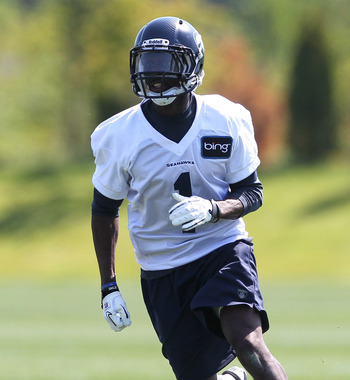 Otto Greule Jr/Getty Images
A sixth-round draft pick, Jeremy Lane is a long, athletic cornerback with developmental potential, but he has a raw game and must be able to contribute immediately on special teams to earn a roster spot among a deep cornerback group in Seattle.

Brandon Browner and Richard Sherman should be locks to make the roster, but the rest of the team's cornerback spots will be up for grabs, and Lane will have to prove his worth to take a roster spot away from veteran Marcus Trufant, Roy Lewis or Byron Maxwell. Walter Thurmond and Phillip Adams will also be providing competition at the position.

Given that the Seahawks used a draft pick to select him, Lane should have every opportunity to earn a roster spot, and will most likely be able to beat out a few of the other cornerbacks given his upside, as long as he is able to come in and contribute immediately on special teams.
Arizona Cardinals: Blake DeChristopher, OT/G (Virginia Tech)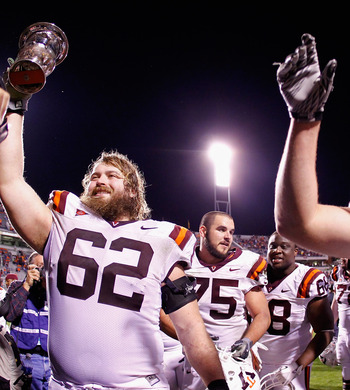 No. 62
Geoff Burke/Getty Images
The Arizona Cardinals really needed to add upgrade along the offensive line in the 2012 draft, and they did so by drafting three offensive linemen on Day 3 of the draft. The window could still be open, however, for Blake DeChristopher to make the roster as an undrafted free agent.

The Cardinals' starting right tackle next season is likely to be fourth-round draft pick Bobby Massie, but DeChristopher could be a solid backup at right tackle and be able to kick inside to guard.

Unfortunately for DeChristopher, he has missed OTAs due to a back injury, according to Fox Sports Arizona. This immediately puts DeChristopher in his battle to make the roster. Additionally, all three of the Cardinals' drafted offensive linemen (Massie, Senio Kelemete, Nate Potter) could potentially play right tackle. Given that DeChristopher's value comes as a right tackle, he may be facing a significant uphill battle to make the Cardinals' final cuts.
Dallas Cowboys: Levy Adcock, OT (Oklahoma State)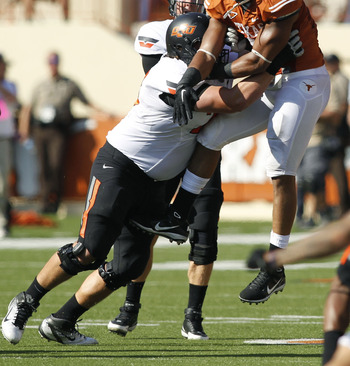 Erich Schlegel/Getty Images
The Cowboys have developed a very talented young pair of starting offensive tackles in Tyron Smith and Doug Free, but they seriously lack depth behind them. That leaves a big window of opportunity open for Adcock, an undrafted free agent who has the potential to earn a roster spot as the Cowboys' third offensive tackle.

Adcock has a good combination of size and athleticism with very good feet as a pass blocker, but he has become stronger and more physical. He has the most talent among offensive tackles on the Cowboys' roster not named Smith or Free, but he may have to beat out veteran Pat McQuistan and fellow undrafted free agent Jeff Adams to earn the roster spot.
Philadelphia Eagles: Chris Polk, RB (Washington)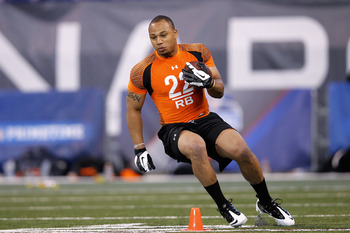 Joe Robbins/Getty Images
No undrafted player was more stunning than Washington running back Chris Polk, who some once regarded as a potential top-20 draft pick. Polk came into the draft process overrated, but he is a talented running back who dropped significantly due to injury concerns.

Polk is now in a competition with fellow rookie Bryce Brown, a seventh-round draft pick, for a spot on the Eagles' roster.

Bryce Brown is a naturally-gifted running back with a complete skill set, and was Rivals' No. 1 player in the nation coming out of high school in 2009. However, he has barely played football in the last two seasons, and has serious off-field concerns.

Polk is a good between-the-tackles runner with athleticism, and I think he will be win the battle with Brown. He could end up being an important piece of the Eagles' running back rotation immediately as the power back they have lacked.
New York Jets: Donnie Fletcher, FS/CB (Boston College)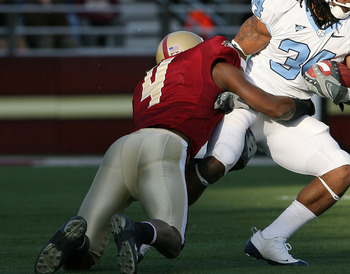 Elsa/Getty Images
The New York Jets needed to add depth to their secondary, and they did so by adding two late-round draft picks and three undrafted free agents. All five will have to battle to secure a roster spot, but Donnie Fletcher stands out.

Fletcher is stiff-hipped as a cover corner, but he is an instinctive playmaker who has the size and tackling ability to play free safety, and should be able to contribute on special teams. This gives him a good chance to win the battle for a roster spot, as the Jets will likely keep two or three out of the group of five that also includes sixth-round draft pick and Wake Forest free safety Josh Bush, seventh-round draft pick and South Carolina strong safety Antonio Allen, and two other undrafted free agents, Furman cornerback Ryan Steed and Penn State cornerback D'Anton Lynn.

With Fletcher likely to play free safety but also having more special teams potential and the versatility to play cornerback, it is very possible that he could take a roster spot away from Bush, although Bush was drafted over Fletcher.
Oakland Raiders: Aaron Henry, FS (Wisconsin)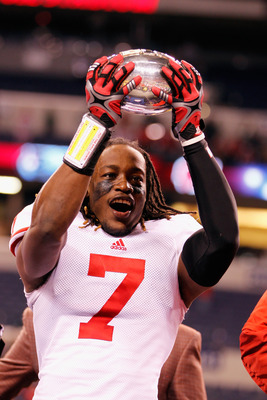 Gregory Shamus/Getty Images
Henry is one of the best talents in the 2012 draft class to go undrafted, but if he is going to make it in the National Football League, he is going to have to win a battle for a roster spot.

The Raiders have three established, starting-caliber safeties in Michael Huff, Tyvon Branch and Matt Giordano, all who should be locks to make the team's final roster. That leaves Henry in a battle with Mike Mitchell, Brandon Underwood and Curtis Taylor for what could be only one safety spot.

The battle will most likely come down to Henry and Mitchell, as Underwood and Taylor have yet to do anything to establish themselves in the NFL. They are two different players: Henry is a more cover-oriented free safety, while Mitchell is a harder-hitting strong safety. The Raiders could choose to keep both players around, but they could also be competing for one spot, leaving Henry in a position where he must impress in training camp.
San Diego Chargers: Edwin Baker, RB (Michigan State)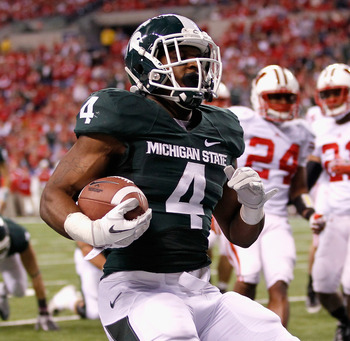 Gregory Shamus/Getty Images
The Chargers lost their second-leading rusher from last season, running back/fullback Mike Tolbert, but they replaced him with a very similar player in Le'Ron McClain. With the recent signing of Ronnie Brown, seventh-round pick Edwin Baker could end up in a three-way battle for the Chargers' third running back spot.

Baker is a solid all-around running back who runs hard with good size and decent speed and power, and is also a good receiver out of the backfield. That said, he is going to have to prove that he can bring more to the Chargers than Brown or Curtis Brinkley. With Jacob Hester also likely to earn a roster spot as a fullback, the Chargers will most likely one keep one player between Baker, Brown and Brinkley.

Baker was unspectacular at Michigan State, but if he can contribute on Michigan State, he should have the inside track to this roster spot. Neither Brown nor Brinkley had much productivity last season, and Baker can likely be a better special teams contributor than either of them.
Chicago Bears: Greg McCoy, CB (TCU)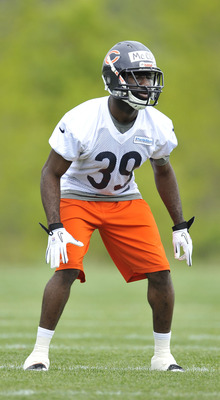 Brian Kersey/Getty Images
Upgrading at cornerback made sense for the Chicago Bears, but with many solid veterans already on the roster at the position, there is no guarantee for either of the Bears' two drafted cornerbacks to have a spot on the final 53-man roster.

Greg McCoy is a terrific athlete and instinctive playmaker, but he lacks size and needs to become more consistent in coverage. The Bears' sixth-round draft pick, Isaiah Frey, is much better suited to come in and play cornerback early, whereas McCoy is a developmental prospect whose best asset may be his return skills.

Unfortunately for McCoy, he may not be needed as a returner thanks to the team's presence of Devin Hester. With Charles Tillman, Tim Jennings and Kelvin Hayden all likely to earn roster spots, McCoy will likely be in a battle with D.J. Moore, Jonathan Wilhite and Isaiah Frey for one or two roster spots.

Considering Wilhite has spent time working as a first-team cornerback, according to Brad Biggs of the Chicago Tribune, he will likely earn a roster spot. Moore has a solid track record with the Bears and Frey is a better cornerback who was drafted ahead of McCoy, so it looks like McCoy will face an uphill battle to earn a roster spot unless he proves to be a huge asset on special teams.
Tennessee Titans: William Vlachos, C (Alabama)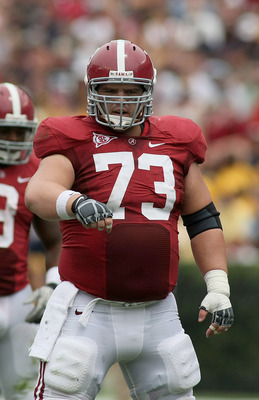 Greg McWilliams/Getty Images
Vlachos had a tremendous career at Alabama, starting at center for two national championship teams. Now he has a chance to earn a spot on the Tennessee Titans, playing a position where the team has been subpar.

Eugene Amano is subpar as a starting center, and Kevin Matthews has been able to challenge him for a starting spot. While Vlachos is an undersized center who may never be able to start in the NFL, he has a chance to provide competition for both players and potentially win a battle with Matthews for the backup center position.

My prediction is that Vlachos, who had a great collegiate career but may not be able to handle the bigger, faster defensive tackles he would face in the NFL, will end up losing the battle to Matthews to be second-string center, but it should be a legitimate competition.
Cincinnati Bengals: Tyler Hansen, QB (Colorado)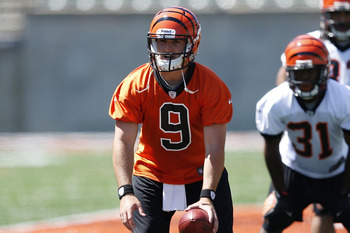 Joe Robbins/Getty Images
Hansen struggled with accuracy and consistency during his time as Colorado's starting quarterback, but he has a good arm and showed his potential with a quality showing at the Shrine Game.

Hansen has the skills to be a third-string quarterback, and he will have the chance to battle Zac Robinson for that spot with the Bengals. According to bengals.com, Hansen was convinced to sign as an undrafted free agent by Bengals head coach Marvin Lewis, giving reason to believe that Hansen has a very legitimate chance to battle Robinson and earn a roster spot if he can outperform him.
Atlanta Falcons: Michael Calvin, WR (California)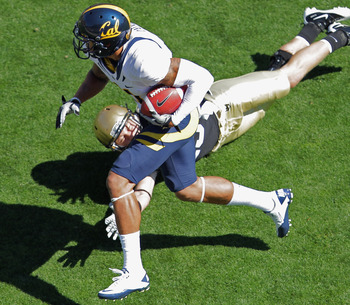 Doug Pensinger/Getty Images
The Falcons' top three wide receiver spots are set between Roddy White, Julio Jones and Harry Douglas. Kerry Meier is likely to earn the fourth receiver spot on the Falcons, but assuming the Falcons are to have five receivers on their roster, they currently have that position set to be a competition between a plethora of undrafted free agents.

The competition is most likely to come between California's Michael Calvin and Oregon State's James Rodgers. Calvin stands out among the group. While he was not particularly productive at California, he is a tremendous athlete who made a big name for himself at his Pro Day.

If Calvin can harness his athleticism and turn it into playmaking on the football field, he has a good chance to win the battle for the fifth receiver spot, given his athletic upside.
Detroit Lions: Jonte Green, CB (New Mexico State)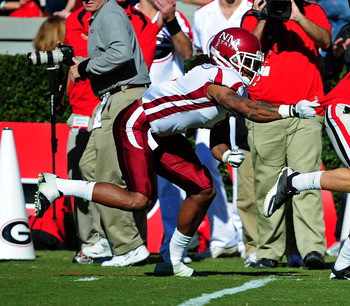 Scott Cunningham/Getty Images
Forget the adage of "you can never have too many cornerbacks". While it is important to have a deep group of cornerbacks, a team can only set aside so many roster spots to the position, and as a result, sixth-round draft pick Jonte Green could face an uphill battle to make the Lions' roster.

The Lions were smart to draft three cornerbacks as they needed to upgrade at the position, but they may not need three rookies. Chris Houston, Aaron Berry and third-round pick Dwight Bentley should be locks to make the final roster, while Jacob Lacey and Alphonso Smith are likely to be kept. Fifth-round pick Chris Greenwood was selected ahead of Green and has huge potential, so he should be on the final roster.

The Lions are unlikely to keep more than six cornerbacks on their final 53, so Green will likely have to impress enough to beat out Lacey or Smith, or hope that an injury opens up another spot.
Pittsburgh Steelers: Brandon Lindsey, OLB (Pittsburgh)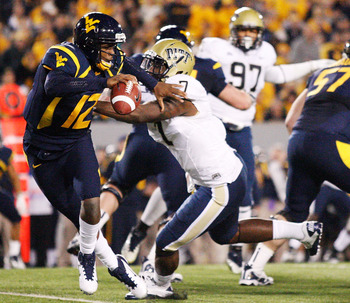 Jared Wickerham/Getty Images
For a 3-4 defense like the Steelers run, it is important to be deep in pass-rushing outside linebackers. Additionally, it is almost inevitable that James Harrison will be suspended each year because of illegal hits and rifts with NFL commissioner Roger Goodell, which makes depth all that much more important.

That presents a good opportunity for Brandon Lindsey, who was an undrafted free agent and is a home-grown talent, having grown up in western Pennsylvania and played for the University of Pittsburgh. However, making the roster will not come without a battle for Lindsey.

Harrison and LaMarr Woodley are entrenched as starting outside linebackers, while Jason Worilds is the top backup at outside linebackers. Lindsey will have to battle with second-year player Chris Carter and fellow undrafted free agent Adrian Robinson for one or two outside linebacker spots left on the Steelers' roster.

Carter came into the NFL with big promise, but did not show much in his rookie season. Robinson is another talented player who is a good fit to play 3-4 outside linebacker. That said, Lindsey may be the best talent of any of the trio, and he is the best run defender of the group. Any of the three could win the battle, but I would set the early odds in Lindsey's favor.
Denver Broncos: Gerell Robinson, WR (Arizona State)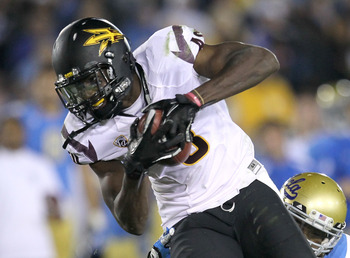 Stephen Dunn/Getty Images
The Broncos have a very solid pair of starting wideouts in Demaryius Thomas and Eric Decker, but they lost Eddie Royal as a free agent, and should be four- and five-wide receiver sets this season with Peyton Manning brought in to be the team's new starting quarterback.

This opens up an opportunity for Gerell Robinson to earn a roster spot with the Broncos. Robinson is a big downfield target who was a big-play receiver at Arizona State, and could also be a favorite target in training camp for rookie backup quarterback Brock Osweiler, who played with Robinson at Arizona State.

Robinson has the talent to be an NFL receiver, but he will be in a deep battle of receivers for a roster spot. Brandon Stokley was brought in as a free agent, and he was often a favorite target of Manning during their time together with the Indianapolis Colts. Andre Caldwell and Jason Hill are other talented wide receivers who were added during free agency, while Matt Willis is a solid returner and Eric Page also has a chance to make the roster as an undrafted free agent.

Stokley and Caldwell should earn roster spots, which should create a battle for one or two spots between Robinson, Hill, Willis and Page. I think Robinson will have the better chance of the two undrafted free agents to make the roster, although special teams will also come into play with this battle, where Willis and Page will have the advantage.
Houston Texans: Case Keenum, QB (Houston)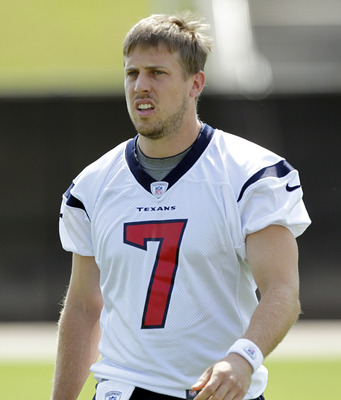 Bob Levey/Getty Images
Keenum rewrote the NCAA record books during his career at the University of Houston, becoming the all-time leader in passing yards, touchdowns and completions. However, serious doubts have been expressed about his game being able to translate to the National Football League, due to a weak arm, lack of height and being a product of a spread offense.

Doubters (including myself) could end up being wrong. Keenum is currently in a battle with John Beck, who started three games for the Redskins last season, for the Texans' third-string quarterback position. Keenum appears to have a legitimate chance to win the battle.

According to Texans head coach Gary Kubiak via CBSSports.com, quarterback snaps in this week's minicamp are focused around Keenum and Beck, as the team is trying to make a determination on which quarterback can earn the third-string quarterback job.
New Orleans Saints: Johnny Thomas, SS (Oklahoma State)
Photo via Scout.com
Thomas is a talented safety who could have been a mid-to-late draft pick, except that he was ruled ineligible for his senior season, which caused him to go undrafted. That said, he is good enough to be a backup safety in the NFL, and the Saints could use additional depth, giving Thomas a chance to crack the team's final 53 in training camp.

Malcolm Jenkins and Roman Harper are solid starting safeties, but Thomas will have a chance to compete with Jonathon Amaya, Isa Abdul-Quddus, fifth-round draft pick Corey White and fellow undrafted free agent Jerico Nelson for likely two or three roster spots. White should get a spot as a fifth-round pick, but with a strong training camp, Thomas could beat out the others.
Green Bay Packers: Marc Tyler, RB (USC)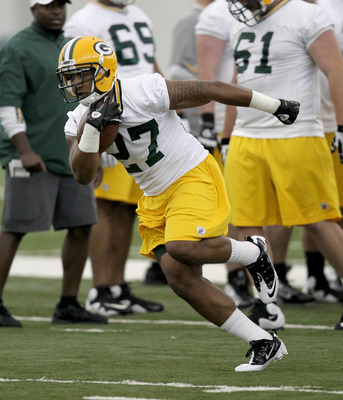 Mike McGinnis/Getty Images
The Packers did not re-sign veteran running back Ryan Grant, which leaves the window open for Tyler, an undrafted free agent, to come in and earn a roster spot on the Packers.

Tyler is a talented running back, but his collegiate career was often derailed by off-field incidents. After a poor Shrine Game showing and a horrendous run at the NFL Scouting Combine, Tyler was doomed to go undrafted, but if he can show the ability that once made him a very highly-recruited back by USC, he has a chance to earn the Packers' third running back spot behind James Starks and Alex Green.

Tyler will face competition from a speed back in Brandon Saine and fellow undrafted free agent Duane Bennett. Of the trio, Tyler is the best running back, so if he stays out of trouble and impresses in training camp, he has the inside track to earn a spot among the Packers' final 53.
Baltimore Ravens: Nicolas Jean-Baptiste, NT (Baylor)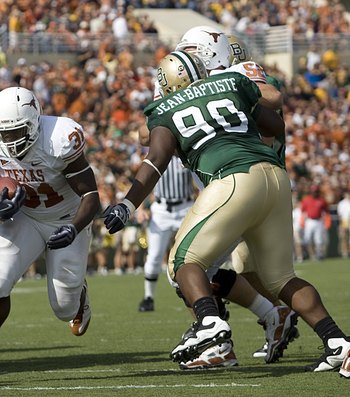 Tom Pennington/Getty Images
The Ravens ended up with one of the best steals of undrafted free agency by signing Nicolas Jean-Baptiste, who is one of the top nose tackle prospects in the 2012 draft class. Jean-Baptiste was signed to compete for the backup nose tackle position behind Terrence Cody, but the Ravens have made it clear that he will have to battle for his job.

In the weeks following the draft, the Ravens signed two veteran nose tackles: Ma'ake Kemoeatu and Ryan McBean. Jean-Baptiste will have to battle Kemoeatu and McBean for what could be only one roster spot, as star defensive end Haloti Ngata can also play nose tackle.

Jean-Baptiste's game is somewhat raw, but he is a big, powerful nose tackle who has big upside, and if he can show enough in training camp, he has a good shot to win the battle on his youth and potential.
San Francisco 49ers: Trenton Robinson, S (Michigan State)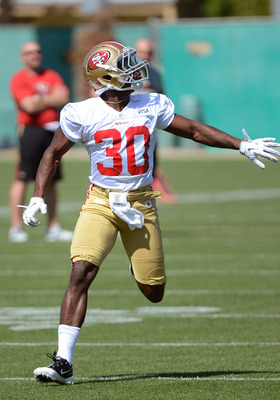 Thearon W. Henderson/Getty Images
Trenton Robinson was a sixth-round pick, but on a deep 49ers roster, he is going to have to compete and impress to make it to the regular season with a spot on the 53-man roster.

The 49ers have set starters at safety in Dashon Goldson and Donte Whitner, while they have a large group of safeties competing for backup spots. Strong safety C.J. Spillman will likely go into camp with the edge on the third safety spot, but will face competition from Robinson, Colin Jones, Mark LeGree and undrafted free agent and former Stanford safety Michael Thomas.

Robinson should get every opportunity to earn a safety spot, but will have to impress to beat out what could be tough competition from second-year safeties Jones and LeGree.
New England Patriots: Marcus Forston, DT (Miami)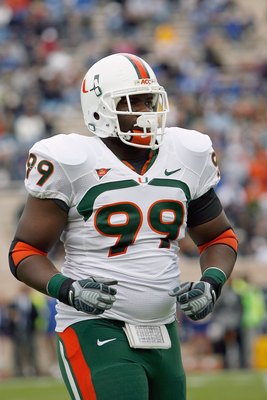 Kevin C. Cox/Getty Images
The Patriots are known for having deep defensive line rotations, but outside of Vince Wilfork, the Patriots are somewhat thin at defensive tackle. That opens up an opportunity for Forston, an undrafted free agent, to potentially earn a roster spot.

Forston is a very talented defensive tackle, but injuries derailed much of his collegiate career. He has potential, however, to be a big asset to the Patriots in their four-man front defensive package if he can stay healthy.

Kyle Love should secure a roster spot, but the rest of the defensive tackle depth chart is wide open. Brandon Deaderick and Ron Brace should lead the competition as returning veterans, but also in the mix are Myron Pryor, Gerard Warren and Marcus Harrison.

Whether or not Forston makes the roster will all come down to how he performs in training camp. He may be on the outside looking in, but if he puts together a strong training camp and preseason, he has the talent to beat out some of the veterans ahead of him.
New York Giants: Matt McCants, OT (UAB)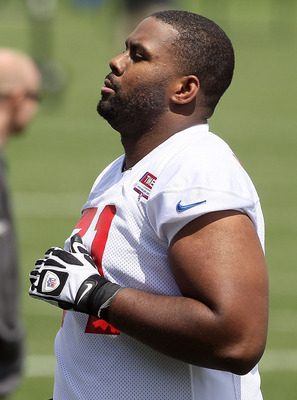 Jim McIsaac/Getty Images
The Giants needed to address their offensive line in the 2012 draft, and they did so by selecting two offensive tackles on Day 3. There may not be roster spots for both of them, however, which means Matt McCants is going to have to battle his way onto the final roster.

Will Beatty is a returning starter, while David Diehl started games at both tackle and guard last season. James Brewer is likely to remain on the roster, while fourth-round pick Brandon Mosley should also secure a roster spot. That could be enough offensive tackles already, but if Diehl starts at guard or is released following his DUI arrest, that could open up one more spot.

McCants will have a chance regardless to earn a roster spot as an offensive tackle with potential, but will have to compete with Brewer along with Sean Locklear and Selvish Capers. McCants should have the edge over the latter two, but depending on how the Giants break down their offensive line unit, he may have to beat out Brewer or Diehl for a starting spot.

Thanks for reading!

For more coverage of rookies who could be battling spots, check out one of my previous articles: 32 Undrafted Free Agents Who Have Best Shot to Make Final Cuts

Follow me on Twitter @Dan_Hope.
Keep Reading