Phil Loves Grouping; Tiger Loves Challenge; Bubba Says Course Hard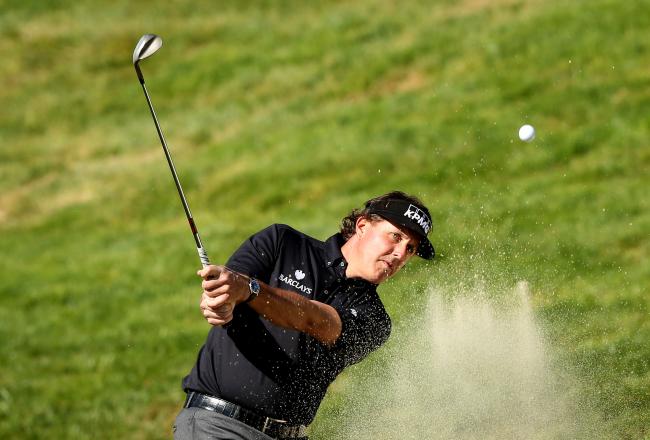 Mickelson practties at Olympic Club
Ezra Shaw/Getty Images
It's the US Open group everyone's talking about: Tiger Woods, Phil Mickelson and Bubba Watson.
"We're not going to be focused on what each other is doing," Watson said about playing with Woods and Mickelson. "We're going to be focused on the tough golf course at hand and the mental preparation. We need to be on top of our game for 18 holes. But it will be fun, though. It's two legends."
Mickelson is enthusiastic about the group, especially about the opportunity to play with Woods.
"It's fabulous!" he said. "I'll tell you why. First of all, I get excited to play with Tiger, I love it. I think we all do. He gets the best out of me."
Mickelson said for whatever reason, he's been lethargic on Thursdays and Fridays this season, and playing with Woods might be the wake-up call he needs.
"The one player I'm most concerned about, if I play my best golf that may have a chance to beat me, is Tiger. And the fact that we are on the same wavelength, I'm always am in favor of," he added, meaning they are both in the same side of the draw, both playing the same time of day, both of the first rounds. "Sometimes we'll get a huge advantage in tee times, based on weather conditions or whatnot, " he continued. "If we're in the same wavelength, neither of us will have a distinct advantage."
While they will share a tee time, Woods thinks it won't be extra chatty inside the ropes.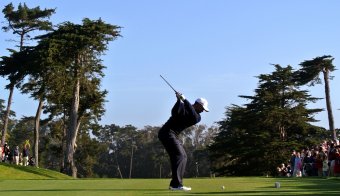 Tiger Woods at Olympic Club
Andrew Redington/Getty Images
"I think this is one of those championships that I think the guys talk the least to one another because it's so difficult," Woods said. "There's no shot you can take off, so to speak."
Watson agreed on the degree of difficulty being high at Olympic Club.
"Oakmont was probably the toughest course I've ever seen," Watson noted. "I think here matches it, maybe a little bit tougher. So we know that you can't worry about what par is or who you're playing with or what you're doing. You've just got to worry about how tough this golf course is and about your mental focus."
Mickelson, like most golfers, thinks the US Open is the toughest tournament professionals play.
"It's the most penalizing for a missed hit ‑‑ for a mis‑hit, for a mis‑struck shot," he said. "It's the most penalizing, usually year in and year out, of all the tournaments we play. The rough is thicker, the greens are firmer and faster and so forth."
Could they be a little specific about what will be the worst part of the course? Yes.
"I think that 13 provides the most challenging shot, because it's a long, narrow green with wind following right‑to‑left. It's pushing the ball left," Mickelson suggested. "If you miss it right, you've got a chip that's downhill, downwind, you're not going to get it up and down. And if you miss it left, it's off to Hartford. You may as well pack your bags, and we'll see you next week at Hartford because that ball is going to go down the creek, in the rough, under the trees, and you may still be there on Monday."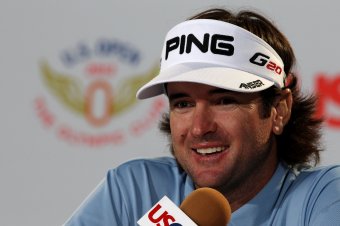 Masters Champ Bubba Watson
Scott Halleran/Getty Images
Watson also singled out the 13th.
"Thirteen, the par‑3, they shaved all the grass on the left side of the hole. So if you hit it ‑‑ you could actually hit the ball on the green and end up in the hazard. I don't understand why they did that. But they did it."
And the next hole, according to Watson, isn't much better.
"Fourteen, they moved the fairway over," he explained. "I hit it in the middle of the fairway, but had to slice a 9‑iron about 40 yards just to hit the green. It just doesn't make sense. Those are the two holes that really are in my mind that we don't even know how to play."
Woods was more understated about the issue at the 13th.
"First all, my charts are all outdated because they've resurfaced every green. So I had to do a whole new book," he said about his old yardage guide. "But also I think that the new chipping areas are way different. We had balls that were landing on the green on 13 that were going in the hazard. That's a big change."
Maybe that's something the greens committee needs to consider before golfers tee off on Thursday. If not, someone may surely catch the flu down there at the 13th and leave the golf course without finishing the round.
Watson is not sure that the 16th hole needs to be as long as it is. He hit with a driver and still had 60 yards to get to the green.
"You can't reach that hole in two. You can't reach that hole in two from the forward tee," he said. "I don't know why it needs to be 670 with the deepest rough of the golf course."
He thinks there will be players who will take more than three to get to the green, particularly if they happen to hit into the rough.
The seventh, he mentioned, is a 288-yard par 4.
"We dropped the ball in the middle of the green, just dropped the ball on that slope and it rolled all the way off the front of that green. If you're chipping you can't stop it on the green."
Eventually, Watson just summed it up with one sentence: "There's something about every hole."
Welcome to the US Open.
Kathy Bissell is a Featured Columnist for Bleacher Report. Unless otherwise noted, all quotes were obtained first-hand.

This article is
What is the duplicate article?
Why is this article offensive?
Where is this article plagiarized from?
Why is this article poorly edited?