Tampa Bay Buccaneers: Predicting Two-Deep Depth Chart, Pre-Training Camp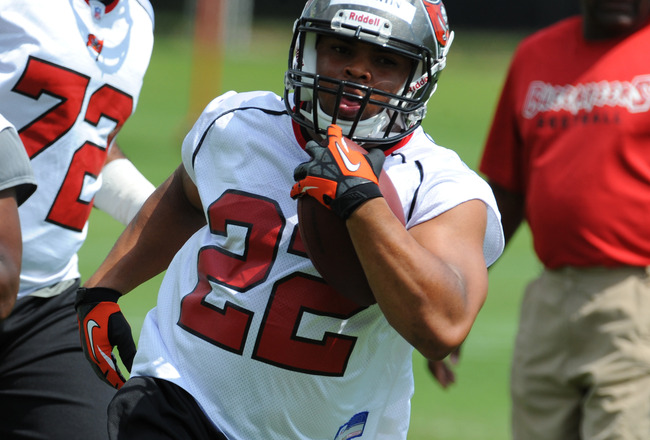 Al Messerschmidt/Getty Images
Hey, hey!
Mandatory training camp for the Bucs began today, the 12th of June, and aren't we all excited to see how our favorite players will fare?
I'm particularly interested in Josh Freeman, who, besides for the ominous reports of him sporting a frohawk, has done everything right this offseason. He's gotten in shape, gotten into sync with Vincent Jackson and seems to be fully committed to returning to his 2010 form.
It may be too early to truly know who will be starting once the season starts, but who cares?
Predicting what will happen in a few months time is the best way to assess where we are now.
And without further ado (God, I love using that phrase), here are my predictions for the 2012 Tampa Bay Buccaneers depth chart.
Quarterback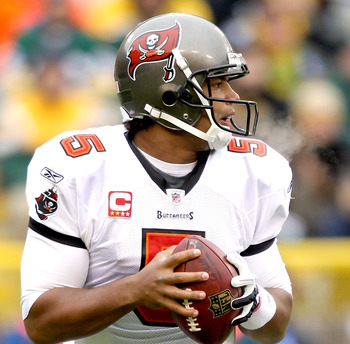 Matthew Stockman/Getty Images
1. Josh Freeman
2. Dan Orlovsky
No surprises here, gentlemen.
Josh Freeman has done everything one could ever expect out of a young quarterback trying to become the very best there is. His determination will pay dividends.
Dan Orlovsky may have a 2-10 career record as a starting quarterback, but that shouldn't strike fear into the hearts of Bucs fans. He has played with some awful teams, and being able to squeeze out any wins at all with them is a merit-worthy accomplishment.
Besides, I'd much rather have a backup quarterback with two wins than one without any.
At least with Orlovsky, you have a one-in-six shot of winning.
Running Back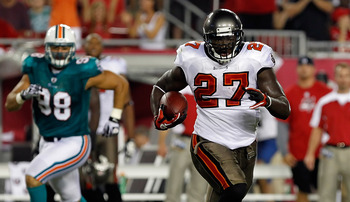 J. Meric/Getty Images
To those who have noticed, I omitted the fullback position because most teams carry just one fullback, and on the Bucs, there is a good chance that the fullback will be a multi-talented hybrid, who can also play tight end.
1a. Doug Martin
1b. LeGarrette Blount
No matter how badly I want to predict a winner to one of the NFL's most hotly contested training camp battles, I just can't. It's simply too close to call.
LeGarrette Blount plays like a faster version of a fullback. He's skilled at blocking, adequate at rushing and miserable when asked to catch the pigskin. He has two years of experience under his belt and one 1,000-yard season, to boot.
But Doug Martin has speed, vision, strength and virtually everything one could ever want in a running back. The Muscle Hamster is a jack of all trades, master of none, much like Greg Schiano's former student Ray Rice. Just watch some of his tape from Boise State, and you'll see an every-down back who refuses to quit (don't just watch the highlights, try to find a full game; trust me). But he is just a rookie.
So I give you 1a and 1b, with a slight edge to Doug Martin, but both men have an even shot at claiming the starting job.
Wide Receiver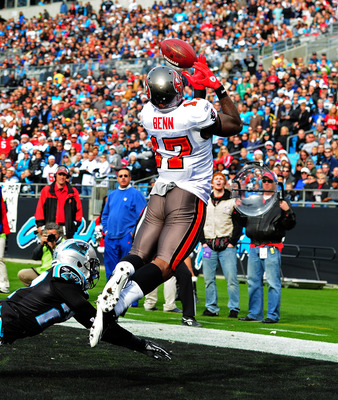 Scott Cunningham/Getty Images
Since most sets start at least two wide receivers, I shall make the wide receiver four men deep. Shocker.
1. Vincent Jackson
2. Mike Williams
3. Arrelious Benn
4. Preston Parker
Vincent Jackson at No. 1 is a no-brainer, as the Bucs will want to get their money's worth out of his $55 million contract. They are set to pay his great-great-great-great-great-great-great... grand children's college tuition, so why wouldn't they want to see some bang for their "Buc" (see what I did there)?
He's also one of the game's premier wide receivers, so that's a pretty good reason to play him.
Mike Williams and Arrelious Benn are two third-year men both looking to improve upon an ugly sophomore season. They'll fight to the bitter end to get the chance to start, but the edge goes to Williams, as he has led Tampa Bay in receiving yards for two straight seasons.
Meanwhile, Preston Parker edges out Dezmon Briscoe and others for the No. 4 spot on my list. Normally, teams re-sign players that they want to play, so since the Bucs signed Parker through the next year, I'd gamble that they want him to play.
He doesn't beat out Benn, though, because this is my list and I very boldly predict a semi-breakout year for Benn. Don't expect 16 touchdowns for Benn or anything, but be prepared to see him rack up 700 receiving yards. A player with his upside cannot stay bottled up for long before exploding into a glorious spray of pure talent.
That sounded weird.
Tight End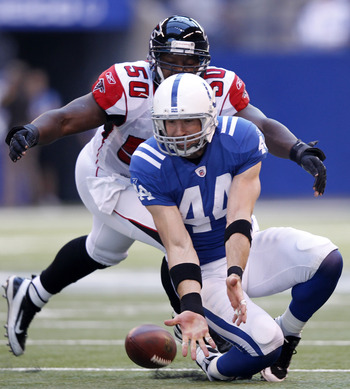 Joe Robbins/Getty Images
1. Dallas Clark
2. Luke Stocker
If Dallas Clark can stay healthy, he should be a nice target for Josh Freeman and maybe, just maybe, Free won't miss Kellen Winslow at all.
Or Clark could succumb to the plague of injuries that have followed him his entire career.
Either way, sophomore Luke Stocker should get onto the field and try to prove his mettle.
Offensive Line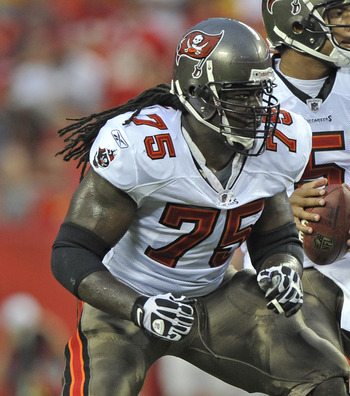 Peter Aiken/Getty Images
For the offensive line, I will list three tackles, three guards and two centers, without reference to alignment. Guards and (some) tackles can usually play on either the left or right sides without too much of drop in production. This flexibility often makes it hard to predict where an O-lineman will play, so I will refrain from doing so.
As always, the players are listed in order of likeliness to see the most playing time at the position under which they are found.
Guard:
1. Carl Nicks
2. Davin Joseph
3. Desmond Wynn
Tackle:
1. Donald Penn
2. Jeremy Trueblood
3. Demar Dotson
Center:
1. Jeremy Zuttah
2. Ted Larsen
With Carl Nicks, Davin Joseph, Donald Penn, and Jeremy Zuttah, the Bucs have one of football's best offensive lines. Too bad about Jeremy Trueblood, though...
Ted Larsen has some experience, as does Demar Dotson.
And as for Desmond Wynn, all he does is win.
Defensive End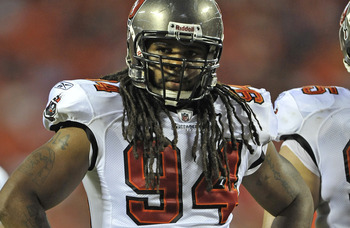 Peter Aiken/Getty Images
There are two starting defensive ends in virtually all defensive schemes, so once again, I will rank the four players most likely to start in order of likeliness to start.
1. Adrian Clayborn
2. Michael Bennett
3. George Johnson
4. Wallace Gilberry
Since Da'Quan Bowers selfishly decided to tear his Achilles, the Bucs have been quite thin at defensive end. Adrian Clayborn may be off a hot rookie year and Michael Bennett may be a fantastic role player, but beyond those two, Tampa Bay doesn't really have much depth at defensive end.
George Johnson is one of Schiano's former students, so he must be placed into rotational consideration. Wallace Gilberry has an awesome name and has played some solid ball for the Chiefs in the past.
Defensive Tackle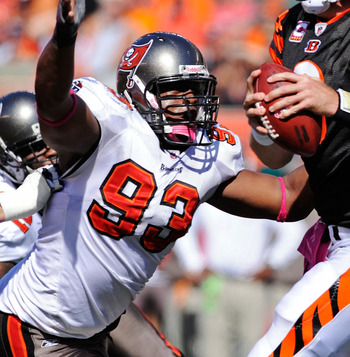 Jamie Sabau/Getty Images
In a 4-3 scheme, there are two defensive tackles. Once again, four players will be listed.
1. Gerald McCoy
2. Amobi Okoye
3. Gary Gibson
4. Brian Price
If Gerald McCoy finally lives up to his potential...
If Brian Price finally lives up to his potential...
McCoy and Price were both selected in the early rounds of the 2010 NFL draft, and neither have lived up to that status. Both have wells of untapped potential just waiting to be realized. So if either of the two can overcome the roadblocks, the Bucs will gain a quality starter at defensive tackle.
But should neither come close to reaching his upside, have no fear!
Tampa Bay signed Amobi Okoye and Gary Gibson during the offseason. The two will do wonders for the rotation and the overall health of the defensive line.
Last season, the Bucs gave up more rushing yards than any other team in the NFL.
That mustn't happen again.
Linebacker
Grant Halverson/Getty Images
Two outside linebacker spots. One inside linebacker. Linebackers can be interchangeable much like guards. Ranked.. most likely to start...yada yada yada...you know the drill.
1. Mason Foster
2. Quincy Black
3. Lavonte David
4. Adam Hayward
5. Najee Goode
6. Rennie Curran
The Buccaneers don't have the NFL's best linebacker corps, but it is full of young talent.
Mason Foster enters his second season and should be much better than he was last year. This is not to say that he was bad, he just struggled to read offenses before the snap and adjust the defense. With a full offseason and NFL experience, he should have his issues sorted out.
Rookies Najee Goode and Lavonte David have fair shots to get on the field early. David may be undersized, but his football IQ and his athleticism outweigh any height concerns.
Adam Hayward and Quincy Black provide the veteran leadership for this motley crew, with six years of NFL experience apiece.
Defensive Backs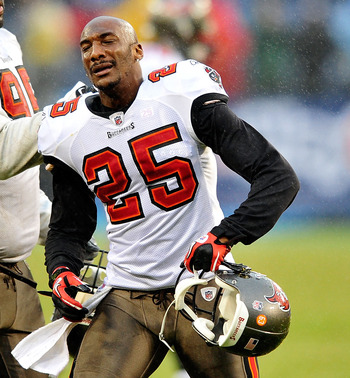 Grant Halverson/Getty Images
Defensive backs seem to move around more than anyone else in the NFL. Good DBs can play corner, free safety and strong safety and succeed in nickel packages.
Cornerback:
1. Eric Wright
2. Aqib Talib (assuming he's eligible to play)
3. Anthony Gaitor
4. Keith Tandy
Safety:
1. Mark Barron
2. Ronde Barber
3. Ahmad Black
Eric Wright was a much-welcome addition to a secondary that was at best porous in 2011. Ronde Barber showed his age, and Aqib Talib had very little impact in his 13 starts.
But fear not, for the rookies and shall save us!
The Bucs didn't draft Mark Barron with the seventh overall pick so he could sit on the bench. Keith Tandy will fight his way into the rotation, as long as he shows the same spark he did at West Virginia.
Sophomores Anthony Gaitor and Ahmad Black should see some quality playing time. Both of them have the potential to start in the near future, so they'll make the most of their minutes.
Special Teams
Al Messerschmidt/Getty Images
Kicker: Connor Barth
Punter: Michael Koenen
Long Snapper: Andrew Economos
The Buccaneers have a very underrated group of kickers, which may not mean much, but it's something, right?
And I predict that Andrew Economos will long-snap the Bucs to greatness.
Keep Reading

Tampa Bay Buccaneers: Like this team?