10 UFC Fighters That Need to Worry About Their Jobs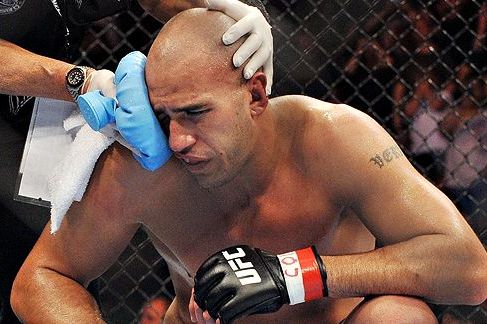 Courtesy of ESPN.com
In the wild, there are young and hungry lions who are waiting for the opportunity to establish their dominance. When a member of the pack can't keep up with the rest, he will inevitably be replaced by someone stronger and faster than himself.
While the eight-sided cages of the UFC are a far stretch from the plains of the Serengeti, the same struggle for contention happens under the Zuffa umbrella on a regular basis. Competitive fighters hit a rough patch and quickly find themselves ejected from their surroundings. New stars from the regional circuit are brought in to replace them, and the cycle begins anew.
Enough of the lame safari metaphors. Here is a look at 10 fighters who could find themselves in the unemployment line if their next fight doesn't go the way that they'd like.
Begin Slideshow

»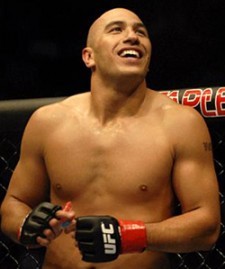 Courtesy of MMAroot.com
Formerly considered a threat for gold at both heavyweight and light-heavyweight, Brandon Vera only has a job because opponent Thiago Silva falsified his urine sample. Originally fired after the loss, Vera was brought back into the UFC when Silva did not pass his post-fight drug test.
"The Truth" has only won one time in his past four fights. What's more telling is that his sole win came in a contest where his arm was broken by an unranked fighter who was able to secure an armbar. Had it not been for Kim Winslow once again allowing a fight to continue beyond it's logical stopping point, Vera would be winless since mid-2009.
Now, Vera is stepping in against Shogun Rua at UFC on Fox 4. If his previous dabbling against top talent is any indication, the former prodigy is in for a night that he will not want to remember. Consider Shogun the hangman in this situation, because unless Vera has some killer blackmail on Lorenzo, he is heading to the gallows.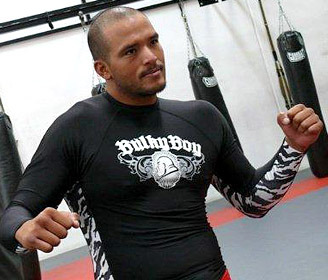 courtesy of BulkyBoy.com
A weakened light-heavyweight roster may be the sole reason that Joey Beltran was recently brought back into the UFC. Beltran fought once since his release, winning a decision against untouted and unknown Anton Talamante.
After his January loss to Lavar Johnson, The Mexicutioner fell to a grizzly 1-4 in his final Zuffa contests. Unless the slugger puts on a fight of the year candidate performance in his return bout against hammer-handed James Te-Huna, you had better believe that a loss will send him out the door once again.
The battle rages on at UFC on Fuel this July.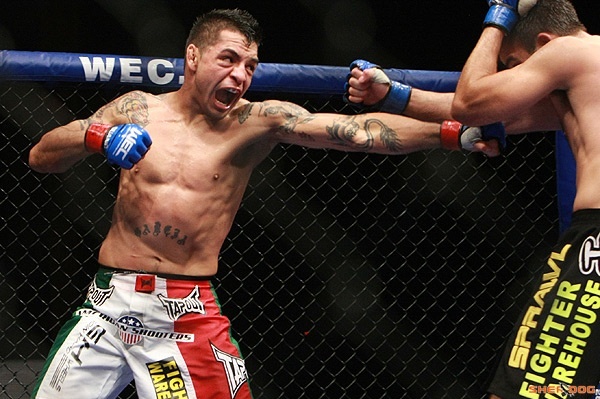 Courtesy of MMAdiehards.com
Leonard Garcia is a haymaker-throwing warrior whose WEC battle with The Korean Zombie was described by both Joe Rogan and Joe Silva as "the best fight I've seen in my life." That could be the reason that he has a job right now.
Garcia has won only two of his last eight fights, and both of his wins have more to do with judge incompetence than Garcia actually besting his opponent.
With four Fights of the Night to his credit, a case for the continued employment of Garcia could be made, however, the last time he won a bout that didn't come via split decision was back in 2008. Now that a trio of consecutive losses sit atop his resume, Leonard may not get another chance to prove himself.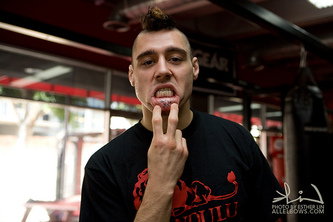 Courtesy of Esther Lin/AllElbows.com
Sorry, fans. The British bomber isn't out of the woods just yet.
At one time, Dan Hardy was a contender for the UFC welterweight champion after winning decisions against Marcus Davis and Mike Swick.
Hardy scored a clutch knockout over Duane Ludwig at UFC 146, but that doesn't rid us of the memories of his four-fight skid that stretched through all of 2010 and 2011.
There is little question that the UFC hopes "The Outlaw" can continue to build momentum, as he is one of the more popular fighters for European fans. However, a fifth loss in six fights isn't something that can be forgiven.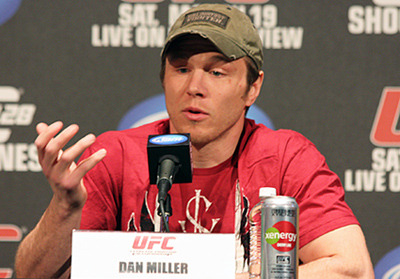 Courtesy of MMAJunkie.com
Win three. Lose three. Win two. Lose two. Dan Miller very well could be the most hot and cold fighter in UFC history.
Despite a willingness to take fights on short notice, and losses coming strictly against top names (Sonnen, Maia, Bisping, Marquardt, Palhares), the lesser-known Miller brother has not been able to take advantage of the numerous opportunities provided to him.
If Miller is unsuccessful in his welterweight debut, that will make three losses in a row, and six in his last eight bouts. You've got to look on the bright side of things. Miller should win his next fight, as he is a heavy favorite over opponent Ricardo Funch, as the Brazilian has an official UFC record of 0-3.
P.S. Ricardo Funch had better be worried about his job too.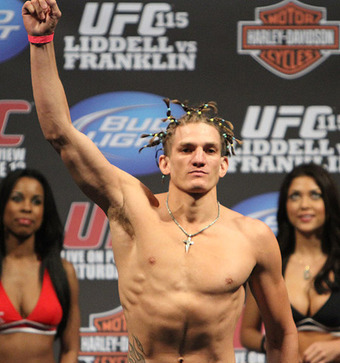 Courtesy of tapology.com
The previously mentioned Ricardo Funch is back in the UFC after a failed first stint back in 2010. When Brazilian stars were needed for UFC 142 in Rio, Funch was given the opportunity to replace an injured Paulo Thiago.
Funch was quickly knocked out by Mike Pyle, which dropped his UFC record to an underwhelming 0-3. Surprising to many, he is being given another chance next weekend when he welcomes Dan Miller to the welterweight division.
The fight takes place Friday, June 22 on the Facebook preliminaries of UFC on FX 4.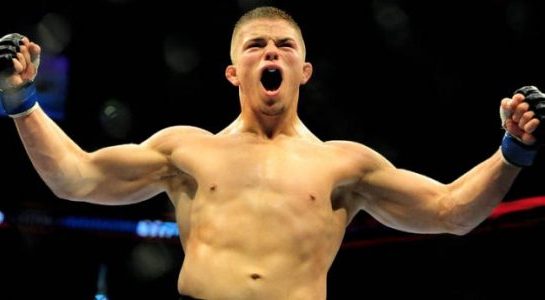 Courtesy of fighters.com
The UFC wants Rick Story to become a star in the welterweight division. And why wouldn't they? After defeating Johny Hendricks and Thiago Alves, Story was a rising contender in a division that had recently run dry in terms of contenders.
Since that time, Story has recorded losses to Charlie Brenneman and Martin Kampmann. Normally, that wouldn't be enough to suggest that the UFC is worried. However, "The Horror" was matched up with unranked Rich Attonito and Papy Abedi in bouts that would eventually fall apart due to injuries.
If Story is given a major demotion in competition and still can't pull out a victory, the third strike will definitely mean that he is out.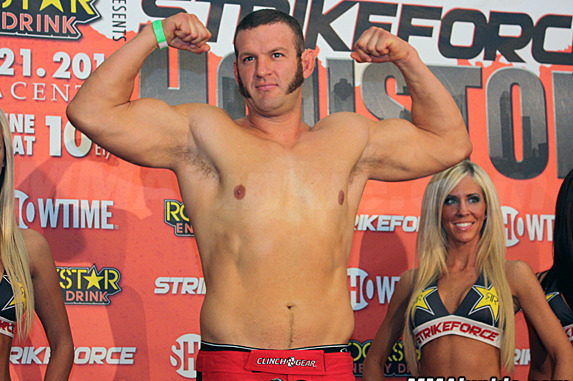 Courtesy of MMAjunkie.com
The man with glorious sideburns shut down the hype train behind Bobby Lashley back in 2010, and recorded first-round stoppages in two more Strikeforce contests before the organization shut down it's heavyweight division. So when he was brought into the UFC, fans were ready to see a gritty striker who is ready to put on a show.
Instead, Griggs debuted at UFC 145 and was quickly demolished by rising prospect Travis Browne. Lasting less than half of a round, the downfall of Griggs began when he ate a flying knee, before succumbing to an arm-triangle choke.
Any fighter who gets embarrassed in their debut is lucky to get a second chance with the UFC. If Griggs isn't successful next time, you'd better believe that he will quickly be shown the door.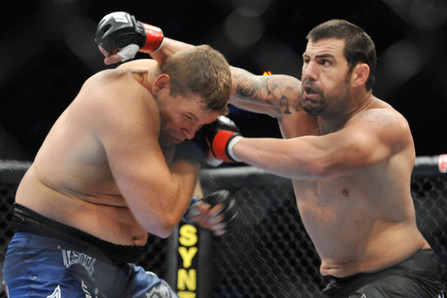 Courtesy of zimbio.com
Mike Russow is 4-0 in the UFC and holds an overall record of 15-1 (1). So right about now, you're probably calling me crazy. Don't worry. I've got evidence to back this one up.
Wrestlers who employ lay and pray techniques are not often given many chances, no matter how successful they may be. If you need proof of this, look no further than Jon Madsen. The heavyweight fighter out of DeathClutch also started his UFC career 4-0.
Madsen's dare-to-be-boring style was not well received, so the UFC took the first chance they could to release him from his contract. When Madsen suffered his first professional loss (ironically to Mike Russow), few expected him to fall to the wayside. The cards fell, and Madsen left with a pink slip that pundits are attributing 100 percent to his lackluster fighting style.
Russow employs a very similar fight strategy to his bald counterpart, and is likely going to look foolish against Top Five heavyweight Fabricio Werdum in their contest at UFC 147 later this month. Will he suffer the same fate? It's not likely, but don't think it hasn't crossed his mind.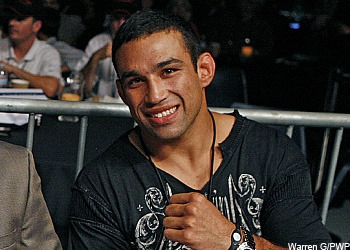 Courtesy of 5thround.com
This one has more to do with a curse than anything else.
Did you know that every single fighter who has lost to Mike Russow has been released from the UFC immediately after the contest?
Justin McCully, Todd Duffee, Jon Madsen and Jon Olav Einemo were fighters who had both promise and a good record. Apparently, a loss to Russow has a magical ability to confuse the human resources department of Zuffa, because they were quick to sever ties with each combatant.
Do I think Fabricio Werdum is going to get fired? Absolutely not. But the Curse of Russow has proven to be the kiss of death on four consecutive occasions. That's not a coincidence. Hopefully Werdum is smart enough to walk to the cage with a garlic necklace and a protection spell.