Euro 2012: Picking the Best XI from the First 2 Games in Group A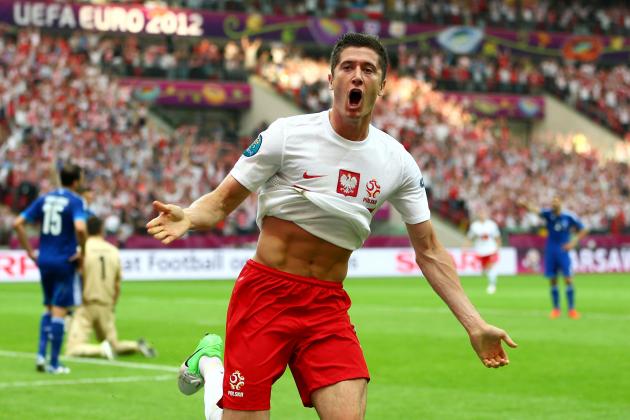 Michael Steele/Getty Images
Polish striker Lewandowski after scoring against Greece
The first two matches from Euro 2012 Group A are done and we now know that Russia are in pole position to qualify for the latter stages of the tournament.
No-one in the group has been able to break away from the others and it's still possible for any of the other teams to qualify for the quarter-finals.
I've watched all of the matches so far and I've come up with 11 players who I think have been the stand-out players for their nations.
Feel free to pick your own teams and leave your choices in the comments section below!
Begin Slideshow

»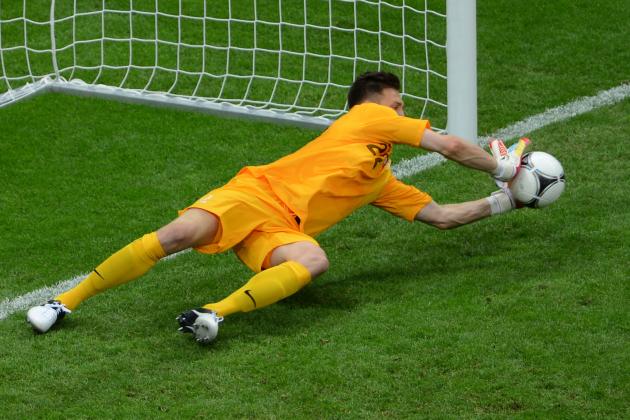 Shaun Botterill/Getty Images
Polish keeper Tyton saves Karagounis' penalty vs Greece
If one goalkeeper has made a positive impact at this tournament so far, it's Przemyslaw Tyton of Poland.
After Arsenal's Wojciech Szczesny had a moment of madness and was given a straight red-card, the little known Tyton was thrust into the spotlight.
Poland seemed certain to go behind against 2004 winners Greece, but that was before the 25-year-old stepped up when his country needed him the most.
As Greek captain Karagounis stepped up, Tyton masterfully dived to his left, palming away the penalty to prevent the former champions from picking up an unlikely win.
In the Poles' second match tonight, Tyton was a calming influence on his defence as the co-hosts salvaged a 1-1 draw with group favourites, Russia.
Christof Koepsel/Getty Images
Russian defender Aleksandr Anyukov
Russia's Aleksandr Anyukov is someone that I knew very little about before the tournament started, but he's been one of the stand-out defenders in the group so far.
He's a solid no-frills right-back and Dick Advocaat (the Russian coach) loves to mix style with substance in his teams.
Anyukov has been just as impressive as some of his other teammates who grab the headlines and his contribution can't be underestimated.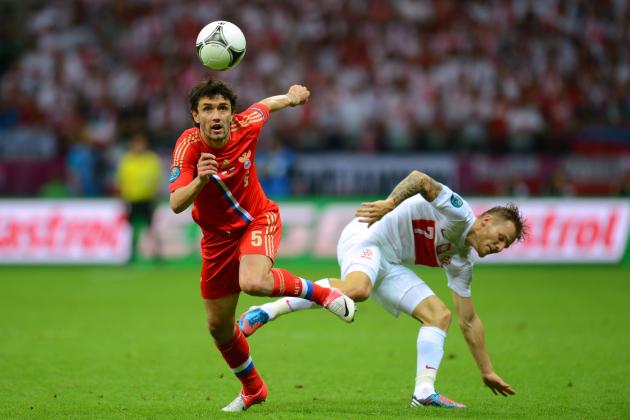 Shaun Botterill/Getty Images

I always thought that Yuri Zhirkov didn't get a fair shake of the stick when he was at Chelsea.
I thought he offered a better defensive option wide on the left than some of their other players at the time, like Florent Malouda and Joe Cole.
Granted, he had his injuries, but when he signed for the London club, he became the most expensive Russian footballer of all time.
Things just didn't work out for him in London and he returned home to Russia last summer.
Since then, his form has picked up where he left off at CSKA Moscow and he's shown the form that made him such a hot property a few years ago.
Zhirkov is an integral part of Russia's defence and his versatility is one of the things that makes him a staple of the Russian side.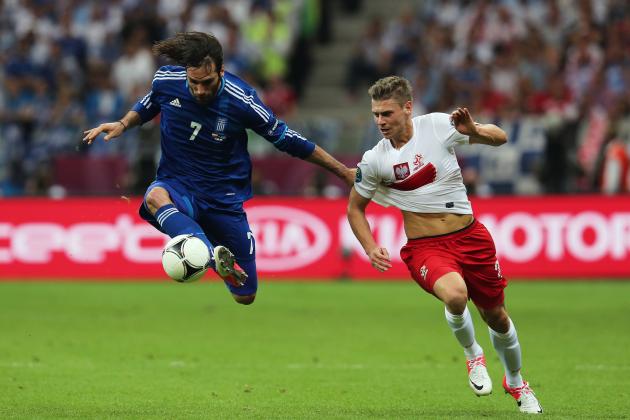 Alex Grimm/Getty Images
Greek striker Giorgios Samaras with a handful of Piszczek's shirt
Lukasz Piszczek has played almost his entire professional career in Germany, starting off at Hertha Berlin before moving to Borussia Dortmund in 2010.
Although he's played as a right-back over the past couple of years, he's at ease playing on either side and it shows in his play.
He's quick, athletic and doesn't give possession away easily.
His adaptability might come in handy if the Poles make it through the group stages, because they'll need to play more defensively when they play against teams with more quality throughout their squad.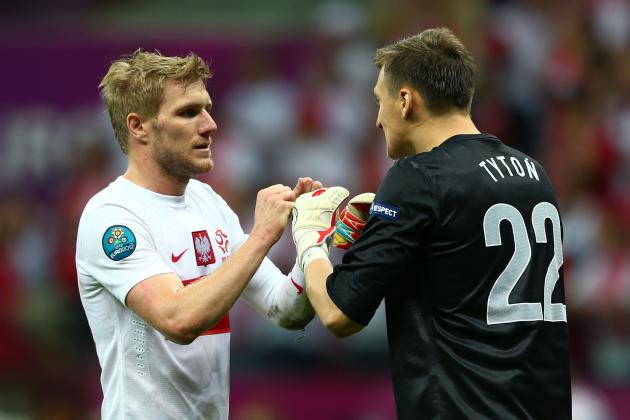 Michael Steele/Getty Images

Damien Perquis is still relatively inexperienced at international level, but you can't doubt his commitment.
He reminds me of an old-school centre-half who's physically superior and dominant in the air.
Perquis looks to attack the ball rather than wait for it to come to him, which makes a change.
There's been a little bit of controversy around his selection because he played for the French Under-21 side, but I don't see why that should be an issue.
He's able to play for Poland through his grandmother, so I don't see what the issue is.
Perquis will only continue to improve as he gains more international experience, but he's been impressive to me over the last couple of games.
Shaun Botterill/Getty Images

Although Giorgios Karagounis is now in the twilight of his career, he's still a vital part of the Greek national side.
He reminds me of Steven Gerrard in the way that he seems to carry the team when they're at their lowest. Karagounis motivates his teammates in a way that we rarely see at international level.
He's a combative midfielder and his set-piece deliveries normally cause problems for whoever he happens to be playing against.
Although he missed a penalty against Poland last Friday, Karagounis' presence will be critical if the Greeks have any chance of making it through to the latter stages.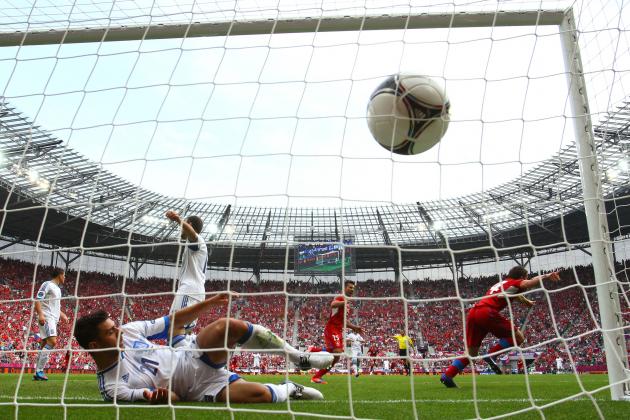 Christof Koepsel/Getty Images
Pilar wheels away after scoring against Greece
Vaclav Pilar is one of the Czech players who made it to the Champions League this season with Viktoria Plzen.
The tricky winger then refused to sign a full-time contract with Plzen after his loan deal expired and in January 2012, it was announced he'd join German club Wolfsburg after Euro 2012.
He's been on fire in the tournament so far and his goal against the Russians last Friday was the only high point of a disappointing 4-1 defeat.
His goal tonight against Greece ended up being the winner and if his form in this tournament so far is anything to go by, then Wolfsburg have got themselves one hell of a player for next season.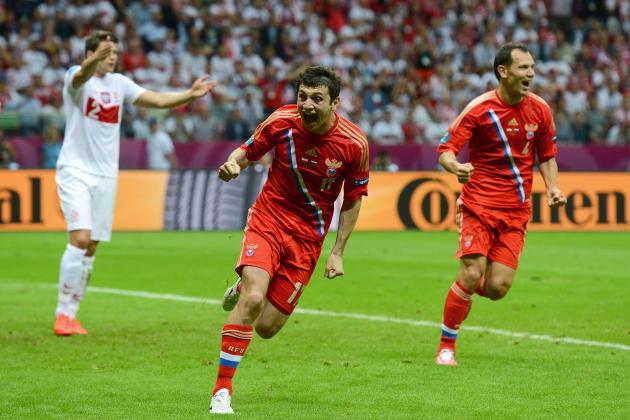 Shaun Botterill/Getty Images
Dzagoev celebrates his opening goal against Poland earlier today
Alan Dzagoev is the hottest young property in Russian football and possibly all of Europe.
He's just 21 years of age, but already he's showing signs of developing into an excellent player.
Dzagoev is the top-scorer at Euro 2012 so far and his goal tonight was further proof that he's one of the best prospects in Europe.
He plays without fear and full of confidence in his own ability.
The Russians are considered by many pundits to be the dark horses of Euro 2012, but after watching both of their matches so far, they're solid defensively and going forward, they always look like scoring.
Having a goalscoring midfielder in their team like Dzagoev takes some of the pressure off the strikers if they know he's going to pitch in with his share of goals as well as create chances for his team-mates.
In my opinion, he's an early contender for player of the tournament.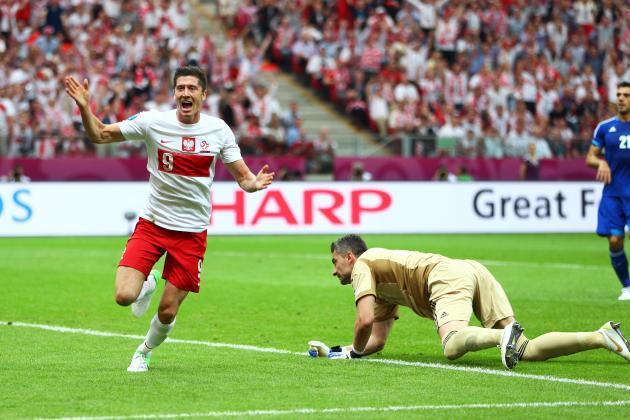 Michael Steele/Getty Images
Lewandowski wheels away after opening the scoring against Greece
The golden boy of Polish football is Borussia Dortmund striker Robert Lewandowski.
Lewandowski came to prominence during his two-year spell with Lech Poznan between where he scored 32 goals in 58 games.
His form was enough to secure him a move to the Bundesliga with Borussia Dortmund for what seemed to be a bargain price of €4.5million.
When he got to Germany, he carried on where he'd left off and has scored 30 goals in 67 games.
Before the tournament even started, the transfer rumour mill went into overdrive and he's been linked with a move to Manchester United.
It seems like the entire hopes of the Polish nation rest on the shoulders of Lewandowski as they look to him to provide the goals that will get the co-hosts beyond the group stages.
With just one game left in the group, Lewandowski could make himself a national hero if he scores the goal that takes the Poles to the quarter-finals.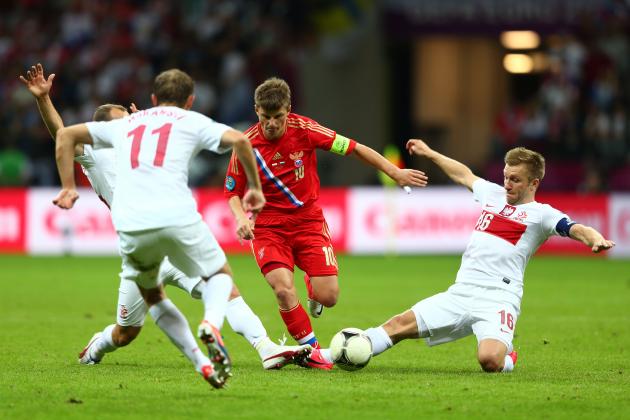 Michael Steele/Getty Images
Andrey Arshavin goes past three Polish defenders
For the last 18 to 24 months, something's been up with Andrey Arshavin.
The form he showed when he earned his €15million move to Arsenal has disappeared and he looked like a shadow of his former self before he went back to Zenit St Petersburg on loan.
It's tremendous to say that the old Andrey has actually turned up at the Euros and he looks like he's getting back to his best.
The cynic in me would say that he's using the Euros as a shop window to get a move away from England, but maybe he's just found his confidence again.
Without question, Arshavin has been one of Russia's best players so far in this tournament and his performance in the first match against the Czechs was outstanding.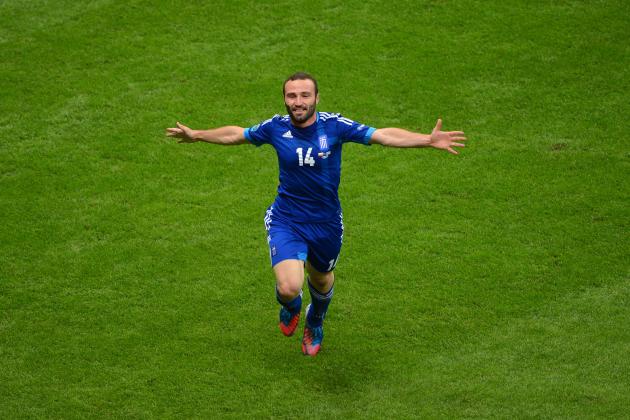 Shaun Botterill/Getty Images
Salpingidis celebrates his goal against Poland
If there's one man who turned around the Greeks second-half performance against Poland last Friday, it was diminuitive winger Dimitris Salpigidis.
In the first half on Friday, Greece were dominated by the Poles and were reduced to ten men just before half-time.
Salpingidis came on in the second half and turned their fortunes around.
His pace caused the Poles problems down the left-hand side and his persistence was rewarded when he scored an equaliser ten minutes into the second half.
The goal revitalised the 2004 champions and in the end, they were unlucky not to win the opening match.
His performance today was a little less stellar, but when you concede two goals in the first five minutes, then you're almost on a hiding to nothing.
While the Greeks aren't out of it by any means, it's going to be very difficult for them to get past the Russians on Saturday.
If they're to have any chance, Salpingidis is the man who can spark them into life and cause the Russian defenders problems if he gets played in behind them.