Power Ranking the 10 Most Dynamic Duos in the NBA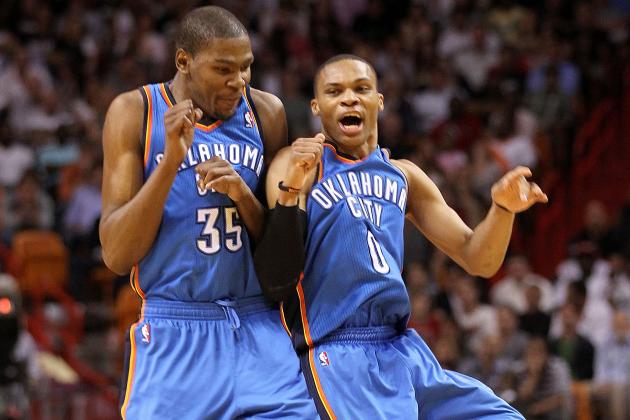 Mike Ehrmann/Getty Images

The NBA has always been about having an elite dynamic duo on your team, if not a terrific trio.
The team with the perfect pairing is usually the best team—Michael and Scottie, Magic and Kareem, Bird and McHale, Erving and Malone, Shaq and Kobe, Duncan and Robinson, Stockton and Malone, Russell and Cousy—the list goes on and on.
So, it'll be no surprise who tops this list, right?
Let's check out the top 10 dynamic duos in the NBA, as of today.
Begin Slideshow

»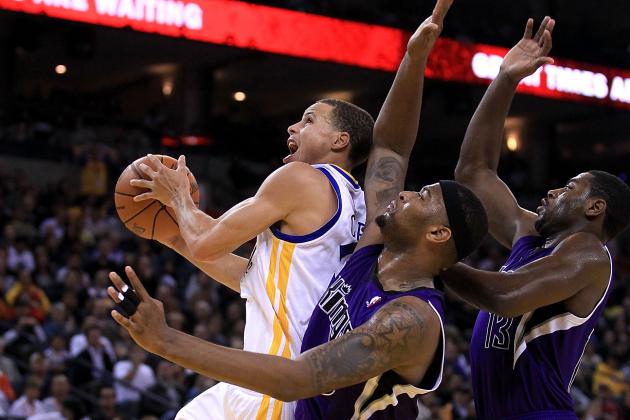 Ezra Shaw/Getty Images
Kings DeMarcus Cousins and Tyreke Evans
Obviously not everyone can make this list, and I tried to include some up-and-coming duos that could wreak havoc on the NBA next season.
Last season DeMarcus Cousins showed why the Kings used their fifth overall pick in the 2010 NBA Draft to select the former Kentucky star. Cousins flourished after assistant coach Keith Smart was promoted, averaging 18 points and 11 rebounds per game.
However, later in the season, he regularly put up 30 points and 15 rebounds per contest, showing flashes of what's to come. Cousins has always had a chip on his shoulder, but under Smart, it seemed like he was able to turn that chip into in-your-face domination.
The wild card for the Kings is Tyreke Evans. The former Rookie of the Year averaged 16.5 points, 4.6 rebounds and 4.5 assists per game last season, but seemed to disappear at times.
If he can become more consistent, this duo will thrive for years to come.
They have as much talent as any of the other dynamic duos, but they're still young and have yet to put it all together. A true point guard would greatly benefit them, but I think Sacramento could be in for a breakout season next year.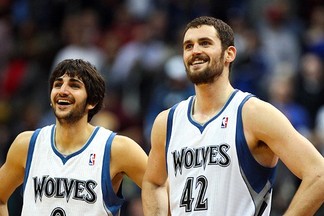 Timberwolves Ricky Rubio and Kevin Love
Point guard Ricky Rubio made a big splash last season before going down with a torn ACL. The Spaniard showed that he is one of the most promising young point guards in the league, and when combined with all-star and 2013 MVP candidate Kevin Love, the T-Wolves should be in the playoffs next season.
Rubio averaged 10.6 points, 8.2 assists and 4.2 rebounds per game as a rookie. Expect to see his scoring output increase this season as he continues to improve his shot. He averaged those 10 points on only 35.7 percent shooting.
A big question mark for him coming in was his defense. He quieted his critics by posting a solid 2.2 steals per game in his first year.
There's not much that has to be said about Love, who averaged 26 points and 13 rebounds per game. He should benefit tremendously from a full season with a refined Rubio to help shoulder the load.
Depending on their draft pick, watch out for the Timberwolves in 2013.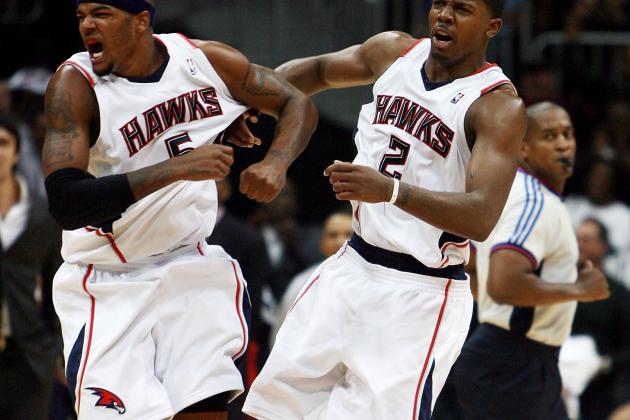 Doug Benc/Getty Images
Hawks Josh Smith and Joe Johnson
Josh Smith has steadily improved since his rookie year and had a great season last year, averaging 16.8 points, 13.6 rebounds and 4.8 assists per game. He reportedly has asked for a trade, and his contract will expire after this season.
But it would be great to see him stay and play with Atlanta's franchise player Joe Johnson. While Johnson may have underachieved slightly to some people, he still scored 17.2 points, 3.5 rebounds and 3.5 assists per contest.
I think with a full season of Jeff Teague and Al Horford in action, the Hawks could be dangerous again next season, and might finally get over the hump.
Both players could be more consistent, and they might need to both be scoring 20 points per game in order for Atlanta to realize its full potential.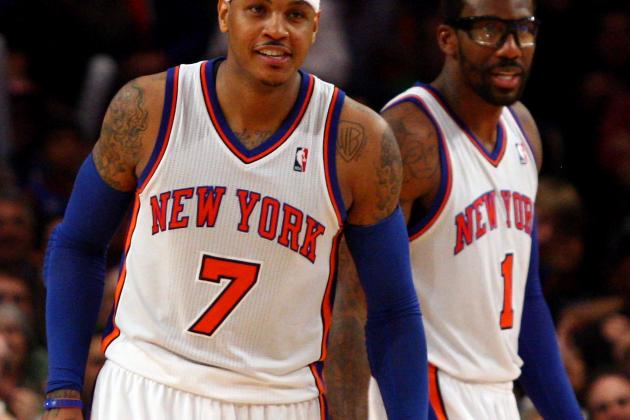 Chris Chambers/Getty Images
Knicks Carmelo Anthony and Amar'e Stoudemire
Say what you want about these two guys, but they're still two of the best around. And they're going to be around for a while. They're both locked up and the only tradable player, Anthony, is now the star of New York and isn't going anywhere.
Melo had another big year, averaging 27.8 points and 8.2 rebounds per game. He took command of this team and is now the unquestionable leader. His consistency can certainly use improving, but I think his third year will be the charm.
Amar'e's reputation took a hit this season, as he struggled with injuries—some self-inflicted. His numbers also dipped, scoring only 15.3 points and grabbing 6.5 rebounds per game. Part of it was certainly growing pains and getting accustomed to playing with Anthony, Tyson Chandler and Jeremy Lin.
Anthony and Stoudemire should improve next season as their "big four" builds chemistry, and I expect the Knicks to be a force in the East next season.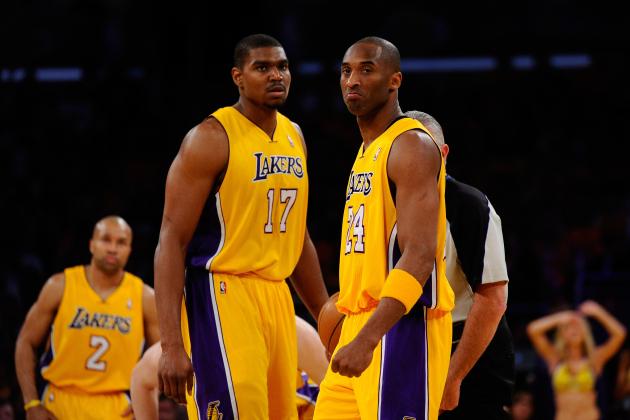 Kevork Djansezian/Getty Images
Lakers Kobe Bryant and Andrew Bynum
Like it or not, Andrew Bynum will be on the Lakers roster in 2013, or at least long enough for L.A. to deal him.
Depending on his play leading up to the trade deadline, however, the Lakers might keep him around to complement their aging Hall of Famer Kobe Bryant, which means it's very likely that Pau Gasol is on the move.
Bynum, who averaged 16.7 points and 11 rebounds per game, can be a dominant force at center but is way too inconsistent and unpredictable to consider him with the game's best. I really think Kobe is slightly at fault—he doesn't do enough to get his big center involved at times.
It must be frustrating to see your guard take a shot almost every time down the floor, rarely passing the ball your way. Kobe needs to trust Bynum more, and Bynum needs to show that he's worth trusting. You can debate the chicken-or-the-egg dilemma all you want, but the bottom line is that one of them must happen.
But other than Dwight Howard, Bynum is the closest thing to Shaq that Kobe can get in the league today.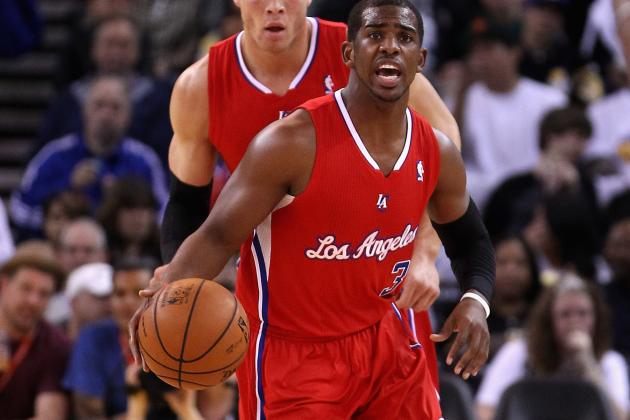 Ezra Shaw/Getty Images
Clippers Chris Paul and Blake Griffin
The other L.A. team had the breakout dynamic duo of the season.
Chris Paul and Blake Griffin had such a great year that they renamed Los Angeles "Lob City."
The Paul-Griffin duo hit it off immediately, and with another piece or two, the Clippers will be competing for the West's crown in no time.
Paul averaged 17.6 points, 7.9 assists and five rebounds per game in his first season with the Clippers, the only knock on him being that he didn't look for his own shot as much as he could have. CP3 can be a 20-point scorer on average, and will need to be if L.A. wants to get out of the second round of the playoffs.
Meanwhile in his second season, Griffin was outstanding. He averaged 16.9 points, 6.9 rebounds and 2.5 assists per contest. Expect to see those rebounding numbers in double-digits next season, and maybe even the scoring numbers in the 20s. If he develops a jump shot, watch out.
The Clippers have the core to build around, now they just need another consistent perimeter starter who can score and defend.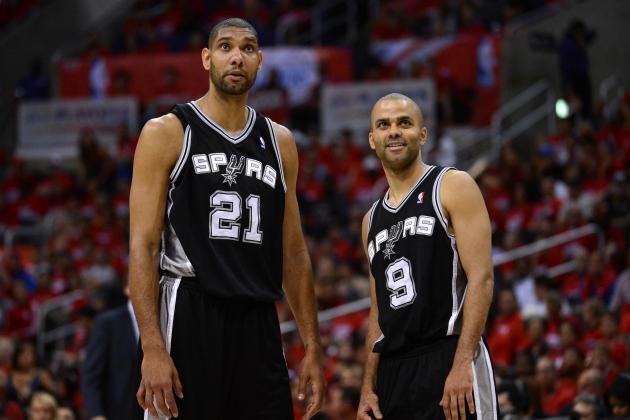 Harry How/Getty Images
Spurs Tim Duncan and Tony Parker
These two aging wonders showed they still have it.
Parker was an MVP candidate this season and still can be next year. Duncan's minutes were severely curtailed this season, but he still put up the solid numbers that we're used to seeing from Timmy.
The power forward averaged 17.4 points, 9.4 rebounds and 2.8 assists per game. Those are great numbers and were registered while playing at the center position often. The Spurs need a big rebounding center to take the pressure off Duncan down low.
Parker averaged 20 points, 6.8 assists and 3.6 rebounds per contest in a career year. The Frenchman is still in his prime and showed the world that he might just be better than Chris Paul. Russell Westbrook certainly respects him.
Out of the core players, I think Manu Ginobili is the most movable. He's older than Parker and far less consistent, yet he still has value because of his point production in the postseason. San Antonio should look to move him, in addition to some other players, and try to bring in a wing player who can create his own shot and not just hoist three-pointers.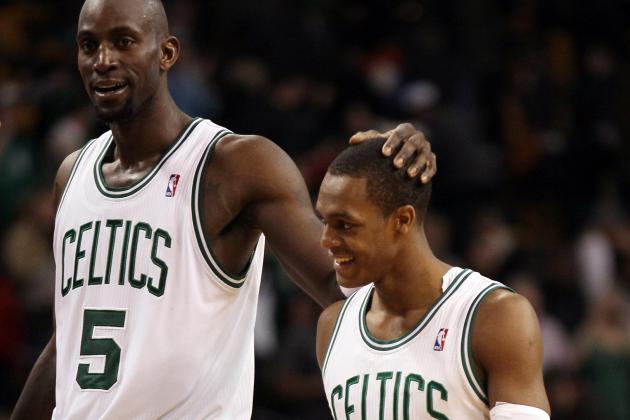 Elsa/Getty Images
Celtics Kevin Garnett and Rajon Rondo
Kevin Garnett is still a monster, and Rajon Rondo is arguably the best point guard in the game.
These two Celtic greats carried this team to a Game 7 in the Eastern Conference finals. If any of the Boston stars are let go, it shouldn't be either of these guys. It might be tough to move Ray Allen and Paul Pierce, but I think those are the two most expendable Celtics.
It's possible for the Celtics to make another run at it if they simply add instead of subtract.
Rondo averaged 17 points, 11.9 assists and 6.7 rebounds per game and was a triple-double machine. Garnett scored 19 points and grabbed 10 boards per contest.
With this dynamic duo still on the roster, Boston will still be in the mix in the East next year.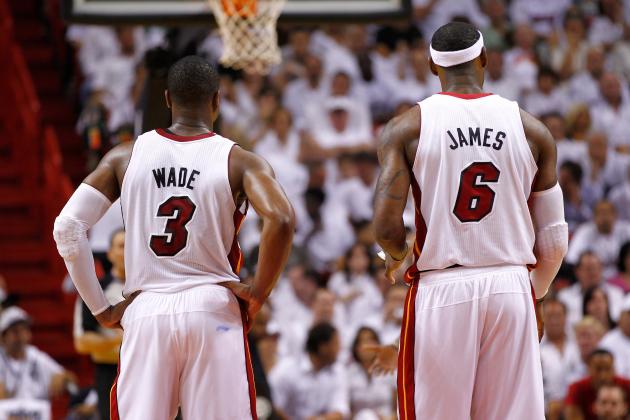 Mike Ehrmann/Getty Images
Miami's LeBron James and Dwyane Wade
The closest duo to Michael and Scottie, James and Wade have been outstanding since they teamed up in 2010, having reached the finals in both seasons.
James won another MVP this year, averaging 30.8 points, 9.6 rebounds and five assists per game, but anything short of a title will render those marvelous stats meaningless. Wade pitched in with 22.9 points, five rebounds and four assists per contest, but has been somewhat inconsistent in the postseason.
Many would argue that this is easily the best dynamic duo, but I think they offer too much of the same thing to be 'dynamic.' They are probably the best defensive duo, but they still look confused when it comes down to crunch time—in terms of who gets the ball when.
These two could be the most scrutinized players of all time if they lose to the Thunder in the finals.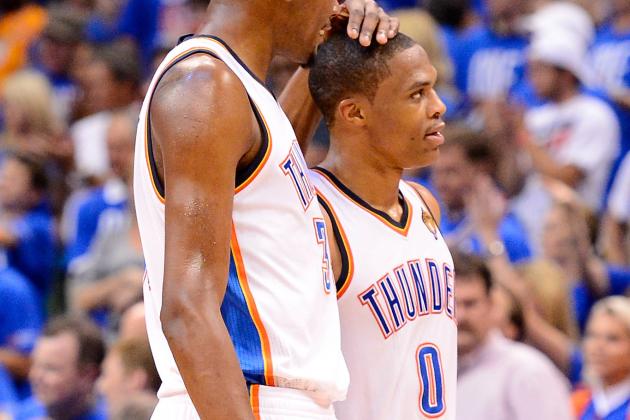 Ronald Martinez/Getty Images
Oklahoma City's Kevin Durant and Russell Westbrook
Westbrook and Durant are the top dynamic duo in the NBA, because they can both do it all, but at the same time, give defenses different looks.
Westbrook is lightning quick and can get to the rim in a blink of an eye, beating you with his speed and his constant, unrelenting attack. This, of course, allows him to pull up for a mid-range jumper.
It's the opposite for Durant, who is the best pure shooter in the league today. He can rain on you from downtown, which sets up his dribble-drive. Durant also explodes to the rim, but when he gets there, he uses his length to maneuver around outstretched defenders.
He averaged 27.8 points, 7.9 rebounds and 4.2 assists per game to win his third straight scoring title. Westbrook put up 21.7 points, five rebounds and 5.6 assists per game.
They can both shoot and they attack the rim in different ways, keeping the defense off-balance. The key for this dynamic duo, however, is the killer instinct. These two almost always make a play when the game is on the line, unlike Wade and James.
They're also excellent at the free throw line. Both have totally different mindsets while playing the game, making them the most dynamic.
Durant and Westbrook combined for the most points by a duo in Game 1 of the NBA Finals ever, and can could be the best duo for the next ten years.