Poland vs. Russia: 5 Things We Learned from Euro 2012 Group A Match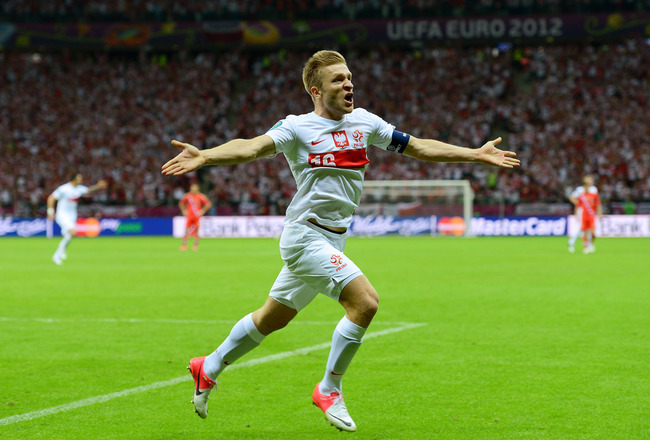 Shaun Botterill/Getty Images
There are a few things to draw from Poland and Russia's 1-1 tie today. The game had exciting moments and two exceptional goals, but in the end, no one came out on top.
The importance of the result for the rest of the group and the future of certain players' roles within the squad are just a few of the things we shall touch upon.
Today's games have kicked off Round 2 of Euro 2012 group stages on a really good note, and we can only hope it continues tomorrow.
Here are five things we learned from this Group A encounter between Poland and Russia.
Group A Is Wide Open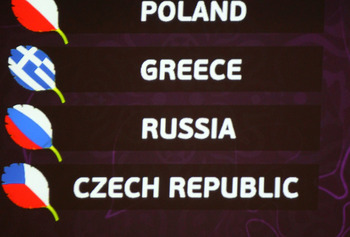 Russia and the Czech Republic have the best chance of progressing, with four points and three points, respectively.
However, the Poles and Greeks still have every chance of going through. A win is needed for either side to progress, and if everything goes well, they can both get the necessary three points.
The Greeks play Russia next and Poland plays the Czech Republic. It is easier to see a Polish win than a Greek win, but anything is possible.
Roman Pavlyuchenko Should Start Russia's Next Game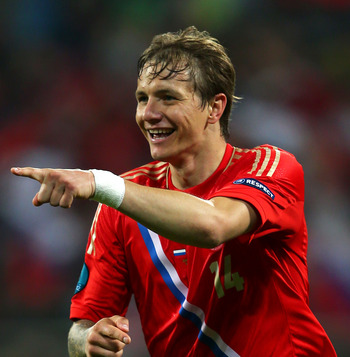 Clive Mason/Getty Images
Alexander Kerzhakov and Roman Pavlyuchenko should have their roles reversed for Russia's remaining game against Greece.
The styles of both players and their form in front of goal thus far in the tournament should make it an easy decision for Russian coach Dick Advocaat.
Pavlyuchenko is more of the back-to-goal hold-up player that Russia needs up front, while Kerzhakov's tireless running and attacking mentality would serve the team well coming off the bench.
Pavlyuchenko has scored one goal and added one assist in fewer minutes than his counterpart, who has continued to show inefficiency in front of goal.
Though Pavlyuchenko was not able to have the same effect against Poland as he did against the Czech Republic, he has already shown what he can do in his limited time so far.
Andrey Arshavin's Game Time Should Be Limited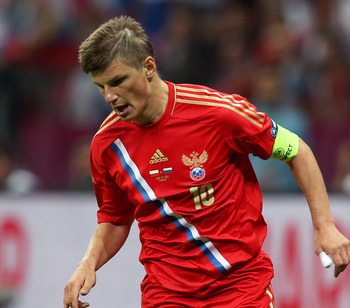 Alex Grimm/Getty Images
With three assists, Andrey Arshavin is currently leading the Euro 2012 field in that category, but has done most of his work in the first 75 minutes of both of his games before fading.
The Arsenal attacker has more freedom with his national team than he does with Arsenal and is showing his skills on the international stage once again.
Unfortunately for Russia, he does not seem like he can last a full 90 minutes throughout the tournament. If the Russians go far in this tournament, it is likely that Arshavin's fitness issues will become more of a problem, and that is something Dick Advocaat needs to address right away.
The Russians would have been better off with a more energetic player on the field against Poland, and they have creative subs, like Marat Izmailov, to replace Arshavin.
Poland Needs to Use Jakub Błaszczykowski More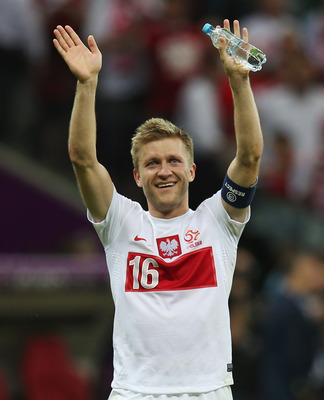 Alex Grimm/Getty Images
Everyone knows the threat that Robert Lewandowski poses for Poland. His compatriot and fellow Borussia Dortmund player, Jakub Blaszczykowski, should be equally feared.
He has played a part in both of Poland's goals in the tournament, assisting on Robert Lewandowski's tournament opener against Greece and, of course, scoring a phenomenal goal against Russia.
His strike against Russia was an example of the wonderful skill the winger has, but that is not all there is to him. The midfielder has some great speed, as well as some good dribbling skills, and can use his creativity to great effect for his side.
We Will Be Seeing This Poland Team in Brazil in 2014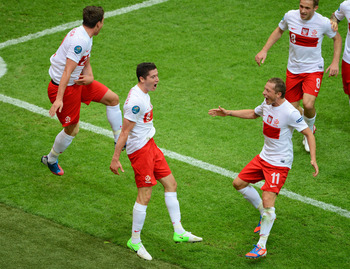 Shaun Botterill/Getty Images
Though we don't want to get too ahead of ourselves here, there really isn't much else to be said about Poland in this tournament.
They have impressed so far with their play, we know how much home support has helped the team, we know about their key components, and they still have every chance of making it to the quarterfinal round.
Looking at the team Poland has selected for the tournament, considering the way they play and their group for FIFA 2014 World Cup Qualifying, we should be seeing this team in Brazil.
There are only two starters in the team who are at least 30 years old, but they will most certainly be playing a part in qualification and will most likely be at the tournament itself, should they make it.
They will have their work cut out for them against England, Montenegro and Ukraine, but a second-place finish in the group is not out of reach.
Keep Reading