How to Speed Up the Rebuilding Process for Each NBA Lottery Team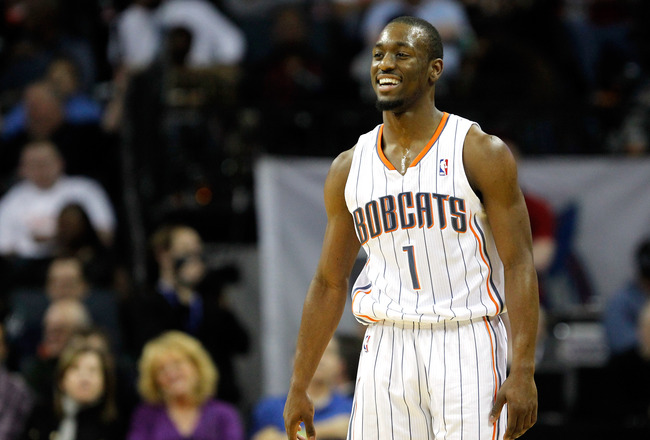 Streeter Lecka/Getty Images
No NBA team likes sitting and watching the playoffs from the comfort of their couches, but that's exactly what these 14 teams have had to do over the last few weeks.
If they follow the rebuilding tips I present in the following slides though, they'll be back and competing for a title in little to no time. Well, in some cases at least.
There's never an easy way to rebuild quickly in the NBA. Teams' successes tend to ebb and flow, although franchises in major markets have a distinct advantage because of the appeal during free agency.
Sometimes patience is key.
However, for the impatient, these are the quick fixes.
Brooklyn Nets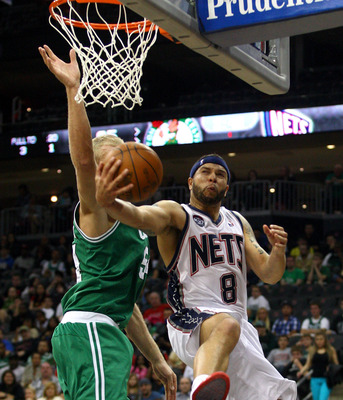 Chris Chambers/Getty Images
For the Brooklyn Nets, the rebuilding process—and the team—revolves utterly and completely around the decisions of Deron Williams.
One of the best point guards in the league, D-Will made it clear that he will only return to the team if he's paired up with Dwight Howard. After all, he holds the cards now that he's a free agent and can choose where he plies his trade.
However, he then denied the reports that it was Dwight or bust when it came to his future with the newly relocated Nets.
Now that the team has lost its top-three protected pick to the Portland Trail Blazers, the sole focus of the offseason must be convincing the point guard to stay. With him running the show for another season, Gerald Wallace and Brook Lopez would be far more compelled to remain with the team as well.
The destination also becomes much more attractive for potential free-agent signings like Ersan Ilyasova.
It's hard to believe now because of their poor record last season, but this team isn't too far removed from playoff contention. All it takes is a little bit of luck and a little bit of health.
If Williams remains with the team, we could be looking at a potential playoff-quality starting lineup of D-Will, MarShon Brooks, Wallace, Ilyasova (who would come via free agency in this hypothetical situation) and Lopez.
Charlotte Bobcats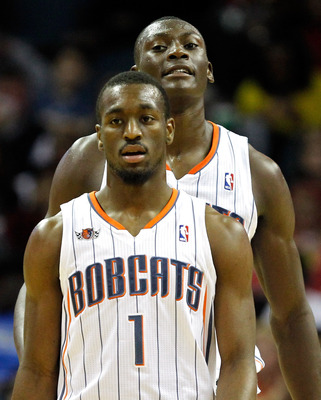 Streeter Lecka/Getty Images
The Charlotte Bobcats can only go up after setting the NBA record for futility during the 2011-2012 regular season. It seems painfully obvious that the rebuilding process is going to be a slow one, especially after missing out on the No. 1 pick.
Anthony Davis would have helped to speed up the climb back to the postseason, but the New Orleans Hornets jumped up in the order and forced the Bobcats into a questionable decision at No. 2.
Now, speeding up the process is all about making the right call with their top draft pick.
The Bobcats currently have two good young guards, Kemba Walker and D.J. Augustin, and two good young frontcourt members, Byron Mullens and Bismack Biyombo. Without much hope of competing in the near future, devoting significant playing time to those developing players is not a "should," but rather a "must."
So, what to do with that No. 2 pick? The options are as follows:
Michael Kidd-Gilchrist
Drafting MKG is a nice move because he's going to succeed in the NBA in some capacity and he fills a positional need. However, he's a defense-first small forward with an extraordinarily raw offensive game.
He doesn't fit in with the current roster and system the Bobcats have in place, even if he is their best option at No. 2, should they choose to keep the pick
Thomas Robinson
The high-energy power forward would be an upgrade over either Mullens or Biyombo, but why focus on a position of relative strength?
Bradley Beal and Andre Drummond
The same argument that was stated above for Robinson also applies here.
As a result, the Bobcats could best speed up the rebuilding process by trading down and either adding an extra lottery pick or a new, intriguing young player to their roster.
Cleveland Cavaliers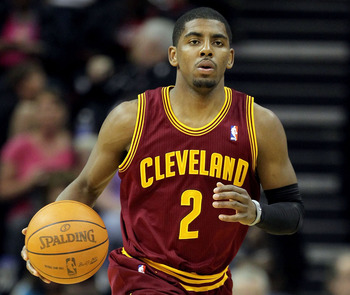 Andy Lyons/Getty Images
The Cleveland Cavaliers don't need much help in speeding up the rebuilding process, because the moves they've already made have done a remarkably good job of accomplishing exactly that.
Cleveland needs to continue to devote a large portion of the playing time to Kyrie Irving and Tristan Thompson. Irving has earned that run with a sensational rookie season that already has him nearing the ranks of the truly elite point guards in the NBA; Thompson still needs to prove that he deserves to have a role carved out.
With Irving, Thompson and Anderson Varejao, the Cavs already have an intriguing core that can compete with the better teams in the NBA on a nightly basis.
All it's going to take for them to make the jump is continued development and the addition of a shooting guard who's better than Daniel Gibson. Preferably one without a nickname like "Boobie."
At No. 4 in the 2012 NBA draft, there's a serious chance that the Cavs could add Bradley Beal to their roster. He's the perfect pick for the team and my personal choice to be the second-best player from this upcoming draft class.
Cleveland's management needs to do whatever it takes to get Beal. If that takes constant calls to the Charlotte Bobcats and Washington Wizards in an attempt to convince them that Beal is highly overrated and would make their teams worse, then so be it.
Detroit Pistons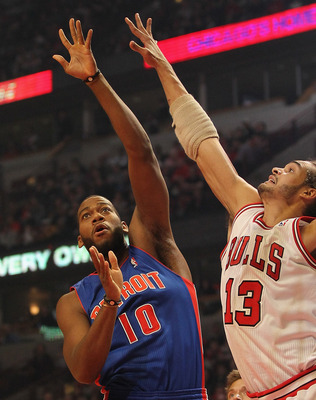 Jonathan Daniel/Getty Images
Between Rodney Stuckey, Brandon Knight and Greg Monroe, it's hard not to like the young core that the Detroit Pistons have built.
Now, to speed up the development, they need to completely hand over the team to that trio of players. Don't allow anybody to stand in their way, even if they're veterans lining up at a different position.
That means trading away Tayshaun Prince, despite the loyalty he's shown to the team over his many years in Detroit. As long as Prince remains with the squad, he's going to be the de facto leader and one of the young guns won't be forced into that role.
Monroe especially is a player who I'd like to see step up even more. He's already established himself not only as one of the best young big men in the league, but as one of the best big men of any age.
Maximizing Monroe's output is another key, and to do that the Pistons need to add a fellow frontcourt member who can either draw defensive attention away from Monroe to make up for his lackluster athleticism, or play such good defense that Monroe can conserve a little more energy on that end of the floor.
I'm looking at Jared Sullinger or John Henson here and one of the two, if not both, should be available when it's the Pistons' turn to draft at No. 9.
Golden State Warriors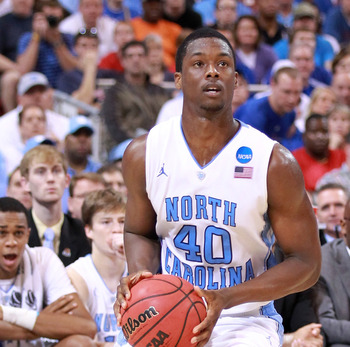 Andy Lyons/Getty Images
It's a two-step process for the Golden State Warriors to make a quick turnaround from lottery team supreme to playoff contender.
The first is finding a small forward better than Dorell Wright to line up alongside the rest of the good players on the team. That shouldn't be hard, which makes rephrasing necessary. The first step is actually finding a small forward who is significantly better than Wright.
Because the Dubs aren't the most attractive free-agent destination, the best way to approach this is through the draft. With the No. 7 pick in the 2012 NBA draft, Golden State should be looking to either add Harrison Barnes, assuming he falls that far, or pick up Perry Jones III and convert him into a mismatch at small forward.
The second step is to hire a new trainer who can actually keep this team healthy. With Stephen Curry's glass ankles and Andrew Bogut's entire body, this needs to be a pretty big priority.
However, if both of the aforementioned players can remain healthy, then this team should put up a lot of points and play with an increased focus on the defensive end of the court.
Houston Rockets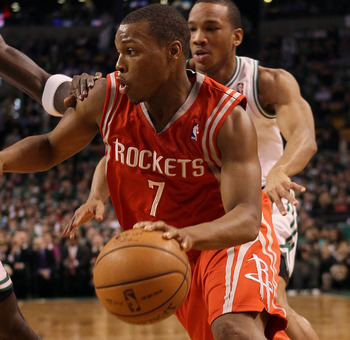 Elsa/Getty Images
As much as I hate to use the "stay injury-free" method on back-to-back teams, it applies once more to the Houston Rockets.
There's a lot of talent in Houston, especially if the team can somehow convince Goran Dragic to stay and serve as a sixth man. Had Kyle Lowry and Kevin Martin stayed on the court for the duration of the 2011-2012 regular season, the Rockets would have ended up in the playoffs.
If the team retains the services of Courtney Lee, now a restricted free agent, they can even afford to go the Meyers Leonard route in the draft and take a project player with high upside in the future. They don't need one more big contributor in order to compete in the Western Conference.
Milwaukee Bucks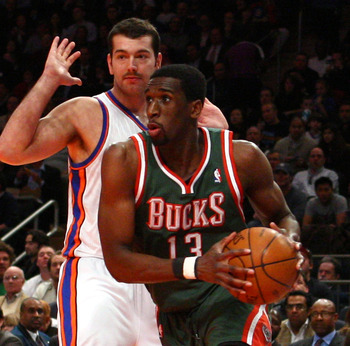 Chris Chambers/Getty Images
The Milwaukee Bucks have to focus their attention on the frontcourt during this season, especially with two borderline All-Stars comprising the backcourt.
Thanks to the addition of Monta Ellis in the Andrew Bogut trade, the Bucks currently have one of the best one-two punches of any NBA team. The only potential problem is that Brandon Jennings and Ellis both enjoy shooting the basketball so much that they could come to blows if they feel like the other is stealing too many shots.
It wouldn't surprise me if Jennings and Ellis padded their stats in the steals department by swiping the ball away from each other.
As for the frontcourt, it's going to be rather bereft of established talent once Ersan Ilyasova leaves in free agency. Ekpe Udoh has potential, but I'd call him a lot of things before I used the word "established."
Regardless of how they do it—through the draft or signing free agents—the frontcourt needs to be renovated.
Minnesota Timberwolves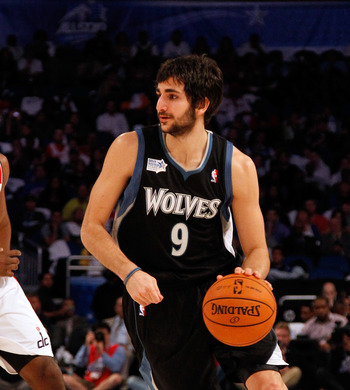 Mike Ehrmann/Getty Images
Kevin Love wants the Minnesota Timberwolves to add some experienced veterans to neutralize the youth in the team's core, and that's exactly what David Kahn and the rest of the Wolves' brass needs to focus on this offseason.
If Minnesota uses its abundance of frontcourt talent in a swap with a team to add someone like, say, Kevin Martin to the roster, the result could be scary for the rest of the Western Conference.
Before the devastating injury to Ricky Rubio, this team was already a fringe playoff contender out West. That was before the increased development of Love, Nikola Pekovic, Derrick Williams and the other young guns on this fun-to-watch squad.
If Rubio stays healthy and lowers the amount of turnovers he gives up, this team should have enough talent to make the postseason at the conclusion of the 2012-2013 regular season.
They're only a shooting guard away from potentially being elite. That 2-guard could be a broken-out version of Wesley Johnson, an acquisition or a sleeper pick that slips to Minnesota at No. 18 in the 2012 NBA draft.
New Orleans Hornets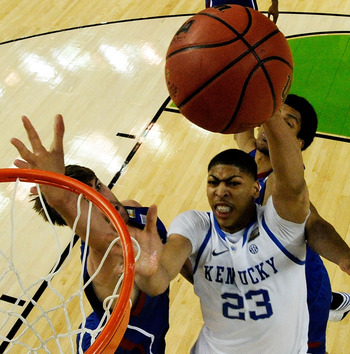 Pool/Getty Images
Pick Anthony Davis at No. 1.
Done.
In all seriousness though, there's more to the rebuilding process for the New Orleans Hornets, even if that is the easy and obvious first step. If the Hornets don't pick the unibrow at No. 1, I just give up...
New Orleans also has the No. 10 pick in the draft and should use it to complete a new-look frontcourt. The team is already set at the other positions after all, assuming that Eric Gordon doesn't use his newly healthy knee to bolt to a new franchise during the offseason.
With Al-Farouq Aminu developing at small forward and Jarrett Jack continuing to thrive below the spotlight at point guard, small forward is the biggest priority. I'd love to see the Hornets select Davis' former teammate, Terrence Jones, at No. 10.
Davis is good enough to lift this squad into playoff contention, but New Orleans has to make the right moves around him.
Phoenix Suns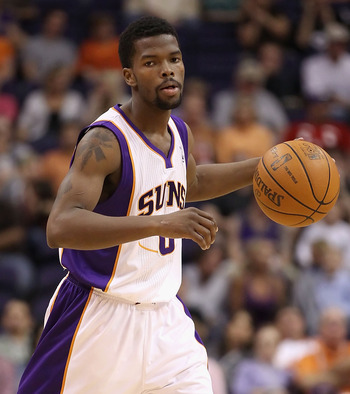 Christian Petersen/Getty Images
If the Phoenix Suns are going to make the playoffs, they need to address two problems.
First, they need to settle the point guard situation. If Steve Nash stays, this problem is already solved, but it gets more complicated if he leaves for greener pastures in the 2012-2013 season.
One of the three options is to retain the services of Aaron Brooks, now that he's returning from China as a restricted free agent. The second is to sign a free-agent point guard like Goran Dragic or Jeremy Lin. The third is to draft an NBA-ready point guard like Kendall Marshall with the 13th pick of the 2012 NBA draft.
Any of the three will work, as long as the second problem is solved and Phoenix owner Robert Sarver is willing to spend money on young, high-quality players during the free agency period.
The Suns narrowly missed out on a playoff spot this season and feature a few solid, albeit unspectacular, players in Marcin Gortat and Jared Dudley. Improving the talent on the wing and ceasing to throw Grant Hill out in such a prominent role could make all the difference.
Portland Trail Blazers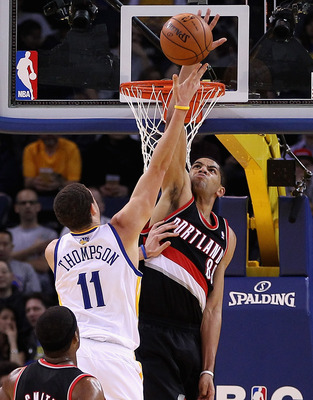 Ezra Shaw/Getty Images
If Nicolas Batum returns to the Portland Trail Blazers, then the team will continue to have an intriguing duo to build around in LaMarcus Aldridge and the French small forward.
Portland has two lottery picks in the 2012 NBA draft, thanks in large part to the Brooklyn Nets. Hitting on both of those picks would be a great panacea for all the bad luck this franchise has endured throughout the last few years.
I'd love to see Portland decide to completely renovate the backcourt and part ways with both Jamal Crawford and Raymond Felton. Drafting Jeremy Lamb at No. 6, whom I seem to be higher on than most people, and Damian Lillard (or Kendall Marshall if Lillard is off the board) at No. 11 would be an incredible way to do that.
Portland could potentially throw out a starting lineup of Lillard, Lamb, Batum, J.J. Hickson and LaMarcus Aldridge and compete with almost anyone.
Sacramento Kings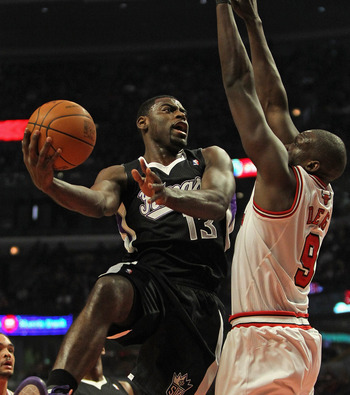 Jonathan Daniel/Getty Images
The Sacramento Kings need to convert some of their backcourt logjam into help in the frontcourt, ideally by trading Tyreke Evans for a true small forward or power forward.
This team is so chock full of young guards—Evans, Isaiah Thomas, Jimmer Freddette, Marcus Thornton—that the development of each is being slowed down. Obviously, speeding up development goes a long way towards speeding up the rebuilding process.
Sacramento also needs to add one more solid player to the frontcourt, as DeMarcus Cousins can't shoulder the load by himself. He might think he can, but that's too much of a task for any one human being, no matter how good at offensive rebounding he may be.
With the No. 5 pick in the 2012 NBA draft, which is sure to be full of high-quality power forwards and centers, the Kings have plenty of options to choose from.
Andre Drummond may have the most upside of any of the players who should be available at No. 5, but he's a project player in won't exactly fit the quick rebuilding process goal that this article is aiming for.
However, he's just too good to pass up at that spot, unless Thomas Robinson somehow drops out of the top four.
Toronto Raptors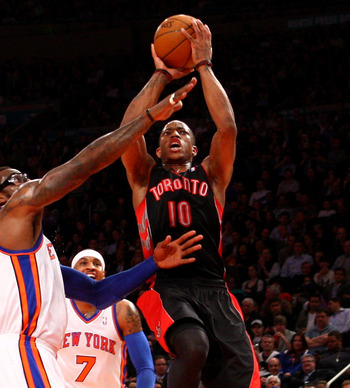 Chris Chambers/Getty Images
The Toronto Raptors could be good enough to sneak into the playoffs in the Eastern Conference, but they're going to have to completely rebuild if they ever want to be a true contender.
Unless Jonas Valanciunas comes in and proves me wrong during his rookie season, I just don't see a true franchise player in Canada.
Andrea Bargnani clearly isn't the man in Toronto, despite his impressive offensive contributions. Jose Calderon can't improve his play and become much more than an elite but limited facilitator. DeMar DeRozan may score a lot of points, but I'm starting to think that he's the most overrated player in the NBA.
This team features a lot of good players, but very few elite ones. Utilizing their bulk of frontcourt players and adding a high-upside young player might be in the team's best interest.
Moreover, getting lucky and having Harrison Barnes or Jeremy Lamb fall to No. 8 in the draft is almost a must.
Toronto needs to focus on winning enough to get into the playoffs now, then continuing the rebuilding process in the coming years.
Washington Wizards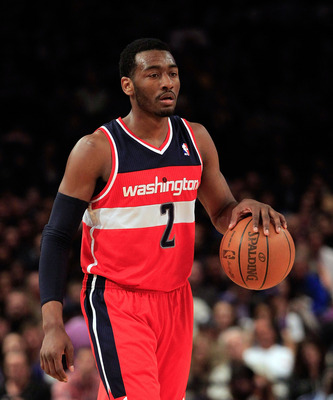 Chris Trotman/Getty Images
All that the Washington Wizards need is one more quality piece to the puzzle and then some time for their numerous young players to develop.
John Wall hasn't exactly been the player the Wizards expected when they took him with the top pick, but he hasn't had many other options to complement him in the nation's capital. With Nene Hilario now lining up at center for a full season, that excuse is now out the window.
As long as Jordan Crawford doesn't wreck the team's progress with his conscience-less shooting, Washington may surprise a lot of people next season. Chris Singleton and Jan Vesely should both develop quite a bit in their second seasons with the team.
Adding Thomas Robinson or Michael Kidd-Gilchrist at No. 3 in the draft, depending on who the Charlotte Bobcats select with the previous pick, would give Wall a running mate in transition and increase the offensive firepower of this team by a large margin.
Keep Reading