2012 NBA Mock Draft: Players Who Will Immediately Help Playoff Contenders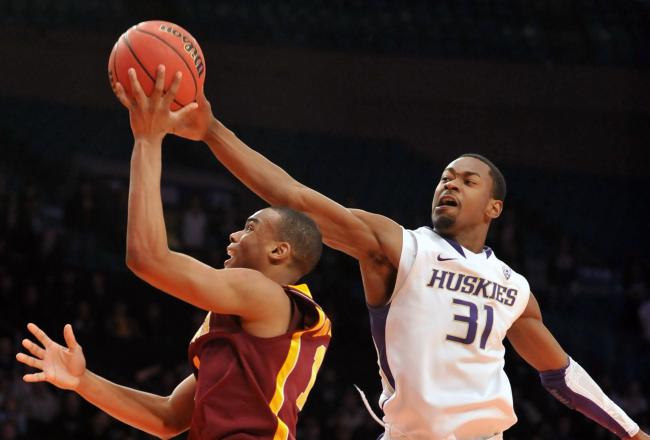 Jason Szenes/Getty Images
Not everyone has to be an All-Star.
Even in what looks to be an absolutely stacked draft class, not every team will get itself a budding star who will dominate the game.
But that's fine, because the teams drafting near the end of the first round are already playoff teams. They don't need an All-Star. They just need a role player who will likely fill their only major need.
In my newest first-round mock draft, I'll take a closer look at the players who will have a Kawhi Leonard- or Kenneth Faried-type impact on playoff teams.
Note: These players are in italics
Also note: All following stats come from DraftExpress.com.
1. New Orleans Hornets (21-45): Anthony Davis, PF, Kentucky
This is obviously the easiest pick in the draft.
The Hornets need lots of frontcourt help, and Davis has a rare blend of length, athleticism, and basketball IQ. He'll protect the rim with ease, and he even has a developing offensive skill-set from mid-range.
No. Brainer.
2. Charlotte Bobcats (7-59): Thomas Robinson, PF, Kansas
The Bobcats could go a number of different directions here, but they won seven games last season.
Who will be the second pick of the draft?
Seven.
They need immediate help, and of the options for the second pick, Robinson provides the most NBA-ready game.
He's a ferocious rebounder, but he also has good length, athletic ability and can even step out to the NBA three-point line and knock down the shot.
3. Washington Wizards (20-46): Michael Kidd-Gilchrist, SF, Kentucky
John Wall and Michael Kidd-Gilchrist on the fast break together? Geez, queue the highlight reels.
Despite being a poor shooter, MKG is great on the break, defends a variety of positions and simply has a passion for winning that few other players have.
The Wizards would do very well to get a player like that.
4. Cleveland Cavaliers (21-45): Bradley Beal, SG, Florida
Beal may have struggled with his consistency from beyond the arc at Florida, but he has a sweet stroke that will turn him into a sharp-shooter soon enough.
Throw in his good size and ability to defend, and there's no way the Cavs can pass on the Florida product.
A Kyrie Irving-Bradly Beal backcourt will dominate the NBA for a long time.
5. Sacramento Kings (22-44): Andre Drummond, PF, Connecticut
Andre Drummond is clearly the best player available, but according to Pro Basketball Draft via Twitter, Sacramento wants a good locker-room presence.
That isn't necessarily Drummond
The super-young Kings could trade this pick for a solid veteran, or they could surprise by taking someone like John Henson.
For now, however, I'll stick with Drummond, just because I don't think he'll slip beyond No. 5.
6. Portland Trail Blazers (via 22-44 Brooklyn Nets): Damian Lillard, PG, Weber State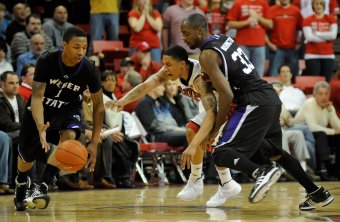 Ethan Miller/Getty Images
The Blazers need a point guard, and while Lillard isn't the prototypical table-setter, he is an electric scorer.
He's lightning quick going to the hoop and has very deep range on his three-point shot. He reminds me a bit of a less-athletic Russell Westbrook, and the Blazers should not pass up on the quickly-rising point guard.
7. Golden State Warriors (23-43): Harrison Barnes, SF, North Carolina
Barnes has the talent to be drafted in the top three, but his inability to create his own shot and struggles with Kendall Marshall in the NCAA Tournament may drop him a couple of picks.
Still, the former Tar Heel has prototypical size for an NBA small forward and can absolutely light it up from the outside.
The Warriors will welcome him with open arms.
8. Toronto Raptors (23-43): Jeremy Lamb, SG, UConn
Lamb is a very intriguing prospect.
He sometimes disappeared during his time with the Huskies, but there's no denying his immense talent. His 6'11" wingspan will make him a force on defense, and he's also scary athletic and silky smooth on the offensive end.
Hearing Lamb's name in the top 10 would not be surprising.
9. Detroit Pistons (25-41): John Henson, PF, North Carolina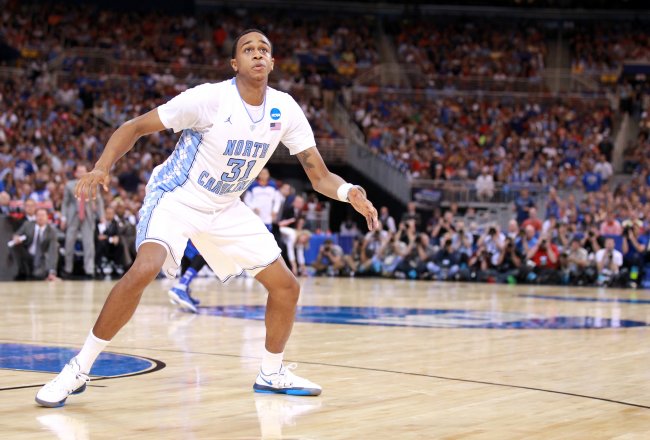 Andy Lyons/Getty Images
Much like Anthony Davis, Henson is long, athletic and has a developing offensive game. He's been shooting up draft boards and would complement Greg Monroe fantastically down low in Detroit.
At the very least, he'll defend the rim like a monster. If he continues to improve his solid mid-range jumper, however, he has the potential to provide a Serge Ibaka-type impact.
10. New Orleans Hornets (via 26-40 Minnesota Timberwolves): Jared Sullinger, C, Ohio State
Yes, the Hornets got Anthony Davis with the first pick, but they will still need more frontcourt depth.
Sullinger, who is a force down low and has a terrific post game, is the perfect opposite to Davis. These two would cause lots of problems for opposing defenses and offenses.
Who will be the better pro?
11. Portland Trail Blazers (28-38): Meyers Leonard, C, Illinois
The Blazers need a center, and Leonard's performance at the NBA combine has been raising his stock.
This might make too much sense.
Leonard is a bit of a project, and Tyler Zeller is an option here, but the Illinois big man has great size and a good offensive game.
12. Milwaukee Bucks (31-35): Perry Jones III, PF, Baylor
Ersan Ilyasova could leave via free agency, and who knows how long Drew Gooden will produce. The Bucks need some frontcourt depth.
Jones might be better served as a freakish small forward, but if he works on his motor and rebounding skills, he'll be a scary-good power forward.
13. Phoenix Suns (33-33): Dion Waiters, SG, Syracuse
According to ESPN's Chad Ford, Waiters has canceled his workouts, with Portland, Toronto and Phoenix all teams that may have given the scoring shooting guard a "promise."
Waiters can score in a variety of ways, and may be a future Sixth Man of the Year award winner. The Suns need an injection of energy and athleticism on the wing and Waiters would give them that.
14. Houston Rockets (34-32): Tyler Zeller, C, North Carolina
The Rockets don't have any major needs except center, where Samuel Dalembert and Marcus Camby currently reside.
Zeller is the best true center available, and this seems like a no-brainer.
15. Philadelphia 76ers (35-31): Austin Rivers, SG, Duke
The Sixers would probably be better served grabbing a big man, but if Austin Rivers falls this far, they won't let him drop any further.
The former Blue Devil has some things to work on, but he is going to be a very good scorer at the next level. He has a devastating crossover and is never afraid to take the big shot from the outside, where he has deadly range.
16. Houston Rockets (via 36-20 New York Knicks): Terrence Ross, SG, Washington
The Rockets were right on the fringe of the playoffs this year, but if they manage to grab Tyler Zeller and Terrence Ross, they won't have to wait much longer to see the postseason.
Ross would start the season backing up Kevin Martin, but Ross' game is more complete, and his ability to contribute right away will make him a contender to take over the starting spot, especially when you consider Kevin McHale's lack of trust in Martin.
Ross is incredibly athletic. He's arguably the best leaper in this draft and will be a force on back-cuts and fast breaks.
But that athleticism also helps him rise over defenders on his accurate outside shot and play extremely tough on-ball defense.
The young shooting guard often disappeared from games at Washington, but if he sticks with an aggressive approach, he is going to have a magnificent NBA career.
17. Dallas Mavericks (36-30): Kendall Marshall, PG, North Carolina
If the Mavericks, who need a point guard of the future, can grab Marshall here, consider it a steal.
The uber-important point guard at North Carolina is the purest point guard in this draft. He may not have ideal quickness or shooting ability, but his vision and passing ability will make everyone around him better.
18. Minnesota Timberwolves (via 36-30 Utah Jazz): Moe Harkless, SF, St. John's
The Timberwolves may have lost their lottery pick, but Harkless has lottery talent.
He must improve his outside shooting, but the Big East Freshman of the Year is long, athletic and a terrific defender. Even if he doesn't become a deadly shooter, he has the potential to be a Josh Smith-type player.
19. Orlando Magic (37-29): Terrence Jones, SF, Kentucky
Jones had a disappointing sophomore year with Kentucky, but he's still a unique talent.
Despite being a bit of a tweener, the former Wildcat is strong and has good ball-handling and shooting skills.
He should the Magic with solid contributions off the bench.
20. Denver Nuggets (38-28): Quincy Miller, SF, Baylor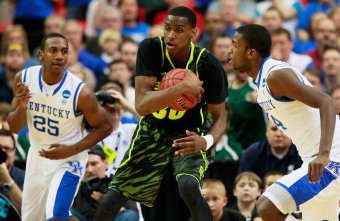 Kevin C. Cox/Getty Images
Just like so many other players in this draft, Miller needs to improve his shooting if he is going to play on the wing. But that doesn't take away from his defensive prowess.
Miller must continue to add speed after a knee injury last year, but he's 6'10" in shoes and has the quickness to guard the two and three. That's going to make him a scary defender at the next level.
21. Boston Celtics (39-27): Arnett Moultrie, PF, Mississippi State
Kevin Garnett's future in Boston is up in the air, but if the Celtics were able to grab Arnett Moultrie as an eventual replacement, that would ease the pain of KG leaving.
Moultrie is big, athletic, a good rebounder and can hit the mid-range jumper with consistency.
Unfortunately for Boston, he's a good candidate to see his stock rise in the coming weeks and may not be available at No. 20.
22. Boston Celtics (via 40-26 Los Angeles Clippers): John Jenkins, SG, Vanderbilt
For a team that came within a quarter of reaching the NBA Finals, the Celtics sure are in a good position to improve.
If they manage to get Moultrie and John Jenkins, the C's will be in good shape next season.
Jenkins may not be a great all-round player, but his deadly shooting will make him the perfect role-player in Boston.
During his junior season with Vanderbilt, Jenkins was often the focus of many SEC defenses, but he still managed to knock down 3.8 three-pointers per game on 43.9 percent shooting. He has a quick release and his game is going to translate to the next level very easily.
A starting backcourt of Rajon Rondo and Avery Bradley with Jenkins lighting it up off the bench will help with the potential loss of Ray Allen.
23. Atlanta Hawks (40-26): Royce White, SF, Iowa State
Unless the Hawks are confident in starting Marvin Williams, they need a small forward.
Well looky here, Royce White is a small forward and provides great value at No. 23.
The Hawks have always been a playoff team that can't get past the first two rounds, but White has the potential to change that.
The former Cyclone is 6'9" with lots of bulk, but he can do anything on the court. During his only season, White led Iowa State in every major category.
His anxiety disorder and maturity were scaring teams, but after absolutely killing his interviews during the combine, most of those worries have been wiped away.
White is mature for his age, and this unique talent will be getting major minutes for Atlanta by the end of the season.
24. Cleveland Cavaliers (via 41-25 Los Angeles Lakers): Fab Melo, C, Syracuse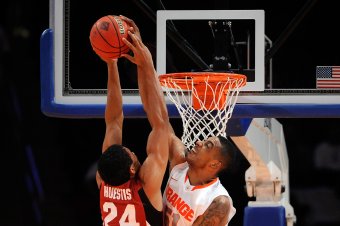 Patrick McDermott/Getty Images
If the Cavs grab Beal with their first pick, they will need to add some more frontcourt depth. They have Anderson Varejao and Tristan Thompson, but Melo gives them yet another defensive force on the inside.
He isn't the brightest cookie in the tool shed (or something like that), but Melo can be a nice situational player off the bench.
25. Memphis Grizzlies (41-25): Tony Wroten, PG, Washington
The Grizzlies need a backup point guard, and while Wroten has the look of a shooting guard, he has the passing and vision to be a PG at the next level.
The Washington product might not contribute for a year or two, but the Grizzlies can afford to take the time to work on him.
26. Indiana Pacers (42-24): Draymond Green, PF, Michigan State
The Pacers need some consistent frontcourt depth, and Green is smart big man who can do everything on the court.
He might not get a ton of playing time in Indiana, but Green will be able to do what is asked of him right off the bat.
27. Miami Heat (46-20): Andrew Nicholson, PF, St. Bonaventure
The Heat are in the Finals, but they could really use another scoring big man besides Chris Bosh. Luckily for them, Nicholson is one of the best scoring big men in the draft.
The rich get richer.
Nicholson may be a little undersized, but he has arguably the best footwork in the low post of anyone not named Jared. He's incredibly polished down there and will be able to take advantage of the attention LeBron James and Dwyane Wade will command.
What's more, the former Bonnie has a terrific outside shot. He can score from anywhere on the court better than anyone in the draft.
Throw in his ability to defend the rim (2.0 blocks per game), and Nicholson is one of my favorite prospects.
28. Oklahoma City Thunder (47-19): Marquis Teague, PG, Kentucky
Speaking of the rich getting richer.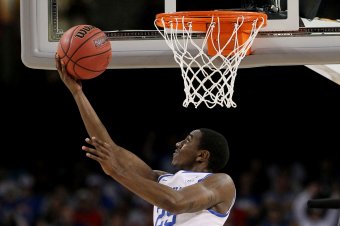 Jeff Gross/Getty Images
The Thunder don't have a lot of holes, but they could use a backup for Russell Westbrook. That is, unless Derek Fisher plans on playing forever, and that very well could happen.
John Calipari point guards never disappoint, and Teague will likely make the Thunder even more dangerous in 2012-13.
29. Chicago Bulls (50-16): Doron Lamb, SG, Kentucky
Chicago needs a shooting guard of the future.
Despite not having great size for a two-guard, Lamb can shoot the lights and can even handle the ball and distribute pretty well.
This is a solid pick for No. 29.
30. Golden State Warriors (via 50-16 San Antonio Spurs): Jeff Taylor, SF, Vanderbilt
The Warriors need toughness and they need maturity.
Jeff Taylor brings that in bunches. It's fine that Golden State already drafted Harrison Barnes, too. Dorrell Wright probably isn't part of any future plans, and Taylor will bring energy off the bench as a two/three hybrid, anyways.
This article is
What is the duplicate article?
Why is this article offensive?
Where is this article plagiarized from?
Why is this article poorly edited?