Power Ranking the Heat, Thunder and Every NBA Team's 'Big 3'
June 12, 2012

Ronald Martinez/Getty Images
The 'Big Three' concept has become the major trend in the NBA over the past few years.
Sometimes it works, sometimes it doesn't, but league general managers have felt it best to surround their team with three stars and then simply attempt to fill in the rest of the pieces.
What the 'Big Three' leads to is very little depth, but enough star power to carry teams deep into the playoffs.
Which NBA team has the best 'Big Three?'
Let's take a look.
6. New York Knicks (Carmelo Anthony, Amar'e Stoudemire, Tyson Chandler):
The Knicks sold the farm to pair Anthony with Stoudemire after things started to turn around in 2011 when Amar'e signed with New York as a free agent. They completed the trifecta by signing Chandler as a free agent this past offseason.
Yet among the 'Big Threes' in the NBA, the Knicks have a long way to go before they figure it out.
Melo and Stoudemire have yet to prove that they can co-exist after a rough first year and a half of the marriage, and they often have terrible floor spacing.
Unlike other 'Big Threes,' who have three multi-talented players, the Knicks' 'Big Three' almost seems like a group of specialists.
Chandler is a great defender with a limited offensive package, while the other two have trouble spelling the word defense at times.
Melo is a scorer, and who knows what Stoudemire is anymore in the Knicks gameplan, aside from a guy whose injuries are catching up with him.
5. Boston Celtics (Paul Pierce, Kevin Garnett, Ray Allen):
They won't be the 'Big Three' much longer, but for now they are still in Boston, so they make the list.
As a group, age and injury have caught up to them.
While KG may have found new life playing the 5, Allen's best days are behind him and he may be nothing more than a role-player in the future.
As for Pierce, he's 34, and while he may still have some big moments ahead of him, consistency is starting to become an issue. It was a good run, but it looks like it's over.
4. Los Angeles Lakers (Kobe Bryant, Andrew Bynum, Pau Gasol):
The question surrounding the Lakers' 'Big Three' is whether or not they will still be together next season.
The Lakers should be higher on this list, but they don't play to their strength nearly often enough, their strength being the length of Bynum and Gasol.
Sure, Kobe is the scorer, but even though he averaged 27.9 points per game this Lakers trio isn't nearly as dominant when the big men aren't the primary focal point of the offense.
3. San Antonio Spurs (Tony Parker, Tim Duncan, Manu Ginobili):
The Spurs trio are all 30 or older, but all are still playing at a very high level.
The bottom line is that they all know how to play winning basketball and are willing to sacrifice production for the betterment of team goals.
Parker played at an MVP level this year, and Duncan and Ginobili showed that they aren't ready to slow down just yet.
2. Miami Heat (LeBron James, Dwyane Wade, Chris Bosh):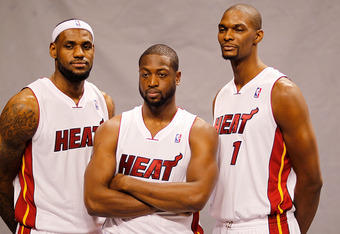 Mike Ehrmann/Getty Images
This 'Big Three' was built primarily through free agency, and you've seen the results—the Heat don't have much depth and likely never will, as long as these three are together.
But when you consider that you have a three-time MVP in James, and 23 combined All-Star selections between the three, you realize that this trio is very good.
The scary part is that Wade is the elder statesman at only 30 years of age.
There are only two things I don't like about this group.
One is that Wade's body has shown signs of breaking down this year.
The other is that Wade and LeBron are too similar in style. The both need the ball in their hands, and both are more effective in isolation mode.
Other than my nitpicking there, these guys are fantastic.
1. Oklahoma City Thunder (Kevin Durant, Russell Westbrook, James Harden):
The nicest part about this trio is that they were built through the draft, allowing the Thunder to add a couple of key parts around them.
These guys are young and ultra-talented.
All they have is the three-time scoring champion in Durant, a point guard in Westbrook who averaged 23.6 points per game and the best sixth man in the game in Harden.
The scariest part is that Durant and Westbrook are only 23 and Harden is only 22.
If they win the championship this year, we could potentially see a dynasty in OKC.