Are LA Dodgers Still in the Mix for Josh Hamilton After Extending Andre Ethier?
June 12, 2012

Rick Yeatts/Getty Images
Late Monday night, the Los Angeles Dodgers proved once again that they mean business.
Several months after signing star center fielder Matt Kemp to an eight-year, $160 million contract extension, the Dodgers came to terms with right fielder Andre Ethier on a five-year extension worth $85 million.
The deal, which was first reported by Jon Heyman of CBSSports.com, includes a sixth-year vesting option that could bring the deal to a total of $100 million if activated.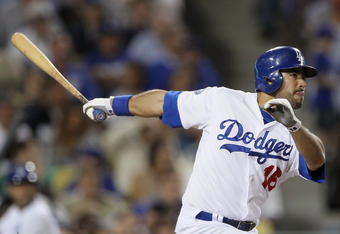 Jeff Gross/Getty Images
Dylan Hernandez of the Los Angeles Times revealed on Twitter that the Dodgers are going to hold an afternoon news conference on Tuesday to officially announce the deal.
The dollars are starting to fly in Los Angeles. Per the USA Today, the Dodgers' payroll stands at just over $95 million this season, but the club is clearly intent on elevating that number. The team's new ownership group, which of course is led by Magic Johnson, is serious about building a World Series contender, and it doesn't mind signing big checks in order to do so.
They're not afraid to make it rain, as the kids say these days.
The question is how much further they're willing to go now that they've committed nearly $250 million to Kemp and Ethier. More specifically, the question is whether or not the Dodgers should still be considered in the mix for the marquee player of the 2012 free-agent class:
Texas Rangers outfielder Josh Hamilton.
Naturally, no team official has commented about the Dodgers possibly going after Hamilton this offseason, but it's been widely speculated around the industry that Hamilton would be on the team's radar.
Jeff Passan of Yahoo! Sports, for example, considered the Dodgers to be a 5/1 favorite to land Hamilton, the 2010 AL MVP, this offseason when he wrote about the situation back in mid-May shortly after the star slugger's four-homer game against the Baltimore Orioles.
"Magic. Money. Kemp. Hamilton. Together. Sweet," wrote Passan.
Nick Cafardo of The Boston Globe also wondered aloud in mid-May if the Dodgers would go after Hamilton.
However, his speculation came with a catch. Keep an eye on the last part of this passage:
The Rangers probably wouldn't dare lose Josh Hamilton in free agency. If he should seek to go elsewhere, however, the Dodgers - with their new-found dollars - could be the team for him. A Hamilton-Matt Kemp combo? That would allow the Dodgers to let Andre Ethier head into the market.
Yup, there's the rub. Cafardo didn't plan on the Dodgers signing Ethier to an extension in the middle of the season. And judging from his failure to mention Ethier in his bit, it seems Passan didn't plan on it either. 
This doesn't mean there's no place for Hamilton in Los Angeles. The Dodgers have Kemp and Ethier penciled in to center and right field for the next few years, but there's certainly an opening in left field, a position that Hamilton has played quite a bit in the last few seasons.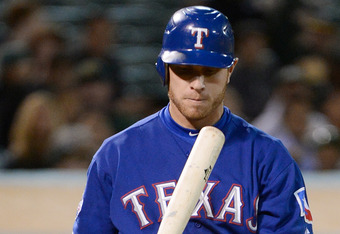 Thearon W. Henderson/Getty Images
The issue, obviously, is the money. Last month, Bob Nightengale of the USA Today wrote that Hamilton is projected to earn "at least" $20 million annually when he signs a new deal. The bidding will start there as far as money is concerned, and at five as far as the years are concerned. 
So if the Dodgers decide to pursue Hamilton, they'll do so knowing that they could end up with three outfielders earning roughly $60 million per year, and that their contracts would combine to be worth a total of at least $350 million, perhaps as high as $400 million. 
That would be a huge commitment to make to just three players, and it's a commitment that would come with a boatload of risk.
There's nothing to complain about when it comes to the Kemp deal. When healthy, he's one of the five best players in baseball, maybe even the best. To boot, he's still only 27 years old, and his injury problems this season don't project as a long-term issue. When the Dodgers signed him, they made a no-brainer of a deal.
This is not the case with Ethier's deal. He's already 30 years old, and it would be a stretch to call him one of baseball's elite outfielders. Committing $85 million (potentially $100 million) to him wasn't dumb, but the Dodgers essentially paid him for past services rendered as much as they did for future services. They overpaid him, plain and simple.
So the Dodgers already have a potential albatross contract in right field. If they were to sign Hamilton, they'd have an even bigger potential albatross contract in left field.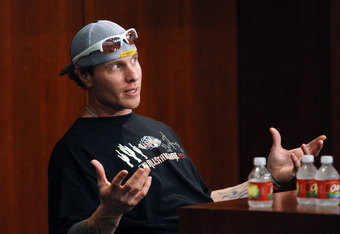 Layne Murdoch/Getty Images
We all know about Hamilton's issues. He has a hard time staying healthy on the field, and he must be monitored at all times off the field due to his past struggles with addiction. Heyman wrote earlier this month that the Rangers have assigned a "life coach" to take care of Hamilton, and that's supposedly a "very demanding job."
Now imagine some poor life coach having to do this job in Los Angeles, as opposed to the Dallas area. It would go from being a very demanding job to being an even more demanding job. 
We know the Dodgers' new ownership wants to build a winner, and signing Hamilton would very much help them do that. And though they'd have to be mindful of the luxury tax threshold, they could also find a way to make the money work.
But make no mistake about it, signing Hamilton to a monster deal after locking up Kemp and Ethier to monster deals would be more reckless than smart. If they were to ink Hamilton this offseason, the Dodgers would be doing their best Los Angeles Angels impression.
There are other things the organization could do with its money besides going after Hamilton. For example, the Dodgers haven't yet signed ace lefty Clayton Kershaw to an extension, and that should be priority No. 1 now that Kemp and Ethier have been locked up. Chad Billingsley is another guy who could potentially be signed long-term, as he's due to hit free agency in 2013.
When the 2012 offseason arrives, the Dodgers could very well look to spend their millions on an ace pitcher to join Kershaw and Billingsley in the rotation. To that end, a guy like Cole Hamels, a free agent-to-be and a Southern California native, comes to mind. So does Zack Greinke, another free agent-to-be.
If the Dodgers want to commit big bucks to one of these guys, they'll still have the option of signing a more affordable outfielder like Melky Cabrera, B.J. Upton, Shane Victorino, Nick Swisher or even Carlos Quentin.
None of this is to say that the Dodgers should be considered completely out of the running when it comes to Hamilton. If he ultimately does hit free agency, the Dodgers will be one of the few teams in baseball with the cash to sign him. The Hamilton bidding war won't have many combatants, but the Dodgers will be one of them.
The odds of the Dodgers signing Hamilton, however, were a lot higher before they committed $85 million to Ethier. The team now has far less incentive to spend many millions of dollars on a free-agent superstar like Hamilton.
Passan wrote back in May that the odds of the Dodgers signing Hamilton were 5/1. Now, they're more like 20/1.
Somewhere in Arlington, Nolan Ryan is breathing a little easier.
If you want to talk baseball, hit me up on Twitter.