Chad Ochocinco and the Miami Dolphins Are an Answer to a Prayer, for Both
June 12, 2012

Mike Ehrmann/Getty Images
The Miami Dolphins focused heavily on substance rather than talented playmakers during the 2012 NFL draft as they selected a quarterback (Ryan Tannehill) and linemen in the early rounds. Late Monday evening, the Fins signed a playmaker that they desperately need in wide receiver in Chad Ochocinco.
Ochocinco is nearly past his prime, but he can still provide the substance the Dolphins need to improve as a rebuilding squad.
After four days of being released by the reigning AFC champion New England Patriots, the Miami native is all in as he needs the Dolphins just as much as they desire him to bounce back and be relevant again.
The Dolphins have the talent to make major strides in the upcoming season.
Apparently, the chemistry has not settled in yet offensively.  
Dolphins rookie head coach Joe Philbin likes the players he has in camp. However, Philbin is not in love with their inconsistency at catching the ball as he spoke about dropped balls after practice Monday.  
"It's a competitive situation. On the one hand at some point in time you would like to have some players make it easy and distinguish themselves, maybe make the picture a little bit clearer," said Philbin, according to the team's press release. "At certain times we have had some guys have some real productive stretches. The consistency of catching the ball is something that Ken (O'Keefe) and Phil (McGeoghan) are working on and Mike (Sherman) is a little bit concerned about, as am I.
"Again glancing at some of the drills today down in the red zone there were a couple guys, it's not always the receivers, some backs dropped one here and there and a tight end, but we have to catch the ball more consistently at every position on offense, because it is not quite where it needs to be," he added."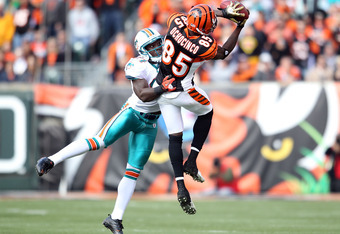 Andy Lyons/Getty Images
This is the area where Ochocinco can make his presence felt once again.
The three-time All-Pro receiver was expected to have a career year last season. And he did, the lowest output of his 11-year career.
The 6'1", 192-pound flamboyant receiver had a quiet campaign in 2011 and granted no locker room interviews after contests as a member of the Patriots. Ochocinco had just 15 receptions for 276 yards and a touchdown on a Patriots team with one of the greatest quarterbacks of all time in Tom Brady, who led the squad to the Super Bowl.
In order for the Dolphins to be successful for the 2012 NFL season, especially in the passing game, Ochocinco must produce the opposite results of last season with a completely opposite team from the Patriots—with a potentially inexperienced quarterback.
Ochocinco, formerly the artist known as Chad Johnson, was originally selected by the Cincinnati Bengals in the second round (36th overall) of the 2001 NFL draft. In his career, Ochocinco has played in 166 career games (135 starts) and has registered 766 receptions for 11,059 yards and 67 touchdowns.
This six-time Pro Bowler is exactly what the Dolphins need to replace the loss of wide receiver Brandon Marshall who was traded to the Chicago Bears during the offseason.
Marshall was practically a one-man show for the Dolphins in 2011, an act Miami can not perform if they look to move forward.
The Dolphins finished 23rd in the league last season averaging 193.2 passing yards per game. Marshall notched 1,214 receiving yards, and the second highest player for receiving yards was wide receiver Brian Hartline with 549—close to 700 yards apart.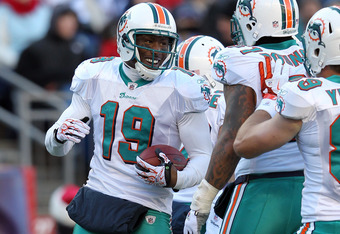 Jim Rogash/Getty Images
Was Ochocinco's confidence affected by the Patriots last season as a squad who did not need him due to the team's big-name pass-catchers in Wes Welker, Deion Branch, Aaron Hernandez and Rob Gronkowski?
Ochocinco is not a disruptive player, just talkative and a hard worker. Ochocinco, 34, is known for putting on shows as he displays pass-catching performances, sound bites and touchdown celebrations. Most specifically, Ochocinco was known for being the man as the majority of his career he was looked to be the No. 1 guy.
Being surrounded by the young receivers in Hartline, Davone Bess, Chris Hogan and rookies B.J. Cunningham, Jeff Fuller and Rishard Matthews; Ochocinco's reassurance in himself, or better yet, his situation, may be what he needs to get back on track as the Miami Beach High graduate looks to erase his disappointing season from a year ago.  
Barry Barnes is a featured columnist for Bleacher Report. Unless otherwise noted, all quotes were obtained first-hand.