MLB's 10 Injured Players Whose Return We Can't Wait to See
June 12, 2012

Christian Petersen/Getty Images
With several surprises and disappointments, the 2012 MLB season has been a compelling one to watch thus far. 
However, something that has made the game less fun to follow is the number of superstar players that have suffered significant injuries. Yes, sometimes new players can emerge when established veterans go on the disabled list. Look at Bryce Harper with the Nationals or Freddy Galvis for the Phillies. (Unfortunately, Galvis has joined the ranks of the injured.) 
Sure, we watch baseball because we love the game, but a big reason we love the game is because we get to see top players perform at an elite level. Superstars provide the game with its flash and sizzle. They compel us to watch. Without its marquee talent on the field, baseball is just a little less exciting.
But the game will be far more exciting to watch in the weeks and months to come once some injured stars get back on the field. Here are 10 excellent players whose return we're eagerly anticipating.
Matt Kemp, Los Angeles Dodgers
He's the National League's best player. Why wouldn't we want to see him back on the field? The Dodgers have maintained their first-place lead while he's been out with a strained hamstring. But how good could they be once Kemp returns, along with whatever midseason additions the Dodgers might make?
Chase Utley, Philadelphia Phillies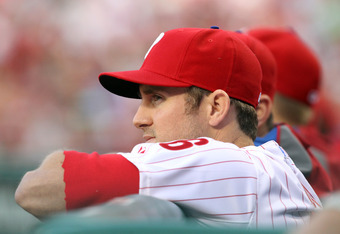 Hunter Martin/Getty Images
Losing Utley in spring training was a devastating blow to a Phillies team that was already short-handed. Would the Phillies be in last place if he was in the lineup all season? It doesn't seem likely, but maybe age and lack of depth has just caught up with this team. Where would this Phillies team be at full strength?
Ryan Howard, Philadelphia Phillies
Ty Wigginton has done well at first base for the Phils, but he's not the power bat Howard is. As with Utley, how much better would the lineup be with Howard providing some thunder in the middle? Again, we want to see the Phillies at full strength. It's fun to see the Washington Nationals on top in the NL East. New blood is always exciting. But wouldn't it be more fun to see the Nats beat the Phillies at their best?
Roy Halladay, Philadelphia Phillies
There are few pitchers in baseball who can shut down a lineup and possibly do something historic every time he takes the mound. Halladay may not have the dazzle factor of Justin Verlander or Clayton Kershaw, but he is definitely one of those pitchers. Taken down by a shoulder injury, baseball isn't as fun to watch without getting to see Halladay every five days.
Evan Longoria, Tampa Bay Rays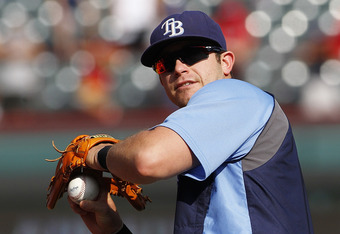 Rick Yeatts/Getty Images
The Rays are tied for first in the AL East and consistently play some of the best baseball in the majors. But how much better would they be with their best player in their lineup? Without Longoria, the Rays are 20-17. But they're also hitting just .228 as a team. Their defense at third base is among the lower third in the majors. 
Jacoby Ellsbury, Boston Red Sox
As with the Phillies, the Red Sox haven't been able to field their intended roster all season long. That became especially true when Ellsbury, who had an MVP-caliber 201, dislocated his right shoulder in mid-April. Do we want to see a Red Sox team with Marlon Byrd or Scott Podsednik in center field? Or do we want to see Boston win, or be beaten while at full strength?
Chris Carpenter, St. Louis Cardinals
Though the Cardinals would obviously be a better team with Carpenter in their starting rotation, the Redbirds seemed to be OK without him in the early stages of the season. Carpenter's replacement, Lance Lynn, is pitching like a Cy Young Award candidate, but the Cards are slipping in the NL Central. Getting their ace back from his neck troubles would make a huge difference. 
Alex Avila, Detroit Tigers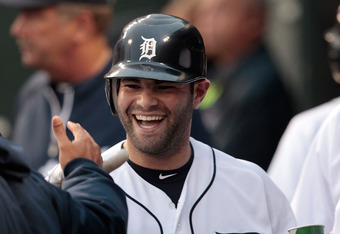 Leon Halip/Getty Images
I'll admit to some personal bias here. I love watching Avila play. It was fun to watch him develop from a first-time starter into one of the best catchers in baseball last season. The Tigers have been a disappointment thus far, largely due to players like Avila performing below expectations. But there are so few great catchers in the majors that it's a pleasure to watch the ones that emerge. 
Jered Weaver, Los Angeles Angels
I realize I'm sort of repeating myself, but don't we want to see the best players on the field? Weaver is one of the best pitchers in the AL and has established himself as appointment viewing. Baseball misses him taking the mound every five days. Now that the Angels have made the AL West a race again, Weaver's return could make sure they stay competitive. 
Jonathan Lucroy, Milwaukee Brewers
As disappointing as the Brewers have been this season, Lucroy has been one of the team's bright spots. With a .345/.387/.583 slash average, Lucroy put himself in the discussion of best catchers in the NL with Yadier Molina, Carlos Ruiz and Buster Posey. Suffering a broken hand when he did was disheartening. Hopefully, Lucroy can resume his great play when he returns.
Follow @iancass on Twitter