Euro 2012: French Players Sound off on Their 1-1 Draw with England
June 12, 2012

Ian Walton/Getty Images
France entered Euro 2012 much as they did the World Cup two years previously: with the heavy burden that accompanies being tagged as favorites to win their group.
Back in South Africa, Les Bleus had been considered locks to emerge from Group A, considered among the "weaker" groups in the competition and comprising of Uruguay, Mexico and the host, Bafana Bafana.
But as the great poet Robert Burns once wrote, the "best laid plans of mice and men" tend to go awry. France took that adage one step further; they sent their World Cup campaign careening off its tracks into the Indian Ocean.
It was to manager Laurent Blanc's credit, then, that he took over from Raymond Domenech in July 2010—just weeks following that implosion, where France had managed just one goal and earned just one point while boring spectators to death with their listless play and soporific effort.
Their most memorable contribution to the competition was a training strike in Knysna.
Suffice to say, the side that enters Poland and Ukraine two years later as a trendy dark horse pick, not just to emerge from Group D, but to make a serious run in the knockout stages of the competition, had a burden of expectations on their shoulders as well.
They were here to restore French honor and glory, and they appear up to the task.
A 21-match unbeaten run, embarked upon after Blanc opened his tenure with two consecutive losses (a 2-1 defeat in a friendly to Norway and a thoroughly embarrassing 1-0 reverse to Belarus to begin European qualifying), had many believing that a return to the dominance seen in that wondrous two-year spell from 1998 to 2000, when Les Bleus captured the World Cup and European crowns, was in the cards.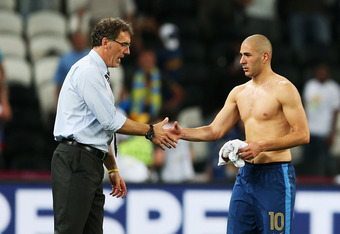 Scott Heavey/Getty Images
But, as was the case with Rome, this new French footballing dynasty, while promising, will take some time to build.
They drew 1-1 with England on Monday in Donetsk, a match they largely dominated but could not find the resources to strike the killer blow and take all three points from the encounter.
Still, a point against what should prove to be their sternest test in Group D is a very promising beginning. To put the result in perspective, France have already equaled their point total from their past two competitive tournaments (Euro 2008 and World Cup 2010).
They should push past that point total this time around.
Their players believe it, as does their coach. The disappointment permeating the French camp in the aftermath of the England draw spoke to their ambition—there was a tangible sense that France felt they could and should have grabbed a winner against the Three Lions.
Here's what they had to say about the England match. (All quotes are derived from the June 12 print edition of L'Equipe, France's leading sports newspaper.)

Franck Ribery, left winger:
We have a few regrets; we wanted to win the match. We were a little timid in the opening minutes, but after the goal we woke up. In the second half, we pushed harder and we wanted to score [a second goal.] At the same time, we're happy to have earned a draw. The English played the whole game defensively. They only wanted to play for free kicks. now, we have this match against Ukraine [on Friday,] which we need to win.

Mathieu Debuchy, right back:
After the England goal, we knew how to react. It was a match where there was a lot of rhythm. It's true that it could have been even better for us.

Florent Malouda, central attacking midfielder/holding midfielder:
There is frustration, but no disappointment. Mentally, that goal didn't destabilize. We have a depth of play and a resoluteness that allows us to take back control of those sorts of matches.

Alou Diarra, central midfielder:
When you have so much possession, and when you procure the best chances, it's true that it's terribly frustrating not to win. We committed an error on the free kick, and we paid dearly. It's annoying, because we entered the match very ambitious. Our reaction to the goal was very encouraging, however. Something had been missing, but we had better movement; we took control of the reins. On the cross for the England goal, I lost sight of [Joleon] Lescott. I tried to recover and meet him in the air but with his height, it wasn't easy. He took his goal very well.

Laurent Blanc, manager:
I am torn between two sentiments: satisfaction to not have lost, and the disappointment of not having been able to score the second goal we felt confident we could. But the English must be feeling something along those lines as well. They had a very good opening 20 minutes to the match, and we had trouble trying to get into the game ourselves. They punished us with a goal. But paradoxically, that goal finally allowed us to enter into the match.

It's necessary to be realistic—we easily could have lost. We needed to be very good in midfield in order not to lose, but we weren't good enough in that area of the pitch to win—especially in those opening minutes. The English put us under more pressure with their heavy pressing than we had imagined.

Alou Diarra was galvanized by his responsibility for [Lescott's] goal. From that moment on, we were much more aggressive, and I think that this aggressiveness was a key ingredient for us getting back into the match. We also could have done better on the offensive end, even if the heat handicapped us a little bit. (Temperatures on Monday in Donetsk reached 90 degrees, plus humidity.) Both teams obviously had to deal with the heat, but it's always easier to defend than attack when it's hot.

Christophe Dugarry (analyst), referring to the incident where Samir Nasri used a shushing motion in the direction of the press row after scoring his equalizer. The midfielder could be seen mouthing the words 'Ferme ta guele' (Shut your mouth) at the French journalists in attendance. L'Equipe had opined that based on his poor performances in France's friendlies leading up to the Euros, Nasri perhaps did not deserve a starting berth against England.

You shouldn't be too hard on Samir [Nasri]. He wasn't insolent, and what he did shouldn't supersede what was a very good goal, which could prove vital in the quest for qualification to the knockout stages—especially since it came in an opening match where it was essential not to lose.