San Francisco Giants Trade Rumors: Is Jed Lowrie the Answer?
June 12, 2012

Bob Levey/Getty Images
Every time a new opponent comes to San Francisco with a decent middle infielder, I feel like a young child begging his parents to keep a new pet. I want to plead to Giants General Manager Brian Sabean, "Can we keep him? Can we keep him?! Please! Pretty Please!"
The latest middle infielder to come to San Francisco is the Houston Astros Jed Lowrie, who enters play tonight leading all major league shortstops in home runs, slugging percentage and OPS.
Lowrie is an above-average defender with solid patience and power for the middle of the diamond.  Even if some regression is coming, Lowrie would still be a massive upgrade for the Giants at either shortstop or second base. 
The Giants middle infield situation remains their biggest weakness besides the struggling Tim Lincecum. Led by the weak-hitting Brandon Crawford, Giants shortstops are hitting just .236/.287/.332 so far this season. For his career, Lowrie is a .260/.332/.433 hitter, which would be a significant upgrade over Crawford.
At second base, things are actually worse, though Ryan Theriot has swung the bat well lately.  Theriot, Manny Burriss, Charlie Culberson and Joaquin Arias have combined to hit a tepid .230/.285/.257. Only the Detroit Tigers have managed to hit worse than the Giants at the keystone.
Lowrie is two seasons away from free agency, so unless the Astros work out a contract extension with him, he won't be a part of the next contending team in Houston. The Astros new ownership and management group will need at least three seasons to rebuild an organization that lost 106 games last season.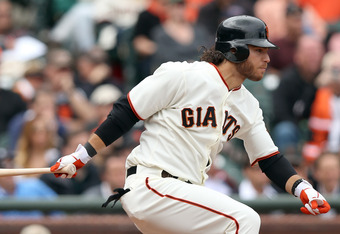 Ezra Shaw/Getty Images
The Astros would be wise to sell high on Lowrie now. The former Stanford product is already 28 years old, so his current run of success is likely as good as it's going to get, since most hitters peak around age 27. Lowrie is actually a worse bet to age well than the average player because of his horrific injury history. Constant injuries have prevented him from ever surpassing 350 plate appearances in his big league career. 
The Giants have already been bitten by an injury-plagued middle infielder over the past few seasons with the continuous stream of injuries to Freddy Sanchez. The best predictor of future injuries is prior injury history, and Lowrie's medical history resembles a war veteran more than a baseball player. 
In acquiring Lowrie, the Giants would be getting a massive upgrade when is able to stay on the field. Given his injury history, the cost of acquiring him should not be astronomical. There aren't a lot of middle infield solutions available, and there certainly are no perfect solutions out there. 
If the price is right, and if the Giants think they can somehow keep him on the field, a return to the Bay Area for Lowrie could push the Giants over the top. While Crawford is an excellent fielder, the reality is that he just isn't ever going to hit enough to be a first division starter. Also, the farm system lacks any elite middle infield prospects. 
To fix a big weakness up the middle of the diamond, the Giants will have to get creative. Acquiring an injury-prone middle infielder is the best solution available. It's a risky strategy, but it offers the highest potential return on investment.