Predicting 1 Depth-Chart Surprise for Every NFL Team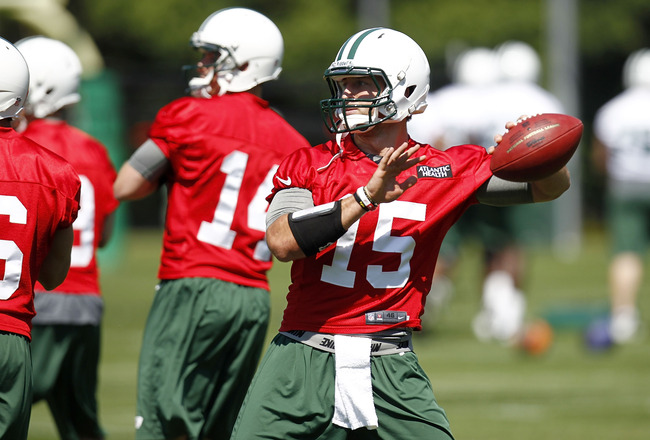 Jeff Zelevansky/Getty Images
Now that NFL minicamps are underway, we inch closer to the start of training camp and the start of the 2012 NFL preseason.
Minicamp is critical for many players to make the team's final 53-man roster.
There are sure to be some roster surprises this year.
For an example, I could very well see second-year quarterback Jake Locker steal the starting job away from Matt Hasselbeck with the Tennessee Titans.
In that spirit, let's take a look at my predictions for one depth-chart surprise for every NFL team.
Arizona Cardinals: John Skelton Starting over Kevin Kolb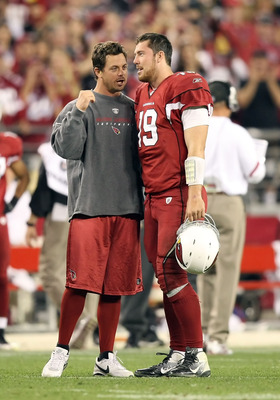 Christian Petersen/Getty Images
I see the Kevin Kolb era coming to an end in 2012 with the Arizona Cardinals—even though it wasn't all that long lived.
Kolb proved to be very inconsistent in his first season with the Cardinals. He posted a 3-6 record as the starter while completing just 57.7 percent of his passes for nine touchdowns and eight interceptions.
John Skelton proved to be a winner, despite not posting the greatest stats. Skelton was able to get the ball to Larry Fitzgerald more consistently than Kolb could, which led to a solid 5-2 record as the team's starter.
This battle comes down to whoever can get the ball to Fitzgerald more consistently.
Atlanta Falcons: Lamar Holmes Starting over Sam Baker and Will Svitek
Daniel Shirey/Getty Images
After seeing Sam Baker and Will Svitek struggle protecting Matt Ryan's blind side in 2011, I see the Atlanta Falcons' third-round pick, Lamar Holmes, winning the training-camp battle.
Holmes is a very impressive athlete—far more athletic than Baker and Svitek—and will infuse young blood into the team's offensive line.
If Holmes is coached up during training camp and preseason, he should do just fine in 2012 as the team's starting left tackle.
Baltimore Ravens: Jacoby Jones Will Start over Lardarius Webb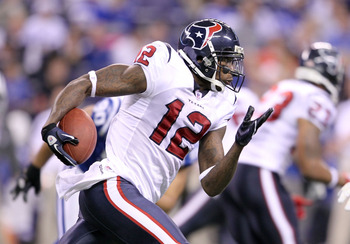 Andy Lyons/Getty Images
Jacoby Jones is a solid slot wide receiver as well as one of the better returners in the NFL.
I see Jones starting over Lardarius Webb as the Baltimore Ravens' kick and punt returner.
Webb has been a solid return man over the years. He enters 2012 with an average of 9.8 yards per return for punts and 26.4 yards per return for kicks.
Jones edges him in punts with a 10.2 average and isn't all that far behind in kick returns with a 23.3 average.
Buffalo Bills: Shawne Merriman Will Be Higher on the Chart Than Chris Kelsay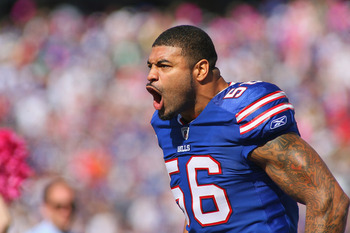 Rick Stewart/Getty Images
This is the time for Shawne Merriman to shine. He will turn it around in 2012.
Merriman might not see a starting role—Mario Williams and Mark Anderson will likely be the starting defensive ends for the Buffalo Bills—but I see Merriman earning himself a spot higher on the depth chart than Chris Kelsay.
Merriman struggled to stay healthy in 2011—he played in just five games while recording one sack—but he'll be far more effective if he's used in situational packages in 2012.
Carolina Panthers: Joe Adams Will Start over Brandon LaFell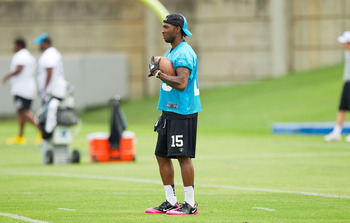 Brian A. Westerholt/Getty Images
Many might feel that Brandon LaFell is primed for a breakout year in 2012. I'm not one of them.
LaFell only caught 36 passes for 613 yards and three touchdowns in 2011.
I see rookie Joe Adams stepping up the the plate in training camp and in preseason.
Adams has blazing speed and should compliment Steve Smith.
Chicago Bears: Alshon Jeffery Will Start over Devin Hester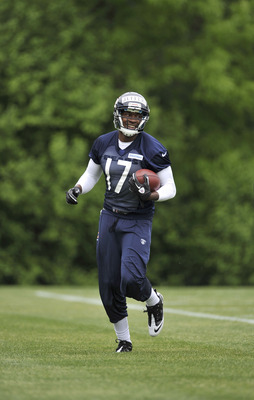 Brian Kersey/Getty Images
The days of Devin Hester being a wide receiver went on for far too long.
Alshon Jeffery is going to earn himself a starting job starting opposite Brandon Marshall in the Chicago Bears' new-look offense.
Jeffery might have been selected in the second round, but he's a first-round talent and should surprise a lot of people in 2012.
He'll be more effective than Hester's 26 receptions a year ago.
Cincinnati Bengals: Vontaze Burfict Will Make the 53-Man Roster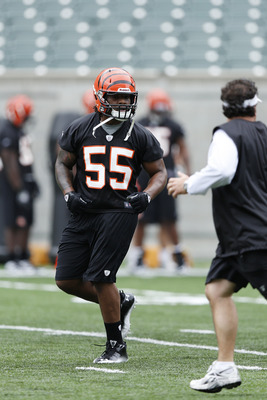 Joe Robbins/Getty Images
It's clear that the entire NFL questioned Vontaze Burfict's athletic abilities and his character during draft season, but the guy is talented.
Burfict signed as an undrafted free agent with the Cincinnati Bengals and will ultimately make the team's 53-man roster.
I'm not saying Burfict will be an impact player this upcoming season, but I do believe that he'll turn some heads with his performance in this year's preseason.
Cleveland Browns: Colt McCoy Will Still Be on Cleveland's 53-Man Roster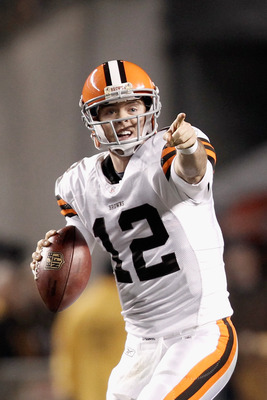 Jared Wickerham/Getty Images
This might be a shocker for some of you, but I see Colt McCoy sticking around with the Cleveland Browns as a backup quarterback and an emergency quarterback for the 2012 season.
Despite reports of McCoy likely to be traded prior to the start of the season, I just don't see it happening.
McCoy has NFL experience despite how mediocre he's been. He could be brought in as an emergency quarterback if rookie Brandon Weeden falters.
Dallas Cowboys: Marcus Spears Will Start Ahead of Kenyon Coleman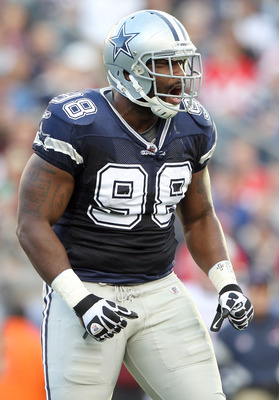 Elsa/Getty Images
Marcus Spears wasn't all that effective in 16 games in 2011 with the Dallas Cowboys. He racked up just 16 tackles and one sack, but I see him turning things around in 2012.
Spears will earn himself a the starting left defensive end position, ahead of Kenyon Coleman.
Coleman wasn't all that great either in 2011. He played in all 16 games while recording 36 tackles and just one sack.
Rob Ryan will like to see a change in 2012.
Denver Broncos: Ronnie Hillman Will Be the Team's Starting Running Back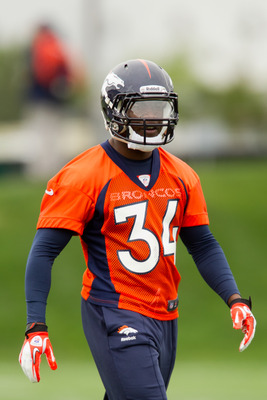 Justin Edmonds/Getty Images
Forget Willis McGahee and Knowshon Moreno—the Denver Broncos' starting running back in 2012 will be Ronnie Hillman.
The rookie out of San Diego State is a promising prospect. He accumulated 1,478 yards and 15 touchdowns in the 2011 NCAA season.
Hillman is an explosive runner who will contribute a lot in the passing game with Peyton Manning at quarterback.
Detroit Lions: Ryan Broyles Will Start Ahead of Nate Burelson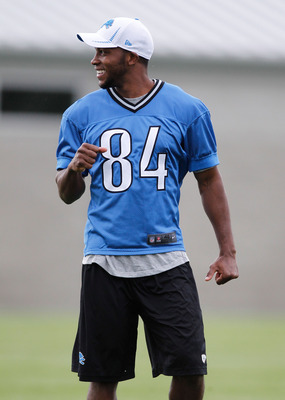 Gregory Shamus/Getty Images
When the Detroit Lions drafted Ryan Broyles in the second round of this year's draft, many Lions fans probably rolled their eyes.
I see Broyles stealing the starting wide receiver job away from Nate Burelson.
Broyles has great hands, is very physical, is not afraid to catch the ball in traffic and should be starting opposite of Calvin Johnson.
Green Bay Packers: Jerel Worthy Will Start Ahead of Ryan Pickett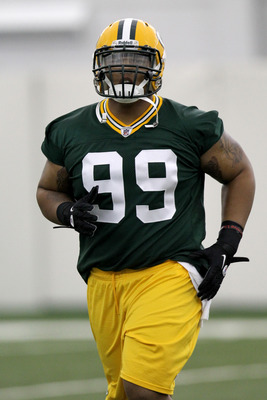 Mike McGinnis/Getty Images
It's time for the Green Bay Packers to move away from Ryan Pickett and hand over the starting job to the rookie out of Michigan State, Jerel Worthy.
Worthy is an elite talent that should bring a real pass-rushing threat to Green Bay's defensive line.
I see Worthy being a dark-horse Defensive Rookie of the Year candidate.
Houston Texans: DeVier Posey Starts Ahead of Kevin Walter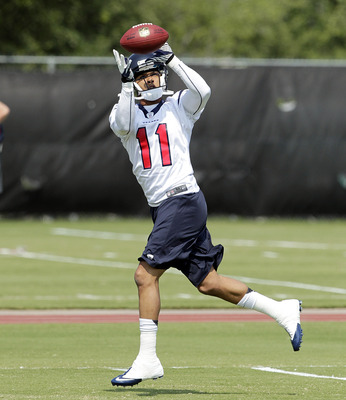 Bob Levey/Getty Images
DeVier Posey was quite the receiving threat during his days at Ohio State. I see him bringing the thunder in the 2012 preseason with the Houston Texans—enough thunder to start ahead of Kevin Walter.
Walter recorded 39 receptions for 474 yards and three touchdowns in 2011, but the Texans need a real threat opposite of Andre Johnson.
Posey can be that threat.
Indianapolis Colts: Donnie Avery Will Start over Austin Collie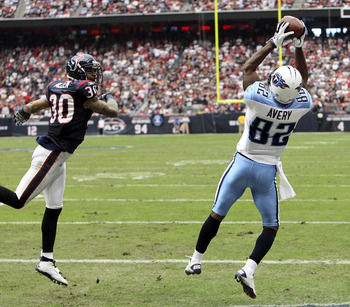 Bob Levey/Getty Images
Donnie Avery will end up being the Indianapolis Colts' No. 2 wide receiver in 2012.
Forget what Austin Collie has done with the Colts in the past because the team has a new coaching staff and a new man under center.
Avery will look to resurrect his career with the Colts and he will most definitely rise to the occasion.
Jacksonville Jaguars: Blaine Gabbert Will Keep His Starting Job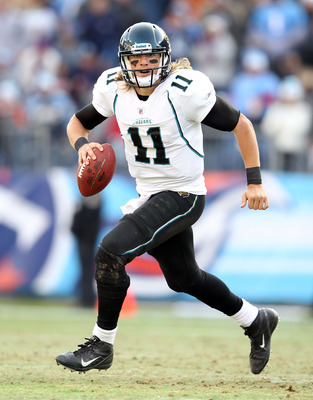 Andy Lyons/Getty Images
After Blaine Gabbert's laughable rookie season a year ago—65.4 quarterback rating, 50.8 percent completed passes—many believed he could end up getting the boot in Jacksonville.
Not so fast. Gabbert will be the starting quarterback in 2012 for the Jacksonville Jaguars.
Gabbert will actually have some talent to throw to this season with guys like Justin Blackmon, Laurent Robinson and Lee Evans joining the team's receiving corps.
Gabbert should surprise a lot of people in 2012.
Kansas City Chiefs: Dwayne Bowe Will Not Be on the Depth Chart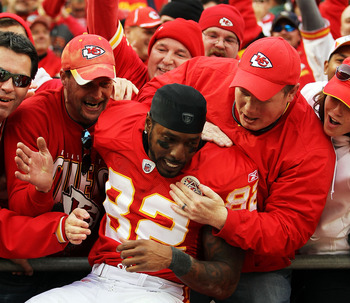 Jamie Squire/Getty Images
I'm not saying that I think Dwayne Bowe will be traded in 2012, but I don't see him being on the Kansas City Chiefs depth chart considering the franchise tag issues.
According to the Kansas City Star, head coach Romeo Crennel isn't expecting Bowe anytime soon, which leads me to believe that he could likely holdout for the majority of the 2012 season.
Miami Dolphins: David Garrard Will Be the Starting Quarterback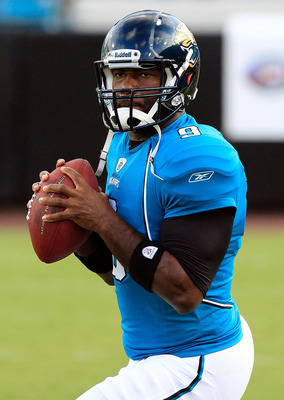 Sam Greenwood/Getty Images
The time for Ryan Tannehill will not be until 2013 and the time for Matt Moore is over.
David Garrard is going to have one impressive preseason and I see him earning the starting quarterback job with the Miami Dolphins.
As Garrard missed all of 2011, I envision him entering 2012 as fresh as can be. He will prove to the Dolphins coaching staff that he can be a legitimate starting quarterback in the NFL again.
Garrard enters 2012 with an 85.5 quarterback, 61.6 percent completion percentage, 89 touchdowns and 54 interceptions.
Garrard could end up being the 2012 Comeback Player of the Year.
Minnesota Vikings: Harrison Smith Will Start at Free Safety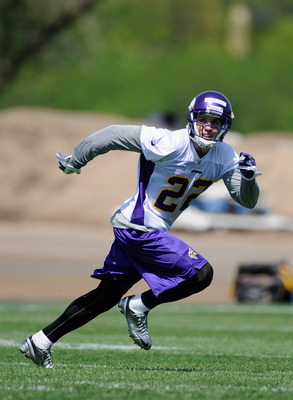 Hannah Foslien/Getty Images
The Minnesota Vikings traded up to the 29th overall pick in the first round just to select Harrison Smith—so he better be good, right?
Well, he will be good and he already is good.
In fact, Smith has already been taking the first-team reps at free safety during minicamp and I believe it will stay that way.
The Notre Dame product will be Minnesota's starting free safety entering 2012.
New England Patriots: Joseph Addai Will Start at Running Back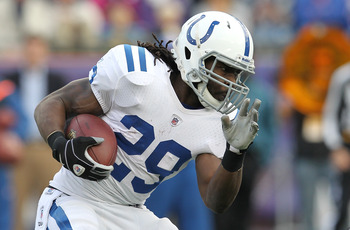 Jim Rogash/Getty Images
Joseph Addai might have been brought in to be a veteran presence—something that was lost when BenJarvus Green-Ellis signed with the Cincinnati Bengals—but I envision him being the starter.
If healthy, Addai can be an impact player in New England's high-flying offense.
In addition to being a threat to run, Addai is a solid receiver.
The 29-year-old comes in to 2012 with a career total of 191 receptions for 1,448 yards and nine touchdowns—definitely a solid track record for a running back.
New Orleans Saints: Garrett Hartley Will Beat out John Kasay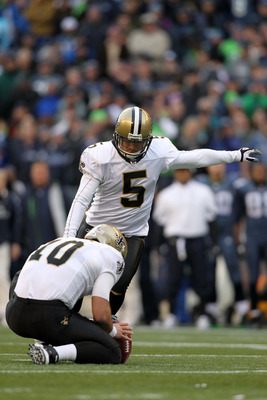 Jonathan Ferrey/Getty Images
Garrett Hartley is a Super Bowl-winning kicker and will find a way to beat out John Kasay for the New Orleans Saints.
Hartley missed all of 2011 with a hip injury, which resulted in the Saints turning to Kasay. Kasay made 82.4 percent of his kicks.
According to the New Orleans Times-Picayune, the Saints plan to hold a kicking competition between Hartley and Kasay. Ultimately, I see Hartely earning himself the starting job.
New York Giants: Rueben Randle Will Start at Wide Receiver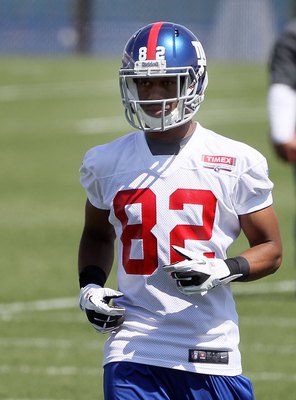 Jim McIsaac/Getty Images
With Hakeem Nicks injured with a fractured foot, Rueben Randle will earn a starting job at wide receiver.
Randle is a rookie out of LSU who has a promising future. He should be able to beat out Jerrel Jernigan and Domenik Hixon for the starting receiver spot opposite of Victor Cruz.
However, there are reports of Nicks being healthy for the season opener. Until then, Randle should be the starter.
New York Jets: Tim Tebow Will Start Ahead of Mark Sanchez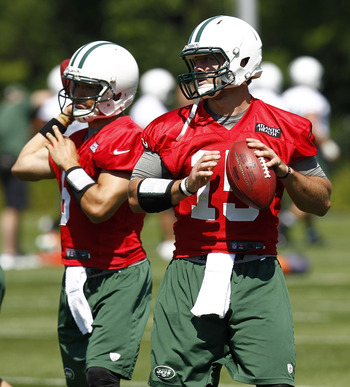 Jeff Zelevansky/Getty Images
Go ahead—call me crazy, call me a moron—I don't care. I have heard that plenty of times.
I am going to stick to my guns and say that Tim Tebow will be the starting quarterback of the New York Jets come Week 1 of the regular season.
I don't care that Rex Ryan has recently stated that there's no quarterback controversy—I'm not buying it.
For starters, why in the world would the Jets want to bring Tebow to town if they didn't plan on using him? He's a proven winner and isn't your typical backup quarterback.
Tebow fits exactly what the Jets want to do—run the football.
I'm sure offensive coordinator Tony Sparano is already drawing up packages and series to use Tebow in. Sparano was the head coach of the Miami Dolphins when the team reintroduced the Wildcat back in 2008.
Just face it: Tebow will be the starting quarterback of the New York Jets. Tebowmania will live on.
Oakland Raiders: Matt Leinart Will Start Ahead of Carson Palmer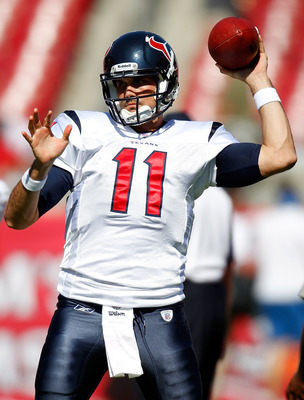 J. Meric/Getty Images
I can't believe I'm saying this, but Matt Leinart will start ahead of Carson Palmer.
I honestly think that Palmer is completely washed up. He might have posted an 80.5 quarterback rating, but he threw just 13 touchdowns compared to 16 interceptions in 10 games.
I foresee Palmer being ineffective during the preseason which will ultimately result in the swap of the two former USC quarterbacks.
Philadelphia Eagles: Nick Foles Will Beat out Mike Kafka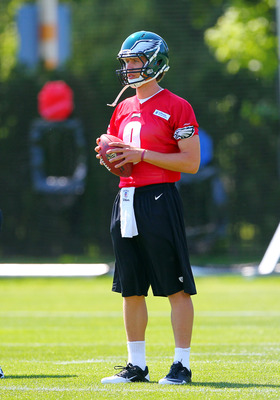 Rich Schultz/Getty Images
Mike Kafka might be listed as the Philadelphia Eagles' backup quarterback, but I see the rookie out of Arizona stepping up huge in preseason.
Nick Foles could very well end up being the quarterback of the future for the Eagles if Michael Vick can't stay healthy and is forced to take a seat sooner rather than later.
Foles is a very smart player. He should have no problem understanding Philly's offense and adjusting to the style of play in the NFL.
The days of Kafka being No. 2 are numbered.
Pittsburgh Steelers: Alameda Ta'amu Will Start at Nose Tackle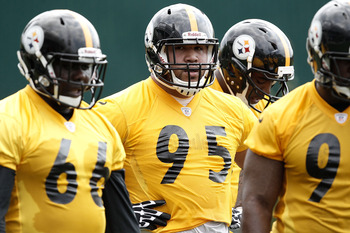 Jared Wickerham/Getty Images
Alameda Ta'amu, the rookie out of Washington, should be able to step right in as the Pittsburgh Steelers starting nose tackle.
With Casey Hampton likely headed to the PUP list, Ta'amu makes the most sense to be the guy to fill his void.
Ta'amu is a massive 350-lb object that should anchor Pittsburgh's defensive front effectively until Hampton can return back to play after recovering from a torn ACL.
San Diego Chargers: Melvin Ingram Beats out Takeo Spikes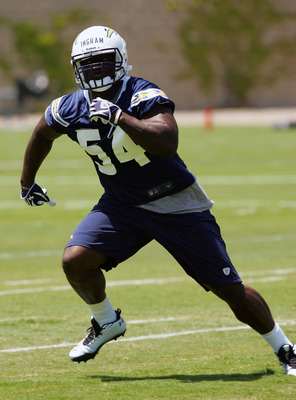 Kent Horner/Getty Images
Melvin Ingram might be listed as an outside linebacker, but he's incredibly versatile and can play inside linebacker.
The rookie out of South Carolina has a chance at beating out Takeo Spikes for the San Diego Chargers starting weakside linebacker position.
Ingram is an incredible athlete with great speed for a guy his size. He can rush the quarterback from the outside or the inside and should be fast enough to keep up with tight ends in pass coverage.
San Francisco 49ers: Randy Moss Will Start at Wide Receiver
Jamie Squire/Getty Images
After taking a year off from football, Randy Moss will bounce back huge in 2012 as the San Francisco 49ers starting wide receiver.
Matt Maiocco of CSN Bay Area believes that Moss will be the 49ers starter.
Moss could do some amazing things with San Fran in 2012, but that's all depending on how much is left in the 35-year-old's tank.
Seattle Seahawks: Russell Wilson Will Start at Quarterback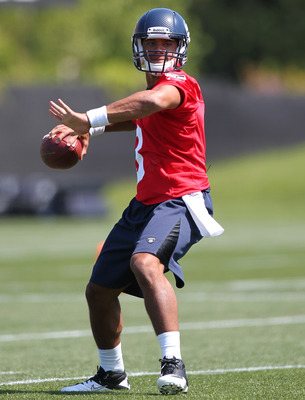 Otto Greule Jr/Getty Images
Could Matt Flynn just be a product of the Green Bay Packers system? He most certainly can.
Green Bay has the NFL's deepest wide receiver corps.
I don't see Flynn doing much with the Seattle Seahawks and I believe Russell Wilson has a very good chance at stealing the starting quarterback job away from him.
Wilson might be a rookie, but he had a very successful career at Wisconsin and NC State. He completed 60.9 percent of his career passes, had 109 touchdowns, 30 interceptions and 1,421 rushing yards.
St. Louis Rams: Brian Quick Is the Team's No. 1 Wide Receiver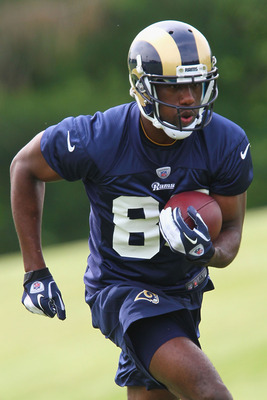 Dilip Vishwanat/Getty Images
With little talent on the offensive side of the ball for the St. Louis Rams, I see Brian Quick stepping in as the team's No. 1 wide receiver. He should be able to present a pretty reasonable threat for quarterback Sam Bradford.
The rookie out of Appalachian State had a very successful collegiate career as he recorded 202 career receptions for 3,418 yards and 31 touchdowns.
Quick is a very athletic, well-rounded receiver with great hands. He should be a quality possession receiver for Bradford and the Rams.
Tampa Bay Buccnaeers: Doug Martin Will Start Ahead of LeGarrette Blount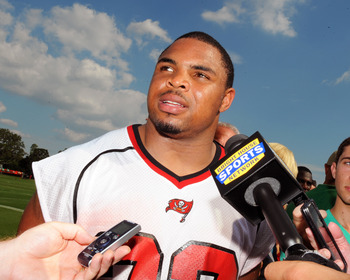 Al Messerschmidt/Getty Images
LeGarrette Blount isn't your typical every-down running back—Doug Martin is.
Martin will step right up and earn himself the starting running back role with the Tampa Bay Buccaneers.
The rookie out of Boise State is a hard-noised runner who is built for the NFL. Martin is equipped with surprising speed, acceleration and power.
Martin is one of my candidates for Offensive Rookie of the Year in 2012.
Tennessee Titans: Jake Locker Will Start Ahead of Matt Hasselbeck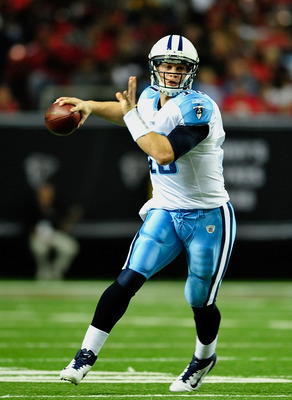 Grant Halverson/Getty Images
Matt Hasselbeck's career will likely be coming to an end, while the Jake Locker era will be starting with the Tennessee Titans.
With reports that the two quarterbacks will split reps 50-50, I see Locker coming out on top.
Locker is undoubtedly NFL ready. In limited action last season, he posted a 99.4 quarterback rating, completed 34-of-66 passes, had four touchdowns and no interceptions.
The time for Locker is now.
Washington Redskins: Rex Grossman Will Be Cut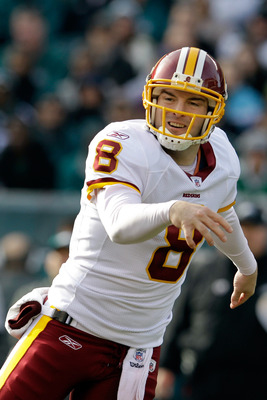 Rob Carr/Getty Images
It's time to start looking for a new job, Rex Grossman.
There's no doubt that Robert Griffin III is the right guy to be Washington's starting quarterback, but I also believe that rookie Kirk Cousins will be Griffin's backup.
Grossman has a career 71.4 quarterback rating and has failed time and time again. Why do teams keep giving him the chance?
Keep Reading