Heat vs. Thunder: NBA Finals Game 1 Live Score, Analysis and Reaction
The NBA Finals, Game 1. Keep it here for starting lineups and in-game score updates, along with up-to-the minute analysis and reaction.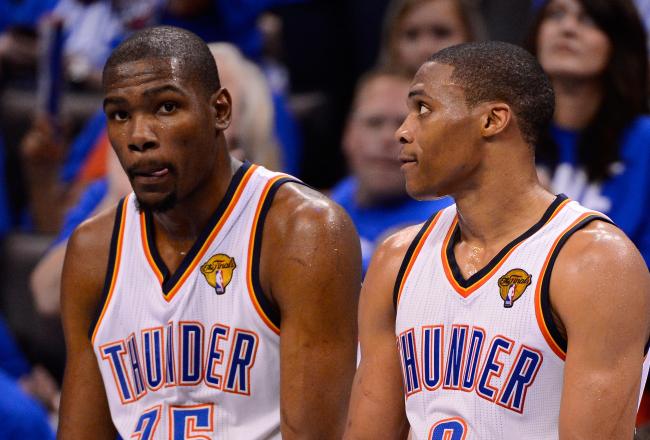 Final Score Thunder 105 Heat 94
It was a second half that Miami will not want to remember.
The Heat were beat on offense and on defense. Dwyane Wade and LeBron James got outplayed by Kevin Durant and Russell Westbrook.
Miami was led by James with 30 points, 9 rebounds and 4 steals. Dwyane Wade had 19 points and 8 assists. The Heat shot 46.2 percent from the floor, had 20 assists, 35 rebounds and 10 turnovers.
The Thunder were paced by Kevin Durant's 36 points and 8 rebounds. He shot 12/20 from the floor
Russell Westbrook nearly had a triple-double. He scored 27 points, had 11 assists and grabbed 8 rebounds. The Thunder shot 51.9 percent from the floor, grabbed 43 rebounds and had 22 assists and 12 turnovers.
Game 2 is Thursday Night at 9 p.m. ET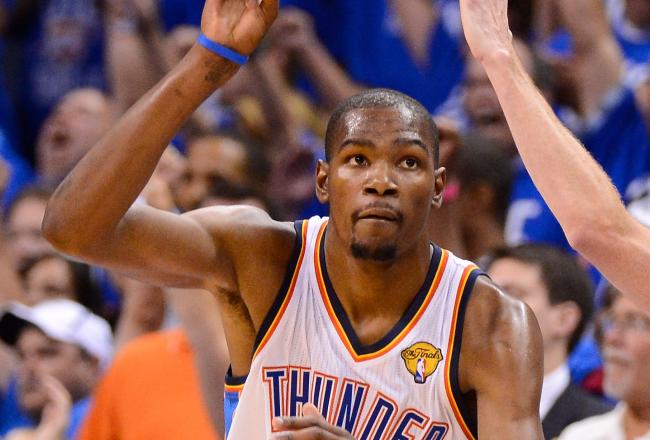 Thunder 103 Heat 94: 12.4 seconds
The Heat look beat. A Dwyane Wade turnover was met with a look of total apathy by Wade and then a defensive breakdown led to an easy dunk by Nick Collison.
Game 1 will go to the Thunder and the Heat must figure out how, or if they can beat the Thunder when they're not hitting on over 50 percent from three-point range.
Thunder 101 Heat 92: 44.5 seconds.
Miami just can't get the stops they need. They've been able to score down the stretch and LeBron James and Dwyane Wade have both been able to get to the rim, but on defense the Heat haven't found an answer to Durant and Westbrook.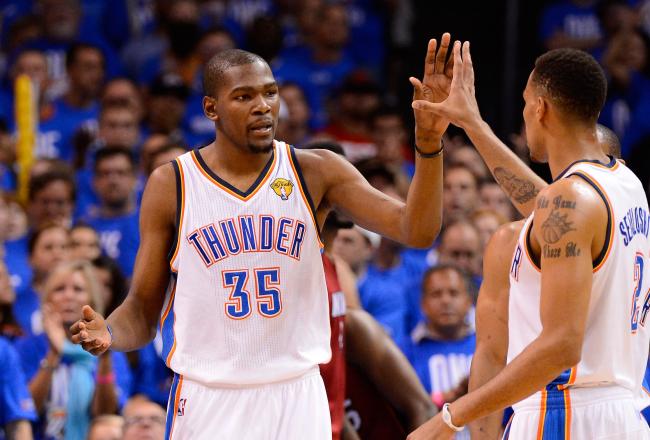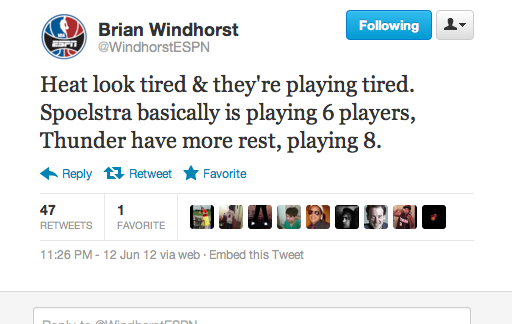 Thunder 93 Heat 85: 2:44 4th Quarter
Maybe it will go down to the wire? Or maybe Kevin Durant will just win it on his own.
Durant has 14 in the fourth quarter and 33 in the game.
Miami continues to hoist up threes but they're not falling, and all of a sudden OKC's jumpers are hitting nothing but net.
The Heat don't just need to score, they need stops. Neither is coming easy to them right now.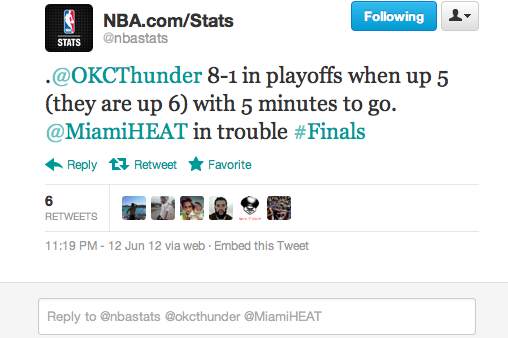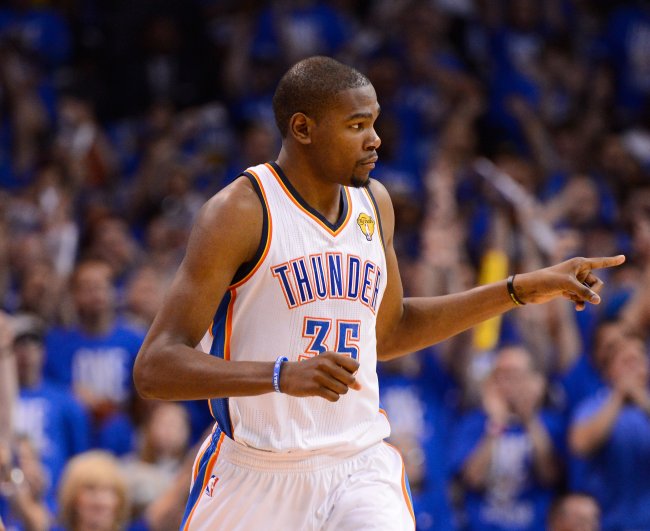 Ronald Martinez/Getty Images
Thunder 89 Heat 83: 4:48 4th Quarter
This game is showcasing the league's best players. It's the fourth quarter and Durant, Westbrook, Wade, James and Bosh are all making plays.
Who is going to make the biggest play or biggest shot of the night?
Thunder 87 Heat 83: 6:00 4th Quarter
Slowly but surely the Thunder are extending their lead. The Heat finally got a productive possession out of Dwyane Wade. His three point play cut the Thunder's lead to three.
A costly Miami turnover and a Durant dunk took it back to five and got the already loud OKC crowd to an even higher decibel level.
This game has the looks of one that will go down to the wire.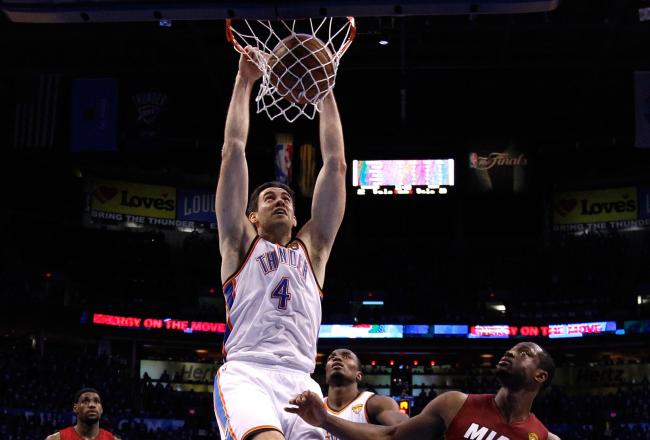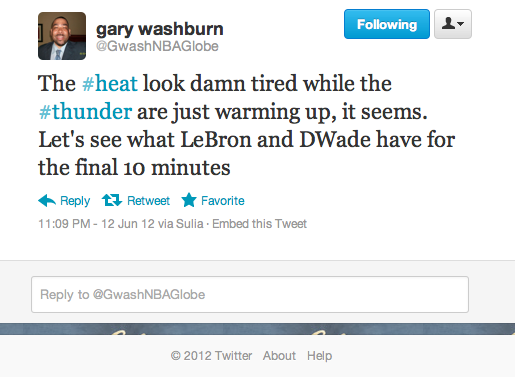 Thunder 78 Heat 73: 10:11 4th Quarter
Dwyane Wade? Still missing shots.
The Thunder? They're not missing much at all.
OKC has stormed out to score the first four points of the fourth to stretch their lead to five points.
Miami is having trouble getting points from anyone besides James and the Thunder are really clicking on offense.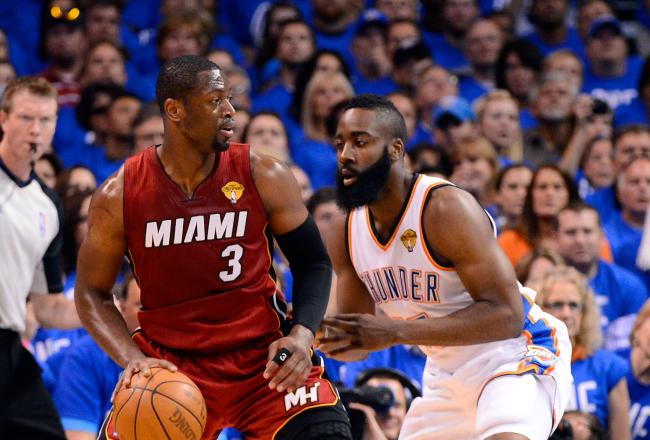 Thunder 74 Heat 73: End Of 3rd Quarter
Miami is beginning to show some signs of fatigue. The Thunder look like they're eager to start the fourth quarter.
Russell Westbrook used a three-point play towards the end of the third quarter to tie the game, and then grab the Thunder's first lead of the night.
Dwyane Wade has struggled all night. He's just 4/14 from the floor and his ability to get his shot to fall may end up deciding the outcome of this game.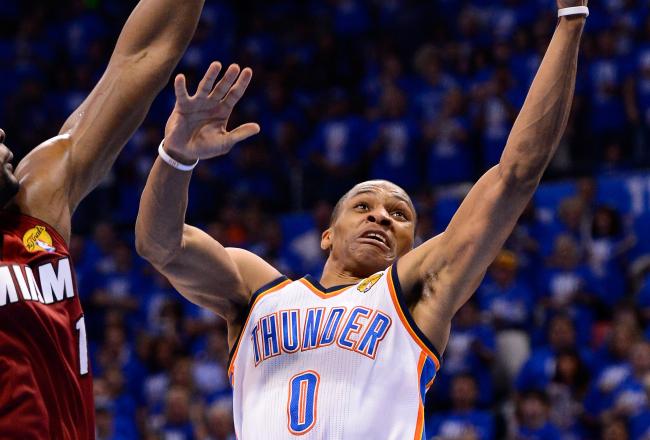 Heat 73 Thunder 71: 1:09 3rd Quarter
The Heat need to be concerned about a few things as the fourth quarter gets ready to begin.
The Thunder are only 4/13 from three-point range. That could easily change in the games' final quarter. As could the Heat's 8/14 shooting from downtown.
In a game this close a few three-pointers could easily tilt the outcome one way or another.
Miami is clinging to a tiny lead and the Thunder will try and push the tempo and create some easy baskets and crowd excitement.
Miami is having some real problems finding other scoring options not named "LeBron".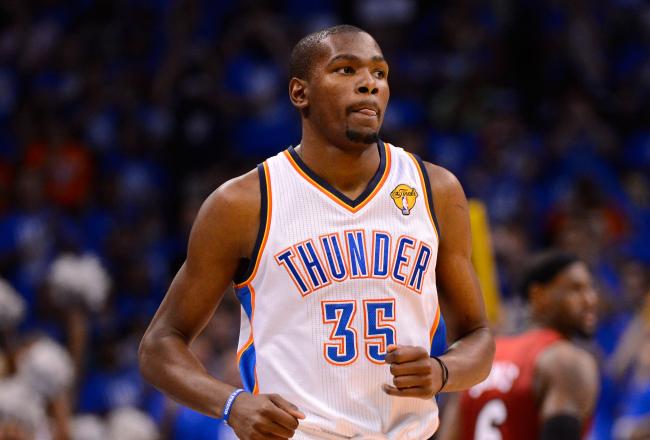 Heat 71 Thunder 66: 2:57 3rd Quarter
If you're tired of reading about him, think about how the Thunder must feel.
LeBron James appears to be on a mission and as of right now there's just no stopping him. Dunking, shooting, driving the lane, playing defense. As of now he's literally doing it all.
The Thunder don't have an answer, they're going to need to find one because a Game 1 loss at home is not how the Thunder envisioned starting the series.
Plenty of basketball left though. Durant has been oddly quiet in the second half. Look for that to change soon.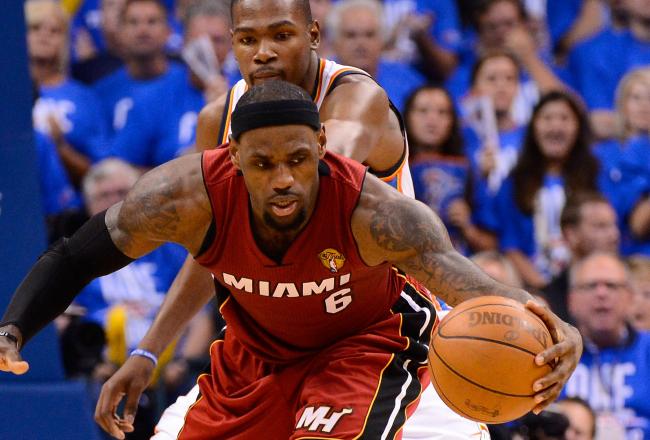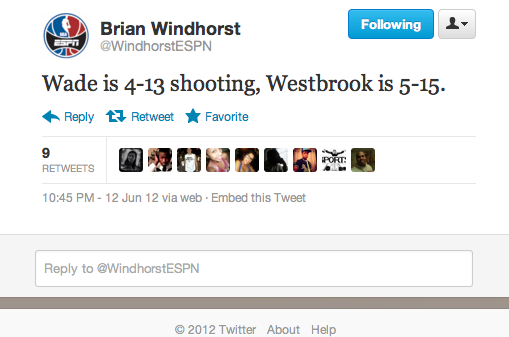 Heat 64 Thunder 62: 4:52 3rd Quarter
LeBron James may be answering the questions. He's a one-man machine. The Thunder tied the game and James responded with his own 4-0 run.
He's got a game high 21 points.
The Thunder continue to keep the pressure on Miami.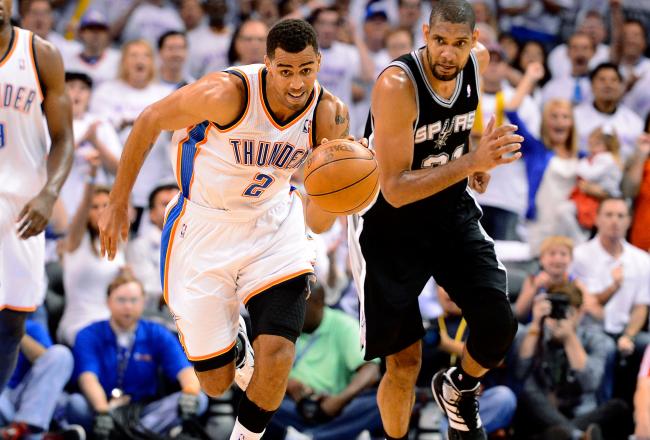 Heat 58 Thunder 57: 7:48 3rd Quarter
That missing Thunder defense in the first half?
They found it.
The Thunder seem to have a hand in almost every passing lane. They've gotten steals, tipped passes and forced turnovers in the early going and it's paying dividends.
The Thunder are on a 10-4 second half run, and Miami has called a timeout to talk it over.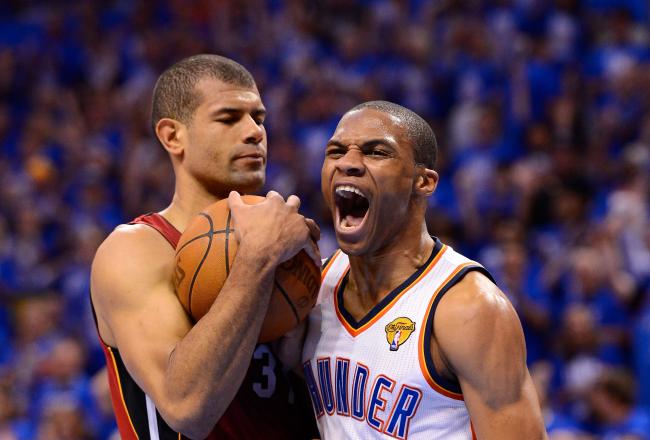 Heat 58 Thunder 53: 9:47 3rd Quarter
The Thunder stormed out of the gate to start the second half. Four quick points cut the lead to four and the defense was noticeably more intense.
LeBron James quieted the crowd with a three pointer.
Look for the Thunder to try and amp up their defensive intensity while cutting down on turnovers. The Thunder will also focus on getting the ball in the hands of Durant who doesn't miss too often.
For Miami they'll try and get Dwyane Wade into the offensive flow of the game. The Heat want to keep the pressure on the Thunder and not allow Oklahoma City to make any big runs and get the crowd too fired up.
Also look for James, Bosh and Wade to all take the ball at the basket. It's important to stay aggressive when you're the road team. Free throws slow the action and quiet the crowd.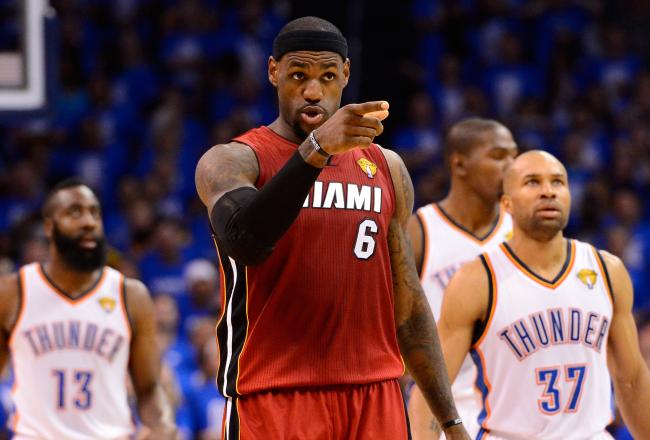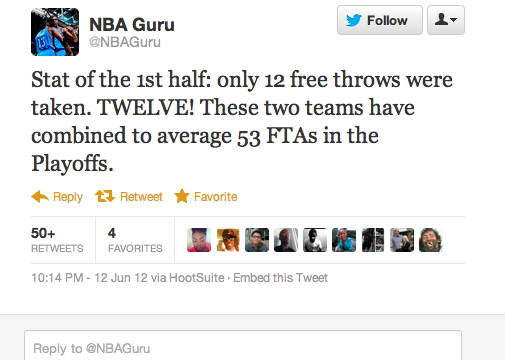 Heat 54 Thunder 47: Halftime
The Thunder played soft on defense and sloppy on offense. That's the difference in the game.
Miami's best players will score against any defense, but guys like Mario Chalmers and Shane Battier don't combine for 23 points in a half if they're not being left open.
On offense the Thunder turned the ball over eight times and that's cost them some decent chances on offense.
Miami shot 51.2 percent and OKC shot 55.6 percent.
For the Thunder Durant is the leading scorer with 13 points. Russell Westbrook has 9 points and 6 assists but he's 3/10 from the floor. Serge Ibaka has 10 points as well.
Miami got 14 points, 4 rebounds, 4 steals and 2 assists from LeBron James. He was the best all around player on the floor.
Dwyane Wade had 6 points and 5 assists while shooting 3/8 from the floor. Mario Chalmers had 10, Shane Battier had 13 points and Udonis Haslem had 4 points and a game-high 9 rebounds.
Heat 54 Thunder 47: 27 Seconds
Both of the NBA's stars are shining bright in the first half.
LeBron James has 14 points, Kevin Durant has 13 points and there's no question who the two best players on the floor are.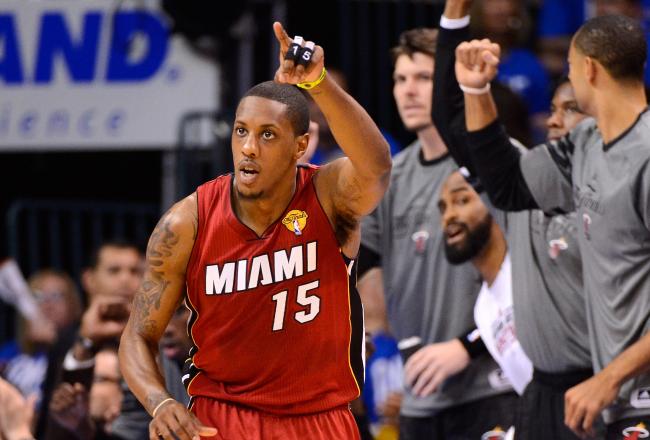 Heat 47 Thunder 37: 3:03 2nd Quarter
12 and 2, 9 and 7.
Those are the assist and turnover numbers right now. The first two numbers belong to Miami, and the second set are the Thunder's.
They paint a picture of why the Heat have been able to not just jump out to a ten point lead, but also maintain it.
The Heat aren't beating themselves, and the Thunder have been their own worst enemy.
Heat 41 Thunder 32: 5:12 2nd Quarter
The Thunder just aren't playing with the same type of defensive intensity they were in the Western Conference finals.
OKC allowed LeBron James to get all the way to the rim in transition even though there were Thunder players under the basket.
Scott Brooks can't be happy with the defensive posture of his team right now.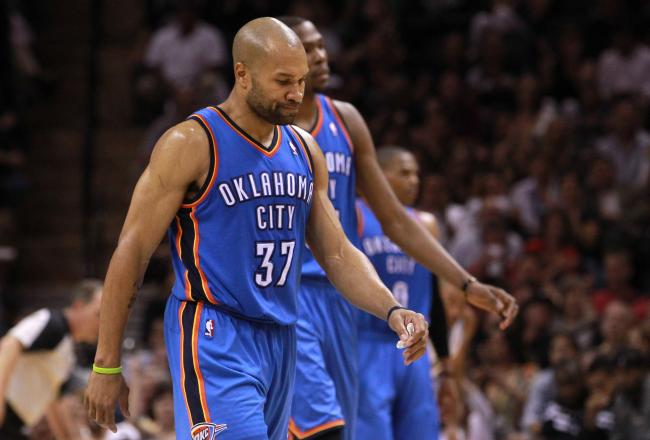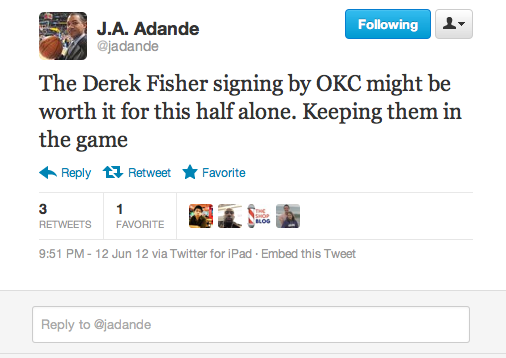 Heat 39 Thunder 30: 6:50 2nd Quarter
The Thunder finally send a defender at Shane Battier and he misses a shot.
OKC's defense has been spotty in the first half. The Heat are shooting the ball well but the Thunder's defense could be better.
On offense the Thunder have received a real shot in the arm from veteran Derek Fisher. He's come off the bench to score six points and he's the Thunder's second leading scorer.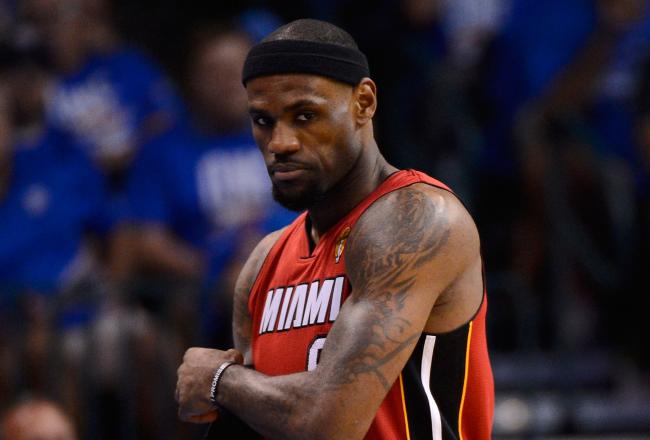 Heat 37 Thunder 26: 9:12 2nd Quarter
The Thunder were victimized by turnovers all season. They've cut them way down in the playoffs but they've got six tonight. The Heat are very good at capitalizing on those types of mistakes.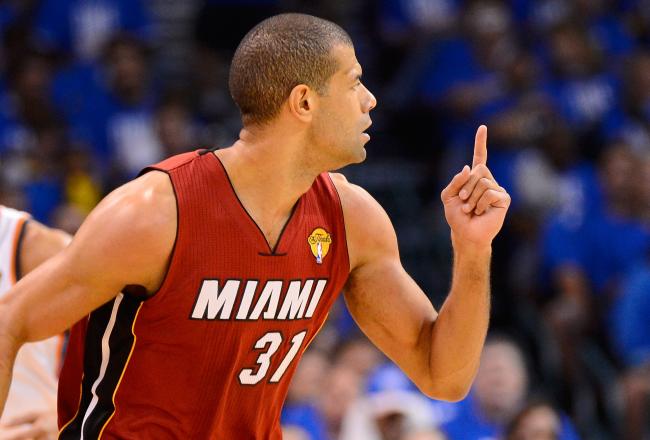 Heat 35 Thunder 24: 9:33 2nd Quarter
Shane Battier isn't an offensive force. If you leave him wide-open he's going to hit shots. The issue isn't that Battier is 4/4 from the field. It's that every shot has been a wide open look.
The Thunder need to make Battier earn his points, this is too easy for him.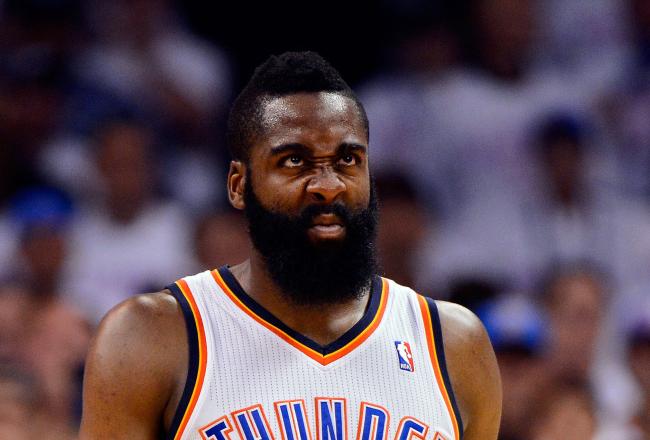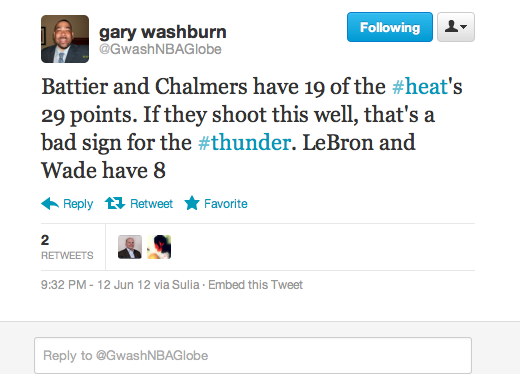 Heat 29 Thunder 22: End of 1st Quarter
James Harden knocked down a tough jumper as the first quarter buzzer went off to give the Thunder a little boost following a frustrating first quarter.
The Heat didn't miss much. If you're a member of the Oklahoma City Thunder and your name isn't "Kevin Durant" then you were part of a 5/13 first quarter.
The Heat will cool off and guys like Westbrook and Harden won't stay quiet all night.
Heat 29 Thunder 20: 48 seconds
The Thunder need someone to step-up and score besides Kevin Durant. It's been the bench, Derek Fisher and Nick Collison who have contributed two big buckets.
The Heat continue to scorch from the field, they're shooting 55 percent from the floor.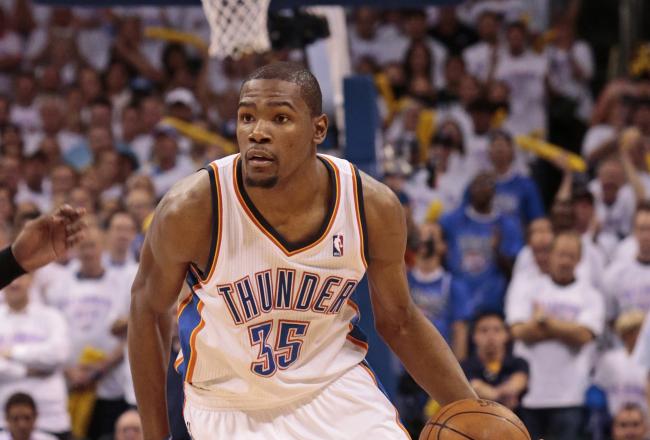 Heat 24 Thunder 15: 2:44 1st Quarter
The Heat are shooting the lights out but they're also getting a lot of open looks.
Right now Miami is hitting on 52.9 percent of their shots.
The Thunder are being carried by Kevin Durant. He has 10 points right now.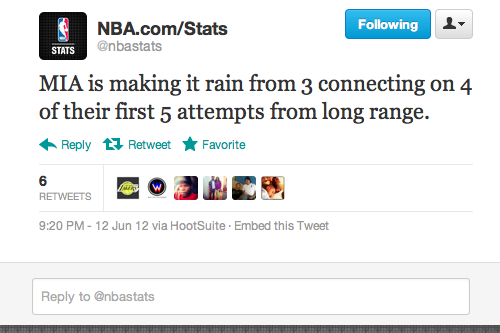 Heat 20 Thunder 12: 4:46 1st Quarter
It's raining threes in Oklahoma City! Battier is 3/3 from downtown and the Heat are 4/5. Someone is going to have to get a hand in Battier's face.
This article is
What is the duplicate article?
Why is this article offensive?
Where is this article plagiarized from?
Why is this article poorly edited?