L.A. Kings' Jonathan Quick and His Record Setting Run to the Conn Smythe and Cup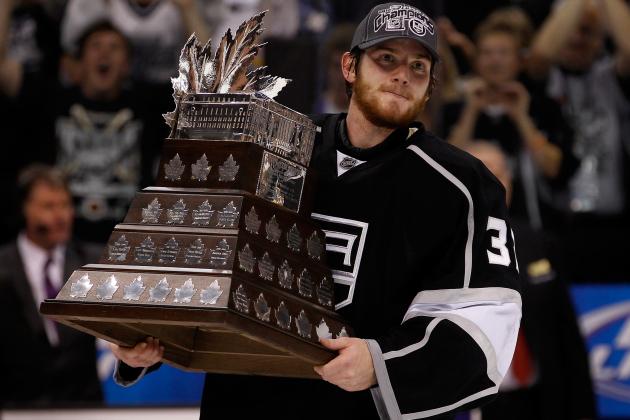 Bruce Bennett/Getty Images

On Monday night it came as no surprise when Los Angeles Kings goaltender Jonathan Quick was awarded the Conn Smythe Trophy as the most valuable player of the 2012 NHL playoffs.
Sure, some commentators would tell you that Dustin Brown or Anze Kopitar or even perhaps Martin Brodeur warranted some consideration, but that's their job to tell you those things.
Don't think for a minute that anyone really believed that the Smythe was going to anyone other than Quick.
Quick didn't just dominate during the Kings' run to the 2012 Stanley Cup, he set records and not the sort of obscure records that get trotted out to make a player look better than he really is, but real tangible records.
With that in mind, let's take a look at the records that Quick set before he lifted the Conn Smythe and Stanley Cup trophies in front of an appreciative Staples Center crowd.
Begin Slideshow

»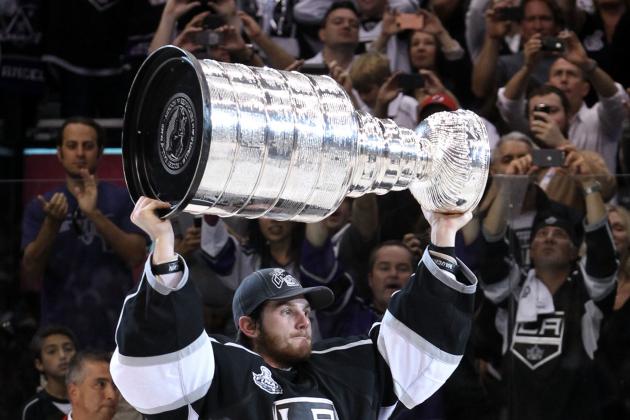 Christian Petersen/Getty Images

This is one of those records that comes with a handy asterisk attached to it and for good reason. The minimum games played in this record is 15. Yes, that makes the record more of a modern day record, but it also removes those players that played a handful of games in relief.
In the 20 games he played during the 2012 playoffs, Quick put up a goals against average of 1.41, making him the first player (with at least 15 games played) to fall below the 1.5 threshold.
Here's how his GAA compares to his nearest competitors:
Chris Osgood (2008): 1.55
Martin Brodeur (2000): 1.61
J.S. Giguere (2003): 1.62
Martin Brodeur (2003): 1.65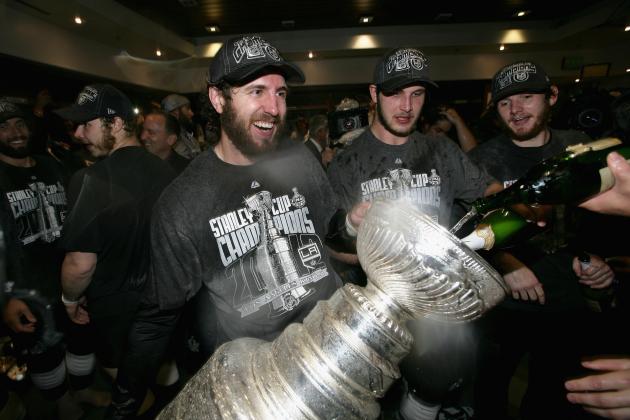 Pool/Getty Images

Another pesky asterisk for this one, and again the limit is 15 games.
Quick was solid in net for the Kings, only falling below a .900 save percentage once during the Kings' run to the Stanley Cup. That came in Game 5 when he posted a .895 save percentage. He more than made up for that one "stumble" by delivering three shutouts.
Here's how Quick's .946 save percentage ranks against the other players in the top five in that category:
J.S. Giguere (2003): .945
Mike Smith (2012): .944
Olaf Kolzig (1998): .941
Tim Thomas (2011): .940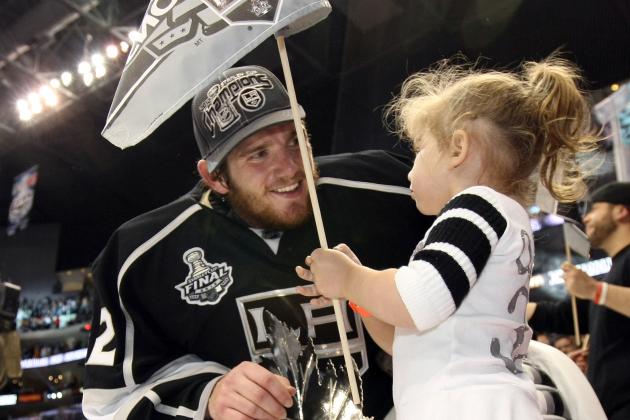 Christian Petersen/Getty Images

The Kings finished the 2012 NHL regular season as the No. 8 seed in the Western Conference, which meant that they knew they would be the road team for the duration of the playoffs as soon as they earned their playoff berth.
Their road dominance was something to behold as they won 10 out of a possible 11 road games on their way to the Stanley Cup. The only road game they lost was the final game they played on the road, a 2-1 loss to the Devils in Game 5 of the Stanley Cup Finals.
Quick earned the win in each of the Kings' 10 road victories.