Tiger Woods: Superstar Pairing with Mickelson and Watson Doomed to Disappoint
June 13, 2012

Jeff Gross/Getty Images
The US Open won't be won on Day 1 or Day 2, but you can be sure fans would jump at the chance to trade Sunday tickets for a chance to see Tiger Woods, Phil Mickelson and Bubba Watson playing together in the early part of the tournament.
Woods and Mickelson's followings speak for themselves, and Watson, the reigning Masters champion, is one of the more intriguing stories in the field.
Watson has played only twice since his memorable Masters win, but recently missed the cut at the Memorial, where Tiger roared to victory.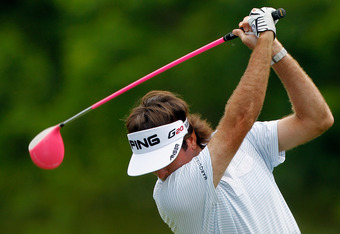 Chris Graythen/Getty Images
Playing with Woods and Mickelson was arguably the last thing Watson needed coming into the US Open. The pressure of being the latest major champion (no player has won both the Masters and US Open in the same season since Tiger in 2002), plus the pressure of playing with arguably the two most dangerous players in the sport puts Watson in the rough before he even tees off.
As for Woods and Mickelson, they're no strangers to playing with one another. Unfortunately for Woods, Mickelson's gotten the best of him in recent rounds, but they're nearly identical in their careers. According to ESPN Stats & Info, Mickelson averages a 69.97 in rounds with Woods while Tiger averages 69.53.
Positive numbers don't necessarily make them happy to see one other at the Olympic Club this early as they attract enough attention all on their own. 
Unlike Watson, Tiger and Mickelson are very accustomed to dealing with this type of tournament atmosphere, but that doesn't make it any easier. The fairways are narrow, the rough is deep and the US Open is typically the most difficult of the majors every year. 
Will all three stars make the cut? Possibly, but don't expect anyone to excel out of this early trio.