New York Jets: Grading Gang Green's Offseason, Move-by-Move
June 12, 2012
Al Bello/Getty Images
The New York Jets needed this offseason. Rebounding off of a disappointing where expectations were at a highpoint, barely walking out of the season with a .500 record, the Jets knew that change had to arrive through the offseason.
They first set their sights on their impending free agents, namely Sione Pouha, Jim Leonhard, Plaxico Burress, Bryan Thomas, Ladainian Tomlinson and Brodney Pool. Let's take a look at who they kept and give a grade, as well as a quick explanation for each signing.
Sione Pouha—Re-signed (B+): Pouha is a great defensive leader and a strong locker-room guy. Bringing him back at a fair price (three years, $15 million) is ideal for the Jets.
Bryan Thomas—Re-signed (B-): Thomas is really just a locker room presence, not a significant factor on defense. He can play DE in a base 3-4 instead of Quinton Coples.
Jim Leonhard—Declared Free Agent (D+): The idea to let him test the free-agent waters was not a smart one. He is the play-caller of NY's defense and a vital piece to their secondary. The only knock is that he's injury prone, although he should be back by Training Camp. Report: Jets looking to re-sign Jim Leonhard.
LaDainian Tomlinson—Declared Free Agent (C+): Tomlinson was not a good locker room presence and he wasn't a very good football player this past season. His presence is no longer needed. Report: Ladainian Tomlinson ponders retirement.
Robert Turner—Signed with St. Louis (D): Why did the Jets let him go? He was easily their best backup on the offensive line. He likely would've started had he been active this season, but a preseason injury sidelined him.
Kevin O'Connell—Declared Free Agent (B): Finally, the Jets re-gain a roster spot. O'Connell was never a good football player. Most likely, the Jets used him to feed them Patriot plays and then they kept him for a while. Now with a new offensive coordinator, he cannot bring any knowledge to his next team.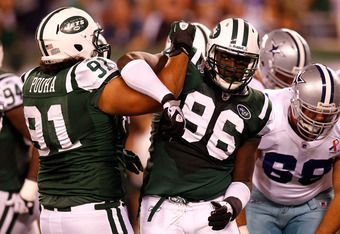 Jeff Zelevansky/Getty Images
Mark Brunell—Declared Free Agent (B): He was not a very good backup for Sanchez. Sure, he taught him some tricks of the trade, but he was a left-handed, nearly 40-year-old who could not threaten Sanchez's job. Report: Mark Brunell retired.
Plaxico Burress—Declared Free Agent (B-): Sure, I would've liked to see Burress stay another season and be a WR3 or play opposite Stephen Hill with Santonio Holmes at slot, but he didn't do enough last year to warrant a big contract. Maybe the Jets will re-sign him down the road, but as of now, I don't see it.
Nick Folk—Re-Signed (C-): He's a very under-appreciated kicker. All season he missed only one easy field goal, and it was against the Patriots. You know, the game the Jets lost by over 17 points. He has the power, now he just needs a little bit more consistency.
Brodney Pool—Signed with Dallas (C): I'm indifferent. He obviously wasn't good enough to be the starting FS or SS this year, so I can't say too much about it.
Donald Strickland—Declared Free Agent (C+): He was a Jet just two years prior and did a decent job as a nickel corner. This time he was decent, but the Jets need fresh legs in that backfield and Strickland is by no means fresh.
Marquice Cole—Signed with New England (C): He seemed like a practice squad guy who finally found his niche, but the Jets lost patience. Similar to James Ihedigbo in that sense, but Cole is much better in coverage and doesn't pack a wallop like Ihedigbo. It's unfortunate to side with a division rival, but he won't be a difference maker there.
Jamaal Westerman—Signed with Miami (C-): Similar to Cole and Ihedigbo, Westerman was turning into a decent option but the Jets lost patience and he was fed a big contract by Miami. I didn't think he was very good; he was a subpar pass rusher (not even as good as Aaron Maybin) yet he was also terrible against the run (nearly as bad as Maybin).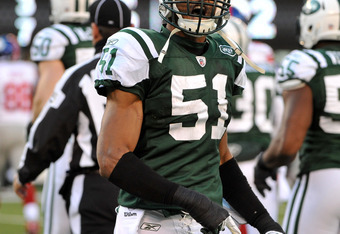 Christopher Pasatieri/Getty Images
Aaron Maybin—Tendered (Re-Signed) (B-): BOLD PREDICTION: Maybin will lead the team in sacks next year with 9.5. Why? He has been on the team for less than a season and was the Jets' sack artist last year. With a full offseason in green and white and an improved pass defense, look for him to have more sack opportunities.
Matt Mulligan—Signed with St. Louis (B): Not what the Jets needed at TE. He was a decent blocker, not a catching threat and was constantly pushing the Jets backwards via penalties. The Jets still need a reliable blocker who can maybe catch a pass (think Chris Baker).
To make up for some of their lost personnel, the Jets made a subtle splash in Free Agency. Here are all of their signees with a grade for each move:
Drew Stanton—one year, $1.25 million (A-): The Jets replaced Mark Brunnell with a true backup quarterback. Sure, I know that he is an infamous second-round quarterback (as those drafted in the second round tend to flop), but that doesn't mean that he can't be a good backup who competes with Mark Sanchez. It was sad to see him lied to and traded, but football is a business.
Chaz Schilens—one year, $750,000 (B+): This signing is known as a "boom or bust signing." On one hand, Schilens is a lightning fast, 6'4" receiver with decent hands, but one could argue that he is a one-year wonder who is injury prone and that he still hasn't surpassed 700 yards. Regardless, this is a great pickup for a No. 4 receiver. 
Hayden Smith—Undisclosed (B+): When the Jets announced the signing of Hayden Smith, I didn't know what to expect. Sure, he has no football experience, but he did play the cousin of football, rugby. Rugby success does not necessarily translate in the NFL, but he does have a lot of upside. He brings over physicality and when he has the ball in his hands, he'll be tough to knock to the ground.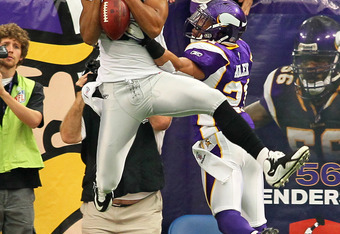 Adam Bettcher/Getty Images
LaRon Landry—one year, $4 million (B): Sure, $4 million seems like a lot for a player who rarely finds his way onto the football field, always hampered by injury, but, the deal is essentially a $1.7 million deal with incentives that could make the contract worth $4 million. He's an in-the-box type of safety, one who cannot cover, but can scare the running back very well.
Yeremiah Bell: one year, $1.4 million (B): Bell is a typical strong safety: not so spectacular in coverage, but can get the job done, make good tackles in the open field and is a good in-the-box and in-your-face player. For the money he costs, it's good insurance for the oft-injured LaRon Landry.
As well, the Jets pulled off two trades before the NFL Draft.
1) New York Jets send a fourth-round pick and a sixth-round pick to Denver for Tim Tebow and a seventh-round pick (C-): Yes, I have an obligation to mention Tim Tebow. I'll try to rid personal bias. He is not a stud, but he will be adding a completely new dimension to the Jets offense.
I think he was worth the fourth-round pick, but I don't understand why they thought they needed to trade for him, because it only came with negative fan reception and only added to the mantra, "New York's Circus Team."
2) New York Jets send Drew Stanton and a seventh-round pick to Indianapolis for a sixth-round pick (B-): I feel pretty bad that the Jets will not get to see Drew Stanton showcase his talents, because he was not given a great opportunity. I feel like he has a better chance to usurp Mark Sanchez because both Stanton and Sanchez play quarterback, unlike Tebow, who is Wildcat quarterback and punt protector.
Finally, we're at the draft. Here is how the Jets' draft turned out:
Round 1: Quinton Coples (C-)–There is no reason why the Jets should have picked him. I've read the great articles of Ryan Alfieri and in turn understand that the Jets do not actually run a base 3-4, but the problems go beyond the fact that he is a 4-3 DE, not a 3-4 DE/OLB.
Coples is a one-year wonder as a pass rusher and couldn't even stay motivated enough in his final collegiate year to be considered a top-five pick. The pick just screams Vernon Gholston 2.0 and if it does, then Mike Tannenbaum and even Rex Ryan could be missing from the 2013 New York Jets.
Round 2: Stephen Hill (B+)—This is a great value pick. I've watched a lot of his college game tape and he looks like a hungry wide receiver with terrific downfield ability. He's also not afraid to pancake the defensive back in order to help the running back. He should find his niche in New York very quickly and I think he was drafted to start.
Round 3: DeMario Davis (B-)—Davis is a very under-looked draft pick. He has decent speed coming from the middle and should be able to keep up with running backs and tight ends, making him a much better 3-4 LB than Bart Scott, who at this point has nothing left to offer.
Round 6: Josh Bush, Terrence Ganaway and Robert Griffin (C+, C+ and D)—Josh Bush has loads of potential, but I wish the Jets took a more surefire prospect in Markelle Martin, the rangy FS of Oklahoma State. Ganaway's an in-between-the-tackles type running back, but he's not very talented, especially since he was in the backfield behind Robert Griffin III, meaning that defenses didn't pay much attention to him.
Finally, RGII has good measureables except for his speed, which is really lackluster. He would most likely be an offensive tackle on the Jets' offense.
Round 7: Antonio Allen, Jordan White (B+ and B-)—Antonio Allen was a great selection by the Jets. The falling SS was projected to be a third or fourth rounder, but ended up being drafted in the final round.
If Yeremiah Bell does not re-sign, Allen could possibly be the starting SS as early as 2013-2014.  White, on the other hand, is one of the best college receivers of all time, statistically. He did just break his foot, which may be a cause for concern, but he could be an asset to the Jets as WR5.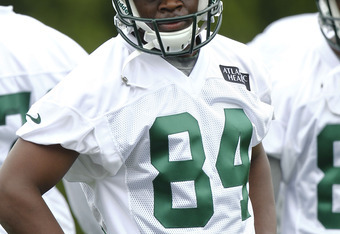 Jeff Zelevansky/Getty Images
So that was the Jets' offseason. Pair in some undrafted free agent pickups which do not deserve a grade because few, if any, will be on the team after preseason cuts.
Altogether, I'm going to give the Jets' offseason a B-. It was above average, but not by much. The way I did it was by applying a numerical value for the importance of the move (scale of 1-5 with the Pouha move being a 4 and Mulligan being a 1) and made a number that represented each grade (i.e. 95=A, 92=A-, 88=B+, etc.) and then averaged the grades.
I ended up with a grade 82.3125, which is a B-. However, I did not put into account the fact that the Jets left some positions completely unchanged (in a bad way) such as right tackle and free safety. 
What do you think of the Jets offseason? What positions should still be addressed? Leave a comment so I can look at your opinions.