Sweden vs. England: Date, Start Time, Live Stream, TV Info and Preview
June 12, 2012

Shaun Botterill/Getty Images
This Preview of Sweden vs. England in Euro 2012 will provide you with everything you need to get ready to cheer on your team.
There has been an upset already (Denmark 1-0 Netherlands). Will there be another in this match?
Where: Olimpiysky National Sports Complex, Kiev, Ukraine
When: Friday, June 15 at 2:30 p.m. ET
TV: ESPN 2
Live Stream: ESPN3.com
Three Lions
The English drew 1-1 with France Monday evening. It was a miracle they broke even; offensively, the French dominated the match with 64.9 percent possession and an incredible 15-1 attempts on target ratio. For a victory to be had over Sweden, England must possess the ball and be more aggressive on offense. Following the match, German footballer Michael Ballack decimated England's approach from his ESPN post (h/t Simon Burnton, The Guardian).
"I'm really disappointed with the game," he said. "England wanted a point, they got a point, but is this the way to play football in the future? If you're parking three buses in front of the goal, that's not football. They're sitting back most of the time with 10 players…I'm not impressed."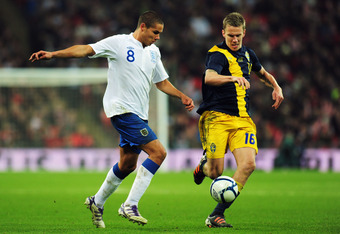 Shaun Botterill/Getty Images
Blågult
The Swedes were thoroughly outmatched in the 2-1 defeat to host Ukraine Monday night. Passes were not on-target, the defense was faulty and it resulted in coach Eric Hamren calling his team cowards after the messy match had ended.
"We're not reaching the level we want to and that's my responsibility as a coach," he said. "We didn't show the courage we were supposed to. Only five or six players did. We all need all the players doing that. We were cowards in the first half and should have done more. I'm not happy with the team; I was expecting more."
To emerge victorious, Sweden must shore up the defense and their passing must improve. They completed just 297 passes during the match, the fewest so far of the tournament.
The Advantage
England has the obvious advantage for this match. Sweden appears dysfunctional of late and the defense is to blame. Roy Hodgson will have his team ready for battle, and they should come out more aggressive on offense.
If and when they grab a lead it could get boring for viewers. A repeat of the drab performance versus France is very possible and should be expected.
Prediction: England 1-0 Sweden
It has been said that, "To the victor go the spoils," and that will be especially true this go-round. England will defeat Sweden. Will they dominate? It's not likely.
But what they receive should emerge the victor is more important than dominating what will be an outmatched Swedish team.
Wayne Rooney has one game remaining on a suspension that was the result of this minor kick and massive flop from October 2011. He missed the France match and will sit out against Sweden. He is the offensive attack for England, and will be needed against tougher opponents in Group D and beyond.