Heat vs. Thunder: NBA Finals 2012 Preview
June 12, 2012

Jamie Squire/Getty Images
After almost two months of exhilarating basketball that has captivated casual and hardcore basketball fans alike, we have finally come down to the NBA Finals. The Miami Heat led by LeBron James square up against the Oklahoma City Thunder led by Kevin Durant. The NBA could not have asked for a better matchup featuring the two best teams and the two best players in basketball. 
This year was wacky with the lockout shortening the season and most teams simply trying to survive and make it to the playoffs in one piece. However, the season did not lack its share of great basketball games and interesting storylines along the way. After all the ups and downs and "flavor of the months" that caused wavering in opinion from those that know, it seems that in the end the two teams that many expected to get to the finals have arrived to compete for basketball supremacy.
For the majority of the season, these two teams led their respective conferences and were regarded by many as the two best teams in basketball. However, due to the rigors and psychological challenges of this unique season, both teams seemed to coast or let down for a while, which allowed the "try-hard" San Antonio Spurs and Chicago Bulls to take over conference leads for the second year in a row. Both teams looked sloppy and flawed at times, and due to the fickle nature of many basketball fans and analysts, there were some who jumped off of ship to ride with the Spurs, Lakers, Celtics and even Chicago Bulls as the favorites to win the title.
I myself doubted that the Thunder would make it to the NBA Finals because I was so impressed with the Spurs' play, and thought they were better than just a well-coached cast of regular season heroes. I thought that the Thunder would be their own worst enemy along the way due to their free wheeling and jump shot oriented offense. In the end, the Thunder have arrived in the NBA Finals after convincingly beating the Western Conference's last three NBA champions.  That is no small feat at all, given the fact that this team is led by three players that are under the age of 24.
Is it the Thunder's time to shine at such an early age?  After all, LeBron James has waited nine years to get his first championship, which is a record for a 3-time MVP. Michael Jordan had to wait until year 7 to get his first title
I say no for two reasons. The premise that a team being young means they have to wait their turn to win a championship is flawed.  For one, in all sports, championship opportunities are not guaranteed.  Dan Marino got to the Super Bowl in his 2nd year, Dwyane Wade won in his 3rd year, Bill Walton in his 3rd year. Many others have won early in their career only to get shut out for several years after.  So many things can happen in a career that can prevent a team that looks primed for consistent success from winning as much as it looked like they would. Therefore, the future cannot be taken for granted, no matter how young and talented the athlete is. The Thunder definitely have not adopted the attitude that they have time to win multiple championships, and fans and analysts should follow suit. 
Secondly, time is now. They have a top notched "Big 3" that can go up against anyone including their opponents in the Finals. They have size; they have playmakers; they have clutch, fearless players; they have an outstanding home court advantage; and they have a depth of effective role players that supplement their stars very well. The Thunder have proven over and over again that they can play with and beat teams that have championship a pedigree or history; they have faced adversity; and have been unfazed by naysayers and criticism. This team has all the makings to be a championship team and have proven over and over that their youth is more of an asset than a setback.
The Thunder are the most talented team in basketball. They have one of the game's two best players in Kevin Durant, who is a 3-time scoring champion. Then there is the explosive, ultra-athletic point guard in Russell Westbrook, who can get his own shot whenever he wants. Off the bench they have the league's best sixth man in James Harden, a guy that can take over the offense as a playmaker and is a handful to stop one-on-one. And lastly, they have size and toughness inside led by Serge Ibaka, Kendrick Perkins, and Nick Collison, all of whom can intimidate and stop any team or player that dares to consistently challenge them inside.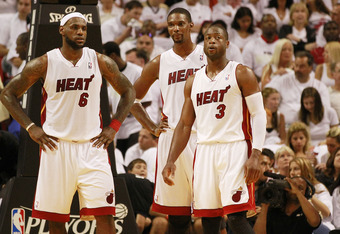 Marc Serota/Getty Images
Additionally, they have role players that in some ways are one-trick ponies, but are effective in doing their job. Thabo Sefolosha is one of the league's best defenders and is long enough to trouble some of the league's best wing players; Derek Fisher is one of the best clutch shooters of all time, possesses a boat load of intangibles and has five championship rings; and Daequan Cook, a former three point champion with the Heat, is one of the league's best sharpshooters. 
The only thing that most, including myself, thought might hold the Thunder back was their coaching and decision making. Too often, if a team was able to keep the Thunder out of transition and slow down Russell Westbrook from getting out on the break, they were not nearly as effective in the half court, because they relied on jump shots and inefficient offense. Kevin Durant is literally unguardable, and is essentially a 6'10 shooting guard that can shoot the lights out with incredible range and is capable of taking most players that guard him to the hole. The problem is that the Thunder often go away from him for long stretches and settle for jump shots or wild drives to the basket from running-mates Westbrook and Harden.
Harden is much more efficient in his offensive attack and judicious in terms of when he takes matters into his own hands, and is also much more willing to make plays for his teammates.  Meanwhile, Westbrook has always struggled with his role as the "Robin" to Durant's "Batman," as it is clear that while there is no disrespect to his buddy Durant, he feels he is just as good, if not better, and knows that no one player can guard him. As a result, even though he is a point guard and should be trying to set up his teammates and get them involved, he often goes stretches of hogging the ball, and tries to dominate the game by himself. It makes sense why he does this, because he is often successful with his unguardable pull-up, and his tough slashes to the hole, but the consequence is that often this often means Kevin Durant goes several minutes without touching the ball. This is baffling to most that watch and has always been a question mark for the Thunder given Westbrook's inability to balance his responsibilities.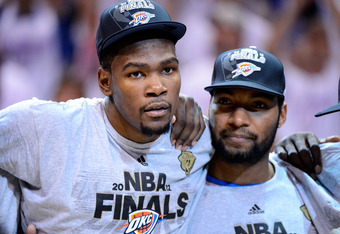 Ronald Martinez/Getty Images
It would seem that Coach Scott Brooks would step in as a solid basketball mind with more intimacy to the situation than all of the talking heads that notice this issue and intervene, but it seems that at least in interviews he supports Westbrook's play 100 percent. This has always been a concern of mine, because as the coach, it's his responsibility to reign in his young point guard in a way that would not sacrifice his game, yet keeps him focused on his #1 responsibility as the team's point guard. 
While the Thunder do not have a consistent low post threat, it is Brooks's responsibility to not allow the Thunder to come down and basically chuck up low percentage shots on a regular basis, and expecting to win against great teams. For the most part, it seems that Brooks has been very hands off and been more concerned with getting in the way of the incredible talent and freelance of his star players. That's good for the confidence of his players, but is this philosophy good enough to win a championship?
Despite those concerns, Coach Brooks was the difference in the last series.  When the Thunder fell into a 2-0 deficit and looked overwhelmed by the well-coached and experienced San Antonio Spurs, he did a very underrated job of regaining balance on the floor and made some strategic changes that threw the Spurs off.  They changed how they guarded Tony Parker and smothered him in pick and roll, he put Kendrick Perkins in positions to succeed, he seemed to subtly and quietly convince Russell Westbrook to balance his game and make sure that Durant gets the ball when he needs it and he tried several matchups that seemed to stifle the league's best offense resulting in a 4-2 series win.
Coach Brooks is going to have to have the Thunder ready to play again on the same level they played in the conference finals. I think his guidance was the difference, because his former philosophy of being a cheerleader while the players went out and just played was not going to be good enough to win a championship. If he can continue to coach the Thunder like he did against the Spurs, I think the Thunder should prevail as champions.
As over-maligned and scrutinized as he is, Erik Spoelstra may be stepping into this series for the first time as the better coach. He may not be the best man for this particular job, but I do feel he is a very talented and capable coach that has done better with this Miami Heat squad than most coaches could have. He has remained calm, focused and never shown panic. He keeps his team focused and prepared to play night in night out, and you will never catch him overreacting to anything that happens in a particular game. That is a great quality he has. He is a very smart guy and in order for his team to win this series, he is going to have to out coach Brooks in the worst way.
Given the Heat are no slackers talent-wise as well, it is going to be very hard for him to convince his team to really slow the Thunder down and make them play a game in the half court where they are less efficient. The Heat are as good as any team in the league when they play an open game and get out on the break. The problem is, the Thunder are great at it too. They are younger, faster and more explosive…which is saying something. Spoelstra must find a way to get the Heat to focus on playing stifling defense and forcing the Thunder into bad decisions and turnovers. They must come up with wrinkles that will confuse the league's highest scoring trio and limit their influence on the series.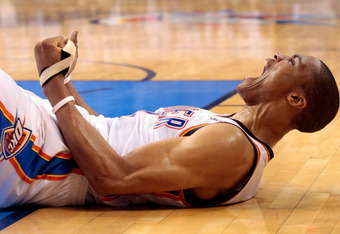 Brett Deering/Getty Images
I won't insult Spoelstra by suggesting how to coach the team, but I do know that he must have a heavy influence on the series. If he has a stalemate with Brooks, the Thunder win this series.  If he is not able to get his guys to play elite defense, the Thunder will win this series.  If he does not psychologically tweak this team in ways that will help them counter the magnitude of the moment, the pressure of living up to the hype, and the media onslaughts that will follow every loss this series, they will lose the series and will lose trust in each other. It is well documented what happens to the Heat when they self-destruct and it really is going to come down to Spoelstra trying his best tricks in this series and hoping they succeed.
While all the talk has been focused on the Thunder and the Heat's coaching, it's hard to believe that a team led by two of the league's five best players is seen as an underdog talent wise. In fact, this may be the first time that the Heat play a team that can claim to be more talented than them. It's not far fetched though. 
As great as LeBron James and Dwyane Wade have been in their careers, they only have one championship between them. There is a lot of pressure put on them due to how they chose to join forces. Everyone seems to expect them to spit out championships like a computer, but it will continue to be tough for them to really max out their talent and have games like they did in Game 4 against Indiana when they combined for 70 points in Chris Bosh's absence.
As impressive as that performance was, it was just a few months ago that Durant and Westbrook had already put up 90 points in a game against the Nuggets back in February. The last time two teammates went 50-40 was in 1983 when Kiki Vandeweghe and Alex English did it. No one can eclipse James and Wade in star power, but Durant and Westbrook are every bit as productive and can outperform this duo on any given night. They are a fearless pair of young chaps that back down from no one. The onus is definitely going to be on James and Wade to be special together…which sometimes is hard because their games are so alike.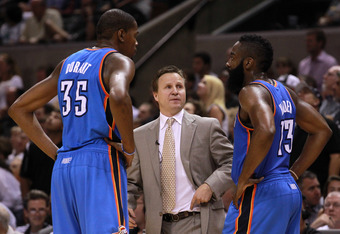 Ronald Martinez/Getty Images
If you expand the comparison to big 3s, Chris Bosh is a much more decorated player than James Harden and you can argue that he is the better player, but again, on any given night Harden can outperform him. Because of how well the Thunder mesh, and Harden's important playmaking role, he has more scoring responsibilities than Bosh and does not have to depend as much on James and Wade being so nice as to share the ball with him. Harden often brings the ball up and Durant and Westbrook encourage him to be assertive and make plays for himself.  During the season, Bosh averaged 18 points while Harden averaged 16.8, but as a whole the Thunder trio outscored the Heat 68.4 to 67.2. The mighty big 3 that has been marketed and paid more than any other trio in history, has met their match and then some. 
It's hard to fathom, but the Heat have their work cut out for them. Bosh won the Celtics series for them with his ability to stretch the floor in Game 7. His shooting gave Wade and James room to drive strong to the hole and finish, which was the difference in the 4th quarter. This is going to be huge again, because the league's most intimidating shot blocker in Ibaka, and two of the league's best post defenders in Perkins and Collison need to be as distracted as possible if Wade and James are to be able to play at their optimum comfort level. 
If Bosh can drag Ibaka away from the basket and be proficient again from the outside, that could be a huge difference maker for the Heat. At the same time, James Harden must obliterate his matchup in this series. He could be the biggest difference maker for the Thunder. If he plays like he has all season, scoring consistently from the inside and outside and threading the defense with his patented smooth drives, Dwyane Wade may have to guard him so that he does not explode.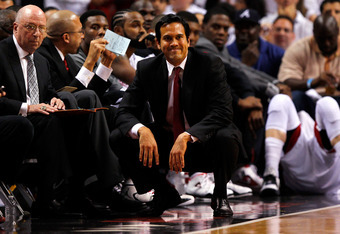 Mike Ehrmann/Getty Images
If Wade guards Harden, who is going to guard Westbrook? Westbrook is almost impossible to guard as it is, but at least Wade can slow him down a little bit if he commits to it. Assuming they do that, Wade will use up some energy needed for offense and may get into foul trouble as well. This could be a double negative because not only will Wade be physically tested in this matchup, despite being one of the best defensive guards in the league, it will free Harden to go wild on a smaller Mario Chalmers, or a slower Shane Battier. Chances are the Heat will put Battier on Durant some to preserve James, which could work to a certain extent, so it's going to come down to James Harden being great in his matchup against Chalmers. If Wade is forced to guard him, we may not hear the end of the demolition that Westbrook will do to Chalmers. Chalmers is a decent defender, but known more for steals and off the ball play. I do not think he stands a chance against Westbrook.
Luckily for the Heat, the Thunder do not utilize their size much on offense outside of screening and rebounding. Otherwise, their lack of size would be fully exploited by the Thunder's intimidating size and ruggedness. The size will take effect as mentioned earlier when the Heat are forced to meet them at the basket and more importantly when the Heat guards and small forwards are forced to run through some of the best screening big men in the league.  It is not going to be fun on defense for the Heat.
With all that said, in the end, the last hope that the Heat have is if LeBron James comes out of his shell and is special in this series. For one reason or another, the Finals have been a psychological obstacle for him. He has struggled to play free, has not had any great moments and has seemed to be left wondering "what can I do?" or "where are my teammates? I need help." This time around, he cannot have those moments like he had in 2007 for Cleveland and 2011 for the Heat. He must be on the attack at all times and has to be great in this series for them to win.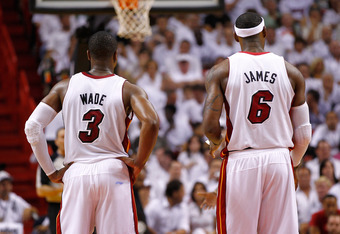 Mike Ehrmann/Getty Images
Some will say that Wade is the guy they should ride to the championship, which makes sense given he has won one in the past, and owns one of the most dominating performances in the Finals that the league has ever seen.  He almost single-handedly led the Heat to a championship in 2006 and he lives for this type of stage, but to be frank, the Heat will only go as far as LeBron takes them. He is their best player, and he's going to have to be special like he has been in every other regular season and pretty much every other series he's played in excluding 2010 Boston. Wade can take last shots if he'd like, and he can certainly have big games. In fact, they need him to play well, but for the Heat to win the championship, LeBron James must have his transcendent moment which will quiet all the naysayers and most importantly his own doubts.
On the other hand, the Thunder have one of the most underrated winners this game has ever seen in Derek Fisher. I think it's no coincidence that the Lakers have not won a championship without him since Magic was there, and he always was the perfect yin to Kobe Bryant's yang in terms of leadership.  He may not have a huge impact physically but he will keep this young team focused, prepared and ready for the big moment. It would be silly to not expect him to hit a few big shots in this series that may end up putting them over the hump. 
In the end, I think that LeBron seems psychologically at peace and is not carrying the pressure as much as he did last year. That does not mean that he won't feel pressure, but he's not adding extra pressure to what is already there. I expect him to have a good series and at least not look as terrible and puzzled as he did last year. How great will he be? That remains to be seen. Either way, I think that Durant is ready to make his big splash and be great in this series. I think that James Harden will be the difference maker and the Thunder will come up with enough big plays to win this series. I see the Thunder winning in 6 games and winning on their home court to become the first champion from the Western Conference not named the Lakers, Spurs, or Mavericks since 1995. Should be a great series!