What Chad Ochocinco Needs to Fix to Be a Fit in Miami Dolphins Offense
June 12, 2012

Michael Heiman/Getty Images
I wrote yesterday that newly-signed Dolphins wide receiver Chad Ochocinco wouldn't be a fit in the West Coast offense being installed by head coach Joe Philbin and offensive coordinator Mike Sherman.
Not only does Ochocinco lack the football intelligence that many thought he had when he was with the Bengals, but he's not a precise route-runner and often freelances in his route-running.
Per Greg Bedard of The Boston Globe:
According to multiple sources, he just doesn't have the football I.Q. that he appeared to have while with the Bengals. The Patriots would literally tell him to run a route a certain way, and a minute later he would run it the other way. It happened all the time.
Finding examples of this is difficult; how does an outsider know when Ochocinco ran a different route than what he was told? It's impossible.
What we can do, however, is clearly identify where Ochocinco clearly wasn't on the same page with Patriots quarterback Tom Brady. If we're to trust Bedard's sources—and there's no reason not to—we can assume that a majority of those plays were the fault of Ochocinco and not a bad read by Brady.
The first that comes to mind is a play from a Week 3 contest at the Buffalo Bills.
Chad lines up on the outside. He runs a deep post across the middle of the field with Bills cornerback Leodis McKelvin on him in coverage.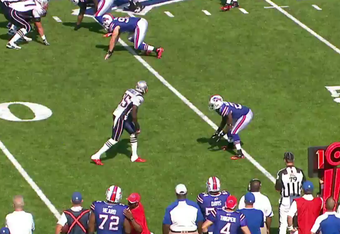 Ochocinco may have run the correct route here, but he didn't run it correctly. As the receiver on an in-breaking route, he has to know to get inside leverage on the cornerback and to get into the right spot where only he can make a play on the ball.
That didn't happen. As a result, Brady's pass was intercepted.
CBS analyst and former NFL quarterback Rich Gannon had this to say when breaking down the play:
As he comes out of the break, he starts to fade and he lets Leodis McKelvin undercut him. You've got to take a flat-friendly angle, coming back to the quarterback. Leodis McKelvin right on the hip of Chad Ochocinco the whole way. You can see how annoyed Tom Brady is. You've got to be able to trust those receivers.
The two would have a hard time developing that trust over the course of the season, as Brady went 16-for-32 (50 percent completions) for 297 yards, one touchdown, one interception and a passer rating of 79.8 when throwing to Ochocinco. To put that in perspective, Brady's passer rating on the season was 105.6.
The struggles continued in Week 9 when the Patriots hosted the Giants. Again, Ochocinco lines up on the outside, and this time is being covered by Giants cornerback Aaron Ross.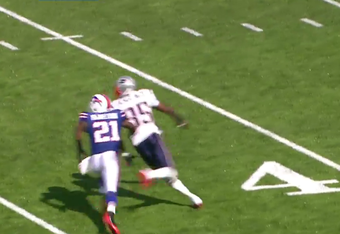 At the top of the route, Ochocinco breaks outside. Once again, though, his break is a bit sloppy. He rounds off the route, taking a different angle than it appears he will in this still. This happens just a split second after Brady releases the football.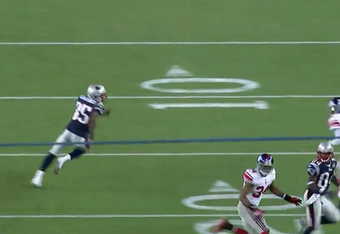 But that split second is all that's needed to be the difference between a potential touchdown pass and an incompletion sailing well over everyone's head.
Noticing a trend?
And it's pretty clear why Brady threw where he did when you look at this still: He was trying to throw Ochocinco open, away from the coverage of Ross and the incoming safety.
Fox analyst and Hall of Fame NFL quarterback Troy Aikman's sentiments were similar to Gannon's back in Week 3.
Ochocinco kind of threw Brady off; it's going to look at the top of this route like he's going to the corner...it looked like he might be going to the back pylon, and that's where Brady then started to throw the ball. These receivers, they have some flexibility within these routes, but it's pretty obvious he and Brady aren't on the same page.
He doesn't run crisp routes. That much was proven time and time again in 2011.
How is that going to work in a timing and precision offense where a quarterback throws the ball to a spot where he anticipates his receiver being? The short answer: it doesn't.
Ochocinco is going to have to start running crisper patterns and knowing his assignments if he wants to be a fit in the West Coast offense.

Erik Frenz is the AFC East lead blogger for Bleacher Report. Be sure to follow Erik on Twitter and "like" the AFC East blog on Facebook to keep up with all the updates.