NBA Draft 2012: Ideal Selection for Each Team's First Pick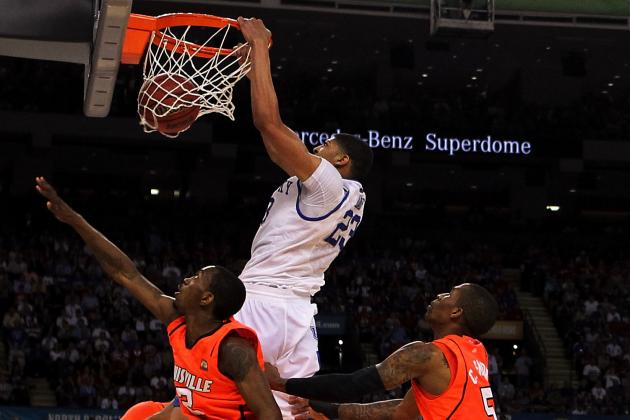 Chris Graythen/Getty Images

All 30 NBA organizations are in different situations for the 2012 NBA Draft. Some teams have the opportunity to select a top-five talent with the possibility to turn around the organization. However, other teams must find the gem in the second round that can impact a franchise right away.
It's vital that the right player must be drafted to the correct team in a draft of only 60 players selected. The following will show every team's first pick, whether it's a first or second rounder, and what direction they should go with it.
(Note: Players can and will be repeated; this is not a mock draft)
Begin Slideshow

»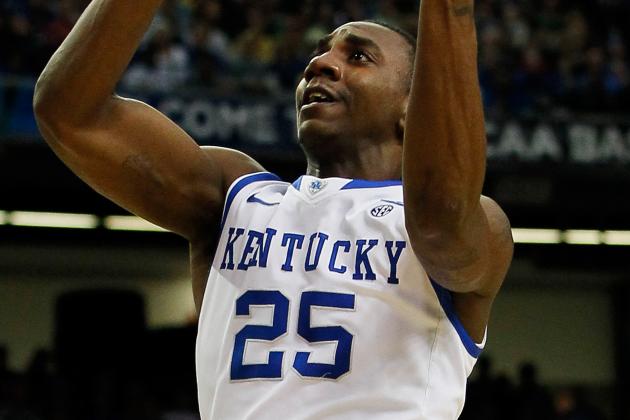 Kevin C. Cox/Getty Images

Best Pick: Marquis Teague
Nothing says brotherly love like two brothers playing for the same NBA backcourt. Marquis Teague is a solid point guard who couldn't fully showcase his talents on a loaded Kentucky Wildcats squad. However, he showed great promise and leadership during the most important part of the season, March Madness.
Why will this be a fit in Atlanta? First, family competition will definitely push both Jeff and Marquis to their maximum potential. The Hawks don't necessarily have a loaded backcourt, especially at the point. It's doubtful that Jannero Pargo or Kirk Hinrich have any future in Atlanta.
Even though Jeff Teague showed great promise in 2011-12, Marquis is more of an all-around point guard who probably has a higher ceiling. Teague has performed well at the NBA combine, so there is a reasonable chance he will not be there at No. 23. The attack of the Teague brothers will be a dangerous backcourt duo along with All-Star Joe Johnson.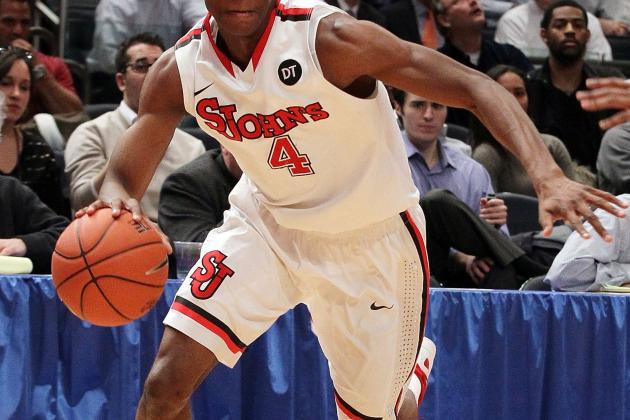 Jim McIsaac/Getty Images

Best Pick: Moe Harkless
The 2011-12 season was probably the last title push for the "Big Three" era (Allen, Garnett, Pierce) in Boston. The Celtics will be rebuilding this off-season, but they still we be among the best in the Eastern Conference.
Boston has consecutive picks in the first round, and the Celtics should start their rebuilding with the selection of Moe Harkless.
Harkless's game is NBA-ready and should be an impact player which is beneficial for a playoff team. With Paul Piece aging and Ray Allen assuming to leave Boston, the Celtics will need a go-to guy for the future. He can score and rebound excellently from the small foward position.
Another factor why Harkless would be the best fit is that he would coexist well with Rajon Rondo. They can become an elite tandem for the future.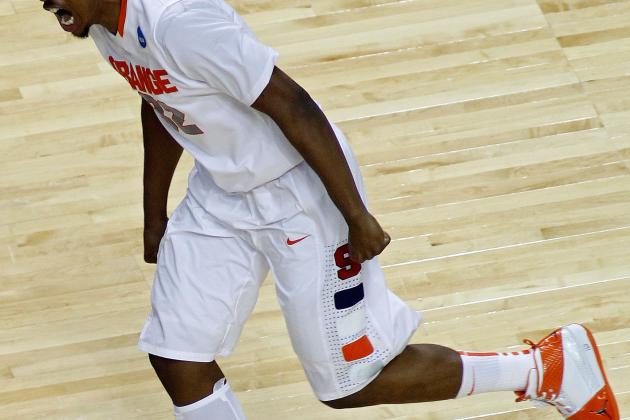 Michael Heiman/Getty Images

Best Pick: Kris Joseph
What's better than moving to a new city and potentially losing your two top-guns (Deron Williams and Brook Lopez)? I would say there are quite a lot. However, the Nets need to bring a toughness to Brooklyn.
Kris Joseph can definitely import his grittiness to the southern end of the state. Joseph is a steal in the second round if he should be there at No. 57. He is being overlooked more than any other Big East prospect.
A leader, scorer, playmaker and hustler are attributes that Brooklyn needs from its young players. Joseph demonstrates all of those.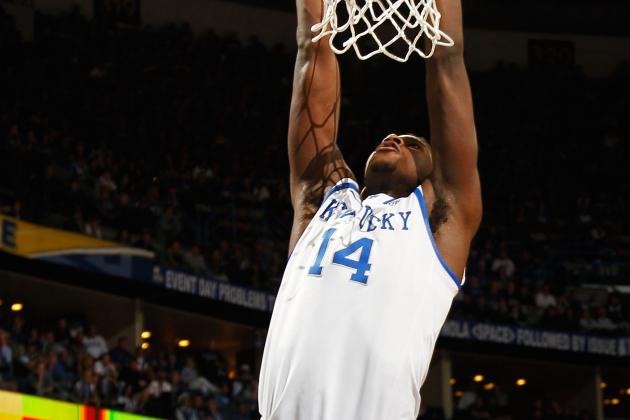 Chris Graythen/Getty Images

Best Pick: Michael Kidd-Gilchrist
The Charlotte Bobcat's had the most miserable season any NBA organization could imagine. The 7-59 record isn't very reassuring for fans, and besides Kemba Walker and Gerald Henderson, no one else on the roster seems to have a promising future.
To make matters worse, Charlotte did not win the NBA Lottery in a draft where one player was far more superior then anyone else, Anthony Davis. There is no chance he will fall to the No. 2 spot, so the Bobcats must look in another direction.
Michael Kidd-Gilchrist is not a bad option either. He contains elite elite athleticism, grittiness, finishing ability, on-ball defense, and 120 percent hustle on every possession. For a team that looks half dead on the court in most cases, a player who plays with that much inspiration can turn around a team.
I'm aware that many think this it's ideal to go with Harrison Barnes with this pick, but he will not bring the tenacity that Kidd-Gilchrist brings and the Bobcats need dearly.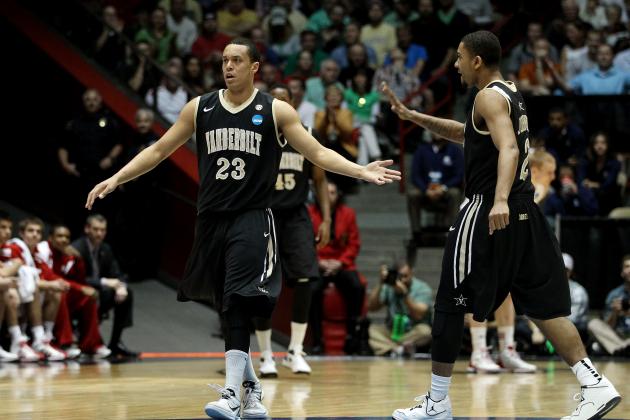 Christian Petersen/Getty Images

Best Pick: John Jenkins
John Jenkins is potentially the best shooter in this draft class. The 6'4" shooting-guard shot 43.9 percent behind the arc while knocking in about four per game. That's the definition of a true shooter.
Even though the Bulls were tied for third in 3-point percentage, they were only in the middle of the pack in threes per game. John Jenkins can aid Chicago with his arsenal of long range shooting. Jenkins is also just a pure scorer, averaging 19.9 points per game last season. This can help the Bulls while Derrick Rose misses much of the 2012-13 season.
A leader that can produce in his 15 minutes each game is all the Bulls will need from their late round selection.
Ethan Miller/Getty Images

Best Pick: Harrison Barnes
After the infamous departure of Lebron James, the Cavaliers did their best job of rebuilding with the drafting of Kyrie Irving and Tristan Thompson. With the No. 4 pick this year, the Cavs have more opportunity to improve.
Harrison Barnes would fit very well in Cleveland. He's a shooter, and if guards can find him cutting to the hoop, he can finish strong as well. Barnes played decent at North Carolina in his two seasons, however he did not nearly live up to his remarkably high expectations.
The Cavaliers lack scoring and shooting. Barnes can definitely bring those attributes to Cleveland. Another major reason he would fit well in Cleveland is he could help space the floor for Kyrie Irving. Last year's rookie of the year, Irving, often had to score by himself at the end of games. With a scoring threat who could develop to be a more all-around player like Barnes, it can allow Kyrie to have more space to succeed.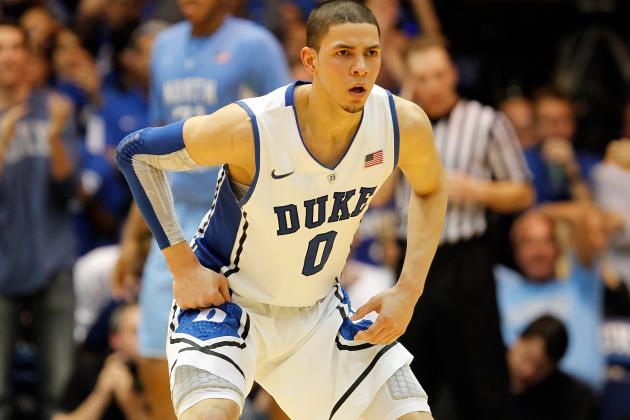 Streeter Lecka/Getty Images

Best Pick: Austin Rivers
It's the first time in a while the Mavericks have a mid-round draft pick. After having a disappointing season, Dallas should be relieved they have a decent pick in a deep draft.
The Mavericks need a spark, so why not go with the most controversial player, who is Austin Rivers. The player who had NBA scouts' eyes since he was dominating the AAU and high school level has been highly coveted for years. Many saw him as a top-five pick heading into college, but an inconsistent season at Duke has raised many question marks.
It's unsure how many years both Jason Kidd and Jason Terry have left, and with a scarce amount of true scorers on their roster, Rivers could be in a opportunistic position to thrive in Dallas. He is very similar to Jason Terry and could potentially overtake his role.
Rivers has scary potential, but he needs to be in the right organization. Surrounded by veterans in Dallas can help start up his career and be the dominant scorer they need.
The question is, will the young Rivers be there at the 17th pick? A team can easily reach on him in the lottery and leave Dallas in a problematic situation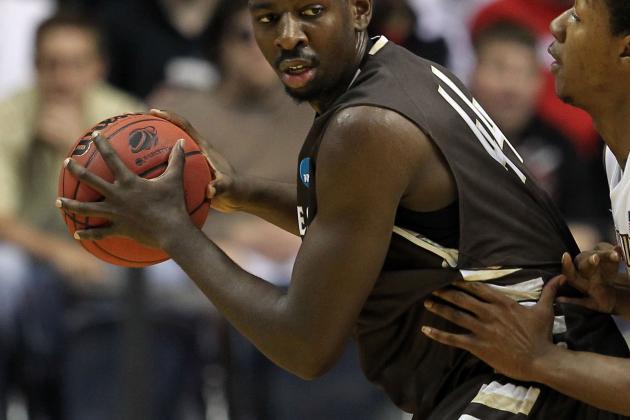 Jamie Squire/Getty Images

Best Pick: Andrew Nicholson
The Denver Nuggets are in a pretty solid position; they have depth at all five positions along with most of their roster under the age of 27. Denver should simply select the best player available that is an impact player instead of a developmental project.
Andrew Nicholson, a mid-major stud, can contribute right away. He has a very big body for a forward that can pound it down-low who can also shoot it from the outside. He has a reputation to be strong at rebounding and tough defending.
Due to playing at small school, St. Bonaventure, he should be there at No. 20. Hence the Nuggets should select Nicholson.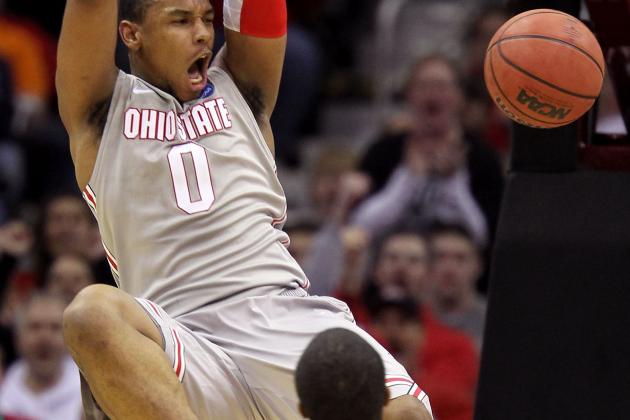 Andy Lyons/Getty Images

Best Pick: Jared Sullinger
Jared Sullinger's biggest regret was probably to return for his sophomore season at Ohio State. Many forget that if Sullinger left as a freshman, he would have been the first pick in the 2011 NBA Draft. However, after a season of scarce improvement, Sullinger will find himself selected at the end of the lottery.
At pick No. 9, Sullinger will be available, and that is when Detrioit should select him. After years of being a dynasty in the Eastern Conference, the Pistons have gone through a difficult stretch of rebuilding. The Pistons need players who can play right away which Sullinger can.
Sullinger was a center at college, but at 6'9", the power forward position will probably be his future. He could contribute right away for the Pistons and learn from their top gun, Greg Monroe.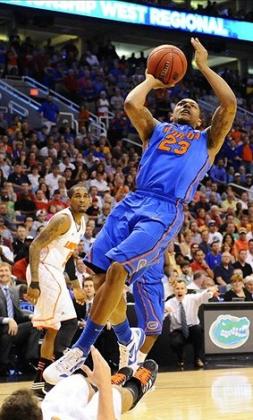 Best Pick: Brad Beal
Brad Beal is a top five talent. He has an array of ways to score and draws comparisons to Ray Allen and Eric Gordon. He also rebounds better than any other guard in the draft.
It would be a shame for Beal if he fell to No. 7, but he would be perfect for Golden State offense. If the Warriors can scape some picks together and trade to the three or four spot, they would have a more realistic chance.
The Warriors finally have two solid bigs in Andrew Bogut and David Lee. However, it cost the departure of Monta Ellis to do so. He was the Warriors' top gun for years, and now they are handing the role to Steph Curry. However, they need another elite scorer from the other guard position. Brad Beal would be great.
Warriors fans, do not plan on Beal being at pick seven. Dion Waiters wouldn't be a poor option either.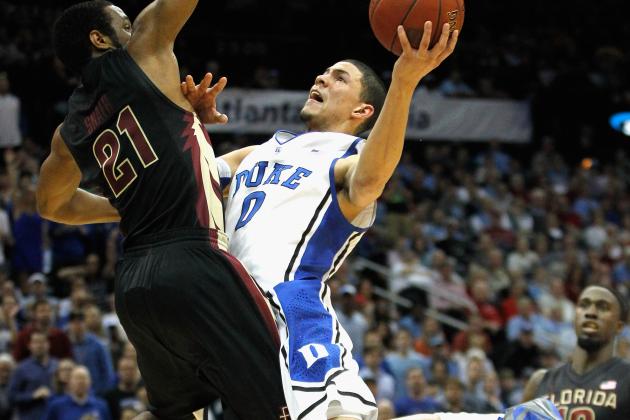 Streeter Lecka/Getty Images

Best Pick: Austin Rivers
The guard from Duke would be perfect for Houston, too. The Rockets need some excitement after making a decent run for the final spot in the playoffs.
It's unsure if Kevin Martin's health will alter his ability to play because everyone knows of his scoring ability. Rivers could step right in and be a high-octane scorer for the Rockets.
Houston has two cornerstones in Luis Scola and Kyle Lowry, but they could capture their third piece in their restructure by drafting Rivers. Rivers should still be there at No. 14.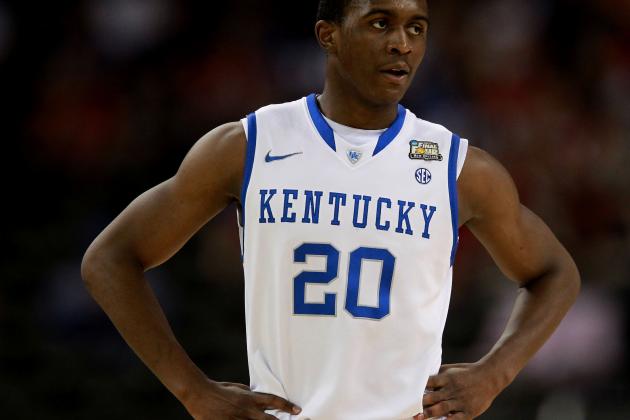 Ronald Martinez/Getty Images

Best Pick: Doron Lamb
Doron Lamb is a pure shooter which he demonstrated in the National Title Game for Kentucky by leading the way with 22 points against Kansas.
Indiana however, could use some shooters. The Pacers hit less than six per contest. Lamb could be a great shooter around Darren Collison or run the point when Collison needs a breather.
The Pacers have a solid player for each position. If the Pacers can retain center Roy Hibbert, they can go best available. I think Lamb is extremely overlooked due to his size, but his shooting makes up for it.
Lamb can be selected anywhere from 22-30, so Indiana has a legitimate chance to snag him.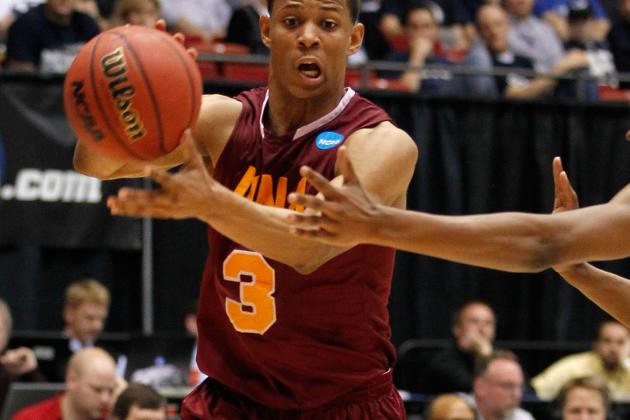 Gregory Shamus/Getty Images

Best Pick: Scott Machado
The Clippers had their first winning season since the 2005-06 season. It's not only that they had a productive season, but now they have a nucleus of players that can bring a title to the other team in Los Angeles.
Scott Machado would be a perfect addition for Lob City. He's a pass-first point guard who averaged just under 10 assists per game at Iona. He would be an ideal backup for Chris Paul and throw alleys to Blake Griffin every night.
Machado is a solid point guard who will be there in the second round. The Clippers will need a fresh, young guard because Chauncey Billups, Randy Foye, Mo Williams, and Nick Young all becoming UFAs this summer. They will need to look elsewhere besides attempting to resign all their guards.
Machado has a good chance to be selected in the earlier portion of the second round, so the Clips should hope the guard from Iona falls to No. 53.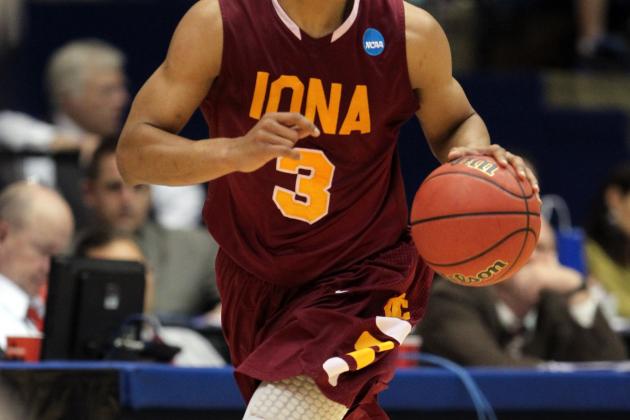 Gregory Shamus/Getty Images

Best Pick: Scott Machado
Yes, another team from Los Angeles needs Scott Machado. The Lakers need to increase the youth on their roster, and having only the 60th pick doesn't necessarily help their dilemma either.
However, if Machado falls to them with the last pick, the Lakers will have a steal. Through all the criticism the Lakers received last season, the most discussed issue was the lack on a young, true point guard. Ramon Sessions was clearly a disappointment, and given a year in the NBA, Machado could be a solid everyday guard for the Lakers.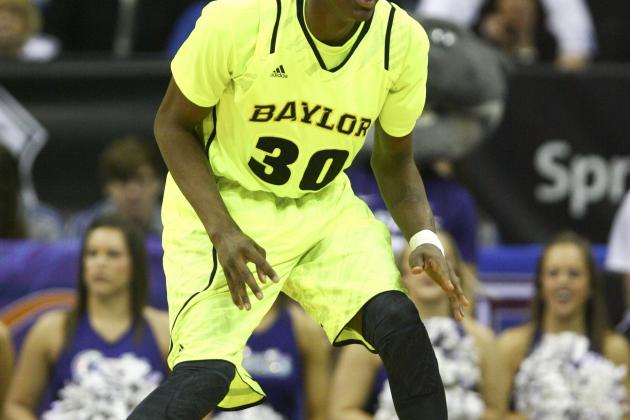 Ed Zurga/Getty Images

Best Pick: Quincy Miller
Quincy Miller, a forward from Baylor, began his freshman season well while playing without injured Perry Jones III. He was controlling the offense and scoring in a vast amount of ways. However, when Perry Jones III returned, Miller's scoring went down along with his draft stock.
He has great potential. In Memphis, he will have the opportunity to develop because their depth at the forward position. Practicing against Rudy Gay will only benefit the young Miller.
Once given the time to grow into his body and get a feel for the professional game, Quincy Miller could prove to the league that he was an absolute steal at 25 if he falls that far.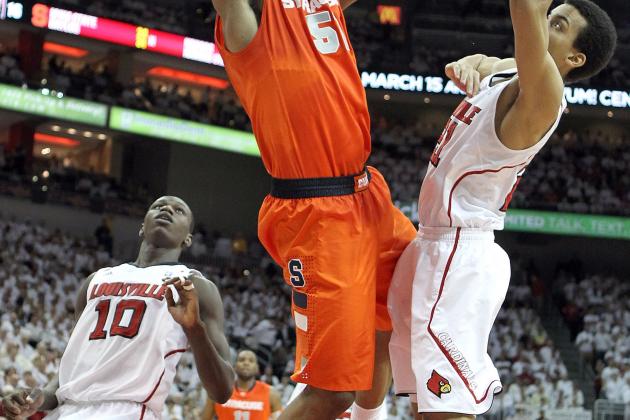 Andy Lyons/Getty Images

Best Pick: Fab Melo
Fab Melo didn't lose a single game in 2012 when he played. The problem was he was ruled ineligible for the NCAA Tournament, leading to a Syracuse defeat. The one thing NBA scouts did take notice was his importance to an elite team. Melo has established a defensive game, but needs to build a post game at the next level.
As we are witnessing in the NBA Finals, the Miami Heat are in desire for a true center. What better position for a raw body like Melo to work to his full potential under the spotlight of the most coveted basketball team? Lebron and Wade will only benefit his offensive ability and with veterans Joel Anthony, Chris Bosh, Udonis Haslem and Ronny Turiaf, the Heat will not be in a rush for the center from Syracuse.
Many feel that point guard is the Heat's priority, but Chalmers has developed quite nicely.
Melo will need experience in the NBA to develop, and Miami would be a great opportunity for him. Having such a force in the middle is what the Heat need to stop Kevin Durant right now in the finals. Unfortunately, the Heat will need to wait a few more weeks until they have the access to draft him.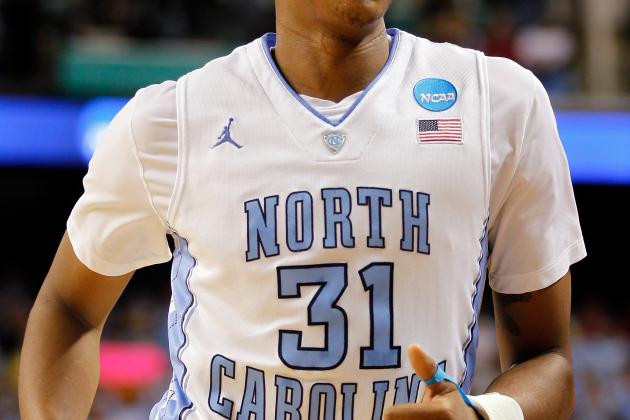 Mike Ehrmann/Getty Images

Best Pick: John Henson
The Bucks did an excellent job in building a lethal backcourt containing Monta Ellis and Brandon Jennings, but with Andrew Bogut involved in the Monta Ellis trade, they will need a versatile big man.
John Henson exemplified the definition of production in his three seasons at North Carolina. He has changed from a developmental project as a freshman to now an impact lottery selection. Behind Anthony Davis, Henson is the biggest defensive game changer in this draft class.
The Bucks don't have a defensive playmaker, and Henson could easily establish himself as a rookie. The rookie can average three blocks per contest if he lives up to the hype. Good chance Henson will still be available at 12, so Bucks should jump on the opportunity.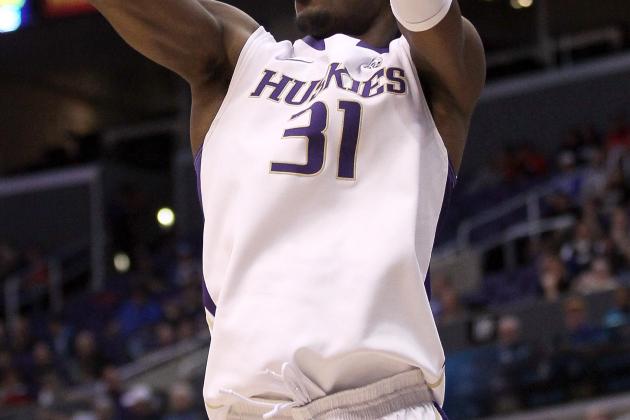 Stephen Dunn/Getty Images

Best Pick: Terrence Ross
At pick No. 18, Terrence Ross from Washington will be the best shooting guard left. The Timberwolves critically need one. He is an excellent finisher with outstanding body control when in the air. He led the Huskies in points per game and minutes per game.
The T'Wolves have very good athletes, including Michael Beasley, Wesley Johnson, and Derrick Williams. However, all are forwards, and with the addition of Ross, Johnson and Williams can return to their more comfortable positions.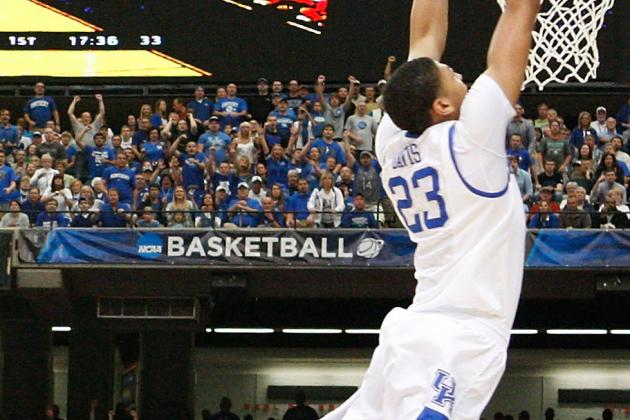 Kevin C. Cox/Getty Images

Best Pick: Anthony Davis
Anthony Davis isn't just the best fit for the Hornets, he's the best player in the draft. No other prospect compares to his athleticism, defensive presence, play-making ability, hustle and versatility. He's the the type of player that can revolutionize a franchise. Larry Brown has even been quoted of saying the team that selects him will automatically become a 50 win team.
The Hornets need him to live up to every ounce of hype he's been given. The Hornets had a dismal season and lacked a dominant player. Davis can help weather the storm in New Orleans and bring a flare to the city. He has already made the unibrow his infamous trademark, now he's also ready to make the NBA Rookie of the Year trophy his.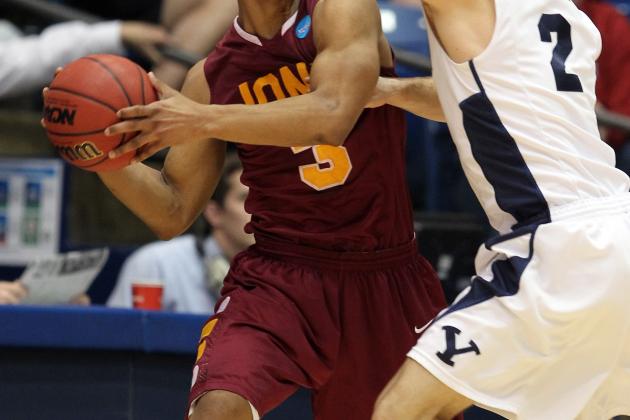 Gregory Shamus/Getty Images

Best Pick: Scott Machado
Mr. Machado will be a wanted man in the second round. The Knicks will carry their point guard situation into the 2012-13 with even more question marks. It's doubtful that Mike Bibby or Baron Davis will return, and Iman Shumpert will miss a major portion of next season trying to recover from ACL surgery. With Jeremy Lin's ability a question mark, the Knicks will need at the minimum, another backup.
Alright, it's time to be honest: The Knicks have no shot in signing Steve Nash. There is no way the Knicks will be able to afford him with the contracts of Amare Stoudemire, Carmelo Anthony, and Tyson Chandler. Another reason is Jeremy Lin won't be on a league minimum deal. He will have a regular contract.
So with that, the Knicks should look in the draft to get a solid point guard who can play behind Lin. As long as his can distribute the ball to Amare and Melo evenly, there will not be issues with Machado.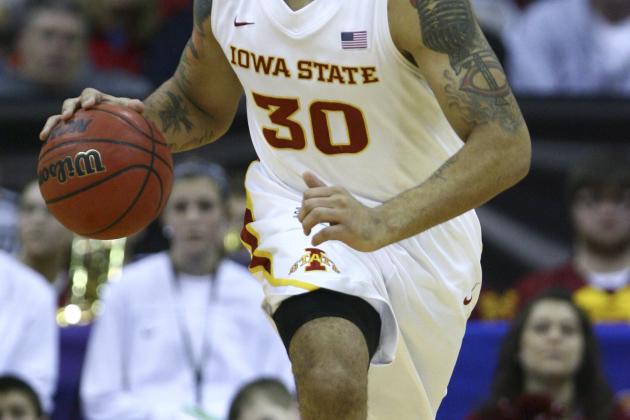 Ed Zurga/Getty Images

Best Pick: Royce White
The Oklahoma City Thunder are most likely in the best position out the 30 NBA franchise. They have the second best player in the game in Kevin Durant, have a rabid fan base, have youth, depth, and are winning. They have a solid young player for all five positions on the court.
Still, they need to select another young player with the 28th pick. Royce White has lottery talent, but hasn't fully put it together yet. He has a huge frame and abnormal athleticism. However, White has a multitude of weaknesses that must be fixed.
The Thunder are in the position where they have the ability to take a prospect who is a couple of years from fully developing and polish him under Kevin Durant's wing. Playing time would be scarce, but he would be in a prime position to evolve to his full potential.
White can easily be selected in the earlier portion of the 20's. However, it's best if he falls to Oklahoma City. With an anxiety disorder and a fear of planes, White can drop to No. 28.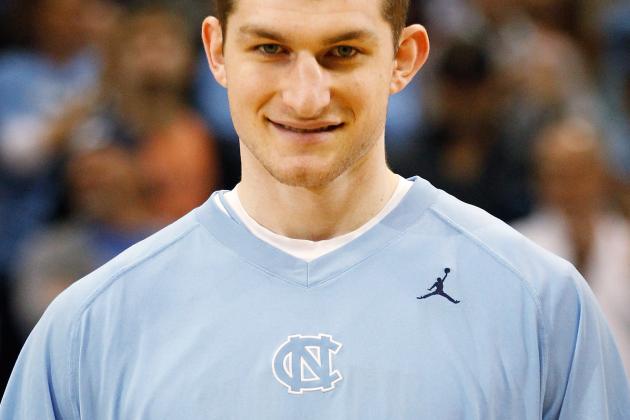 Streeter Lecka/Getty Images

Best Pick: Tyler Zeller
With all the drama around Dwight Howard, there is very little insight regarding the future of the All Star center and his career with the Magic. If the Howard desires to move forward and play for another team, the Magic must search elsewhere.
Why not look for the solution with their first round pick? If they need production right away from the center position, it is vital for the Magic to have Tyler Zeller fall to him at 19. Zeller has a significant chance to really drop in the draft and he could definitely be there at pick 19.
Tyler Zeller brings a polish center with an ability to score with his back facing the basket. He is a true center with a long body— exactly what Orlando needs if they are pursuing a new center for the future. He could also be very effective in the pick and roll game.
If Orlando is fortunate to still have the opportunity to draft Zeller, they must select him. Unlike most other big man prospects, Zeller does not need time to touch up his game.
Jonathan Daniel/Getty Images

Best Pick: Meyers Leonard
The 76ers do not have any promising big men for the future. It's doubtful that Philadelphia has center Nikola Vucevic as the plan moving ahead. So in a draft loaded with power forwards and centers, it would be understanding to find their future center now.
Meyers Leonard has huge potential to be an elite center in the NBA. The improvement he demonstrated from freshman to sophomore season proves he has more in him and that his game can expand even more. He has a very good offensive IQ leading to smart decisions with the basketball.
Leonard can play right away, but 76er fans can't be down on him after one season. His motor will allow him to improve. For that reason, Philadelphia should take a chance on the not fully proven prospect.
Streeter Lecka/Getty Images

Best Pick: Kendall Marshall
Kendall Marshall can go as high as No. 8 and possibly as low as No.17. Along with Austin Rivers, he is one of the biggest mysteries in this year's draft. However, what no one can question is his point guard abilities with court vision and passing skills among them. He has a very good understanding of the game and handles each specific situation with the same demeanor.
With Steve Nash either leaving the Suns this offseason or retiring in the next three years, the best replacement would be the player who draws comparisons to the Suns' point guard. Kendall Marshall would be an excellent pick because could replace the role of Steve Nash. Henceforth, the Suns will not have to change their identity for a new look point guard.
If Marshall does not get selected either eighth or 10th, he will be there at No. 12. The Phoenix Suns will finally stop worrying about the future of Steve Nash and look forward to the future of Kendall Marshall.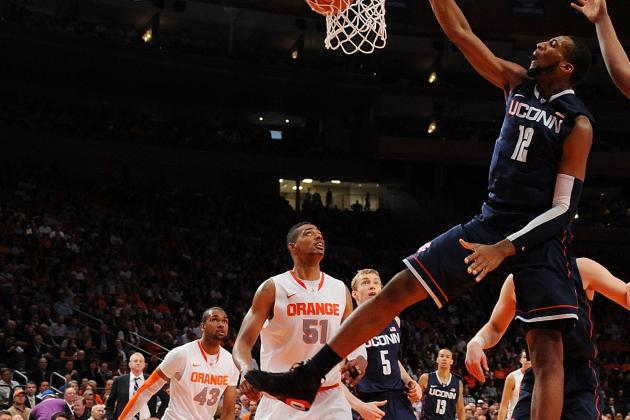 Michael Heiman/Getty Images

Best Pick: Andre Drummond
The Trail Blazers obtain two lottery picks. The sixth overall pick is too high to select point guards Kendall Marshall or Damian Lillard, so Andre Drummond is more ideal.
Drummond would have time to develop well with LaMarcus Aldridge. Drummond demonstrated a great amount of inconsistancy. In Portland, he can settle in and become an elite center.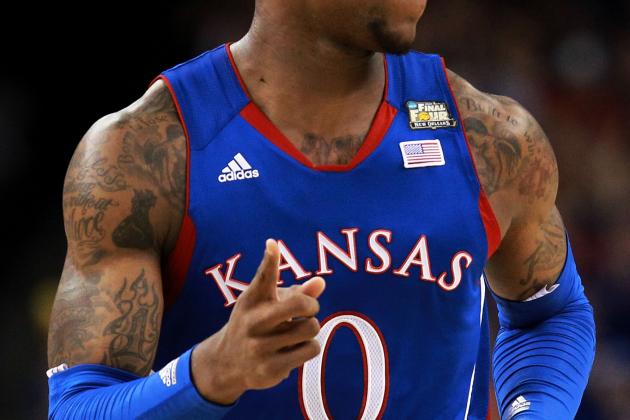 Ronald Martinez/Getty Images

Best Pick: Thomas Robinson
The Kings would LOVE to have him fall to No .5. However, his stock is rising and he is serious consideration for the second pick in the draft. Still though, Robinson at No. 5 is realistic.
Putting up points wasn't the issue for the Kings. It was stopping the other team from putting up points. Sacramento was last in the league in opponent points per game. Robinson brings great defense and rebounding which are two attributes the Kings need dearly.
The selection of Robinson would probably upset always-upset DeMarcus Cousins, but the rest of the roster will sure be happy to have Robinson. The question is, will Robinson fall to five?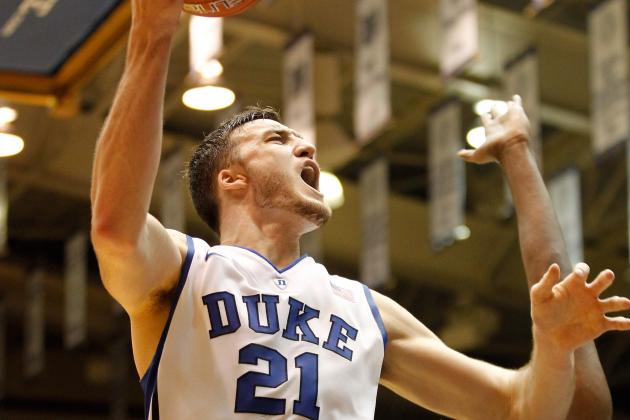 Streeter Lecka/Getty Images

Best Pick: Miles Plumlee
Miles will be the first out of three Plumlees to take on the NBA. He is a 6'11" power forward from Duke that is an elite athlete and demonstrates great leadership.
The Spurs' biggest leader who also plays quite a lot from the power forward position, Tim Duncan, does not have too much left in the tank. With not obtaining a first round pick this year, San Antonio must try to find a decent big man in the second round.
Miles will be a late round selection, but he will have great value for his pick number. He isn't the future of the franchise, but he has good promise to be a rotation player in the NBA.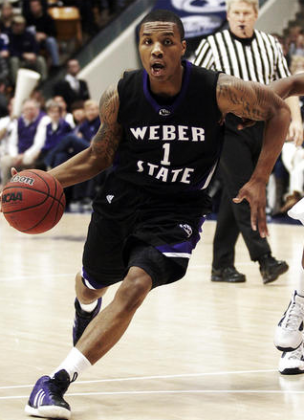 Best Pick: Damian Lillard
There are the boring teams in the NBA that find a way to pull out wins, and then there are teams that are boring and can't win a game if their lives depended on it. That would be the Toronto Raptors, who were 28th in the NBA in scoring
Damian Lillard is the best scoring prospect in this year's draft. He may be from a small school, Weber State, but possesses excellent scoring ability from the guard position. Lillard averaged 24.5 points 5.0 rebounds and 4.0 assists per game. Toronto could use his talents.
If Lillard is not selected sixth by the Trail Blazers, then Lillard will be available for the Raptors. He may be a risk, but he's a type of player that can turn around a horrendous NBA franchise.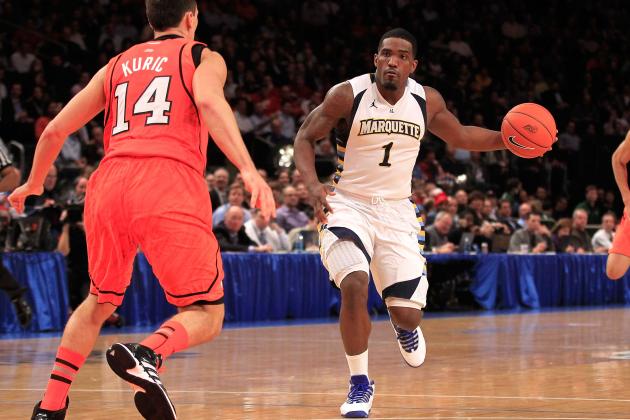 Chris Trotman/Getty Images

Best Pick: Darius Johnson-Odom
If there are any two positions that the Jazz do not need, they are power forward and center. The Jazz are overpopulated at those positions with veterans that will be impossible to trade due to their contracts and young players with great potential.
Utah must take a guard. Darius Johnson-Odom has the skill-set to be a rotational player at the next level. He also has great speed and strength to make up for his 6'3" frame.
Johnson-Odom will be a mid-early second round pick. Hopefully for the Jazz he will stay available at pick 47.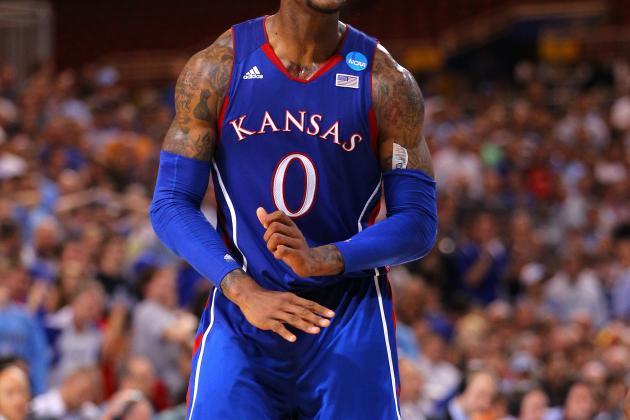 Dilip Vishwanat/Getty Images

Best Pick: Thomas Robinson
The main reason it will be difficult for Robinson to slide to the Kings at No. 5 is because it would be surprising for the Wizards to pass up on him. Washington lacks a tenacity and toughness which Robinson can bring to the nation's capital.
Another reason Robinson would fit well in Washington is the duo he could build with John Wall. He and Wall can establish a good relationship that will benefit the team. Even though he hasn't fully finished forming his offensive game, he could fit a role in a pick-and-roll style with Wall.
Washington was also in the middle of the pack in rebounds per game. Robinson will be a starter in the league and could possibly been seen in some All Star games. Washington better hope he is representing the Wizards.