NCAA College World Series 2012: Top MLB Prospects from Every Team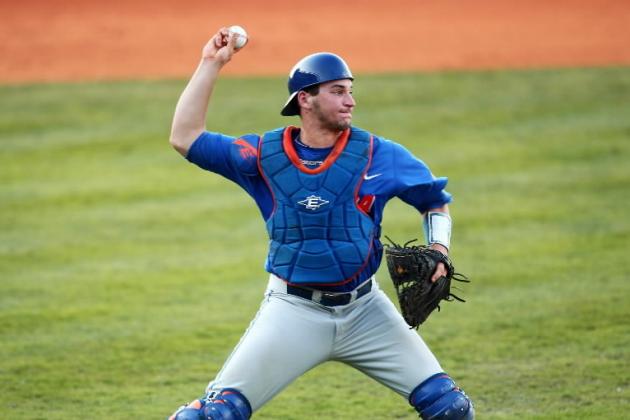 Florida catcher and Seattle Mariners' first-round pick Mike Zunino. Courtesy of Marvin Gentry via US Presswire
After two Super Regional elimination games on Monday night, the 2012 College World Series field is set. Eight programs will travel to Omaha, Nebraska, to determine who is the best in the country this season, with a strong mixture of traditional powerhouse teams and upcoming newbies.
As well as being a great showcase for college baseball, the College World Series gives a lot of Major League Baseball draft prospects the stage they need to become known to casual audiences who might not pay attention to the sport until the action shifts to Omaha.
We are going to pick the best of the best from all eight teams, telling you the players that you need to keep an especially close eye on. Some of these names will already be known, since the 2012 MLB draft just took place last week.
Other names you may have heard about, but they weren't draft eligible this year. Even if you don't like college baseball but are obsessed with prospects, these are names that you need to keep on your radar.
Here is a look at the best MLB prospects who will be playing in the College World Series, with scouting reports and, if they haven't been drafted, where they would project to go in their draft year.
Begin Slideshow

»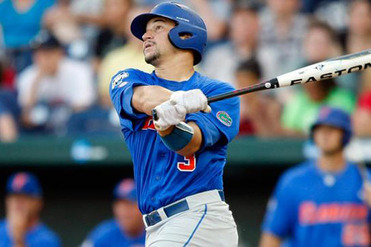 Courtesy of SEC Digital Network
Zunino was a known commodity coming into the 2012 season, after being named an All-American and winning the SEC Player of the Year award in 2011. He was projected to be one of the first college position players taken in this year's draft, and he wound up being the first one—to Seattle with the No. 3 pick.
Unlike a lot of players who get drafted at or around No. 3 in the draft, Zunino does not have an explosive set of tools. He is not going to hit 40 home runs, steal 25 bases or remind anyone of Johnny Bench behind the plate.
What Zunino does offer are strong skills across the board, with a great chance to move relatively quickly through the minors and be at least an above-average catcher. In today's MLB, where any kind of offense and strong defense will make you an All-Star behind the plate, Zunino was a great pick.
A true catcher who will hit .260-.270, 15-20 home runs and provide solid defense is hard to find.
Draft Stock: 2012 First-Round Pick (No. 3 overall to Seattle)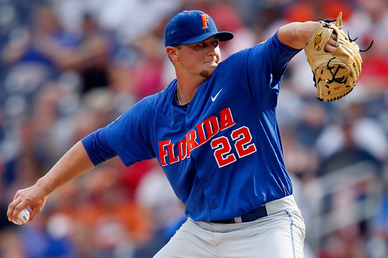 Courtesy of GatorZone
Karsten Whitson is a name most Major League Baseball fans know, since he was taken by the San Diego Padres with the No. 9 pick in the 2010 draft. He did not end up signing, opting instead to go to Florida for three years before going back into the draft.
While Whitson's name is going to be one of the most talked about next year, his actual status is up for debate. He still has good stuff, with a low- to mid-90s fastball and a good delivery, but his upside is not what it once was, and he has dealt with some injuries this season.
The 2013 draft class is not a strong one—at least it doesn't appear to be right now—so Whitson should make up for lost time and decreased draft stock with a strong, injury-free junior season next year.
Draft Stock: Early First-Round Pick in 2013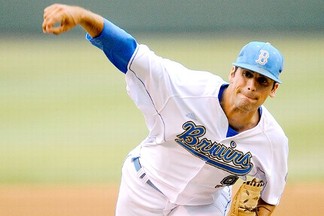 Courtesy of AP Photo/Gus Ruelas
Unlike Karsten Whitson, who will not end up making as much money as he would have signing out of high school, Plutko clearly made the right decision to go to college after Houston took him in the sixth round of the 2010 draft.
In 2010, Plutko had a lot of projection with a lively fastball, but his command and velocity often shifted from start to start. Going to UCLA has helped Plutko tap into the potential he had three years ago and dramatically improve his stock.
Plutko grew into his body, his velocity has increased, his feel for all his pitches is much better, and he looks like a potential No. 2 starter right now.
As long as Plutko makes it through next season healthy, he could end up being a top-10 pick next June.
Draft Stock: Early First-Round Pick in 2013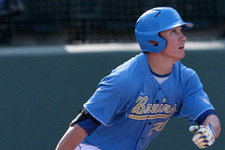 Courtesy of Larry Goren, Associated Press
Unlike a lot of college position players who often enter the draft polished and ready to play, Gelalich feels more like a high schooler because he has good tools, but has never really tapped into his full potential at UCLA.
Cincinnati obviously liked the skills Gelalich brings to the table, since the Reds took him with their second pick (No. 57 overall) in this year's draft.
Gelalich doesn't have an ideal profile for right field, as he doesn't have a lot of power, but he has a good swing and can generate more power with some minor tweaks to his mechanics. His defense is big league ready right now, so he just has to adjust to advanced pitching and make some slight tweaks to his offensive game before he can reach The Show.
Draft Stock: 2012 Sandwich-Round Pick (No. 57 overall to Cincinnati)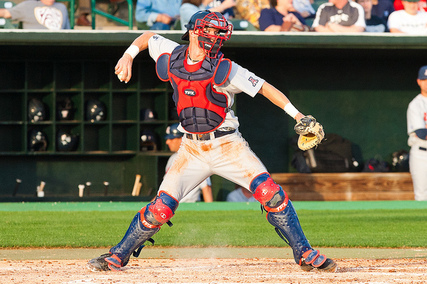 Courtesy of Arizona Athletics
Moore's stock just keeps going up, with an impressive collection of offensive tools, strong defensive prowess and a great feel for the game. He won't be draft eligible for two years, yet he could end up being one of the first college position players taken.
With the bat, Moore has a short, quick swing that he gets through the zone in a hurry and generates good power. He has a strong approach at the plate right now, and it should only get better over the next two years.
Defensively, Moore should have no problem staying behind the plate. He is tall at 6'3", but he moves around well, doesn't carry any extra weight and has a strong arm. An excellent receiver, Moore will just need experience calling his own games.
Draft Stock: Mid First-Round Pick in 2014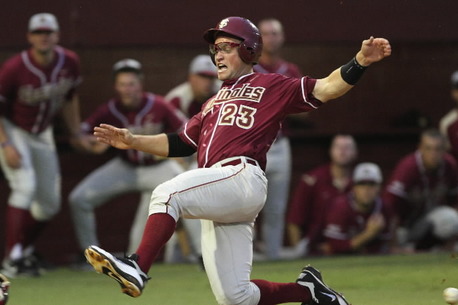 Courtesy of Gary Green, Orlando Sentinel
Despite being one of the best teams in the country, Florida State does not boast a great collection of elite talent that translates well to the next level. Right at the top of the prospect list for the Seminoles is recently-drafted outfielder James Ramsey.
The Cardinals surprised a lot of people by taking Ramsey with the No. 23 pick in the 2012 MLB draft. Ramsey did not have first-round tools and does not project to be an impact player at the next level.
In fact, Ramsey is probably going to end up being a bench player at the big league level. He has good speed, but probably won't end up sticking in center field due to a lack of range. His bat does not profile for a corner outfield spot.
Unless the Cardinals managed to see something no one else did, Ramsey is going to go down as a great college player whose pro career did not come close to matching it.
Draft Stock: 2012 First-Round Pick (No. 23 overall to St. Louis)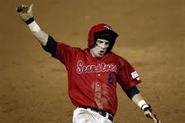 Courtesy of Artesia News
The darlings of the College World Series—or at least one of the two—Stony Brook is not coasting by with a collection of scrubs. Head coach Matt Senk has done a terrific job of building this program into a strong northeastern team.
Star outfielder Travis Jankowski was taken in the sandwich round by the San Diego Padres, a selection that was more than justified given his tools and raw potential. His defense in center field is outstanding, as he reads the ball well, has good speed and covers a lot of ground—a necessary requirement to play in PetCo Park.
Jankowski's bat does not project to hit for a lot of power, but he has enough speed to turn singles into doubles and doubles into triples. If he can hit for average and get on base, he is going to be a good player because his defense is so strong.
Draft Stock: 2012 Sandwich Round Pick (No. 44 overall to San Diego)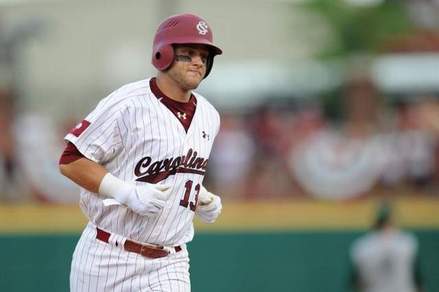 Courtesy of Bart Boatwright, Greenville Online
Despite not having the kind of power projection that you want to see from a big league first baseman, Walker does everything else well with the bat that he was one of my favorite college players in the 2012 draft class.
Walker is a big, thick player at 6'1" and 225 pounds. He is not going to offer much with the glove or on the basepaths, so you have to really believe in his ability to hit to see a solid big leaguer.
Fortunately, Walker has shown enough at South Carolina to alleviate those fears. He will hit for some power, with an excellent approach and a solid swing without a lot of wasted movement. Odds are good he will end up as a DH, but the bat will play there.
Draft Stock: 2012 Fourth-Round Pick (No. 132 overall to Baltimore)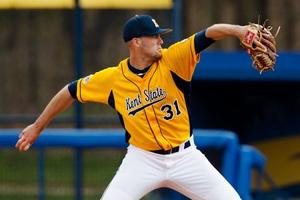 Courtesy of Kent State Athletics
Along with Stony Brook, Kent State came out of nowhere to take Omaha by storm. Arguably the best draft prospect on the roster right now is Tyler Skulina, who is likely going to end up as a second- or third-round pick next year.
Skulina is a big right-handed pitcher, at 6'6" and 225 pounds. He has a low-90s fastball, breaking ball and changeup, though he is inconsistent with both offspeed pitches. He should use his long limbs to deceive hitters more than he does.
Given his body type and strong results throughout his college career, Skulina will be a high draft pick in 2013.
Draft Stock: Third-Round Pick in 2013
Courtesy of Razorbackers
While Nolan Sanburn is the ace of the Arkansas staff this year, Stanek is the best major league prospect on this team. He will be a first-round pick in 2013, with a strong chance to go in the top half, depending on how he progresses.
Stanek has a good pitcher's frame, with a strong arsenal of pitches and vast improvements to his delivery. He never had a bad delivery, per se, but out of high school he had almost no command of his pitches.
Two years into his college career, Stanek has figured out where he is going to throw the ball when it leaves his hand. A mid-90s fastball, potentially above-average changeup and hard curveball, to go along with command, make him look like a possible No. 2 starter in the big leagues.
Draft Stock: Mid First-Round Pick in 2013