Boston Celtics: Keyon Dooling and 3 Players Who Shouldn't Be Back in 2013
June 12, 2012

Elsa/Getty Images
At the moment, the Boston Celtics only have five players under contract for 2013: Rajon Rondo, Paul Pierce, Avery Bradley, JaJuan Johnson and E'Twuan Moore.
Naturally, there will be a lot of roster turnover this offseason, with big decisions looming for stars like Kevin Garnett and Ray Allen.
However, there are a few players who didn't contribute much at all in 2012 and shouldn't be considered for a contract extension.
Let's take a look at three players who general manager Danny Ainge shouldn't re-sign this offseason.
Marquis Daniels, G/F
Daniels used to be a solid substitute for the Celtics, but he's suffered too many spine/head injuries to continue to be effective.
It's a miracle that he hasn't had to call it quits already after so many gruesome incidents.
However, his best days are behind him and it's doubtful that he'll ever be the same player he once was.
If he's willing to stay on the roster as an 11th or 12th man, that might be worth looking into. But his days as a top sub are long gone.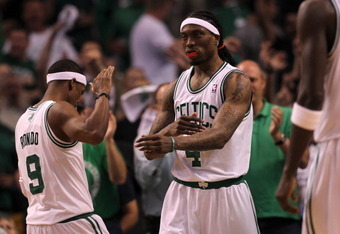 Jim Rogash/Getty Images
Therefore, it might be better for both he and the Celtics to move on.
Sasha Pavlovic, G/F 
Pavlovic didn't contribute anything to the Celtics this year. He's a liability defensively and not a good offensive player.
He only made a little more than $850,000 this season, but he didn't even live up to that small salary.
The Celtics need to get someone who can provide more than Pavlovic.
I'd like to see them use the money they won't be paying him to help sign a guy like Alonzo Gee.
Keyon Dooling, G 
Dooling was brought in to be the backup point guard for the 2011-12 season.
But he never really performed the way he should have while making $2.25 million.
He struggled with his shot and didn't really get into a defensive groove until the playoffs, which caused the Celtics' bench to struggle throughout the season.
The Celtics should use that money on a younger backup point guard, someone like Delonte West.
Dooling, unfortunately, should probably call it quits after 11 mediocre seasons in the league.