Alabama Football: What You Need to Know About New Faces on Defense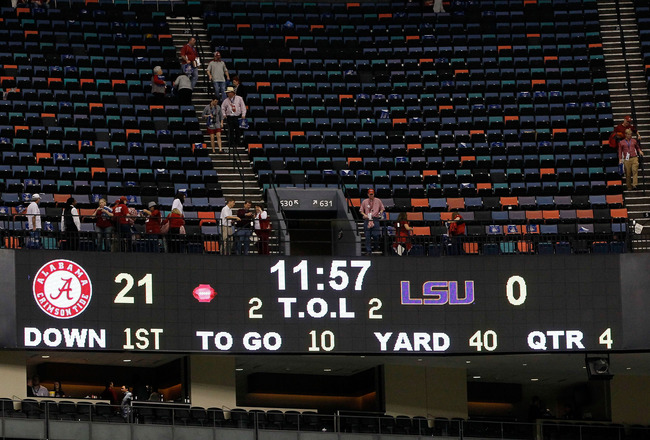 ^This defense is in the NFL. Do these players have what it takes?
Kevin C. Cox/Getty Images
There will be a lot of faces starting on defense who weren't starters in 2011. However, that's not the biggest issue facing the Tide in 2012.
The biggest issue facing the Tide is quality and depth on defense. A major contributing factor to that concern is the new faces on defense.
This is not counting starters who were at least solid backups last year.
While time will tell us whether they were worth the wait, here are some tidbits that may (or may not) make you feel better about 2012.
*All height/weight stats are from rivals.com
Jeoffrey Pagan: Backup
Jeoffrey Pagan is a 272-lb, 6'4" defensive end who's currently projected as a backup to Damion Square.
Pagan has not seen much time and is earning his stripes in 2012 as the backup. The good news is that he earned the backup gig.
The concerns are:
1) Coming off blocks: though he manhandles many blockers in the video above, they do succeed in stopping his progress toward his target. That could be an issue, especially against a scrambler. (Denard Robinson, for instance)
2) Overshooting the quarterback after he breaks to the run: another big issue if the mistake is made against a scrambler.
Nick Saban and company have been working with him for a year now. That should mean improvement in both those areas. However, he is the backup, not the starter. There are kinks still to be ironed out.
Brandon Ivory: Backup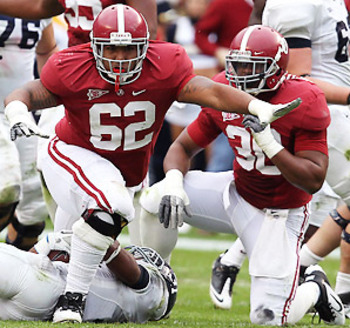 Brandon Ivory is a 308-lb, 6'4" nose who will be backing up Aussie Jesse Williams. Let's face facts: You have to be concerned about the quality of your backups in the SEC West.
Every game is brutal, and people are going to get nicked and dinged for minor injuries in every other play.
Ivory was a 2-star defensive tackle from the class of 2010. The fact that he's already the backup speaks volumes about his work ethic. Saban doesn't just throw kids on the chart for the heck of it.
Saban knows what the responsibility of a backup is, and Ivory has been chosen for his role.
Expect to see a good bit of Ivory between Arkansas and Missouri.
Adrian Hubbard: Starter
Adrian Hubbard is a 237-lb, 6'6" starting linebacker for the Tide.
He's got speed, that's for sure. As you can see from the video, even when he overruns the quarterback or ballcarrier, he's got the speed to catch up to them.
When he doesn't run by them, he obliterates them. He sniffs out the ball more than half the time in that highlight video and levels the opposition.
After a year at the Capstone, he should be a lethal addition to the starting lineup on defense. While he may experience some growing pains, he will be well-suited for his role by the time the LSU game rolls around.
Xzavier Dickson: Starter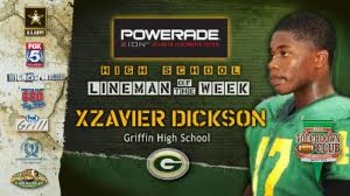 Xzavier Dicson is a 240-lb, 6'3" starting linebacker for the Tide.
He came from Griffin High School in Georgia and was a 4-star recruit who ranked 13th nationally at his position. (via scout.com)
According to his profile on scout (see previous link), his only weakness is "foot quickness." After a year of the Tuscaloosa staff's instruction, it's doubtful that he still has that weakness.
A 4-star with a year of tutelage in Tuscaloosa is a formidable force, indeed. (After all, Hightower was a 4-star.)
Deion Belue: Starter
Deion Belue is a 170-lb, 6'1" JUCO transfer who will be starting at cornerback for the Tide.
Saban recruits from the JUCO ranks, so that he can have some players that he doesn't have to build from scratch.
Belue has impressed Saban in the spring and is on the depth chart accordingly. Ultimately, impressing Saban is all that a Tide fan needs to know about this kid.
However, the highlight reel also gives a Tider the "warm fuzzies." (Can they be called the Crimson Chills?)
Ha'Sean Clinton-Dix: Backup
Ha-Ha will be backing up Vinnie Sunseri in the early part of the season, as Robert Lester will be the other starting safety for the Tide.
At 6'1" and 203 lbs, Clinton-Dix is a bit lighter than Sunseri and also a bit taller. This gives him a marginally higher center of gravity, which gives Sunseri the slight edge.
However, Clinton-Dix was the top safety in the class of 2011, and it would not be surprising to see Ha-Ha make a successful run for the starting gig in the fall.
The Sunseri/Clinton-Dix tandem would be a pleasure to watch, and it would also not be out-of-the-question to see them on-field simultaneously.
Travell Dixon: Backup
Travell Dixon is a 200-lb, 6'1" corner backing up Dee Milliner. He's the other JUCO transfer on this list.
He's seen the collegiate field and should have little issue stepping up to the plate if called upon. After earning All-Region First-Team honors in 2010, he's a welcome addition to the Tide.
He was a lockdown corner in JUCO, and his 4.4 time in the 40-yard dash will certainly help him close the edges in the SEC.
Even if he isn't a starter, one thing's for sure: he isn't a liability.
Roll Tide!
Keep Reading

Alabama Crimson Tide Football: Like this team?