On the surface, Game 1 of the NBA Finals tonight looks like everything a basketball fan could dream of.
You've got arguably the league's two brightest stars going head-to-head in a classic David vs. Goliath matchup.
This is great for the young, modern NBA fan—the fan who watches 60 games a season, buys the newest pair of Nikes and wears the new jerseys.
But what about the casual fan? What about the 35-year-old working man who sits back in his chair at night, looking for a marquee sporting event on his channel guide?
"Oh yeah, NBA Finals," he says. "This oughta be some good basketball."
He tunes in briefly, only to find that the sport he paid much more attention to as a kid no longer exists.
It is anything but good basketball.
What he gets is two teams, led by six players (three on each side), essentially playing one-on-one basketball with whoever is guarding them.
Every once in a while, one of them will dribble past a defender, ignoring as many as two open teammates, and attempt to dunk. If he's on the home team, the crowd goes crazy, the announcer yells something over the PA system that sounds like Charlie Brown's teacher using a megaphone.
Welcome to the 2012 NBA.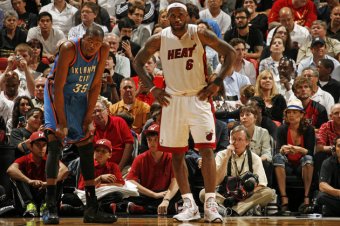 As much as this type of play may resonate with young hoops fans, the vast majority of the country is going to turn the channel, perhaps returning to the game if it's close with five minutes left.
You see, I am that 35-year-old (actually 34). I am a die-hard sports fan. If you can keep score, I'm watching.
Which was true with these NBA playoffs until the conference finals were finished. Up until that point, I got to watch two teams, the Spurs and Celtics, that play true team basketball: crisp passing, giving up good shots for better ones—all cheered on by die-hard fans who live and die with their team.
Both Boston and San Antonio were ousted by teams that believe in an urban-asphalt style of play, where it's not so much of a game as it is a production. It's like watching a Michael Bay movie. Lots of action and explosions with little substance.
To make matters worse, the two best players on each team are being marketed as the faces of the league. Neither one will own a championship ring until this series is over, yet THEY are the faces of the league?
When I was growing up, even Magic and Bird were not the faces of the league before they won titles. Bird had to get past Dr. J; Magic had to get past his own teammate Kareem Abdul-Jabbar. Even Michael Jordan had to dethrone the Pistons and the Lakers and win a ring before he became bigger than the game.
When I was growing up, NBA officials called double dribbles and traveling. They won't anymore, because then the crowd can't go wild over "killer crossovers" and "posterizing dunks."
Fans wouldn't have their fireworks.
Unfortunately, the media crowned Lebron James the king of the sport while he was still playing kids. His high school games were on ESPN.
Announcers were in shock when Kevin Durant's Texas Longhorns were ousted from the NCAA tournament during his freshman (and only) year.
Now there seems to be a sense of entitlement—more so with Lebron—that these guys deserve their ring just because. Because why? Because in a one-on-one league tournament they'd probably meet in the finals?
Sorry, maybe I'm just a bitter old man yelling at kids to get off my lawn, but I think the NBA has made a full transition into a niche sport. It's all about what should happen instead of what does happen. This attitude is slowly trickling down to the collegiate game, which right now is just flat-out better basketball. Fortunately, the international game has not bought in, so we can still see good fundamental basketball in the Olympics. Give it time, though.
So tonight, as you don your flat-brimmed Heat cap or your neon-blue Thunder jersey to watch the game, don't expect to hear roars from your neighbors when a big play happens.
Those people are just casual sports fans—the ones the NBA has left behind.