Pacquiao vs. Bradley: Shocking Decision Will Prevent Bradley from Being a Star
June 12, 2012

Kevork Djansezian/Getty Images
Manny Pacquiao got robbed.
That, at least, seems to be the prevailing wisdom.
In his match against Timothy Bradley, Jr., Pacquiao, by all accounts, was the more dominant boxer.
The stats back it up too.
More of his punches connected, more of his jabs connected and more of his power punches connected. 
As the decision was being made, it seemed like it would be Pacquiao, perhaps with a dominant score.
But it wasn't.
For some reason, when Michael Buffer announced the winner, it was Bradley in a split decision. Not Pacquiao.
What happened?
Well, it could have been something with the judges. HBO's Harold Lederman was not happy with the judges: [via USA Today]
"They've had controversies in Nevada, and it's about time they start bringing in judges from outside for high-profile fights," he told USA TODAY Sports by phone Sunday. "I could have given them 10 judges who would have scored that fight correctly. The Nevada commission, which is the final authority, needs to bring in the three best people they can get from anywhere."
Promoter Lou DiBella also had problems with the decision and the way the system is set up:
"The promoters, we pay the judges and the referees. So if we want to put a guy in a much nicer hotel, and buy him a nice dinner, or let him fly his wife in, there's no real safeguards against it. There's no checks and balances on the judges.

 

 
Even if the judges were not the best, it seems like everyone watching thought that Pacquiao would win.
Former trainer John Russell was livid at the decision: [via USA Today}
"I thought it was one of the worst decisions I've ever seen in my life. . . . I think Bradley won one round but I will give him the benefit of the doubt and give him two. It was that bad.

"You could take anybody in the world who didn't know a damn thing about boxing - never saw a fight in their life - and if you asked them to judge this fight, no one could have said that Pacquiao didn't win."
We may never know why the judges ruled the way they did. Perhaps they saw a different match. Perhaps they need their vision checked. We don't know.
There are, of course, conspiracy theories, which states that the Bradley win sets up a re-match later this year. But we may never know.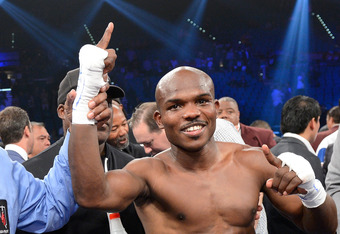 Kevork Djansezian/Getty Images
The reality is that Bradley is the winner and, unless proven otherwise, he will remain the winner.
Poor Bradley.
In what should be hailed as the defining moment of his career, beating the incredible Manny Pacquiao, will instead be remembered as a fake, an undeserved win, the beneficiary of a flawed and corrupt process.
Because he didn't beat Pacquiao fair and square, he won't be remembered for the win.
This match will be forever remembered as the tainted one, the one that just wasn't right. It was a shame, they'll say, that Pacquiao didn't win. He was robbed, they'll say.
And he was. Based on the stats, Pacquiao should have won. Boxing experts, like Russell, say Pacquiao should have won by a large margin.
But Bradley won. And if the victory wasn't surrounded by controversy, he would be boxing's biggest star.
The 29-year-old is 29-0 in his career, with 12 knockout wins. A "clean" win against the best boxer of the past few years would have catapulted Bradley to super-stardom.
But instead, he is just another boxer lost in a sea of boxers in a declining sport, whose glory days of Ali-Frazier are gone and is instead governed by corruption, outcast to pay-per-view and late night, instead of on prime time and on everyone's television. 
The glory days are gone. If Bradley had won without controversy, the family man who started his career broke would be America's favorite athlete. Now, he's just relegated to the dirty politics of boxing.
It's a shame. But there's nothing Bradley can do about it. 
A re-match is likely and Bradley will have to beat Pacquiao handily if he wants to reach the next plateau. But if we are to believe the conspiracy theories, it won't happen.
Bradley is likely to just be another boxer. Sure, he'll be fine financially and will be popular in boxing circles. But in the mainstream, where boxing desperately needs to entrench itself, he'll just be another name, the victim of a win that wasn't his.