NBA Rumors: Retirement Is Best Option for Both Kevin Garnett and Boston Celtics
June 12, 2012

Jim Rogash/Getty Images
36-year-old Kevin Garnett played like he was 26 years old again at times this postseason. It was refreshing, it was inspiring and it was largely the reason the Boston Celtics were one game away from another NBA Finals appearance.
But the Celtics fell short and now a summer of change is before them.
Garnett and fellow elder statesman Ray Allen are free agents. While both players (when healthy) can still be incredibly effective, they could just as easily retire.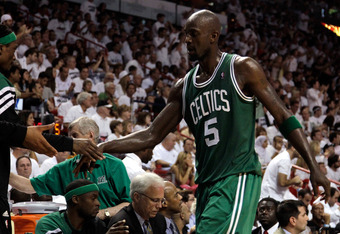 Mike Ehrmann/Getty Images
According to ESPN's Jackie McMullan, Kevin Garnett is leaning towards the latter, "Garnett's trusted friend Sam Cassell said KG was still talking about retiring as recently as 10 days ago, but Cassell was trying to persuade him otherwise ... 'KG is a loyal guy,' Cassell said. 'I can't see him playing for anyone else except Doc at this point.'"
While the Celtics owe plenty to KG, now is the ideal time to invest money elsewhere to build around Rajon Rondo and the remaining years of Paul Pierce's career. Earlier this season there was talk of Danny Ainge wanting to blow up the "Big Three", and he might get his wish.
Boston will see $31 million in salary cap space disappear from KG and Allen alone. It doesn't end there either, as the Celtics literally only have six players under contract for next season.
This summer's free-agent crop is far from great, but they have a ton of money to throw around, two first-round picks to work with and a number of roster spots to fill.
If Ainge and Doc Rivers were to ever retool and still be relevant that following year, now is the time to do it.
Should KG be hellbent on playing for another season, the Celtics would be wise to only consider a veteran's minimum deal. And if Cassel is right about his friend, he'd be unlikely to turn that down.
Anything more is too much.