Boxing: My Take on the Manny Pacquiao vs. Timothy Bradley Fight
June 12, 2012

Jeff Bottari/Getty Images
It's not too often I get a chance to sit down with friends—you know, boys' night out—and watch a well-publicized sporting event. Now, I don't follow boxing much anymore (even though my brother is the strike coach for Team Curran out of Crystal Lake and is well entrenched in the MMA scene) but this fight with Pacquiao and Bradley certainly piqued my interest.
There were accusations of PED use by Pacquiao (something that seems be a talking point with most really successful athletes these days). Along with his long-time dominance as a fighter, unprecedented skill set, and a young, undefeated and athletic contender, there was great promise for an interesting fight.
And boy, was I not disappointed!
An aging Pacquiao demonstrated unmatched defensive and offensive skills that set up one of the most controversial decisions I had ever seen in boxing. I had to wonder if the judges were watching the same fight I was, or whether the view they had at ringside showed something that I, my friends, and even the audience at the fight couldn't see.
Heck, I had the fight 10 or 11 rounds for Pacquiao and 1 or 2 rounds for Bradley.
The fight statistics certainly seemed to support a Pacquiao win, with 253 of his punches landing to 159 of Bradley's. And from my observation, Pacquiao's 253 punches landed had much more authority than his opponent's as Bradley's elbows tended to come away from his body as he threw, diminishing his power. That's my novice perspective, anyway.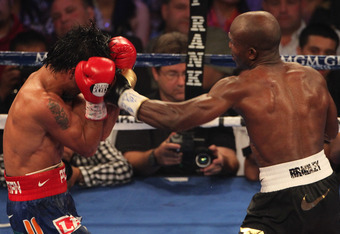 Jeff Bottari/Getty Images
However, the most interesting thing, from my standpoint, coming out of Saturday night's fight was not the obviously skilled dominance that Pacquiao showed over his opponent, but the humbled, classy sportsmanship that Pacquiao demonstrated in the post-fight interview. Especially in such an extremely controversial decision (and I am stating that mildly) that went against him. If you were able to catch the post fight interview from the ring you know what I mean.
In fact, I might also add that Bradley showed humility as well, especially in the face of the controversy, something he seemed to have a good grasp of. I commend both fighters on their behavior. Well played, there.
Aside from the PED accusations of the past (something there has yet to be any proof of), Manny Pacquiao certainly earned my respect based on how he handled himself after the fight. You just don't see that every day from athletes of his caliber. On the contrary, especially based on the circumstances, you would have expected to see the opposite.
Hats off to you Pacman, and good luck in your rematch. My bets are all on you!!!