Stanley Cup Finals: Players That Will Lead L.A. Kings to Back-to-Back Titles
June 12, 2012

Bruce Bennett/Getty Images
The Los Angeles Kings lifted the Stanley Cup trophy for the first time in franchise history in 2012, and with a young, talented team, will do the same thing next year. 
Winning back-to-back titles will be extremely difficult and has not been done since the Detroit Red Wings accomplished the feat in 1997 and 1998.
That being said, this Kings team were anything but ordinary during their playoff run, and the key players from the group will all be back next season.
Here are the four players that will lead the team back to hockey's promised land.
Jonathan Quick, Goaltender
The 26-year-old Conn Smythe trophy winner was the single biggest reason that the Kings are champions for the first time in NHL history. 
During the postseason, Quick was nearly unbeatable. He finished with a 1.41 goals against average and .946 save percentage.
In the Stanley Cup finals, he never allowed more than two goals in a game. 
A hot goaltender can turn an afterthought into a Stanley Cup winner, and that has never been more evident than it was this season. 
Quick's incredible postseason run carried this team, and if he gets hot at this time next year, the Kings will be unstoppable yet again.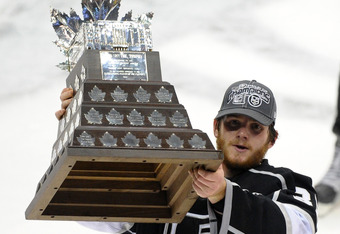 Noel Vasquez/Getty Images
Anze Kopitar, Center
Anze Kopitar had a fantastic postseason, finishing with 20 total points, but the 24-year-old could still get better.
He is remarkably skilled, and at 6'3" and 225 lbs, he brings a physical presence up front.
Kopitar is an alternate captain for the team and has displayed advanced maturity at a young age. 
The experience he gained this season will be invaluable going forward.
Dustin Brown, Right Wing
When a team has just lost two games in a row, it needs a pick-up from its captain. That is exactly what Dustin Brown delivered in Game 6 of the Stanley Cup Finals.
The 27-year-old opened up the scoring for the Kings and finished the game with a goal and two assists.
Brown finished the postseason tied with Kopitar at 20 points for the NHL lead. 
While Brown's production is impressive, his leadership is even more remarkable. His ability to come through in big moments will be a driving force behind the team's next title run. 
Drew Doughty, Defenseman
Drew Doughty is an exciting talent who was extremely impressive in the postseason.
He notched two goals and four assists in the Stanley Cup Finals alone and ended the postseason with 16 points. 
Doughty is just 22 years old, and the sky is the limit for his NHL career.
Conclusion
With so many young players who played at their best in the biggest games of their lives, the Kings will be competitive for a long time.
Next season, the momentum will carry over, and when the postseason rolls around, the Kings will not be denied.